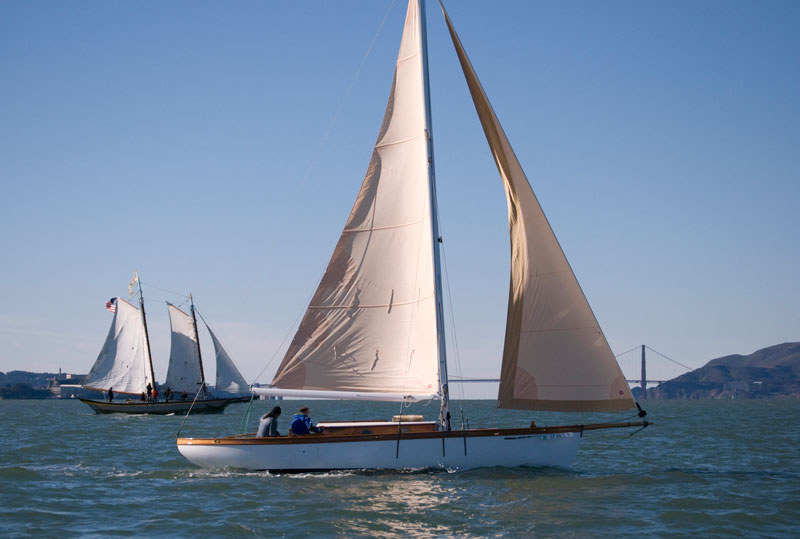 What better way to welcome the new year than with a sail on beautiful, chilly, sunny San Francisco Bay? Despite temperatures that barely cracked the 50s, Bay Area sailors took advantage of dry weather and a moderate 10- to 15-knot easterly, bundled up in warm clothes, and took out their boats.
Among organized events was the Master Mariners Benevolent Association's New Year's Day Race, potluck and Tacky Trophy exchange. Race chair Ted Hoppe reports that eight boats made the startline east of Treasure Island. A light breeze built to a blustery finish at the Point San Pablo Yacht Club on Richmond's Santa Fe Channel. "We all had a very quick turn of speed with such conditions; everybody ended the race in less than 1:15. The party was well attended, with more than 75 people. Rather than celebrate a clear winner, we had the members decide who was first and last to cross the line. The winner received a fine bottle of French Chartogne-Taillet reserve champagne, and the rear guard was forced to accept a bottle of two-buck bubbly that has rolled around in the bilge for nearly four years. The race winner was determined not by actual line crossing but by popular vote after each vessel representative explains to the room full of MMBA members why they thought they won. It seems the List families were present and loud thereby securing the first prize for Hans and Sophie List's Sequestor, while Tom List's Begone secured the Blanc de Bilge. The Tacky Trophy celebration that we proudly do in our traditional manner continues to make us all realize how much we look forward to this event and our first sail of the new year."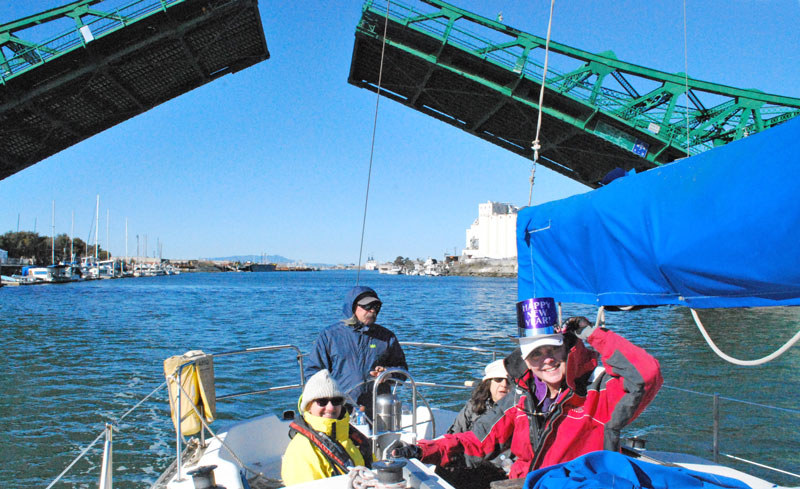 Another traditional, organized event involved a clockwise circumnavigation of Alameda, co-hosted by several of that island's yacht clubs. A full English breakfast at Island YC in the Alameda Marina kicked off a sort of waterborne progressive club-crawl. "We served more than 45 sailors and ran out of food!" said IYC's Dawn Chesney.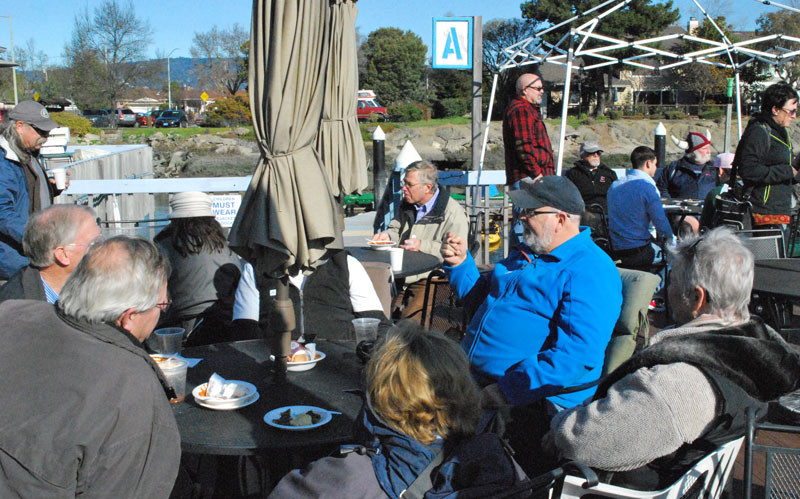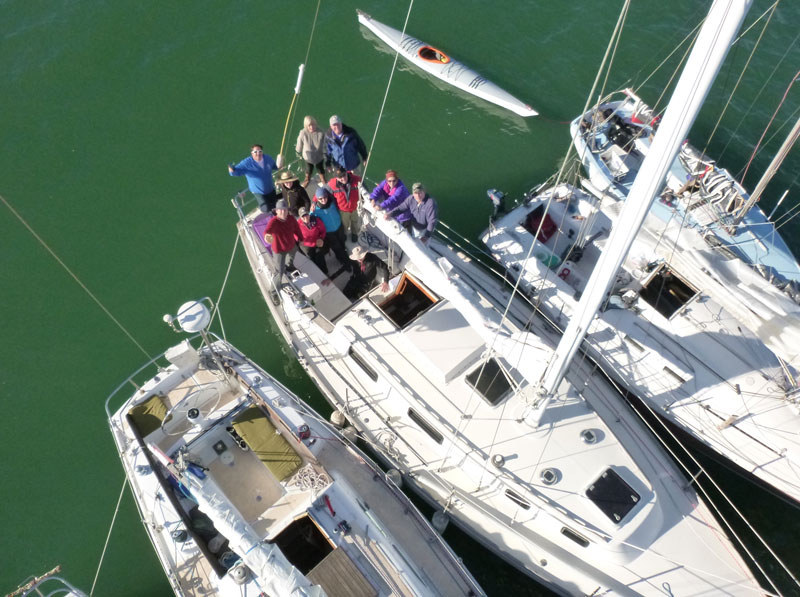 An unofficial event observed its third year when a loosely-organized group of racers cruised into Clipper Cove for an eight-boat raft-up. Vessels ranged in size from the mid-30s to a couple of Cal 20s — and even a kayak. A bigger boat, the Cal 40 Green Buffalo, arrived promptly at 11:00, found the cove empty, and sailed on. The Laser 28 Stink Eye came next and dropped an anchor, followed by Greg Nelsen and Kathryn Kade on the 36-ft Beneteau Bonaparte and Scott Cyphers and Hana Bauguess on the Ericson 35 Ergo. Richard and Ali vonEhrenkrook on Can O'Whoopass arrived at 11:45. "The Stank let out rode, Lori Dennis's new Maritime 36 Argo wedged on in, and the Can took the north end of the scene," reports Richard. "Steve Buckingham got the award for bringing the most, with the smallest boat, a 12-ft kayak. He brought a roaster oven and made scary-good flank steak, avocado and salsa soft tacos on Greg's borrowed Beneteau. Sue and Richard on the C&C 33 Joie De Vivre rolled in shortly after. At about 1:30, Phil Krasner on the Express 27 Wetsu made a perfect entrance and landing, and Marcus Choy on the Cal 20 Green Dragon sailed in on jib alone. The food, especially on Lori's boat, was really good."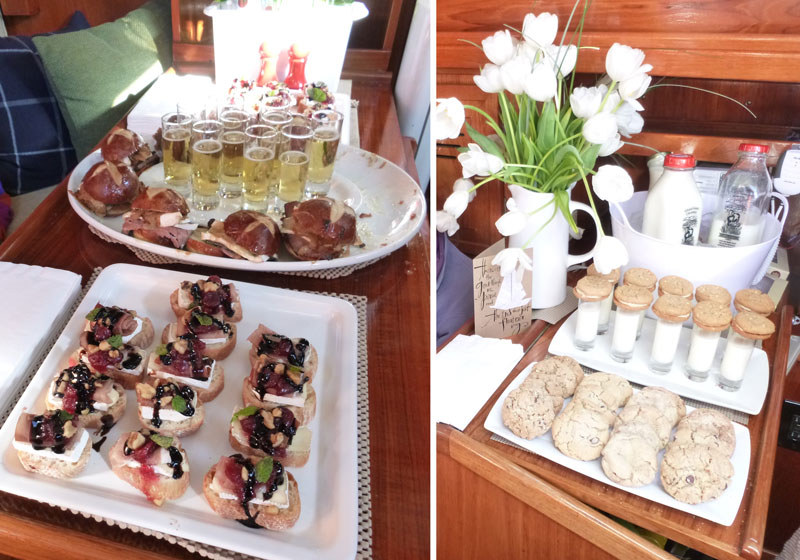 Upstaging all recreational vessels and everything else on the Bay New Year's Day was the 1,300-ft container ship CMA CGM Benjamin Franklin — the biggest ship to ever visit the US — which 'sailed' in through the Gate and tied up at the Port of Oakland. The behemoth departed again on Monday.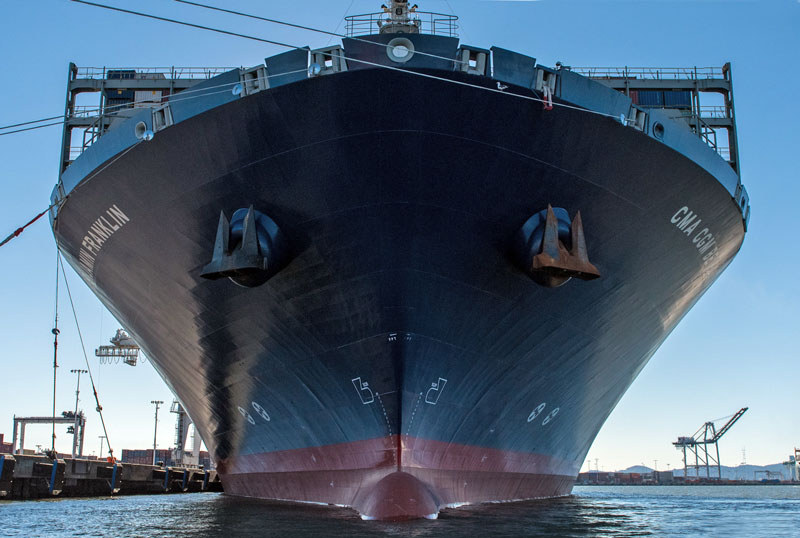 Receive emails when 'Lectronic Latitude is updated.
SUBSCRIBE