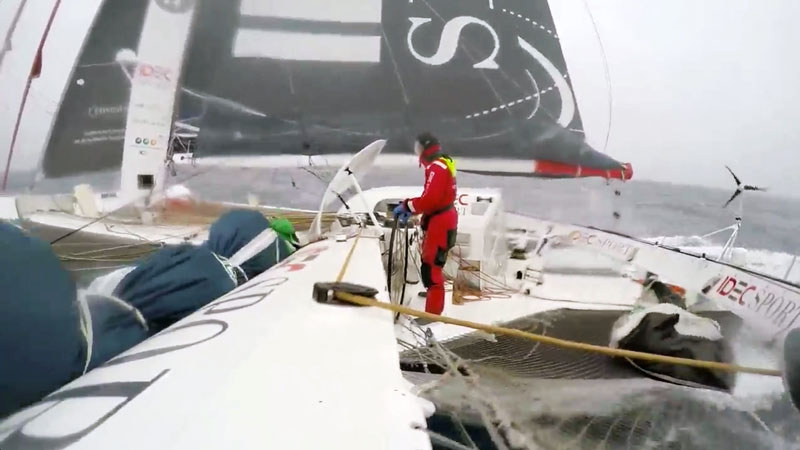 IDEC Sport smashed the Indian Ocean record by crossing the longitude of Cape Leeuwin late Thursday evening. The 105-ft trimaran took less than five and a half days to cross the Indian Ocean from Cape Agulhas in South Africa to Cape Leeuwin in southwest Australia — no one had previously sailed this stretch in less than six days.
With the Indian Ocean record under their belt, Frenchman Francis Joyon and his six-man crew are speeding toward the Pacific, which they should reach tomorrow. Now, on the twentieth day of sailing, they're keeping up a fast pace.

Video by Paul Bessereau
Each man celebrated the milestone by taking a swig from a small bottle of whiskey. They didn't manage to get much sleep last night. At the helm, they needed to be attentive. Early this morning, they learned that they had grabbed the Indian Ocean record. They said to their supporters: "We're very pleased — five days and eleven hours from Cape Agulhas to Leeuwin. It wasn't looking that easy, as we were a bit slow at the start. So, when we learnt that, it was fantastic. It sends a shiver through you and our eyes are sparkling," declared Catalonian sailor Alex Pella.
"Now, we're doing 37, 39 knots… we are sticking above 35 knots," said Clément Surtel, who was clearly in great shape. "We're sailing at speed with the wind on the beam," said Joyon. "We're getting tons of water across the deck and there's spray everywhere. The boat is going crazy. It's not exactly comfortable."
Maxi trimarans IDEC Sport and Spindrift 2 are racing around the bottom of the planet, each attempting to beat the Jules Verne Trophy time set in 2012 by Loïck Peyron aboard Banque Populaire V. They both departed Ushant Island off the coast of Brittany in the early hours of November 22, though a couple of hours apart. IDEC Sport, sailing at Latitude 51 South, is currently 79 miles off Peyron's pace, while Spindrift 2 is 39 miles ahead of the record.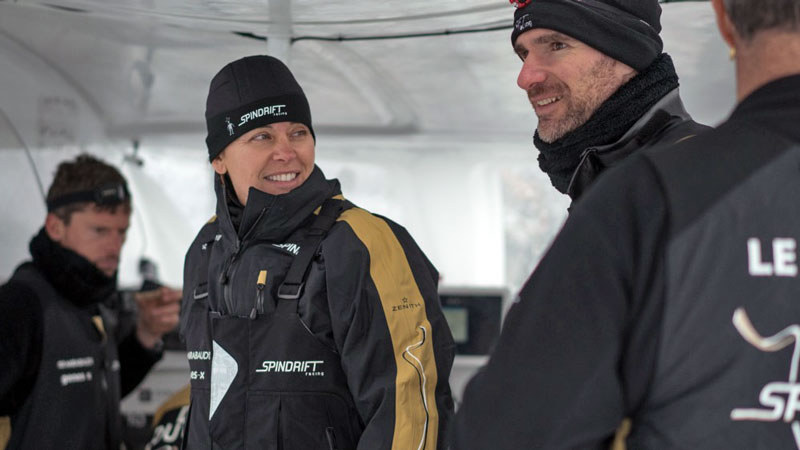 Spindrift 2 is skippered by Frenchman Yann Guichard and crewed by 12 men and one woman, Guichard's partner, helmswoman Dona Bertarelli.
The record to beat is far tougher than Jules Verne's 80 days. Rather it is 45 days, 13 hours, 42 minutes, 53 seconds. Oh, and Banque Populaire V, the boat that holds the record? It's a 130-ft VPLP-designed trimaran that's now called Spindrift 2!
Receive emails when 'Lectronic Latitude is updated.
SUBSCRIBE