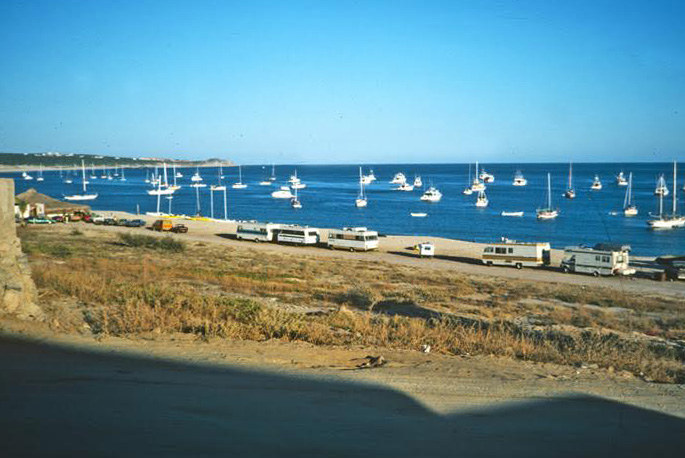 Last Friday's Photo Quiz generated a lot of responses, with about half of them being correct. Here's a breakdown:
Between Espiritu Santu and San Jose del Cabo — James Vickers.
Los Frailes — Terry Hudkins.
Punta Mita — Jim Kiel.
San Carlos — Zee Hag.
Santiago — Fred.
Mag Bay — John Aldous.
Old school Ensenada — Dave Lewis.
La Cruz — James Burns.
Rancho Buena Vista — Craig Moyle.
Bahia de Los Angeles — JoLinda Garnier.
Bahia Conception — Tom Cullen, James Coggan, David Kramer, Don Edwards and 'Woody', the latter who added, "Maybe Cabo".
Santispac, Conception Bay — Lauri Hamilton.
Muertos — Colin and Wendy Gegg, who are currently in Vanuatu, Don Laverty, 'Jim', and Ken Janke.
Guerro Negro — John Williamson.
Scorpion Bay — Francoise Ramsay.
Interesting guesses, all of the above, but the correct answer is Bahia Cabo San Lucas — although it was a bit of a trick because the photo wasn't taken last week, but rather in either 1981 or 1983. Today it is the site of hotels, condos, The Office Beach Bar, Mango's Beach Bar, Baja Cantina and much more. Back then it was mostly the bus stop and a place to park RVs. So many boats are anchored out because the inner harbor hadn't been built yet, although the old airport, which is on the site of the current marina, was already gone.
Long Beach naval architect Alan Andrews got the answer exactly right when he said, "looking to the southeast from the site of the old Hacienda Hotel." What made his guess particularly good is that his first visit to Cabo was several years after the photo was taken.
Others who got it right include Ron Witzel, Doug Murray, Phil Kumpis, Capt Mark — who was first there in 1972, having sailed down from Marina del Rey on a Newport 27 — Lon Woodrum, Joshua Rothe, Chris Maher, Fred Waters, Mike Wilson and Charles Prather.
Al Fricke, however, explains why everybody should have got the answer right. "I'm laughing out loud as the photo is titled "Cabo.jpg."
Just for photo fun, we've included a second photo that was taken from Pedregal looking toward the Friars, with Bahia Cabo San Lucas just barely visible on the left. What's changed since this second photo was taken? Well, the two hotels that are barely visible, the Finisterre on the very far left, and the Sol Mar, which was the finish line for the Long Beach YC races to Cabo and is almost invisible on the beach below the highest peak, have been joined by literally hundreds of millions of dollars worth of hotels. If the camera were rotated 180 degrees, the shot would show a once-pristine shore that has since been joined by at least another couple of hundred million dollars' worth of hotels, and a golf course that has a hole right at El Faro Viejo, the old lighthouse.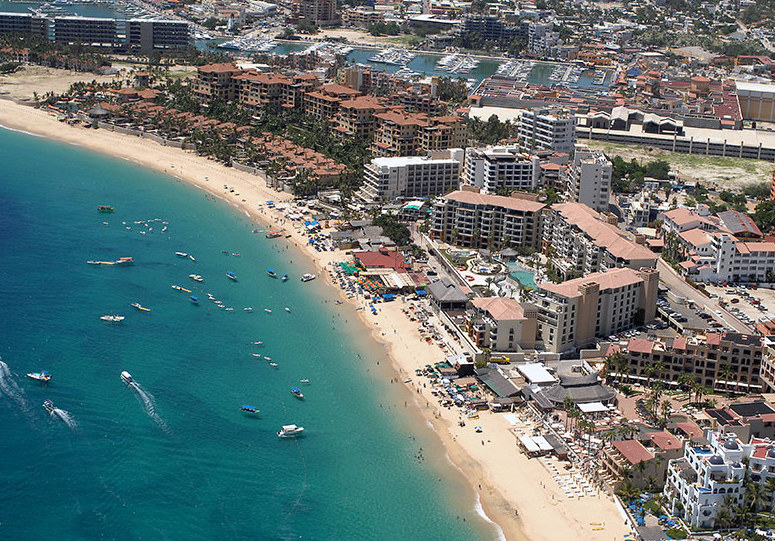 We have countless great memories from those days, when the Broken Surfboard was one of three restaurants in town, when the luxury Hacienda Hotel didn't take credit cards and the waiters told you that you didn't need utensils because you could eat with your tortillas, and when you wanted water, you hooked about 10 hoses together and ran them from your anchored-out boat to the farmer's spigot in the arroyo.
Anybody have any memories from those truly good old days?
Receive emails when 'Lectronic Latitude is updated.
SUBSCRIBE