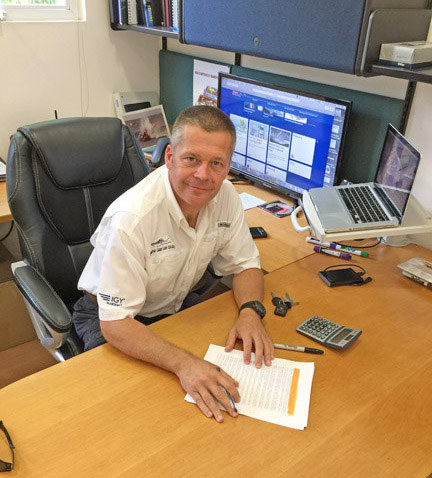 Since the Wanderer and The Dona were halted in Cabo San Lucas by Baja weather during our 1,000-mile Riviera Nayarit-to-San Diego delivery trip with Profligate, we decided to call on Darren Carey, Manager of IGY Marina Cabo San Lucas, to get his explanation for the very steep fuel dock rates for tying up to buy fuel in Cabo.
Darren explained that as of right now, the flat-rate dock charges only apply at Marina Cabo San Lucas. (The rules may change in a few months to include all other fuel docks in Mexico, or the flat rate at Marina Cabo San Lucas may be eliminated.) Currently other fuel docks in Mexico are able to charge an additional percentage more per gallon rather than a flat rate for wharfage, which is what Marina Cabo San Lucas used to do and would like to do now. Alas, it's not up to them. And Carey, who from the beginning of his reign has stated he wants more sailboats in Cabo, was the first to admit that the boat owners who are really getting screwed are owners of sailboats. "The problem is that their boats tend to be long, but they don't tend to need much fuel."
To give you an idea of how out of whack the system is, if we brought the 63-ft Profligate to the fuel dock, we would have to pay a wharfage fee of $375 U.S. Even if we only needed 10 gallons. This is 27 times (!) the wharfage fee that the owner of a 25-ft panga or 25-ft fishing boat would have to pay. If you're like us, you get the suspicion that the owners of larger boats are being forced to subsidize the wharfage fee of the countless pangas and small fishing boats that work out of Cabo.
Darren did have some good news. The law allows for considerable price breaks in the flat fee for: 1) Participants in events such as the Baja Ha-Ha, and 2) Marina tenants. A strategy he suggests for Ha-Ha participants who want to be as thrifty as possible is to anchor out for three or so days after the Ha-Ha, then come in and stay in the Marina Cabo San Lucas for just the last night. "The discount you get because you stayed in the marina for one night will, to a large extent, offset the flat fee you have to pay to get even a little fuel."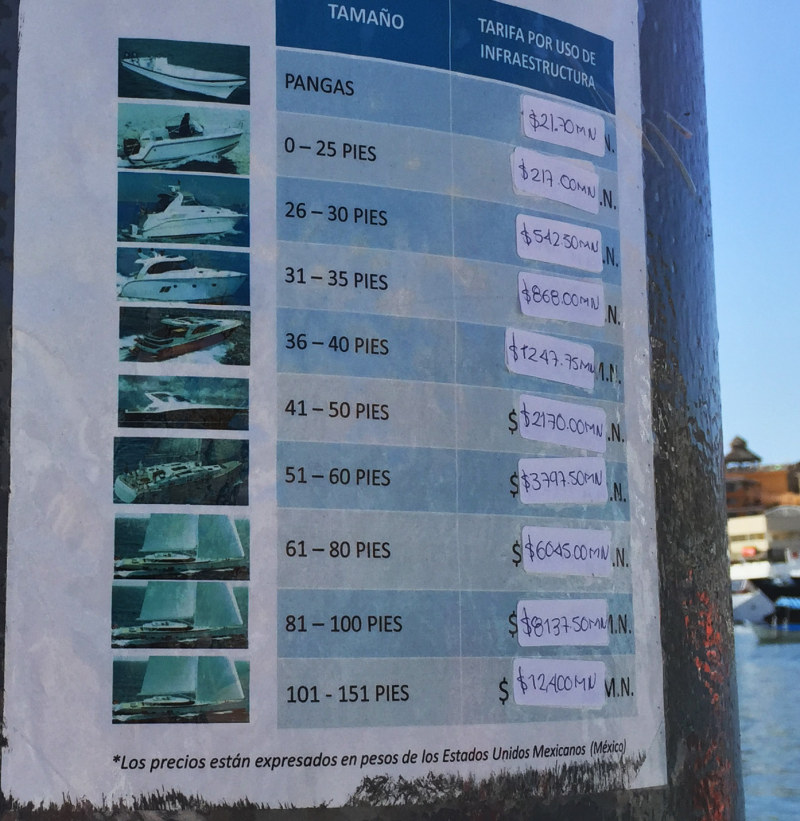 Any questions? Darren will be at the Baja Ha-Ha Kick-Off Party at the West Marine Super Store at 1250 Rosecrans in San Diego on October 25 (1 p.m.) to answer your queries.
While in Cabo, we noticed that many of the marina's slips are still out of action. Darren confirmed that 30% of their slips had been destroyed by last September's hurricane Odile, and they haven't been repaired yet. He scoffed at a report in a local paper that the reason was that the marina didn't have insurance.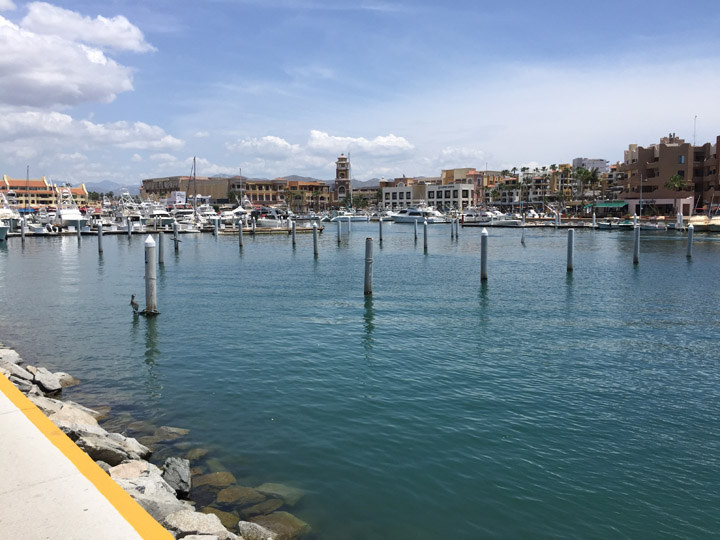 "Does anybody really believe that IGY, which owns major marinas all around the world, wouldn't have insurance, or that the Mexican government would allow us to operate without insurance?" The problem, he says, has been with red tape, such as getting the permits necessary to even rebuild what had already been there. If you think getting permits in the United States is hard, and it is, you're not well versed in how difficult it can be to get them in Mexico.
The good news is that the pilings are still there, and Ha-Ha boats will be able to tie bow and stern. And thus more will be able to get in and raft up than if the slips were there. About five Ha-Ha boats used the pilings last year and said it was just fine.
Given the very steep wharfage fees, we were frightened at what we might be charged at the marina's tienda for a medium-size bottle of shampoo. We were stunned when it was 16 pesos — less than a dollar. This is for about 10 times the amount of shampoo you'd pay $5 for at SFO. Later, while walking down the street, we noticed a sign at a Subway store advertising sandwiches for 29 pesos. That's less than $2. As was the case in Europe, the prices of some things are very reasonable.
The other thing that needs to be noted is how friendly the Mexican people are. Despite having to periodically deal with numbskull tourists who have way more money than the Mexicans will ever have, they are unfailingly friendly and genuinely like to see visitors have a great time.
Otherwise it was very hot and very humid in Cabo. How hot? About 96 during the day and the low 80s at night. Sleeping on a boat would be impossible without several big fans or an air conditioner. Jumping into a pool or the ocean brings little relief, as they are very warm, too. There is a reason that this is the off season. That said, the Bisbee and other fishing tournaments are in October, so the high season isn't that far away.
Receive emails when 'Lectronic Latitude is updated.
SUBSCRIBE