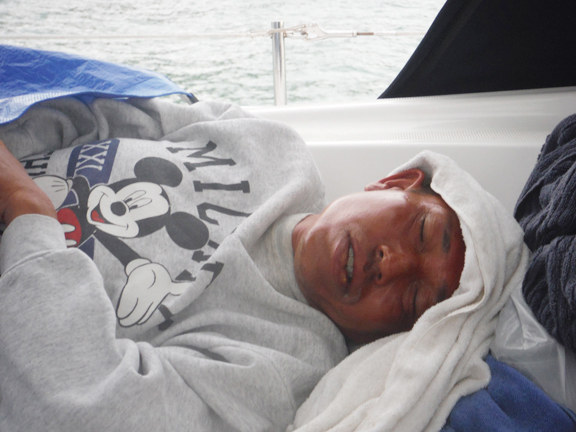 The 150-mile trip from Telaga Harbour, in Langkawi, Malaysia, to Phuket, Thailand, is normally a pretty easy trip. But as Santa Cruz-based cruiser Tom Van Dyke of the Searunner 31 tri En Point reports, "A big blow during the past two weeks has been wreaking havoc . . . as typhoon activity in the Philippines and China has been sucking air up from the Indian Ocean and across the peninsula." Two of Van Dyke's cruising friends, George Juri and Grit Chiu, aboard the Alberta, Canada-based Hunter 50 Escape, caught the brunt of those conditions while sailing north toward Phuket last week, but the weather wasn't the only memorable aspect of their trip.
Van Dyke explains that on July 9, Escape was seven days out of Langkawi, "and had made just 100 miles island hopping between almost constant 30-knot winds with gusts into the 50s, when they spotted a man floating in the water between Koh Lanta and Koh Ngai."
George and Grit "instantly used the man-overboard retrieval skills they'd practiced before setting out. George holds an Offshore Yacht Master rating from the Canadian Sail and Power Association, and Grit is a surgical nurse. Everything they'd learned boiled down to Grit's pointing at the man in the water and not taking her eyes off him, while George piloted the boat back to effect a rescue in what they estimated were 30-knot winds and three-meter seas."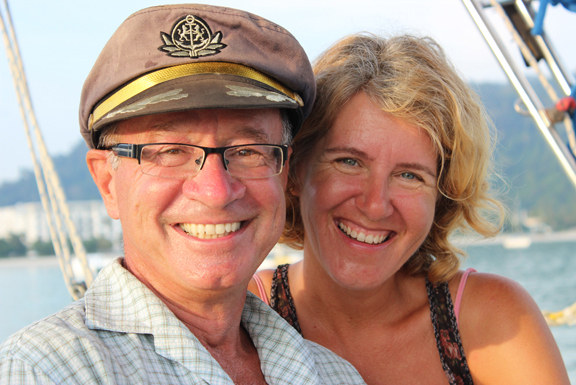 Grit says that the man, 46-year-old Thar Hlaing, was easy to spot "as his hands were bleached like parchment" and George says Hlaing's color was "corpse-like." Van Dyke tells us that "Trying to maneuver the boat wasn't easy, and on the first miss the man panicked as if the two were going to leave him, but Grit kept calling out to him until they were able to haul him onto the swim platform, hanging on themselves in the rough weather.
"Once aboard, Grit assessed Hlaing's physical condition and treated him with antibiotics and hydrogen peroxide for what he said were wounds from fish biting his flesh down to the tendon on his ankles and legs.
"Hlaing later told them he panicked, especially after having seen jet skiers pass him by, even though he was sure they'd seen his pleas for help at the beginning of his ordeal. After sleeping overnight on the boat, which George and Grit managed to anchor safely behind Koh Ngai, Hlaing told them he had been in the water for four days after a cement barge he was working on sank near Phuket. He'd started out huddling with two others of the six-man crew and gathered together the ubiquitous styrofoam and plastic floats fishermen use to mark their nets. The two who started out with Hlaing argued over what to do and eventually swam for shore whereupon Hlaing stayed put and lost sight of them. The Thai Navy reported two men were missing from the barge and Hlaing was one of four recovered."
Van Dyke figures that Hlaing drifted a minimum of 50 miles from Phuket to where the Escape crew picked him up four days later. He reports that his Canadian friends are now anchored back in Langkawi "awaiting the opening of the harbormaster's office, so they can explain why they checked out 14 days ago but never checked into Phuket." Van Dyke has been out cruising — often singlehanded — since heading south with the Baja Ha-Ha rally in 2012.
Receive emails when 'Lectronic Latitude is updated.
SUBSCRIBE