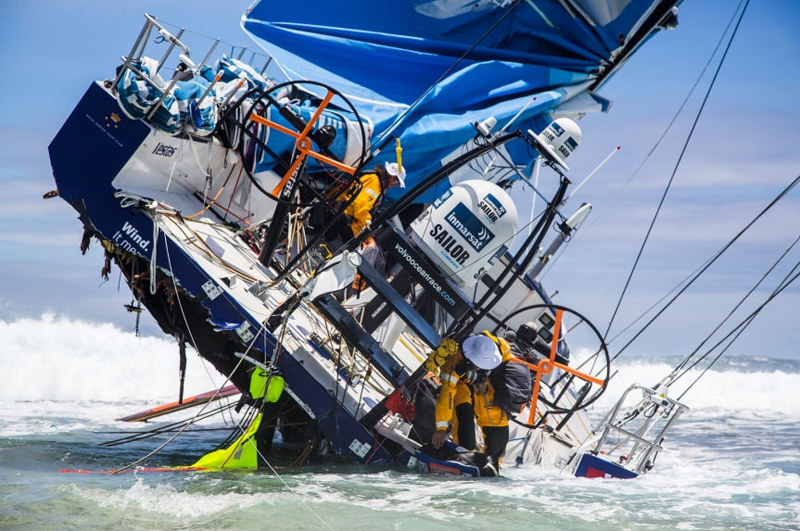 If ever there was an illustration that even the best sailors occasionally screw up, it was the tragic grounding of Team Vestas Wind last Saturday night on Cargados Carajos Shoals in the Indian Ocean nation of Mauritius. As reported Monday, the Volvo Ocean Race boat was sailing at 19 knots when the nighttime calamity occurred, midway through Leg Two. Fortunately, though, none of the nine crewmen was badly injured.
A video released yesterday gives you sobering insights into the emotional strain of the ordeal.
Video Courtesy Volvo Ocean Race
Vestas team members are reportedly assessing the possibility of retrieving and repairing the stricken Volvo 65 speed machine, but such a process would obviously require a colossal effort at best. Nevertheless, Vestas' chief marketing officer Morten Albæk said hopefully, "We are considering all available options for re-joining the race at a later stage."
Abu Dhabi Ocean Racing is currently leading Leg Two with 1,600 miles to the finish. Fifteen miles behind her, only a mile currently separates second place Team Brunel and third place Dongfeng Race Team. According to race organizers, the first boats are expected to finish the 6,000-mile leg by next weekend. See the official website for more.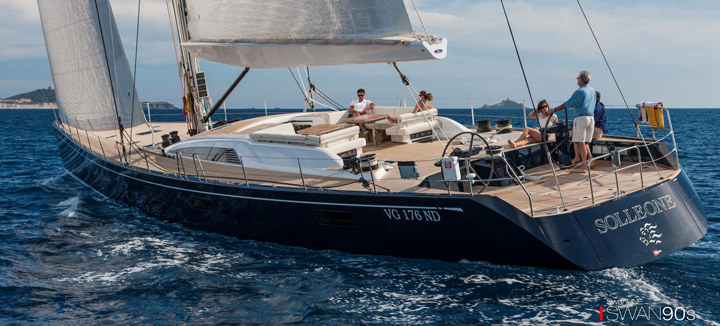 If we're not mistaken, we have a new and undisputed champion of sailboat boat ownership in Northern California — and for all we know, the world. This gentleman is about to take delivery of a new Swan 60 on Banderas Bay, Mexico, where he'll sail her in the winter. Come summer, he'll be sailing her on San Francisco Bay.
This boat is in addition to the Swan 90 he bought not long ago, and raced in Europe last summer. If somebody has a Swan 90, you might ask why they need a Swan 60. It's because the Swan 115 he ordered won't be completed for another two years or so. Swan is apparently building about six of the 115s as near sisterships so they can enjoy semi one-design racing.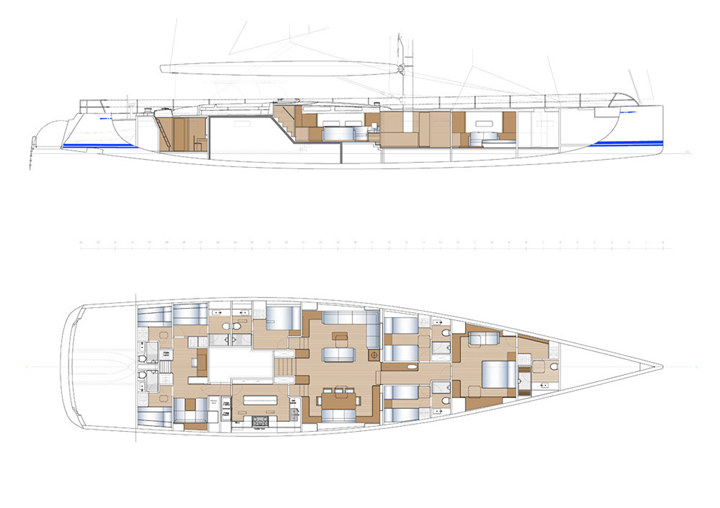 If you think that's a lot of boats for one person to own, it is. But those are just his monohulls. He also has a 70-ft trimaran that, if we're not mistaken, holds the outright speed record for sailing on San Francisco Bay. If you think that this is a hint about Oracle Team USA and Larry Ellison, you'd be close in more ways than you might think, but you'd be wrong. In addition, our mystery owner has a high-speed carbon fiber 45-ft catamaran.
We're sure that a lot of readers will argue that this individual should have instead used the money to buy food — or toilets — for the homeless people on the streets of San Francisco. Before anyone gets too wed to this notion, understand that buying, owning, racing, and maintaining five state-of-the-art yachts pours mountains of money into the U.S. and other world economies, and creates countless jobs. It's a massive multiplier of money. If that's not enough for cynics, in both 2007 and 2008, this self-made billionaire was named one of The 50 Most Generous Philanthropists by Business Week magazine. As if that wasn't enough, in the following two years Barron's magazine named him 5th and then 3rd biggest philanthropist in the world.
While this individual does not seek publicity, we'll also mention that in 2013 he was elected to the American Academy of Arts and Sciences, a group that includes some of the world's most accomplished scholars, scientists, writers, artists, and civic, corporate, and philanthropic leaders — including 250 Nobel laureates and more than 60 Pulitzer Prize winners. He also serves on the board of the Colleges of Engineering at Stanford, Cal and the University of Illinois, and from 2008 to 2011 was a trustee of Princeton University. So he not only is a self-made man who made it big in an extremely competitive field, he's not resting on his laurels.
We actually heard about the purchase of the Swans during the season opening party at a realty office at Punta Mita, Mexico. While there, we met a very nice couple who had moved to Punta Mita last summer from Sacramento. They told us about two Sacramento friends of theirs who just bought catamarans — one a Lagoon 50 and the other a Lagoon 52. Neither one of these million + dollar yachts will be kept on San Francisco Bay.
It occurs to us that this is indicative of a growing trend in the last 20 to 30 years. To the best of our knowledge, 30 years ago only a few Northern California sailors kept boats in different parts of the world. Now all kinds of folks with larger boats do. We don't think there is any argument that San Francisco has the best and most spirited summer sailing conditions in the world. But it's a little lacking when it comes to tropical cruising such as found in the Caribbean, and big boat racing such as found in the Med.
Receive emails when 'Lectronic Latitude is updated.
SUBSCRIBE