We received many responses to Friday's Photo of the Day quiz. The most popular answer was Lake Powell, on the state line of Arizona and Utah. "I know it's not exotic but sometimes you guys are pretty sneaky-sneaky," wrote David Gauny of Ventura. He's correct that the location is not exotic, but it's not Lake Powell. A similar guess was Lake Mead, NV, which got several votes.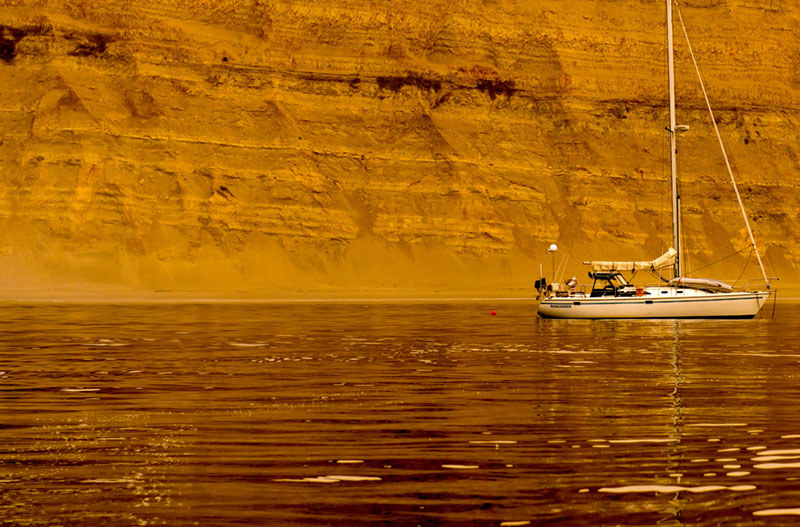 "This looks like it could be the Scorpion anchorage on Santa Cruz Island at sunrise or shortly after," suggested Mark Lavander. "If there is a light cloud cover at sunrise, the island takes on a golden hue that is beautiful. Pictures do not do it justice." The photo evoked Santa Cruz Island for a couple of other folks as well.
Other suggestions included various locations in the Sea of Cortez and Baja; Valle Gran Rey, Isla de Gomera, Canary Islands; Lana'i, HI; Greece; the Panama Canal, Suez Canal or Corinth Canal; and "The Grand Canyon after the last flood."
Kristen Soetebier's email was the first to identify the correct answer. "I recognized the cliffs." Her significant other, Rob Macfarlane, has a similar picture of his N/M 45 Tiger Beetle with cliffs in the background but a little farther away. "His photo always reminded me of Baja locations and didn't look like NorCal at all."
Soetebier also recognized the photographer's name. "I looked closer to determine the boat was indeed Perseverance. I was pretty positive that it had to be Drake's Bay, because I know Jeff goes up there a lot. I also remember remarking how close he anchors to the shore."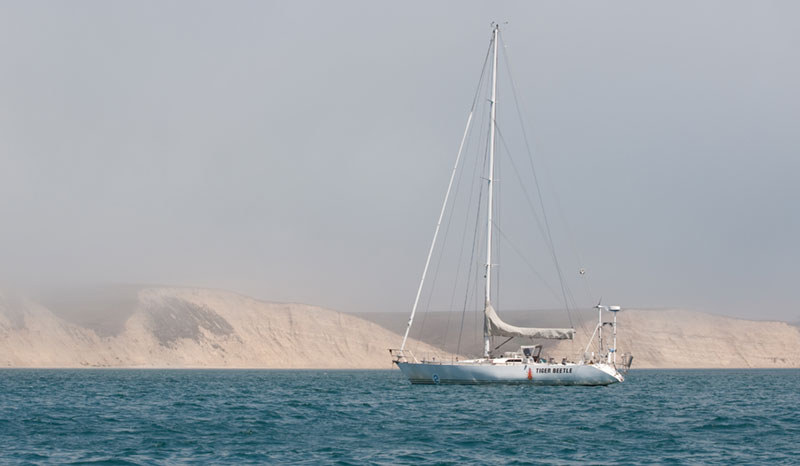 "One weekend, we were there with Perseverance, which was anchored very close to shore," recalled Kristen, "and we dinghied over while it was still light out for drinks and food, and we had so much fun that we stayed until late. By that time it was pitch black and so foggy, maybe only a few feet of visibility, and we had to cross all the way over a good part of the bay to nearer the Fish Pier where Beetle likes to be. Jeff lent us a headlamp, but all it did was illuminate the super-thick fog more brightly. Thankfully, I had brought my handheld GPS with me, having marked Beetle's location, and we ultimately used that to get back."
We received dozens upon dozens of responses to the identity of the 'Mystery Ship' photo in the October 24 'Lectronic. Many of them were correct, particularly as the boat had been berthed in Berkeley over the summer. Others were incorrect, identifying the boat as David Crosby's Maya, Mayan or even Southern Cross. "We'll give everybody a few weeks to think it over," said the Grand Poobah at the start of the Baja Ha-Ha.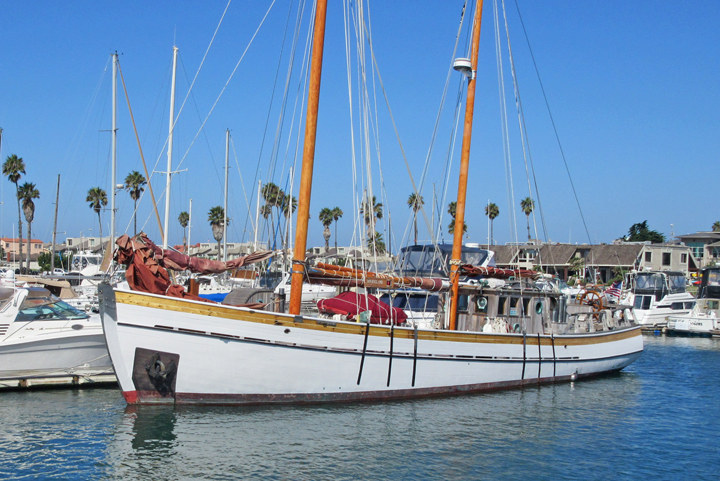 We can't count the number of owners and skippers of catamarans with forward cockpits who have told us they never get wet in those cockpits, even when sailing to weather. It might have something to do with the fact that our catamaran Profligate doesn't have a forward cockpit, but we've always been a little skeptical.
Our skepticism ratcheted up after seeing the Seahorse magazine video made of our friend Lloyd Thornberg's St. Barth-based Gunboat 66 Phaedo, which has just undergone an 18-month refit in Newport Beach following her dismasting in the 2013 Transpac. You'll remember that Phaedo covered an astonishing 425 miles in 24 hours in the early stages of that race to Hawaii, almost certainly giving her the record for the fastest legitimate cruising catamaran, and certainly the record for fastest cruising catamaran with a built-in pizza oven. Yet at 24 seconds into the Seahorse video, it almost looks as though Lloyd and captain/project manager Paul Hand, another friend and great guy, are catching a little spray. And even more spray a few seconds later. And conditions don't look that rough.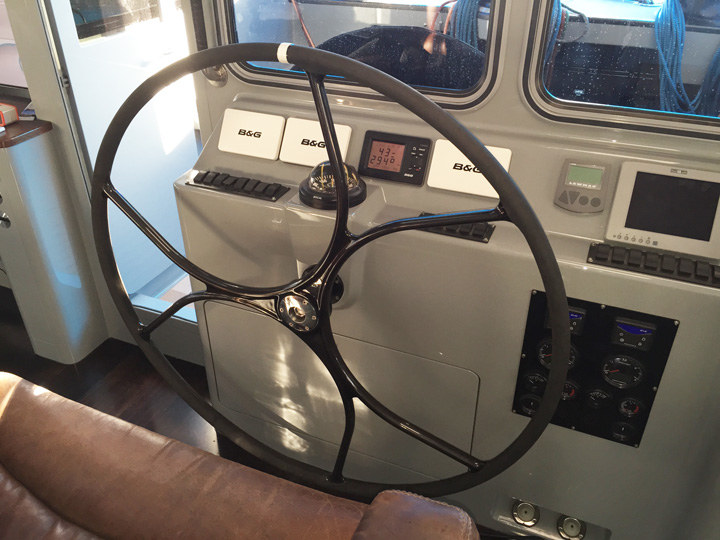 If Lloyd and Paul look a little familiar, it's because they, along with Paul's wife Sandra, are featured in a photo spread on pages 70-71 of the November Latitude 38. We'd visited them aboard Phaedo in October and gotten a tour of the significantly modified cat. We didn't write about the refit because Lloyd asked us to respect the fact he'd given first rights to Seahorse and Multihull World. But we'll let a little factoid slip out — the load on the new headstay at rest is 12,000 pounds!
Phaedo is rocket fast and a nautical work of art, but we wonder at Lloyd's desire for even more speed. We have a rule aboard Profligate — keep it under 15 knots at night, and nothing over 20 knots during the day. Naturally we broke that rule in the Baja Ha-Ha by hitting 20 knots after dark, but a short time later dropped our chute, as did Jim Milski aboard the Schionning 49 Sea Level, who had hit 21.7 knots. Jim said he was relieved that he could drop his chute without seeming to chicken out. Lloyd and Paul probably would have continued on in the mid- to high 20s. But then Lloyd is at least half Jim's and our age.
What would be really fun is if Lloyd kept Phaedo on the West Coast until the start of the 2015 Transpac, because the new owner of what had been the Gunboat 62 Cucu Cucu Belle has undertaken a six-month refit at Driscoll's Boat Yard in San Diego with an eye to Transpac honors. Hull #2, she's the lightest of the big Gunboats. Hand knows her well, for he was her skipper in the Caribbean back in 2004 when she was Safari — and when she did a little high-speed sailing side-by-side with Profligate on a reach to St. Barth. Yeah, it's a small sailing world. And a good one, too.
Receive emails when 'Lectronic Latitude is updated.
SUBSCRIBE