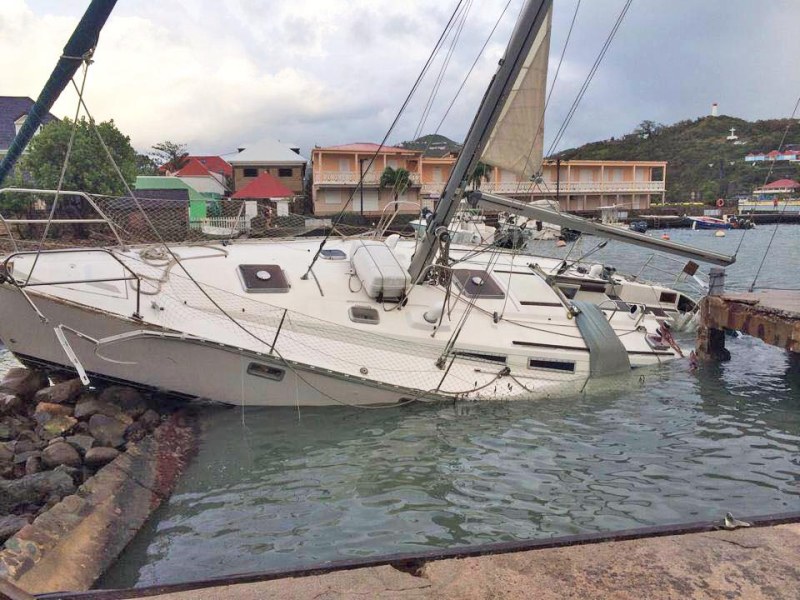 For five hours on Monday evening St. Barth and St. Martin were sucker punched by hurricane Gonzalo, which had surprised forecasters with a quick change in path and a rapid building in strength to hurricane force. Marine interests on the two islands were hit particularly hard, as were small aircraft.
The body of one 87-year-old sailor, who had lost his boat to the ferocious hurricane Luis 19 years before, was found in his current boat at Boca Marina inside St. Martin's Lagoon. While one source says nobody has been reported missing, others are saying a number are still missing, including three in a dinghy off St. Martin, three on a boat off St. Barth, and perhaps more.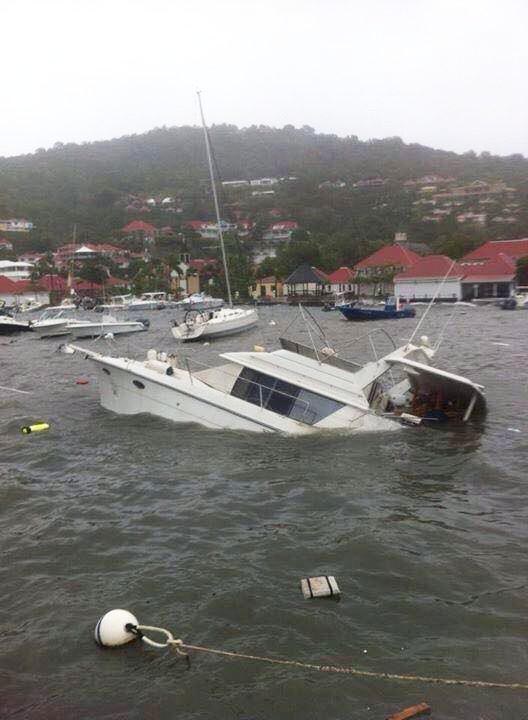 Thirty-seven boats were said to have been destroyed, most of them sunk, on St. Martin. Most were in Simpson Bay Lagoon or at Sandy Ground, Marigot Bay and Grand Case on the northwest coast, where authorities said the waves got as high as 18 feet. In addition, five boats were reportedly washed up in relatively protected Oyster Pond, and the resort bars at Orient Beach were said to be devastated.
There was an unknown amount of damage to boats in the boatyards. For example, St. Martin Shipyard, next to the airport on the Dutch side, reported significant damage to boats in their dock area. La Gamelle, the Wanderer's scruffy but beloved Olson 30, is in that yard, but we've been told that she is undamaged. The pier at the Coast Guard office on the Dutch side was damaged when a boat slammed into it, and one Coast Guard vessel on a lift was also damaged.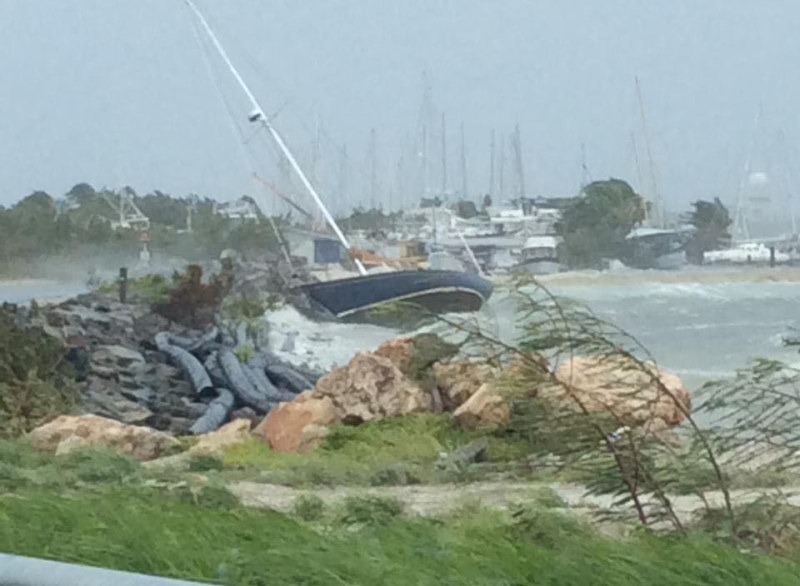 Although not on the island, St. Barth fountain-of-knowledge Melanie Smith reports that her sources on the island say "at least 50 boats sank or were driven ashore . . . all over the place. This storm grew so quickly while on the doorstep of the island that most were caught totally unprepared, which is pretty rare for St. Barth." According to Smith's sources, as of Tuesday night three people on one boat were missing and several others still unaccounted for.
When hurricanes approach, most St. Barth boats run for the lagoon in St. Martin. But that's 20+ miles away, the bridge only opens a couple of times a day, and the trip would have been to windward. So to our knowledge few if any skippers attempted it.
According to authorities at the Prefecture at St. Martin's Grand Case, Gonzalo's winds peaked at a relatively light 86 knots, about a third of the force of mega hurricane Luis, which so devastated these islands 19 years ago when more than 700 boats were destroyed in the lagoon alone. Surprise was Gonzalo's big weapon. Most Caribbean hurricanes start far to the east and give a long warning of their approach. Gonzalo started as a system 700 miles east of Antigua, and on Friday afternoon forecasters said it had only a 10% chance of becoming a tropical storm in 48 hours, and only 30 percent in five days. That lulled a lot of people, most who have been through storms, into complacency.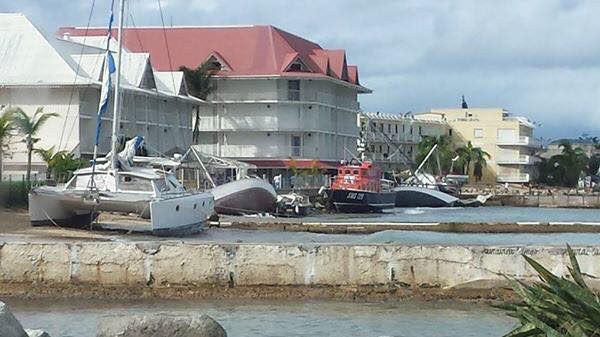 By Sunday afternoon Gonzalo had jumped to a depression and then a tropical storm, so at 1:30 p.m. authorities issued their first tropical storm watch. But at that point Gonzalo was supposed to pass to the south of the island. When a huge rainstorm came through on Monday, many residents assumed that it was Gonzalo coming and going. It wasn't. In fact, the real thing had turned and was headed straight for the two islands.
The Sea Rescue service reported they were overwhelmed with calls for help, and that many flares were fired from boats in the night. Early in the storm Lifeboat 129 went to rescue a boat with two adults and a baby aboard off the Beach Plaza Hotel at Marigot Bay. "When we got the tow line to him, it took the man forever to attach it, as he was busy trying to save his anchor," said one of the crew. "We were shouting that we needed to go forward, and the wind was gusting to 60-65 knots. But we ended up with the line getting caught in the props and then the two engines shut off. Within ten seconds we were on the rocks."
Laura Greces of BVI Yacht Charters reports that Gonzalo was originally headed right for their base on Tortola, British Virgin Islands, so they made all preparations. "We were in line for a direct hit at hurricane force, so we ran all the boats over to our hurricane hole at Paraquita and to Village Cay, and had some put in the marina at Virgin Gorda. I had all the hurricane shutters up at my home and went to sleep at 8:30 pm. I woke up the next morning and I don't think we even had tropical force winds. None of our boats, including Latitude's catamaran 'ti Profligate, were damaged. We were very lucky. What are bookings like for the upcoming season? "Very, very busy."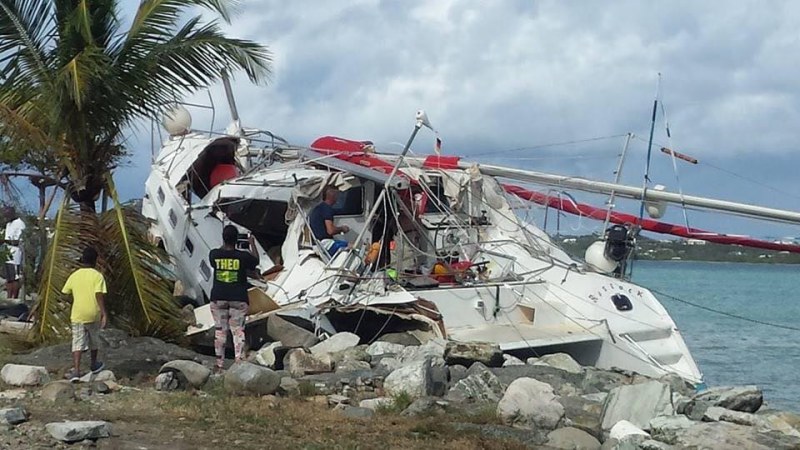 Compared to the 1990s, hurricanes during the last 15 years or so have been pretty easy on marine interests in the Eastern Caribbean, particularly the Virgin Islands / St. Martin / St. Barth / Antigua area of the Lesser Antilles. In just four hours, Gonzalo changed all that. Because the hurricane wasn't that strong and didn't last that long, most of the damage to the islands was cosmetic. Most electrical, phone, and transportation services, including airports, are up and running again. The islands will be fine for the winter.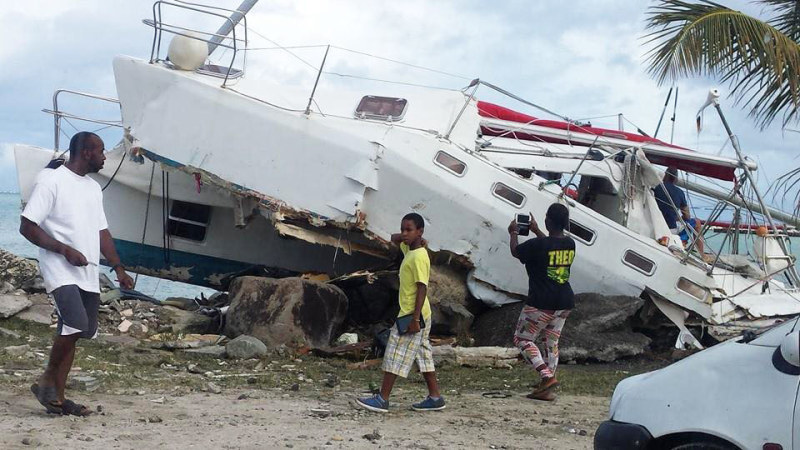 Click here to check out the Awlwood application video.

We don't care what anybody says, the Biblical Job didn't suffer anywhere nearly as much as the Grand Poobah of the Baja Ha-Ha has in his endless attempts to make paperwork requirements understandable to normal human beings wanting to bring their boats to Mexico.
We love Mexico, we love the Mexican people, but despite the intention of the Mexican bureaucracy to make it as easy as possible for people taking boats to Mexico, they have achieved the exact opposite. It has been sheer insanity.
Here's a recent example: Last Thursday we were invited to a special meeting of representatives of the Mexican IRS, Immigration, and Fisheries to supposedly clear up all misunderstandings about the paperwork required for Mexico. One of the questions that came up, and was answered several times, was this: Does everybody on a boat need a fishing license? The answer, clearly repeated several times was, "Only people who will be fishing need a license. If there are five people on the boat, but only one fishes, only one license is needed."
Then we were handed a glossy new eight-page brochure from Tourism titled Visiting Mexico by Private Boat, which lists all the paperwork requirements for entering Mexico by boat. On page 5, under Fishing Licenses, it says the following: "If you have fishing gear onboard, get at least one fishing license." It clearly does not say "get a fishing license for everybody onboard."
So yesterday we got a call from a Ha-Ha entrant who told us that when he went to the Mexican Department of Fisheries in San Diego, they insisted he needed a license for everybody who will be on his boat. We assured him that, based on the meeting in Huntington Beach, this was not correct. Just to make sure, we called our friend from the meeting, Juan Carlos Perdomo from the Mexican Commission of Aquaculture and Fisheries.
Juan, who was one of the very people who told us 'only one fisherman, only one license', apologized and said, "I am very sorry, that's wrong. If there is fishing gear on the boat, everybody on the boat must have a license. It's $35 for a month." But everybody at the meeting told us only people who were going to fish needed a license. "I'm sorry."
When we asked him why the brochure they handed out, and encouraged us to hand out to everyone headed to Mexico, said just the opposite, he simply said he was sorry, it was wrong. (Cue uncontrolled screaming by the Grand Poobah and a couple of swigs of tequila.)
To be fair — and this is equally insane — when the officials handed out the brochures, and asked us to hand them out to everyone — they said they were from Tourism, and thus "not an official document." Furthermore, they said parts of it weren't even correct.
What?!!! Why would you hand out a brochure with incorrect information? In any event, they reiterated the now-denied claim that only people who fish would need licenses. (Cue more uncontrolled screaming by the Grand Poobah and a couple of more hits of tequila.)
There is more. If you got a TIP online, as everyone was told to do, this will make you want to tear your hair out.
After we wrote our huge post-Huntington Beach report in 'Lectronic Latitude, Neil Shroyer of Marina de La Paz wrote us to say: "Thanks for getting the information out, I would not know of any way better to explain things than you have in the last article of 'Lectronic Latitude."
We took this as a huge compliment, because the three people we trust to know what's going on in Mexico with regard to boats and the law are Tere Grossman, head of the Mexican Marina Owners Association, Neil, and not far behind, is Fito Espinoza of Marina Coral in Ensenada.
But in an email we got today, Shroyer dropped the bombshell: There are two parallel but different TIPs (Temporary Import Permits)! What?!!! Where's that bottle of tequila? We quote:
"At this time there are two basic ways to acquire a TIP, and they are running parallel to each other. One is the Banjército direct system, and the other is the Banjército by internet system. The Banjército direct system has been updated to handle the new version of Rule 4.2.5. This one issues a parallel document along with the TIP to list the mobile accessories that includes dinghy, jet ski, quads and even a helicopter. It no longer requires that you list all the other items onboard such as sonar, radar, radio, dishwasher, etc. They do not worry about that anymore. (The other document, a 'Registro…', is only to be filled out when you want to bring in a new part for the vessel or repair a major piece of equipment.)
"The TIP from Banjército over the internet is still operating under the old 4.2.5 Rule criteria and is a parallel document. It has a list of accessories that is no longer valid or needed. (Where's that bottle?) It does not issue the Listado de Accesorios móviles, which is now a requirement.
"So when you get a TIP over the internet, you get the 'old' TIP without the new information on it like boat name, registration number, and you are getting the wrong document to list equipment.
"Any change you make to the TIP, even if it is just to correct a mistake or to change it out for a new one to get the list of mobile accessories registered, will cost $59 dollars. This should be done before Dec 31st. They said the changes would be free of charge, but so far that hasn't been the case.
"One option is for boats to come down to Mexico without a TIP, and get it when they get to La Paz. Because of electrical problems after Odile, they are issuing them by hand now. But they will probably have the system up and running by the time the fleet arrives here mid-November. There should be no inspection of TIPs until after December 31."
We don't know where to begin the outrage. For Neil, who almost always knows what he's talking about, is saying: 1) Nobody needed to get a TIP online in the first place. 2) If you get an online TIP, it's outdated, and you will have to pay to get a new one when you get to Mexico anyway. 3) Nobody had to waste time filling out 'Belongings and Accessories' page, which was all screwed up anyway. 4) Banjercito shouldn't be charging for corrections to TIPs, but they are anyway.
Do you think it would have been helpful if one of the officials at the Huntington Beach meeting could have mentioned any of this? The closest they came to it was saying that if there were mistakes on a TIP, you could get them changed at Banjercito by December 31. Which, as is par for the course, was wrong.
As much as we love Mexico, we have to confess their system (actually their non-system) is the biggest mess we've ever seen. They have been absolute failures in giving guidance in what needs to be done and what options there are to getting it done. What printed guidance they've given is often wrong. The officials don't know the rules and regulations for their own departments, and have disseminated incorrect information. You cannot trust anything that is written. You can't trust anything officials tell you. And frankly, now we're not even sure that Neil knows what he's talking about, for the new TIP we got over the Internet does, unlike what said, include our boat's name and registration (meaning, we assume, HIN and document number.)
Please excuse the Poobah, as we have to go out for a bigger jeroboam of tequila.
So what should you do? We hate to say this, but we don't have a 'f–kin' clue, because we don't think anybody in Mexico has any idea either, and nothing in writing can be believed. It is the definition of chaos.
Oh, there is one bit of good news. Yet another new set of guidelines for paperwork, Juan Carlos tells us, should be available "soon."
Receive emails when 'Lectronic Latitude is updated.
SUBSCRIBE