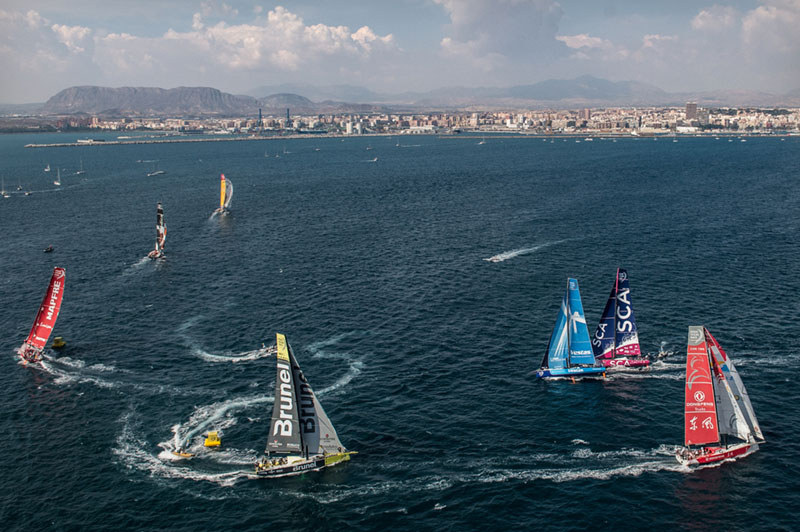 Seven teams will start the 39,000-mile around-the-world Volvo Ocean Race tomorrow in Alicante, Spain, bound for Cape Town, South Africa. The first leg will take the fleet out into the possibly stormy Med to the North Atlantic, south across the equator, and into the South Atlantic. The leg will be 6,487 miles long and is expected to take about 23 days. Tomorrow's start is scheduled for 1400 CET (sorry, but that's 5:00 a.m. PDT).
The American/Turkish Team Alvimedica won the Alicante in-port race on Saturday. "We haven't done anything that counts for the overall trophy yet, but it's a confidence builder – it gives us the feeling that we can do well again," said 30-year-old skipper Charlie Enright. The boats in this edition are new one-design 65-footers.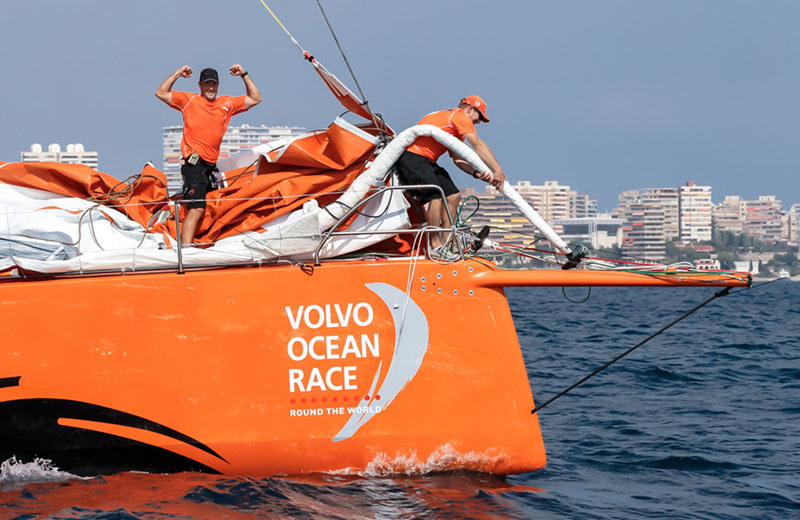 You may not be among the 66 sailors attempting the "Everest of Sailing," but you can play along in the virtual race. See www.volvooceanrace.com/en/game.html.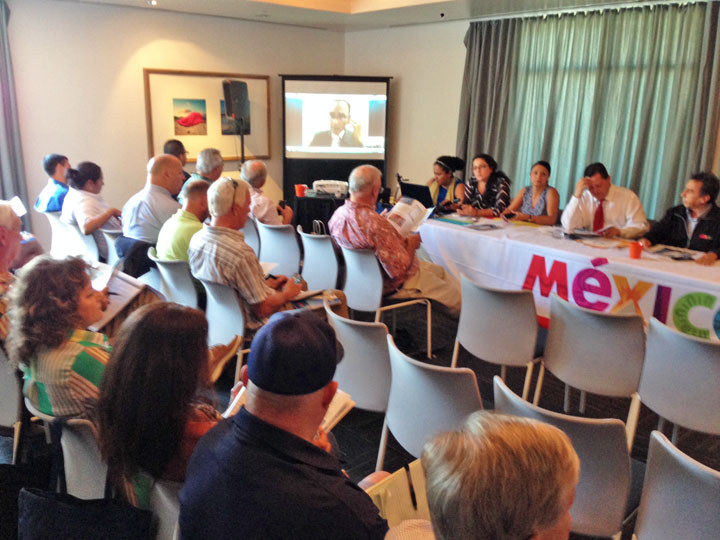 We will not lie to you. In a well-intentioned attempt to make it easy for nautical visitors to Mexico to get their tourist cards in advance, and boat owners to get a Temporary Import Permit for their boat in advance, Mexican officials have created a process and websites that seem to be ever-changing, incomplete, counter-intuitive, and neglect to mention lacking important instructions. Only an exceptionally talented clairvoyant could make it through the process without confusion and problems.
We not only attended yesterday's two-hour meeting with Mexican representatives of Immigration and SAT (their IRS) in Huntington Beach: out of the crowd of about 40, we probably asked 80% of the questions with regard to paperwork for people headed to Mexico with boats — and for people who already have boats in Mexico. There remains some confusion, but we think we've got a decent handle on it.
THE OVERALL PICTURE:
Everyone from Jorge Gamboa Patron, head of Mexican Tourism out of Los Angeles, to Rodulfo Figueroa Pacheco, head of Immigration from Baja California, to Karen Mendez Montes de Oca of SAT (Mexican IRS) in Los Angeles, to Carlos Luken, representative of the Mexican Commission of Aquaculture and Fisheries, and Juan Carlos Perdomo of the same agency, had the same message: The Immigration, Temporary Import Permit (TIP) and fishing license applications are all "works in progress". (Indeed, a new, improved TIP application form will be going up in several weeks.) And while there will be bumps in the road, as long as mariners show good intent, none of the agencies are in a "prosecutorial mode," and thus there shouldn't be any serious problems.
"We know our tools (meaning the websites for both visas and Temporary Import Permits) are not very good," admitted Rodulfo Figueroa, "so boatowners have to be patient and authorities have to be flexible. The important thing for boat owners is to be acting in good faith."
That said, Figueroa reported that the Mexican navy had conducted 284 "interdictions" and had "rejected" 69 boats. Since this struck us as an alarmingly high number, we asked him why boats had been rejected. He said it was for crewmembers not having passports or temporary visas, people fishing without licenses, and other major violations. Our clear impression is that almost all of these were fishing boats. Mexico has a problem with people from the States who fish "semi-commercially" in their waters. In addition, we were later told there will be no repeat of last year's fiasco, in which hundreds of foreign boats were impounded for months at a time to make sure they hadn't been stolen. That poorly conceived and executed exercise really wounded Mexico in the eyes of the boating community.
THE BASICS FOR TAKING YOU, YOUR BOAT AND YOUR FRIENDS TO MEXICO:
Let's start with a couple of easy ones.
1) Proof of Mexican Liability Insurance, not to be confused with your regular boat insurance. You can get this from your regular insurance broker or online by filling out a simple form.
2) Fishing licenses. If there is any fishing gear on your boat, at least one person on the boat must have a license. If only one person is fishing, only one person needs a license. There is no license needed for the boat itself. You can get your fishing license online at apps.bcs.gob.mx/finanzas/finaweb/fonmar. The page is in Spanish only (why?), but is supposedly fairly simple to figure out. Option 2 is to get the license at the Mexican Dept. of Fisheries, 2550 Fifth Ave., (corner of 4th and Laurel), Suite 15, San Diego. Their number is (619) 233-4324. Call in advance to check for hours and holidays.
THE TOURIST VISA:
This is where things start to get a little complicated. Indeed, it was only after yesterday's meeting that we learned about a key instruction — that although each crewmember needs to get a 'temporary nautical tourist card' individually, they all need to be paid for using the boatowner's same credit card — something that nobody had bothered to mention before.
Several people have told us that Mexican consulates, such as in Seattle and other places, have told them that Americans don't need visas to go to Mexico. Something was lost in the translation, because as soon as you get to Mexico, you absolutely do need one — except in certain border zones. They are now called 'FMM Visitor Cards'. And if you lose your tourist visa (aka FMM Visitor Card), you'll be required to buy another one — about $20 U.S. — before you leave the country.
If you're going to Mexico by boat, and your first stop is a Port of Entry such as Ensenada, Cabo San Lucas, Mazatlan or Puerto Vallarta, we were told that you can get a normal 180-day tourist visa when you arrive. Technically you'd be illegal if you ever got within 12 miles of shore — as you would have to do as you approached the Port of Entry — but apparently everyone is willing to overlook that.
However, if you are in the Baja Ha-Ha fleet, which will stop at Turtle Bay and Bahia Santa Maria before the Port of Entry of Cabo San Lucas, or if you're on a fishing boat that will go inside the 12-mile limit but may never stop ashore, each crewmember must get a 'temporary nautical visa'. You apply online at https://www.banjercito.com.mx/registroEmbarques. In order to apply, you'll need:
The passport number of the "person responsible for the vessel."
The boat's documentation number.
To pay about $20 U.S. for the document.
As mentioned above, "the fee must be paid using a credit card in the name of the person responsible for the boat." Do not lose the temporary visa you downloaded or the credit card receipt. Make copies for the skipper of the boat.
Despite the fact that everybody needs to use the owner's same credit card, do NOT have everybody apply for their visas at once. Why? Because if you do, everybody on that list will have to depart Mexico together.
Once everybody on the boat's crew has got their visas and receipts, the skipper needs to complete a spreadsheet with vessel and crew information at: www.inm.gob.mx/index.php/page/instrucciones_para_pasajeros/en.html. There you will find a sample page. Delete the info and insert your own info. Save it to your computer "following the instructions on the web page, including how to name the file correctly." Then you email the information to INAMI at: bc_pescadeportiva@inami.gob.mx. They will return the form, either authorizing or denying entry to the individuals on the list. The return document must be kept on the boat at all times, as well as the receipt of payment. Copies of the crew list are sent to the navy (SEMAR) and Communications and Transportation (SCT).
How long does it take to get the crew list back? We don't know, but somebody mentioned 48 hours. If you're entered in the Ha-Ha, we would send them the list no later than October 20. If you do it later and don't get it back, what should you do? It's up to you, but we would keep a copy of what we sent to them, as well as proof of payment for all the visas, and we would go. You would have established the intent to follow the law.
This would seem to make it very difficult to sign on a crewmember in the last day or two. What to do? We wouldn't ask permission to change things, we would ask forgiveness later.
What to do if, as happens during every Ha-Ha, one of the crewmembers has to drop out because of a family emergency? We'd just go to Mexico with the list the way it was, and work it out in Cabo. As mentioned above, Immigration is supposed to be flexible, knowing there are many problems with this process.
What if a crewmember has Temporary or Permanent Resident status in Mexico? They should not apply for a temporary nautical visa. If they haven't applied for one, can they be put on the Crew List? We don't know. Mexican forms often don't allow for inherent variations to a theme, if you will.
Another option is to go to Ensenada and get tourist visas and a crew list for everyone there. Of course, if you were to return to your boat in San Diego, you would be leaving Mexico, which meant you should surrender your tourist visa. But nobody is going to ask for it. Someone else suggested yet another option for Ha-Ha boats. 'Forget' that you stopped in Turtle Bay and Bahia Santa Maria, and claim Cabo San Lucas as your first Port of Entry, and get all your documents there. In the unlikely event that you're visited by the navy, you would have some 'splainin' to do.
Once you get to Cabo, each person will trade in his/her temporary nautical visa in at Immigration for a regular 180-day tourist card, even if you're leaving for home the next day. If you have to leave in a rush, you can just go to the airport a little early and get a replacement visa for $20.
Could this process be any more clear or simple? Of course not. If you have any questions about this process, do not call or email Latitude 38 or the Ha-Ha. Contact INAMI at bc_pescadeportiva@inami.gob.mx.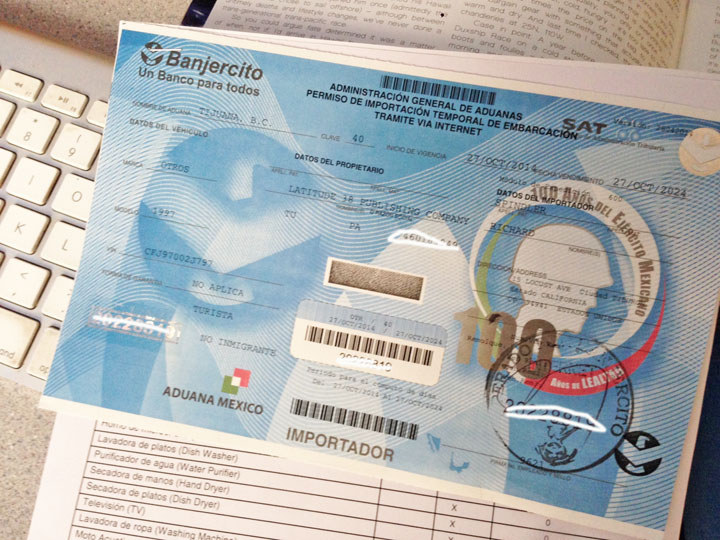 THE TEMPORARY IMPORT PERMIT
If you thought getting temporary nautical visas and crew lists was hard, wait until you try to work through getting a Temporary Import Permit. These cost about $50 and are good for 10 years — and can be renewed, we were told, for another 10 years.
Option 1: Probably the easiest way to get a TIP is by going to the Mexican consulate at Los Angeles, Sacramento or San Bernardino. (Why not San Diego?) One couple reported that it took two hours with the help of two very patient staffers. It's not a long form, so we don't understand why it took more than half an hour. You can also drive to Ensenada and get your boat's TIP there.
Option 2: If you are sailing to a Port of Entry that has a Banjercito (which is a military bank where you can get a TIP), officials say you don't need a TIP in advance. (Technically you do for the last 12 miles, but apparently nobody is going to worry about that.) Mind you, there is no Banjercito in Cabo San Lucas. After Ensenada, the closest Banjercito is La Paz, although it currently has no phone service or Internet connection because of damage from Odile. There are also Banjercito offices in Mazatlan, Puerto Vallarta, Manzanillo, Guaymas, Acapulco and Salina Cruz.
Option 3: If you are doing the Ha-Ha and will not be sailing directly to a Port of Entry, and don't like either of the first two options, you can apply for it online at https://www.banjercito.com.mx/registroVehiculos. But if you're doing it for the Ha-Ha, you want to do this immediately, as it can take up to seven business days to get it back to you via DHL. (For what it's worth, we got ours back in four business days.) The important thing is that you have a receipt showing that you applied for a TIP, which shows good faith on your part.
PROBLEMS FILLING OUT THE TIP:
As all the officials admitted, the TIP application has all kinds of problems. Indeed, they are in the midst of changing the application form right now, but as it won't be ready for about a month, that's not going to help anyone headed to Mexico soon. One things officials emphasized is for people not to pay a service to fill out the form for you. We're not sure why, but that's what they told us.
There are many confusing or unclear things on the form. When it asks for your boat's "serial number," put down the boat's HIN (Hull Identification Number), assuming she has one. Older U.S. boats and lots of foreign boats do not have HINs. In that case, put down your boat's documentation number. If Canadian, put down the Registry number. What if your boat once had a HIN, but it got sanded down, painted over, or you can't find it? Get out the Dremel tool and engrave the number into the aft starboard transom. When we suggested this as a possibility, all the officials enthusiastically agreed that it was a great idea.
At some point on the form it will ask for the Customs Location, or something like that. Even though it makes no sense at all, put San Ysidro.
In Step 3, you are asked if you are bringing any recreational vehicles, like a dinghy. Do not list a dinghy here, for if you do, it can only stay in Mexico for 180 days. More on this later. One of the main features of getting a TIP these days is that you have to list all the significant gear on your boat, meaning everything that would have a serial number. And if it's something expensive that doesn't have a serial number, boat owners are encouraged to give it some kind of identification — any kind of identification — with a Dremel tool or the like. Frankly, if you're in compliance with everything else, and have serial numbers for the engine(s), dinghy, and main electronics, the navy isn't going to go looking for I.D.s on every little thing.
Oh yeah, the dinghy.
One of the main shortcomings of the online TIP form is that there is no room to list a dinghy, and the maximum number of tools that can be listed is nine. When we asked what people were supposed to do about this, officials told us you could make up a list of the boat's valuable accessories, take it to Banjercito, and they, supposedly at no charge, will somehow add it to your TIP. We're not sure how well this will work out, and suspect that many people, ourselves included, will have to pay to get a new TIP once we get to Mexico. That would be another $50, but we were also told that at the end of 10 years, the 10-Year Permit can be extended for another 10 years, which is a pretty good deal. Keep in mind, once you have a TIP, you have to go to Banjercito and get it cancelled before you can get a new one. (Unless, of course, you got your TIP a long time ago like as Profligate did, when the system was primitive and Mexico has no record of it. You can check the current status of your boat's TIP at . . . well, unfortunately we weren't told where. But it's online somewhere.
CORRECTING PROBLEMS ON TIPS AND ADDING GEAR TO EXISTING TIPS:
If you currently have a TIP, or got your new TIP back and found it has incorrect information — particularly with regard to documentation numbers, HIN numbers, or outboard numbers — you have until December 31 to have it corrected. Our understanding is that you won't have to pay to do this, but we'll sort of believe it when we see it.
IF YOUR BOAT IS IN MEXICO AND HAS A TIP, DO YOU NEED A NEW ONE?
For all intents and purposes, we think you do, because how else are you going to have a TIP with the serial numbers of all the important gear? And as we understood it, Banjercito was only going to correct mistakes on TIPS, not add additional gear, at no cost. But you can try. Yeah, we know this could be a real problem for people not planning to go down to their boats before December 31 and who don't have serial numbers for all their important equipment.
THE NECESSITIES:
Before our head explodes, we're going to review what's necessary to go to Mexico with your boat:
The boat document or registration.
A passport for everyone.
A temporary nautical visa for everyone if doing the Ha-Ha or otherwise not sailing immediately to a Port of Entry.
An approved crew list.
A TIP for all Ha-Ha boats leaving from San Diego, and all other boats not going directly to a Port of Entry.
If the boat is owned by a company, the skipper must have a notarized letter, in Spanish, on the company's stationery, stating that whoever is in charge of the vessel has permission to take the boat to Mexico. Write all the basic facts in English, have Google translate it, and include both versions in the letter.
IF YOU ARE PARENT TAKING A MINOR — UNDER AGE 16 — TO MEXICO WITHOUT THE OTHER PARENT, YOU NEED A NOTARIZED LETTER IN SPANISH FROM THE OTHER PARENT. (We'll also give a sample of this in a future 'Lectronic.)
NOW VERSUS THEN:
The whole paperwork process is certainly much more onerous than before. With straight faces the officials insisted it was "simple" and "for the benefit of boatowners." The officials were all wonderful and kind, but they certainly aren't seeing this from the end-users' point of view. It's a mess that's still a work in progress, instructions are unclear and missing altogether . . . yeech!
SOME ANSWERS:
What to do if I put down my document number instead of HIN number when applying for a TIP? Get it corrected at a Banjercito in Mexico. You may or may not have to pay for a new TIP.
If I'm going to do the Ha-Ha, can I wait to get my TIP in Mexico? You probably can, but not legally, for you can't stop along the way without a TIP.
What if the Mexican agency made a mistake with the information I provided? Take it to Banjercito in Mexico before December 31 and get it corrected. Supposedly for free.
Will all boats in Mexico with TIPs have to get new ones? For all intents and purposes, we think the answer is yes.
If I get a new outboard in Mexico, do I need to get a new TIP to reflect that? No, we were told, but do keep the receipt showing that you paid for the outboard and any other significant new equipment you buy.
What if my inflatable is no longer good? If you brought it into Mexico, technically you have to take it out of Mexico. But we were told you could probably go to Banjercito, perhaps with a photo of the dilapidated inflatable, and get an addendum to your TIP saying you no longer have it as a boat accessory. Good luck with that.
What if my dinghy gets stolen? Take it up with Banjercito.
Can you get a TIP sent to an address in San Diego instead of your home address? Yes. But hurry.
OUR VIEW:
The important things are to try the best you can and keep receipts of everything. Triplicate is always good in Mexico. Personally, we don't believe the Mexican navy is going to go running around checking on the paperwork of a bunch of cruising sailboats, particularly smaller ones. As one officials said, "We have much bigger problems in Baja, with drug smuggling and human trafficking." Furthermore, the nautical thing that really pisses Mexico off is what they view as Americans abusing their privilege to fish in Mexican waters by doing it semi-commercially under the radar. Cruisers on sailboats, on the other hand, are seen as good people bringing money to Mexico.
STILL HAVE QUESTIONS?
If it's with regard to tourist visas, Rodulfo Figueroa, head of Immigration for Baja, told us to tell people to call 011-52 (664) 636-6173. "If there is a problem," he told us, "we'll find a way to fix it. We're not looking to prosecute people who show good faith in trying to do things correctly."
If it's in regard to TIPs, either email the TIP folks at the application address — we're told they've been very good getting back to people — or contact the consulate in Los Angeles, Sacramento or San Bernardino.
DO NOT CALL LATITUDE 38 WITH QUESTIONS!!! You can email Richard and we'll try to answer your questions, but we have a limited amount of time. Good luck!
Receive emails when 'Lectronic Latitude is updated.
SUBSCRIBE