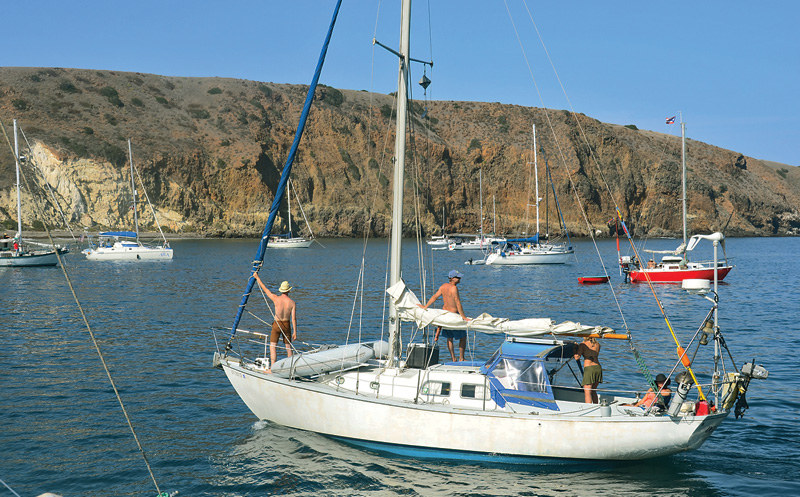 It's just five weeks until the SoCal 'Reggae Pon da Ocean' Ta-Ta, a Baja Ha-Ha style event starting in Santa Barbara, with two nights at Santa Cruz Island, as well as nights at Paradise Cove, Redondo Beach and Two Harbors, Catalina. Based on how much fun we on the mothership Profligate had during the first Ta-Ta, we can't wait for the start of the second.
So far, 42 of the 50 possible slots have been taken. If you want to participate, go to the online registration site and snag one of the last eight spots as soon as possible.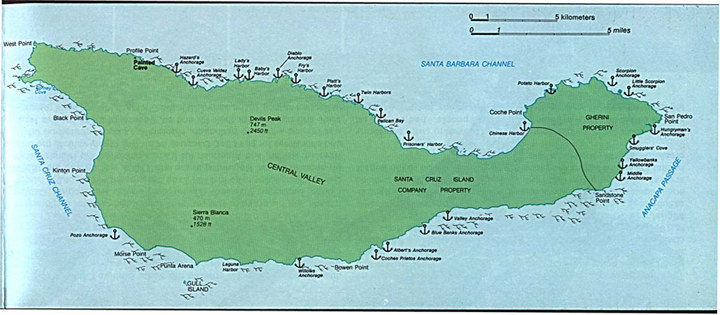 Craig and Rose Huerta-Walker of the Marina del Rey-based Beneteau Oceanis 390 Grey Goose have already signed up, but they have a good question:
"The Nature Conservancy usually requires a Landing Permit for Santa Cruz Island. It's $30 per boat for a 30-day Minimum Permit. They ask that at least 10 business days be allowed to get the permit before one's planned departure. What's the deal?"
Hey mon, da deal is that while Santa Cruz Island was once the largest privately-owned island off the coast of the continental United States, it's now owned 76% by the Nature Conservancy and 24% by the National Park Service. The Ta-Ta goes to the 24% where there is no fee.
The following boats are registered so far, but there's still room on the roster for a few more:
Alls Well, Tio / Little Harbor 38 / Hugo Lerner / San Pedro
Mouse Pad / Islander 36 / Paul & Lindsay Fuhrman / San Pedro
Carmela / Cal 2-27 / Jean Mondeau / San Leandro
Origami / Corsair F27 Tri / Jim Eggleston & Greg Carter / Medford, OR
Sea Level / Schionning 1480 Cat / Jim & Kent Milski / Lake City Co
Imagination / Cal 31 / Jeff LaBarre / San Pedro
Hotel California / Catalina 375 / Michael & Linda Stafford / San Francisco
Saoirse / Newport 30 Mk II / F. Stuart Seymour / San Diego
Simply Grand / Grand Banks 42 / Larry Fortmuller / Newport Beach
Swept Away / Catalina 42 MKII / Steve & Brooks Jensen / Ventura
Kailani / Catalina 400 Mk II / Cary & Michele Hansen / Nawiliwili, HI
Reprieve / Horstman 38 Tri / Nathan & Cindy Walter / Channel Islands
Tafika II / Jeanneau SO 42DS / Brent Meyer / Redondo Beach
Seagate / Hans Christian 38T / Charles Braffett / Ventura
Old Marblehead / Jeanneau 54DS / Leo Kiely / King Harbor
Pono / Beneteau 423 / Al & Vicki Frost / Nawiliwili Harbor, HI
Equilibrium / Ericson 32 / Roger & Kim Brown / Alamitos Bay
Odin the Wanderer / Odin 27 / Dave Laurie Pisani / Salt Lake City
Kailani / Catalina 400 Mk II / Cary & Michele Hansen / Nawilliwilli, HI
Tempest / Jenneau 45.2 / Steve & Lauri Moffett / Alamitos Bay, Long Beach
Always / Seawind 1160 / Steve & Julie McShea / Lihue, HI
Varee / Mainship 390 / Greg & Mary Montz / Long Beach
Di's Dream / Catalina 470 / Roger & Diana Frizzelle / San Francisco
Avanti / Grand Soliel 39 / Lou & Shirli Nagy / Ventura
Dauntless / Hinckley 52 / Marcus Crahan / Newport Beach
Twisted Kilt / Tartan 37 / Scott & Robin Arnold / Ventura
Gazelle / Wauquiez Centurion 47 / Rob Tryon & LaDonna Bubak / Sausalito
Calafia / Catalina 42 Mk II / Michael Eyton-lloyd / Santa Barbara
Pirate / Hunter Legend 40.5 / Jim Harmaning / San Pedro
Shadow / Islander 36 / Greg & Kathy Kircher / Ventura
Luna / PDQ 44 Cat / Ricky & Yvonne Michod / Tucson
Grey Goose / Beneteau Oceanis 390 / Craig & Rose Huerta-Walker / Marina del Rey
Alegria / Beneteau 41S5 / Leslie Schmitz & David Du Ket / Oceanside
Orange / Contour 34 Tri / Paul Martson / Ventura
Oso Loco / Kettenburg 32 / Bear & Marta Turpin / Santa Barbara
Scout / Lagoon 400 Cat / David & Christine Eggleston / Jackson, WY
Ojo Rojo / Columbia 36 / Keith & Terry Albrecht / Alamitos Bay
Serendipity / Catalina 250 / Don & Linda Murphy / Camarillo
Ellis Island II / Catalina 34 / David & Kathi Westcott / Redondo Beach
Varee / Mainship 390 / Greg & Mary Montz / Long Beach
Beach Access / Lagoon 380 Cat / Glenn Twitchell & Debbie Jahn / Long Beach
Coldwater / Catalina 36 / Mark Kozy / Vallejo
St. Somewhere / Beneteau 440 / Patrick McCormick / Alamitos Bay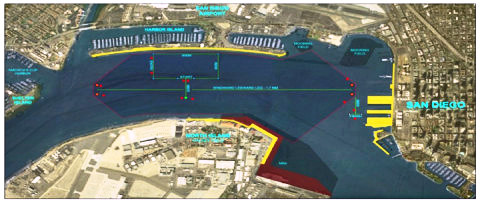 The most likely contenders for the 35th America's Cup — Italy, France, Sweden, Britain and New Zealand — gathered in Los Angeles a couple of weeks ago to bitch about things, and in particular, about the possible venues having dwindled down to San Diego or Bermuda. This was followed by the bomb that Hamilton Island YC, the Challenger of Record, was dropping out of the Cup altogether.
The remaining teams have more recently met again in London, and they all seem to be singing a different tune. Well, all but New Zealand, which was told by Russell Coutts, the Kiwi honcho at Oracle Team USA, not to bother coming to the meeting. According to a press release, the remaining teams have agreed to the following:
Regular meetings encompassing all teams in order to work collectively to maximize the potential of both this America's Cup and future editions.

Each team will plan to host an America's Cup World Series event in either their own country, or a country of their choice.

All the teams present agreed that they would commit – if they were to win the Cup in 2017 – to continue with the America's Cup World Series.

A commitment to further reduce the costs for both this Cup and future editions.

Support for the choice of host venue, be it Bermuda or San Diego.

A working group to agree on the date and event structure of the 36th America's Cup, to lay the foundations for a sustainable event.
Except for the business about 'support for the venue, be it Bermuda or San Diego', the rest is much ado about nothing.
Why the change of heart about San Diego or Bermuda? The cynic in us says it's all about the money. Members of the America's Cup teams are paid well. Particularly well compared to the work most of them would otherwise be doing. So if it's the choice between the Cup's being held in a less-than-ideal place and everybody's getting paid a lot of money, and the Cup's not being held at all and everybody's having to get regular jobs, it's not really a choice, is it?
How about Alameda for the America's Cup venue? Alameda Mayor Marie Gilmore — the city's first African-American mayor, and by many accounts one of the more competent mayors in the Bay Area, recently sent the America's Cup organizers a letter inviting them to consider Alameda. She noted that thanks to the old Alameda Naval Air Station's having been closed down, they could easily accommodate all the America's Cup teams. Indeed, Alameda was the Artemis Team base for the last Cup, and they are still there. What she failed to mention was that if the Cup course were from the mouth of the Estuary to the Encinal YC and back, it would indeed be stadium seating unlike anywhere else. Not that we think that's what she has in mind. If she is thinking about still using the ultra-scenic San Francisco waterfront course, San Francisco would still have to be a huge player. And we all know how enthusiastic the city fathers are about it.
So you've been thinking about going solar but aren't sure where to start. As much as you might not want to hear it, a quality solar installation probably isn't going to be plug-n-play. But we've put together a down-and-dirty tutorial to help you get started.
1) Check your batteries. The best solar panels in the world won't keep up with dead or dying batteries, so take yours to a battery shop for a load test to make sure they're still holding a charge. If they are, double-check that your terminals are clean, connections are tight, and wiring is the correct size (no lamp cord or speaker wire, please!), and move on to Step 2. If not, you need to invest in new batteries before you go any further.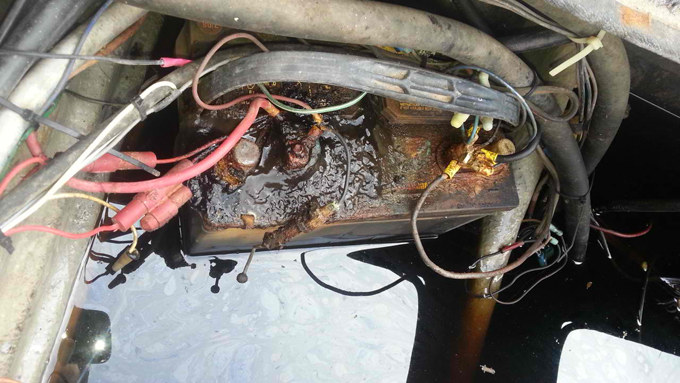 2) Calculate your usage. LED lighting and modern equipment can cut your electrical usage dramatically, but you still need to figure out just how much you use on a 'normal' day — cruisers draw far more amps than daysailers. West Marine has an excellent electrical budget worksheet to help you figure it out.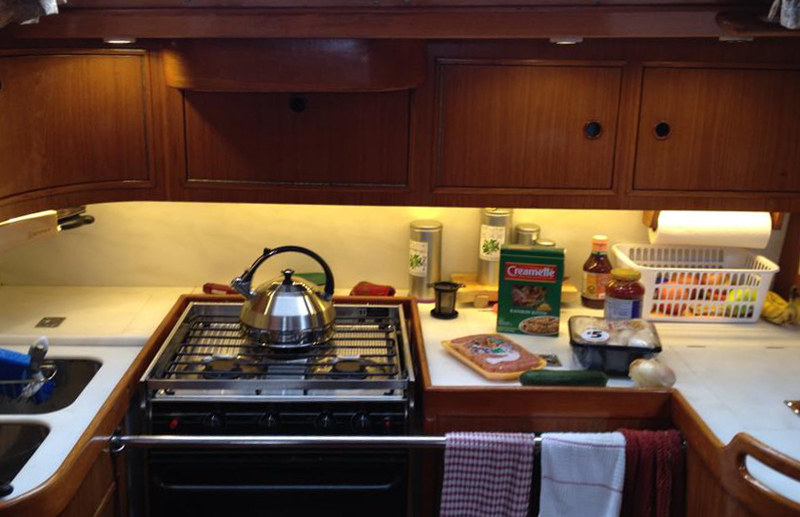 3) Pick your poison. Once you know your usage, you'll need to decide what you want your solar installation to do. If you daysail your boat and have minimal usage, a trickle charger is probably all you'll need. Folks who want to spend the weekend at anchor without running their engine to charge would need a bigger system. Running the boat entirely on solar requires the biggest commitment in space and money.
4) Choose your location. Two 50-watt solar panels offer benefits over one 100-watt panel. First, you have more mounting options — rails, biminis and dodgers, for example. Second, if one panel gets shaded by the boom or a shroud, at least the second panel will be putting out full power. Third, panels that can be adjusted throughout the day will bring in more power than one in a static position.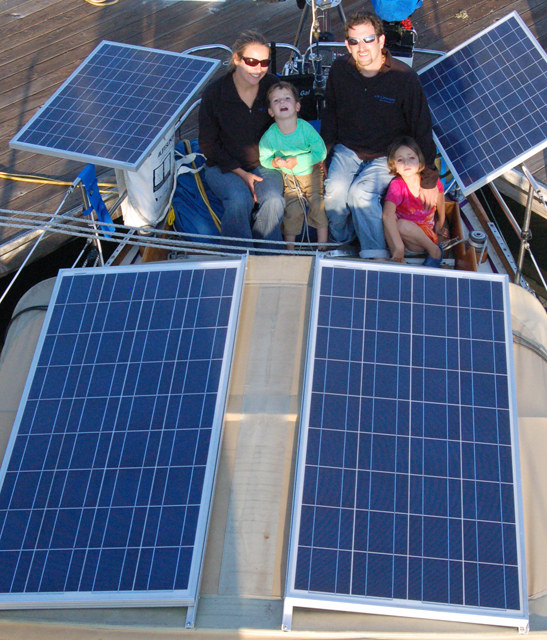 5) Buy your panels. There are a lot of options out there nowadays, and it can be very confusing. Regardless of your budget, keep the following in mind when selecting panels:
Built for the marine environment. Many inexpensive panels are actually built for house systems and aren't sealed the same way as marine panels. This can lead to quick corrosion, ruining the panel and wasting your money.
Keep an open mind. Go through all the steps above before deciding on the type of panel you want. There have been big advances in flexible, semi-rigid- and rigid-frame panels over the past couple of years, so do your homework to figure out which suits your needs best.
Check manufacture date. Technology moves fast, so you don't want to get stuck with older, less efficient panels. That's just what happened to a friend who got a screaming deal on 'name brand' panels, only to find that they were 'new old stock' that had been sitting in a warehouse for a decade!
6) Buy a charge controller. Choose a charge controller appropriate for the size of your system, and, if the budget allows, pick an MPPT controller because it will increase the output of your system and seems to do very well in the marine environment.
7) Install your system. Whether you DIY or hire a pro, here are a few tips: A) Make sure you use tinned marine wire (remember, get the right size) with heat-shrunk connections; B) keep the wire runs as short as possible; and C) mount the charge controller as close to the batteries as possible.
Building your solar system isn't rocket science (yuk yuk yuk), but once it's done, your boat will be a clean, green battery-charging machine. Our 400-watt solar installation has run our 47-ft boat — which uses a lot of power — for the last two years quietly and cleanly. The only maintenance required is wiping down the panels with Windex and a paper towel when needed. That's the kind of boat work we can get on board with!
Receive emails when 'Lectronic Latitude is updated.
SUBSCRIBE