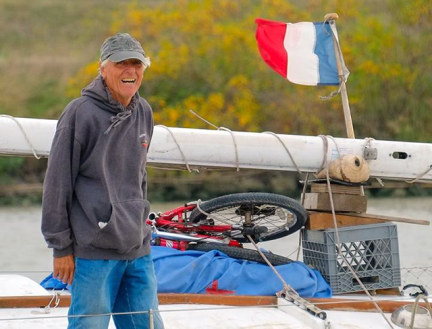 We're delighted to report that Jack van Ommen of Gig Harbor, Washington, has found a replacement boat. You'll remember that the 77-year-old lost his much loved Naja 30 Fleetwood, which he'd owned for 33 years, to a storm off Spain's Balearic Islands on November 16 of last year. Van Ommen is one of Latitude's heroes for having sailed built-from-a-kit Fleetwood to 50 counties over a period of eight years. He started after going bankrupt, with nothing to his name but the boat and $1,800 a month in social security checks.
Van Ommen talks about his new boat:
"In mid-April I purchased Mariah, a near sistership, and have rechristened her Fleetwood. She was built from one of the three Naja 30 kits that I imported from Whisstocks of England in 1980. Original owner Todd Dhabolt did an exceptional job on putting the boat together, and he was the one who got me in contact with her most recent owner."
"Unlike my van Ommen's original Fleetwood, the new one has a masthead rig and the mast is keel-stepped. She also has a sugar scoop rather than a transom hung rudder." Van Ommen's first Naja 30 was the last one to be built with nails holding the plywood planking together. Because the nails would expand in heat and contract in the cold, he had to epoxy the recesses almost every year. His new Naja has the planking screwed together, a superior method.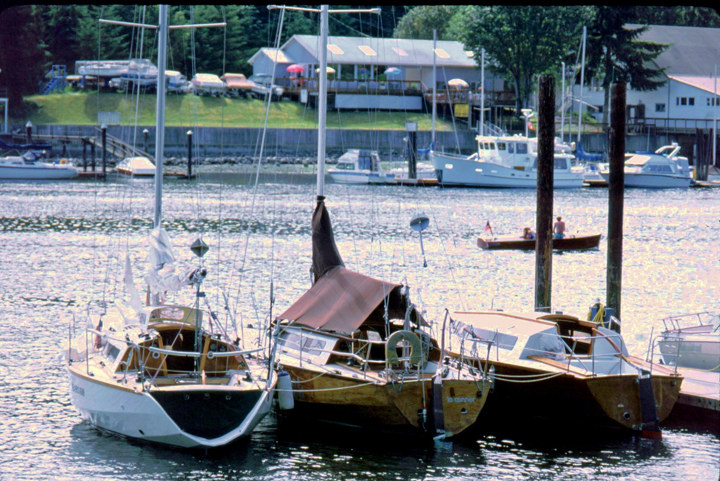 "I keep finding features on the new boat that are definitely better thought out," he says with enthusiasm. "And I know the boat has 50,000 less ocean miles worth of wear and tear, so I'm happy."
Van Ommen got the new boat for a favorable price. "I paid $7,000, which was my budget, and she came with a decent sail inventory, including a newish main, a SSB radio, and a 10-hp Italian diesel. I may eventually have to replace the diesel with something more powerful."
Van Ommen originally thought he'd buy a replacement boat on the East Coast so that it would be convenient for him to sail the Great Lakes and down the Mississippi. "But I couldn't have found a similar quality replacement boat for the price on the East Coast, or a design that I knew so well," he said. "After nearly 50,000 miles, I am totally sold on the chined plywood construction. I looked into shipping the boat to Thunder Bay on Lake Ontario, from where I would begin sailing the Great Lakes and then down the Mississippi to the Gulf of Mexico. But the cost is out of the question, so I plan to head toward the Panama Canal late this summer, then pick up from where I left off in the Eastern Caribbean in 2007. I need to do that or sail to Florida to have completed my circumnavigation."
"I'm dying to get sailing again," he told Latitude.
After completing his circumnavigation, van Ommen plans to sail to Cartagena, then land-travel down the Pacific Coast of South America. He's not sure what he'll do after that, perhaps sail the East Coast of the United States again.
When van Ommen lost his boat in November, he had nothing to his name but a few thousand dollars, his computer, and lots of very good friends. Many of these friends, inspired by the humble sailor's accomplishments with such a humble boat, have asked if they might help him equip his new Fleetwood. Van Ommen is not asking for money, but he says if anyone — such as those of us at Latitude — wants to contribute, we can send checks to Jack van Ommen, Fleetwood, c/o Arabella's Landing Marina, 3323 Harbor View Dr., Gig Harbor, WA 98332. This will help him buy things like a liferaft, dinghy, folding bike, foul weather gear, and such.
If you're interested in where van Ommen has cruised, click here for various maps and details. Jack says he created the page for the benefit of those who mistakenly believe that you need a lot of money to go cruising. "What you really need," he says, "is to keep the boat small, the equipment simple, and choose your routes carefully." This from a man who clearly knows what he's talking about.
Receive emails when 'Lectronic Latitude is updated.
SUBSCRIBE