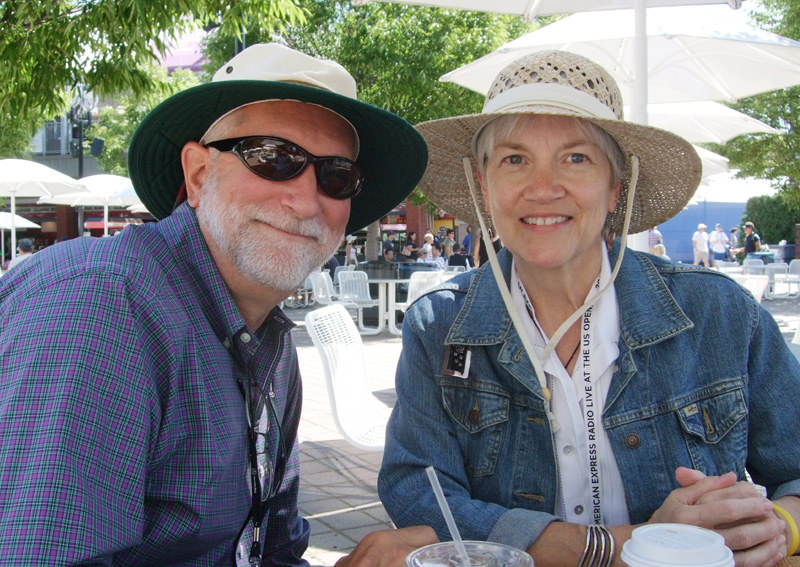 "We were reaching in 20-22 knots in somewhat lumpy seas, uncomfortable conditions, but safe and manageable," wrote Marce Schultz of the Annapolis-based 40-ft Manta cat Escape Velocity. "Suddenly I heard a loud twang and looked out the window to see our starboard shroud fall down in a big coil." She and her husband Jack both jumped into action immediately, dropping sails, tightening the windward running back, and trying to secure a spare halyard as a temporary shroud. But despite their best efforts the whole rig came down a few minutes later, falling headfirst into the drink, with the boom hanging up on the only starboard-side stanchion that remained standing.
Marce and her husband Jack had departed Santa Cruz Island in the Galapagos Archipelago four days earlier en route to the Marquesas, as members of the loosely formed Pacific Puddle Jump rally. Their having bought the fractional-rigged cat two years ago, this cruise across the Pacific was to be the realization of a 20-year dream. Despite the couple's exhaustive efforts to save the boom and jib, they ultimately had to let the entire rig go. After taking stock of their options, a 2,600-mile trip to the Marquesas or 400 miles back to the Galapagos, they reluctantly turned into the prevailing wind and set a course back to that remote Ecuadorian archipelago under diesel power. The cat's fuel capacity gives her a range of approximately 1,000 miles. Presumably they will refuel in the islands, then head back to Panama for repairs.
"It's been 24 hours since our sudden and shocking dismasting," the couple posted recently on their blog via HF radio email. "We are in a daze of six-hour watches as we slowly motor back to Santa Cruz Island. . . We both agree this is the most uncomfortable ride we've ever experienced on a boat. The seas are confused and big, causing rolling and lurching like we've never seen before." After studying the fallen shroud, they surmised: "What broke was the t-ball fitting that attached to the mast. Snapped off. This wasn't metal fatigue or poor tuning. It was a defective part." They had recently replaced all standing rigging.
We are happy to report that in their most recent post, Marce and Jack sound upbeat, considering fun ways to pass the time until they restart their Pacific cruise next year. The previous owners completed a circumnavigation on this boat, then named Chocobo, in 2012.
Receive emails when 'Lectronic Latitude is updated.
SUBSCRIBE