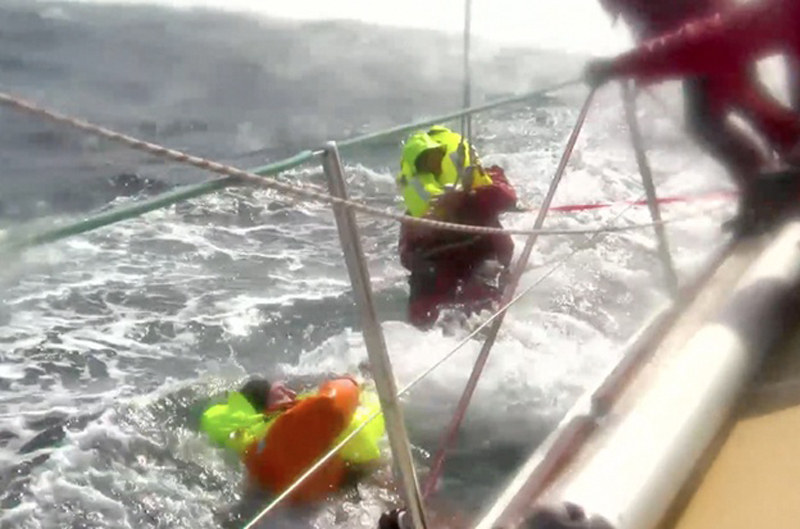 On March 31, Clipper Round the World Race sailor Andrew Taylor (age 46) went overboard while performing a sail change on Derry~Londonderry~Doire's foredeck. Taylor's recovery from the tumultuous North Pacific during Race 10, midway between Qingdao, China, and San Francisco, was no simple task, as you will see in the video below. Despite immediate and appropriate MOB response to Andrew's personal distress beacon, heavy seas and gusts up to 70 knots made keeping visual contact impossible.
Fortunately, Taylor's dry suit, life vest and sea survival skills kept him alive while attentive crewmates focused on finding him. Taylor spent an arduous hour and 40 minutes in the cold water, suffering mild hypothermia and some bruising, but he was otherwise in good shape and will remain on board for the remainder of the trip to San Francisco. "Andrew is in good spirits and has been chatting away with his crew," says Derry~Londonderry~Doire's skipper Sean McCarter, "and whilst clearly shocked, he is quite happy to be alive I think!"
Recent MOB incidents here in San Francisco Bay remind us how challenging an exercise this can be, even under much milder conditions, and Derry~Londonderry~Doire's response is a reminder to us all about the importance of a clear response. "The crew reacted perfectly, nobody panicked, everyone went through the procedures that we practice religiously in Clipper Race training," says McCarter. "The MOB button was pressed giving us the position on the electronic chart plotter, the engine was started, boat checked for ropes in the water and staysail dropped all within minutes."
Taylor and other Clipper racers continue their slog across the world's largest ocean and are expected to arrive in San Francisco in just over a week's time. Meanwhile, Clipper founder, Sir Robin Knox-Johnston, age 75, has announced some news of his own. Sir Robin will be singlehanding his Open 60 Grey Power in France's Route de Rhum race this November 2.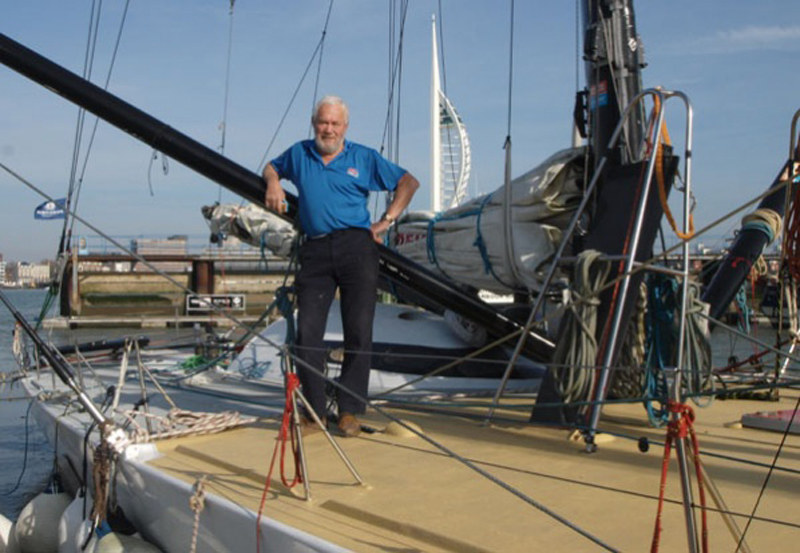 This will be the tenth anniversary of the 3,500 mile Transatlantic race from St Malo, France to Pointe-à-Pitre, Guadeloupe in the French West Indies. "Solo sailing is where I feel most at home — no one else can benefit you or let you down — it is all in my hands," says Sir Robin. "The Route de Rhum is one of the classics — it is a very well-run race." He last sailed the Route de Rhum in 1982 and will be the oldest participant to enter the race.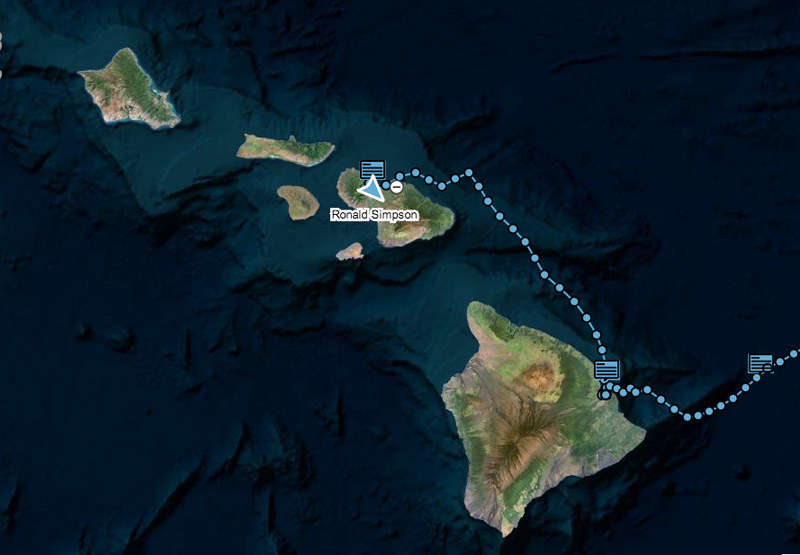 Only a few days after safely arriving at Hilo, Hawaii's Radio Bay at the end of a 20-day solo crossing from San Diego, well-known singlehander Ronnie Simpson found himself in a perilous situation yesterday, which ultimately left his engineless Cal 2-27 Mongo dismasted off the coast of Maui.
As Simpson apparently wrote to his buddy Erik Simonson of Pressure-Drop, Simpson — who's done five previous solo crossings to Hawaii — was en route from Kahului, Maui to Lahaina, sailing in about 18-20 knots with a big swell running, when the lower starboard shroud gave way, leaving the unsupported mast to hinge in half and fall to the deck.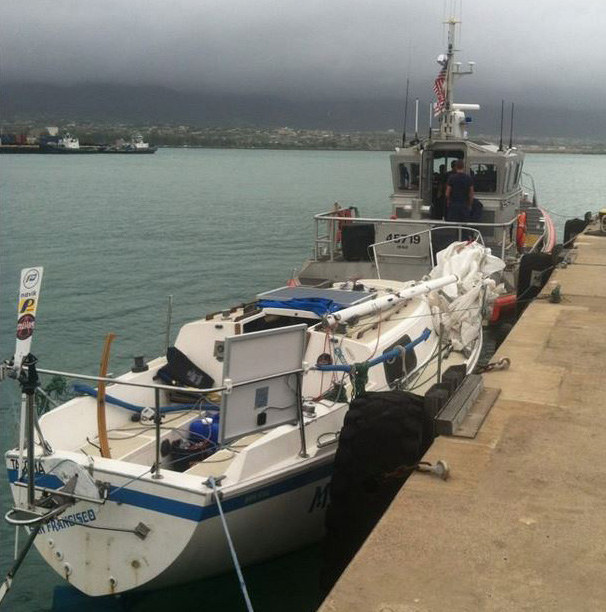 Although he was in 50 feet of water on a lee shore, Simpson's only option was to try to set an anchor and call for help. The anchor bit on the second attempt, and the Coast Guard arrived within an hour. "They took me under tow back to Kahului," he told Pressure-Drop, "and we were almost in the harbor when a big wave rolled through and ripped the entire mast, the running rigging and most of the lifelines off the port side." In a phone call this morning, Simpson explained that he hadn't been quite ready when the Coasties arrived, as his mainsail and rig were still tied alongside — not yet brought aboard and lashed on deck. All of it is now lost.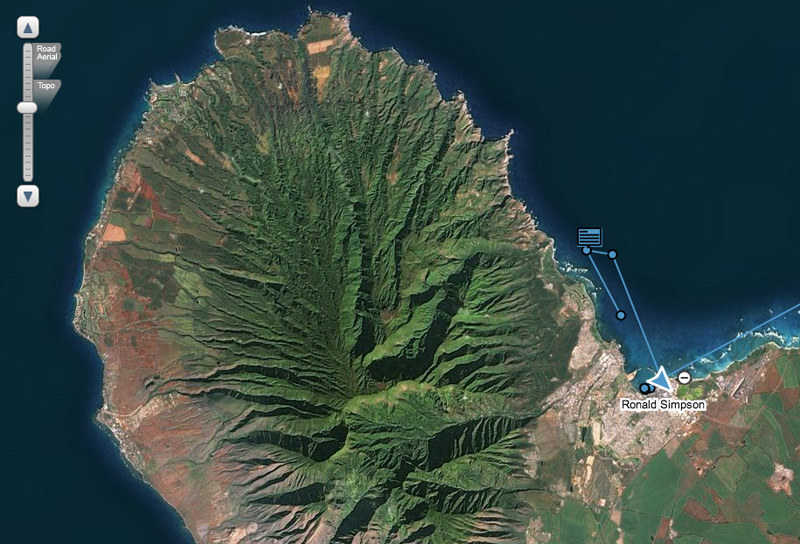 As if all that weren't enough to deal with, a tsunami warning was broadcast early this morning as a result of the magnitude 8.2 earthquake that rocked northern Chile Tuesday night. Luckily, that threat has passed, having had little effect.
Simpson's Hawaii stopover was meant to be merely a pit stop on his engineless solo sail to Australia. He is taking it all in stride, however. He told us this morning that he plans to go to Home Depot and pick up some supplies for a jury rig, then borrow a small outboard and reposition to Oahu, accompanied by a buddyboat. There, he hopes to re-rig — with a brand new mast, if he can raise the funds — before pushing on to the west. "I knew from the beginning that the spars were the weak links of this boat," he explains.
The fiasco of 338 foreign-owned boats being impounded — for up to four months — mostly for no good reason — appears to be nearing an end. Tere Grossman, President of the Mexican Marina Owners Association, reports that only 31 boats still have "problems," and 17 of those belong to Mexicans.
But there are two cases that illustrate that the insanity is not over for a few American boatowners.
In the first case, John Hards, a long time liveaboard resident of Puerto Vallarta and formerly a huge fan of Mexico, is making a run for the California border aboard his boat Pelican, type of boat unknown. The 75-year-old's problem is that a Mexican bureaucrat in Salina Cruz made a typo on his 10-Year Temporary Import Permit, which the folks at SAT (the Mexican IRS, formerly known as Hacienda) inexplicably interpreted as making the 10-year TIP not good for 10 years, but merely for the length of his visa. According to Hards, the Mexican government wants him to pay a $7,500 fine, and he still won't get his boat back.
Surviving, as he does, on Social Security, he can't afford the fine, so he and his cat are currently making a desperate run for the border aboard Pelican. It hasn't been easy, as his running lights aren't working, his engine has an oil leak, his boat is taking on water, and he needs fuel. It's Hards' understanding that the authorities have alerted all port officials to be on the lookout for him, so he's on the run from the Mexican government. That's being in a desperate situation. While we won't reveal his current location, he's made it most of the way, and we wish him the best of luck making the last few hundred miles. If anyone is willing to meet him offshore in order to give him the fuel he needs to make it the rest of the way against the northwesterlies, we'll put you in touch with someone who can put you in touch with him.
We alerted Grossman to the situation, and this was her response:
"Ms. Elena Carrillo, the Marina Association's lawyer, checked with the SAT, and their records show that Pelican's TIP is good until 2019, so his boat should have been released without a fine. I hope he makes it back to the States. One good thing is that Ms. Carrillo talked to the harbormaster at the marina, and the SAT had changed the depositaria status of the boat from the marina to the owner of the boat. If not, the marina would have had to pay SAT for the boat. But SAT has a problem, as they still have to close the file. As Pelican did have a valid SAT all along, they probably will close the file. But what a mess!
"There was a boat in Ensenada that was in a somewhat similar situation," Grossman continues. "The owner was very scared, so she took off with her boat. As the boat had a valid TIP all along, SAT just closed the file. The owners of 15 boats in our marina at San Carlos similarly took off, but since they all had valid TIPs, the SAT just closed the files on them, too."
A second case that's hanging in the air is that of the 42-ft fishing boat Lady D in La Cruz. We were alerted to it by the following letter:
"My name is Jason Cherun, and I (am) emailing Latitude on behalf of my father-in-law, Serge. He has had a home in Puerto Vallarta for over 10 years, as well as Lady D, a 42-foot fishing boat. In late November the boat was impounded along with the 337 other mostly foreign boats. Serge, had a temporary import permit for 10 years, from when he brought the boat to Mexico on a ship to Lazaro Cardenas in November of 2003. A customs broker there took care of all the formalities to get the boat into Mexican waters. When AGACE, a sub-agency of SAT, descended on the marina in late November of last year, Serge was in Toronto, so he wasn't there to show them his papers. So AGACE impounded his boat. When he got to Vallarta on December 9, he paid for a new TIP, but the SAT claimed that his boat had been in the country illegally. [Ed. note: Presumably his 10-year permit had run out by a few days.] SAT is now claiming that his boat was illegally in Mexico, and is fining him $110,000. His boat is currently stuck at Marina Riviera Nayarit in La Cruz. Serge is a retired successful businessman who trusts everyone. He had a captain on the payroll, as well as people at the marina who were supposed to be looking after his boat while he was there and while he was home in Toronto. He's even hired a lawyer to try to get the boat released, but he's spent $10,000 already with no results. Can Latitude help?"
We passed the letter on to Grossman, who responded to us as follows:
"I will send the information on Lady D to Ms. Carrillo, the Marina Association's lawyer, to see if there is anything she can do. I'm sure she can work something out. About 10 of the boats in our San Carlos Marina had expired TIPs, so our marina personnel applied for new ones on their behalf immediately after the 'inspection'. They were all released after paying a small — about $130 U.S. — fine.
"Since this is the first time there have been audits like this since the TIPs were introduced in 1996," Grossman continues, "the SAT people didn't exactly know what they were doing. As you could see, the different SAT offices were applying the law differently. So if the SAT didn't know what they were doing, imagine how confused the lawyers have been. Ms. Carrillo used to work for SAT (when it was known as Hacienda), making it easier for foreign boats to come to Mexico. Indeed, she was the one who came up with the concept of TIPs, so foreign boat owners could leave their boats in Mexico for longer periods of time and/or when the owners left the country. When she left the government, she came to work for the marina association. She knows all the ins and outs of the law, and is very honest. She has been going to SAT almost every day to help untangle this mess."
In the April issue of Latitude, there is a letter from a reader who asked if we hadn't blown the whole issue of impounding of boats in Mexico out of proportion. Our response was that it all depended on whether your boat had been impounded and to a certain extent for how long. We're certain that John Hards and the owner of Lady D would say we haven't blown things out of proportion at all.
While we can't guarantee it, we like to think that we're seeing just about the end of the incredibly self-destructive action on the part of the Mexican government, and things will be much better by the start of the next cruising season.
Receive emails when 'Lectronic Latitude is updated.
SUBSCRIBE