"Despite all the sensational stories of whale-caused sinkings, fire is and should be the greatest concern for cruisers," writes South Pacific cruiser Andrew Rosen of the Marina del Rey-based Beneteau 46 Murar's Dream. "It can happen so quickly and so unexpectedly."
Having done the 2011 Baja Ha-Ha and the 2013 Pacific Puddle Jump, he was cruising in Fiji when a sudden fire on board threatened both the boat and his life.
"After docking at Vuda Point Marina between other boats in very close proximity (Med-mooring separated only by fenders), we settled into our new, temporary home as we planned the next leg of our journey to Australia via New Caledonia. That evening I turned on our air conditioning unit, which cools our aft cabin and operates via shore power (using a 220-110 step down transformer) or generator at 110 volts. It just did not sound right, so I quickly turned it off. Thinking nothing of it other than it would need to be checked out by the local electrician, I sat down at our navigation station and began to write one of our sailblogs.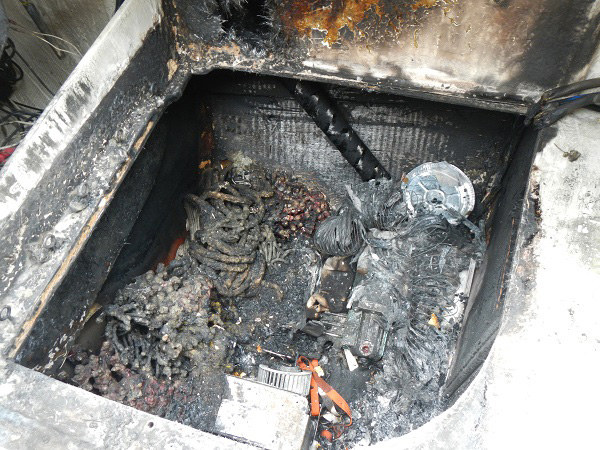 "About 20-30 minutes later, I was interrupted by the smell of smoke and, upon entering the aft cabin, saw flames behind the air return vent coming out of the A/C unit. Fortunately, I was still awake and not sleeping, so I quickly grabbed one of our two, one-lb fire extinguishers and shouted, "Fire, fire, fire!" to get help from other cruisers. Within only a few minutes, the port side of our aft cockpit was in full flames and, with the aid of four other cruisers, seven fire extinguishers, and lots of water from two garden hoses (but only after turning off the electric power to the boat), it took us almost a half-hour to finally extinguish the flames.
"But for the fact that we were docked at a marina with access to water and additional fire-fighting equipment, I am sure that Murar's Dream would have sunk, and we would have been seeking rescue aboard our liferaft while our EPIRB was sending out its distress signal, and we were calling on our Iridium satphone.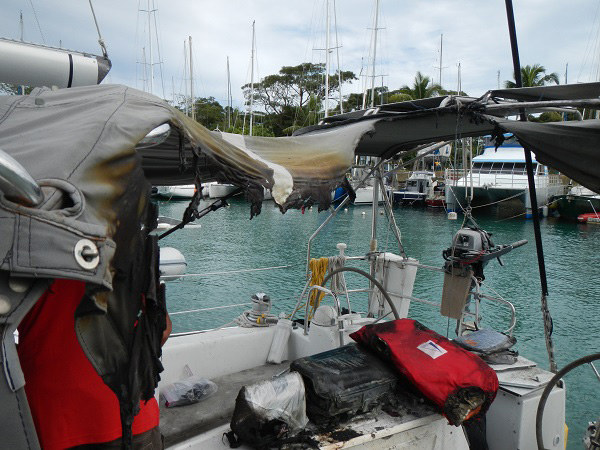 "As a result of this fire, we have some recommendations to fellow cruisers to prevent or deal with this type of disaster, especially when you are at sea without access to further assistance:
1. You cannot have enough fire extinguishers aboard, either in number or size. You should have ABC powder extinguishers of at least a 5-lb size.
2. Install at least one good smoke detector and test it regularly.
3. Check for corroded wiring as a regular maintenance item for any device which uses high voltage (110 or 220 volts) or amperage. (We have learned that this is a chronic but hidden problem in this salty environment.)
4. Once the fire has started, make sure, if possible, that you open the area above to let out the hottest gases. In our case, opening the lid to the compartment where the fire originated. Once the fiberglass ignites, it is almost impossible to extinguish.
5. If the fire is electrical in origin, shut off all your main battery switches as soon as possible. Do not use water on the fire until the electricity has been eliminated.
6. Do not wait too long to ready and launch your liferaft and grab your ditch bag (for international travel, your passports and some money should be in your ditch bag) for a speedy evacuation once you realize that you cannot extinguish the fire.
"The bottom line," says Andrew, "is that, without the help of fellow cruisers, something that we have experienced throughout our cruising days, extinguishing this fire would have been an impossible task in light of the equipment that we had onboard."
In addition to doing a lot of Pacific Cup and other races to Hawaii with big boats, either fully crewed or doublehanded, Philippe Kahn of Santa Cruz has always enjoyed sailing small monohulls off his home waters of Santa Cruz and Hawaii. Based on his recent Facebook postings, and presumably in part because of the America's Cup, he seems to have contracted a case of 'Cat Fever'.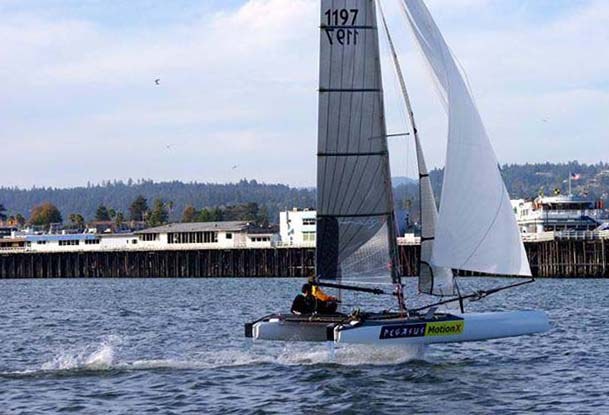 As you can see in this photo, he and crew Mark Christensen are foiling off the Santa Cruz Wharf in Kahn's Motion X 20-ft carbon foiling cat. "We are now officially catamaran pilots," he wrote. "Once [the hulls are] out of the water, it's just like flying. Magical. Everything gets quiet, accurate, weightless and incredibly fast!"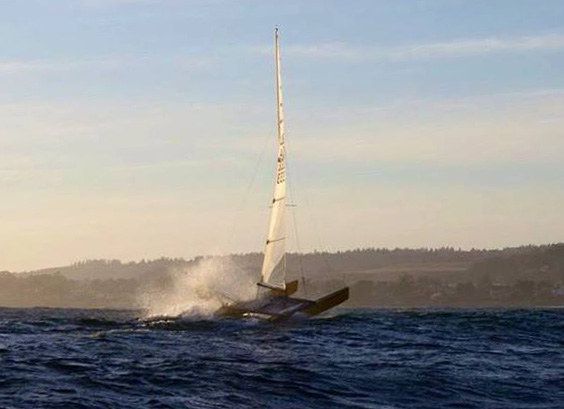 As you can see, sailing a Motion X cat is not all foiling. There can be sailing upwind in big swells, too.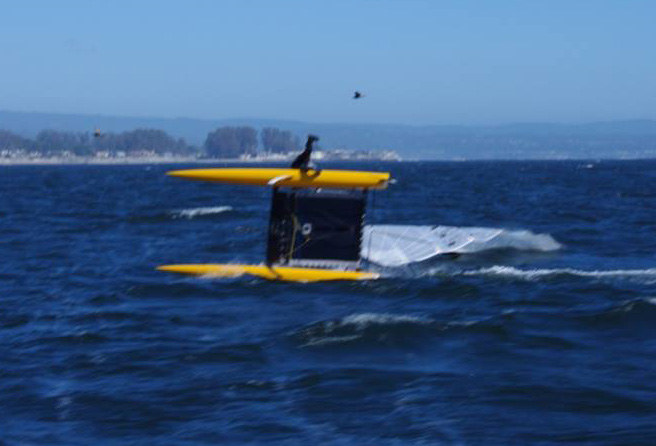 And as you can see in the third photo, small cats, foiling or not, are prone to flipping.
Foiling is one of the funny unintended consequences of the AC72s. The boats were not supposed to be able to foil, but the Kiwis figured out a way to do it and were quickly copied by the others. As Latitude has already reported, for a couple of grand you can now buy foils — no tools needed for installation — for a Laser and sail that little monohull above water. Has anybody tried that yet? We can only imagine how your son or daughter would feel about their Laser if they saw a young friend foil by them at twice the speed.
And foiling is not just picking up in sailing. As the incomparable Johnny Heineken demonstrated in last weekend's West Coast Kitesailing Championship, foiling is the only way to go. The rest of the world will have to catch up.
But foiling kayaks? That's right. Do a little search on Google and you'll see foiling kayaks scream right past displacement ones. There are also videos of two-person pedal-powered foiling kayaks. Even a bicycle-powered SUP that gets up on foils. Like Gino Morrelli told Latitude at the St. Francis YC Big Boat Series, "From now on sailing will be divided into BF and AF, meaning before foiling and after foiling."
Today is just two weeks from the start of the 20th Annual Baja Ha-Ha cruisers' rally from San Diego to Cabo San Lucas, with stops at Turtle Bay and Bahia Santa Maria. The Grand Poobah and mothership Profligate are rip-roaring ready to go, and hope you are, too. There are 163 entries this year, up a little more than 10% from last year. And the whole Immigration business has been straightened out. See October 2's 'Lectronic for details.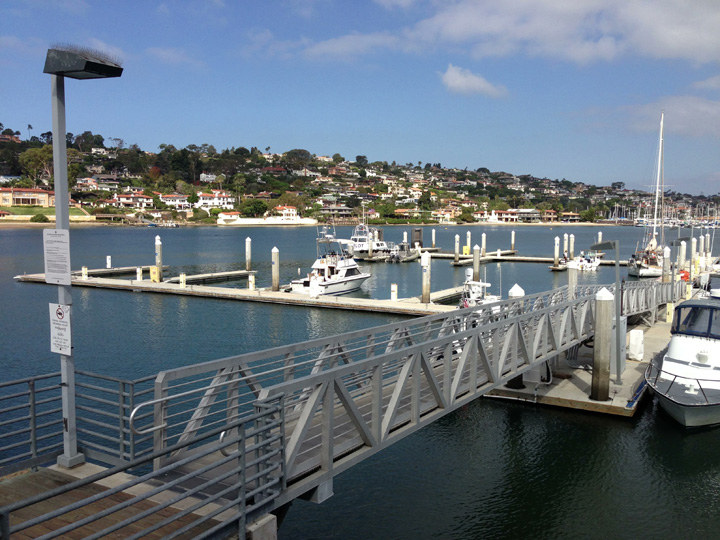 If you're worried about finding a berth in San Diego — it was a big problem in years past — don't worry. We checked the Police Dock this morning, and almost every slip was empty. It may have something to do with the fact that slips are now $1/ft per night, as opposed to a flat $5-15/night a few years back, but at least there are slips. The slips are on a first-come, first-served basis.
Need a last-minute haul-out? Koehler Craft and Driscolls Boat Yard on Shelter Island are both ready to help, as are a number of other boatyards in the San Diego area.
In
Friday's 'Lectronic
we ran down a list of the many San Diego seminars slated for the two weeks before the start of the Ha-Ha. Since a lot of people might have been en route and missed that
'Lectronic
, we highly recommend you review the list. In particular, if you just bought a SSB radio and don't know how to use it or set up SailMail, you should make every effort to attend the October 16 Offshore Communications seminar by Gordon West and Shea Weston at Downwind Marine. Setting up and using a SSB radio is not simple like setting up a VHF radio, and these guys are the experts. The rest of the day's seminar will be devoted to SailMail, and will be presented by Jim Corenman, one of the two gods of SailMail, the other being Stan Honey. Until you cruise, you have no idea how beneficial SailMail is. For details on the time, location and cost, visit
www.downwindmarine.com
. Note also, former US Naval officer Terry Sparks'
Icom M802 Made Simple for Cruisers
seminar on October 18
, 5:30-9:30 p.m.
San Diego is a beautiful, bike-friendly city, and the sailing centers of Shelter Island and Harbor Island are pleasantly mellow. But the one thing San Diego doesn't have — but you'll find in abundance once you finish the Ha-Ha in Cabo San Lucas — is warm water. And take it from an expert, you'll find yourself in a better state of mind when you can wake up each morning and simply throw yourself off the transom of your boat into welcomingly warm tropical waters. It's like being embraced by God.
Receive emails when 'Lectronic Latitude is updated.
SUBSCRIBE