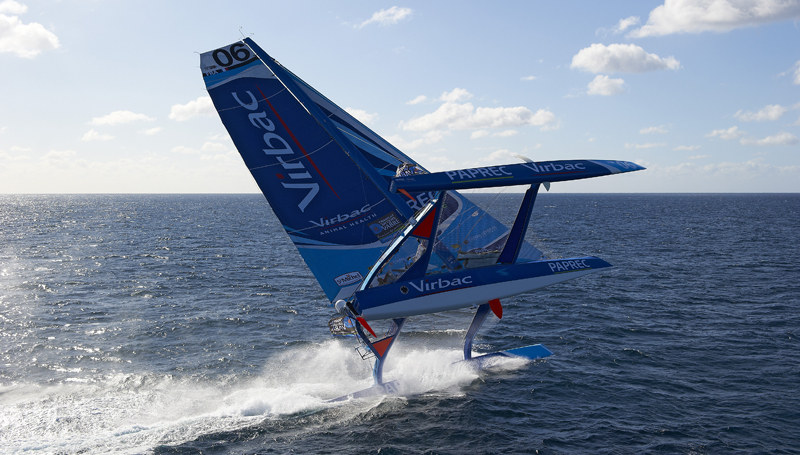 This year has had its high points and low points for famed French yachtsman Jean-Pierre Dick. While sailing his IMOCA 60 Virbac-Paprec 3 toward the finish line in third place during this year's Vendée Globe, his keel fell off. Exuding true class and professionalism, the skipper from Nice calmly ballasted the boat up and ran away from a 50-knot storm to anchor off the coast of Spain, eventually finishing the race in fourth place, arriving to a well-earned hero's welcome. After the Vendée, Dick and sponsors Virbac and Paprec made the move from one hull to three hulls with the launch of their new MOD 70 Virbac-Paprec 70.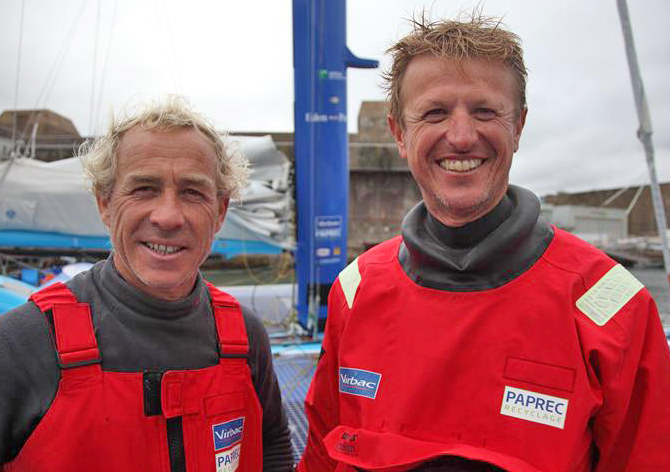 Since then, it's been no less of a roller coaster for Dick. After finishing in last place (fourth out of four) in the inaugural Route des Princes, the team was looking forward to the biennial Transat Jacques Vabre with a renewed optimism. Dick won the IMOCA class in the 2011 edition of the doublehanded transatlantic race and, by teaming up with none other than world-renowned shorthanded sailor Roland 'Bilou' Jourdain, the crew was almost guaranteed a solid result.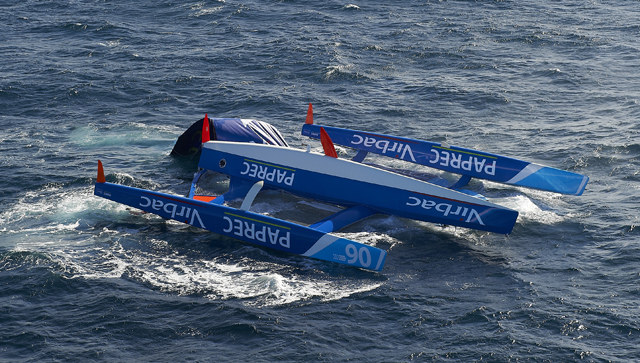 The dynamic duo were a shoe-in to rip across the Atlantic, but their boat is now being towed to port — sans mast. While training off the coast of France yesterday in a 15-20 knot breeze, Dick and Jourdain were surprised by a strong gust that caused them to capsize in dramatic fashion. Jourdain was uninjured in the incident, but Dick was thrown into the water and suffered a back injury. Considering that the 6.9-ton tri then collapsed onto him, it's nothing short of a miracle his injuries weren't any worse.
"I'm still in shock," Dick said. "Everything happened so fast. I fell from a great height. I hit something and fell into the water. It was violent. Fortunately, I managed to get back on board very quickly and realized that my back was hurt."
We wish a speedy recovery to the always vibrant and positive Jean-Pierre Dick. Stay tuned to 'Lectronic for ongoing coverage of the Transat Jacques Vabre which begins November 3.
Heading south of the border this cruising season? If so, you'd be wise to attend many of the helpful seminars offered in San Diego by Downwind Marine, West Marine and others.
Downwind's kick-off event is October 16 and their seminar series runs through November 8. CLICK HERE for the full schedule and descriptions.
Downwind Marine Seminars:
2804 Canon Street, San Diego
Offshore Communication Training Series
(RSVP recommended; $25/person or $30/couple unless noted)

10/16 — Using Your Marine SSB by Gordon West & Shea Weston, 5:30-9:30 p.m.
10/17 — SailMail Training by Jim & Sue Corenman and Shea Weston at Pt. Loma Assembly Hall, 8:30 a.m.-4:30 p.m. ($50/$75)
10/17 — Radar Made Simple for Cruisers by Terry Sparks, 5:30-8:30 p.m.
10/18 — Icom M802 Made Simple for Cruisers by Terry Sparks, 5:30-9:30 p.m.
Evening Cruisers' Seminar Series
($3 at the backdoor of Downwind Marine, 6-8 p.m.)

10/21 — Tips & Tricks for Life Afloat by Wendy Hinman
10/22 — Charts Past, Present & Future by Capt. Ann Kinner
10/23 — Cruising Mainland Mexico & PPJ Prep at Puerto Vallarta Marina by Dick Markie
10/24 — Surviving a Haulout by CF Koehler
10/25 — Life at Sea: What Works, What Doesn't by Capt. Dale Parshall
10/28 — Philosophy of Ground Tackle by Capt. Holly Scott
10/29 — Safety Lessons for Offshore Cruising by Bruce Brown
10/30 — Mexican Liability & International Health Insurance by DeAnne Amancio
10/31 — Outboard Motor Care by Tom Teevin
11/1 — Cruising the World: A Bluewater Family Adventure by Bob & Gail French
11/4 — What's New for Cruising Mexico by Capt. Pat Rains
11/5 — 12-Volt Cruising by Barry Kessler
11/6 — Off the Beaten Path in Mexico by Mark & Emily Fagan
11/7 — Staying Friends with Your Diesel Engine by CF Koehler
11/8 — Planning for Cruising by Capt. Ann Kinner
West Marine Seminar:
1250 Rosecrans, San Diego
10/14; 1 p.m. — Rigging: Inspect & Prevent Rig Failure
Other Events at Downwind Marine:
10/19 — Baja Ha-Ha Welcome Party, with special discounts, a vendor fair (including author signings) and potluck, 8:30 a.m.-5 p.m.
10/21-25 — Baja Ha-Ha Week, includes morning buddy boat meetings with coffee and donuts, 10 a.m.
11/2 — Annual Cruisers' Potluck Party, with special discounts, a vendor fair (including author signings) and potluck, 8:30 a.m.-5 p.m.
Need Crew?
In an effort to making it easier for potential crew to find rides, and captain's in need to find watch-standers, Downwind Marine has set up a special binder on their front counter that contains resumes and photos of a variety of potential crew. If you'd like your info to be added, drop by or mail in your info (2804 Canon Street, San Diego, CA 92106).
Receive emails when 'Lectronic Latitude is updated.
SUBSCRIBE