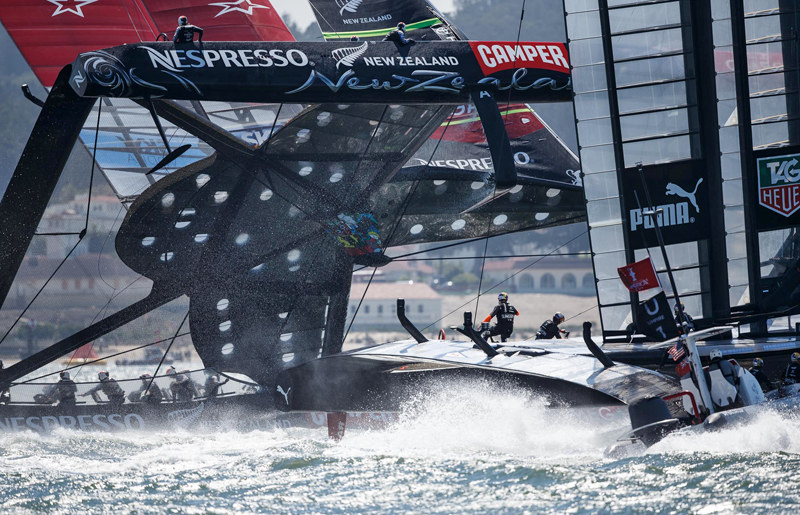 By the end of last Thursday, the already most exciting America's Cup Finals ever was losing a little steam. That day Emirates Team New Zealand had beaten Oracle Team USA twice, despite Oracle's having replaced navigator John Kostecki with Ben Ainslie, and despite Oracle's having used their only postponement card on Tuesday. With the Kiwis having taken a seemingly insurmountable 6 to -1 lead, the general sentiment was that, while the Kiwis were faster upwind and had smoother crew work, the Cup had still been a smash hit because of the cutting edge catamarans sailing at blistering speeds, the fine sailing conditions, the great television and graphic coverage, and the ideal spectating opportunities — and on occasion some really fine close quarters match racing. In the face of all the adversity, OTUSA helmsman Jimmy Spithill displayed steely resolve, saying the big deficit gave his team the opportunity for an equally big comeback. He sounded convincing.
On Saturday, the tide literally and figuratively began to turn. Having made some changes to their cat, OTUSA showed great improvement sailing upwind, which had been their huge weak spot. In fact, during the upwind leg they forced the Kiwis to tack quicker than they wanted to at one point, which almost ended the series right there.
The crews work to near exhaustion on the grinders to maintain the hydraulic power necessary to control the wings which are bigger than a 747s. When the Kiwis tacked, they didn't have enough hydraulic power, which meant that two of the three elements of the wing remained cocked to weather. The result was that the Kiwi boat — and their America's Cup dreams — nearly went over together. Although we haven't been able to confirm it, we've heard reports that the Kiwi cat heeled as much as 44.5 degrees before coming back. If you listened carefully, you could hear the collective gasping coming all the way from New Zealand. It was a true soiled-shorts moment.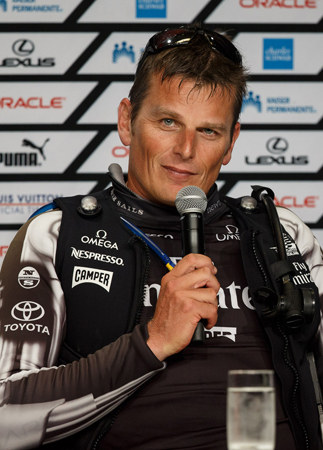 OTUSA continued on to take that race by over a minute, making for a big swing in momentum. Alas, when the Kiwis probably should have been rattled, they came back to take good lead in the second race of the day — before it had to be called because the wind limit had been exceeded. At this point, the 'mo' in the Cup was close to neutral.
Oracle started Sunday down 6-0, but with high hopes. Those hopes soared in the first race when they won the start and displayed unprecendented upwind speed to hand the Kiwis a whipping the likes of which they'd never experienced on a AC72. This set the stage for the second race, which would be the most dramatic in America's Cup history.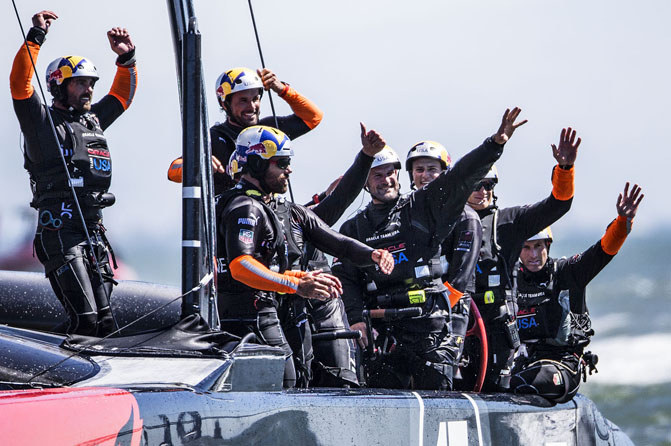 Despite commentator Gary Jobson pronouncing 10 seconds before the start that Oracle had easily won the start, it was actually the Kiwis who won the start. With the wind close to cancellation limits, the lead would change several times. The Kiwis rounded the leeward mark only 11 seconds ahead, but Oracle lost more time having to jibe to set up a split on the weather leg. By early in the weather leg, the air had gone out of the Oracle balloon, as they had fallen as much as 175 meters behind, meaning the Kiwis surely had an insurmountable lead. Miraculously, Oracle overcame that huge lead to take a one second lead at the weather mark. With the boats on a high-speed collision crossing halfway down the leeward leg, Oracle had to decide weather to duck or jibe on top. Ducking when the competition is doing 40 knots is very costly. Oracle lost 100 yards, but there was nothing they could do from then on but chase the Kiwis, crossing the line a mere 11 seconds behind. Breathtaking!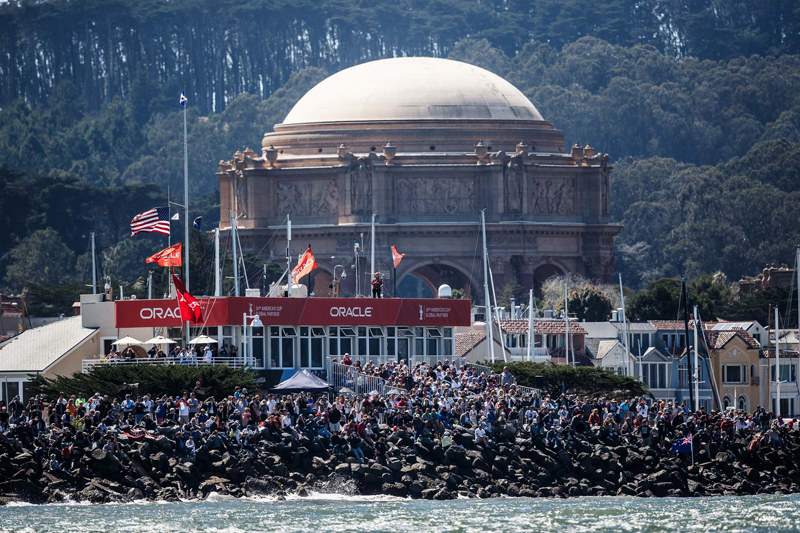 Some critics contended that Oracle blew it by not jibing on top of the Kiwis, something they had considered. But Kiwi skipper Dean 'The Dream' Barker, gentlemanly as ever, said that tactically Oracle really didn't have a choice.
With four lead changes, speeds over 40 knots, and a race that easily could have gone either way, it was certainly the finest race in the history of the America's Cup. The Kiwis could come away feeling confident that with a 7 to 1 lead, they can wrap up the Cup with two wins on Tuesday. Spithill and Oracle, on the other hand, have reasons for optimism, too. They have won two out of the last four races, and are now clearly a much faster boat upwind than they were before. It will take eight of nine nearly perfect match races for Oracle to retain the Cup, and that will require their crew work to match the consistency of the Kiwis.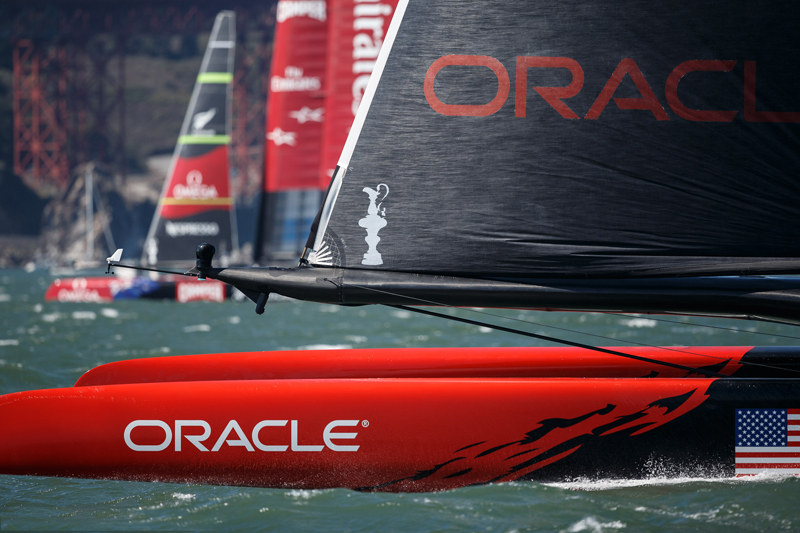 You do not want to miss Tuesday's racing, as its possibly the last time in a very long time you'll ever see such phenomenal high-speed match racing again. The AC72s, as brilliant as they've been in this Cup, are way too expensive — 45 people are needed to put the wing up and take it down — and a little too edgy for future windy America's Cups. The other thing to keep in mind is that even if Oracle were to win, there is no love lost between San Francisco and Larry Ellison, so Oracle might take the Cup elsewhere. It would be a shame, because San Francisco Bay has proven, beyond a doubt, that it's the best arena in the world for yacht racing. Tuesday, two races, don't miss it!
Notable quotes:
"If you didn't enjoy today's racing out there, then you should probably watch another sport." — Dean Barker, ETNZ helmsman
"This [the AC72] is a development boat. Like any racing sport, whether it's F1 or Moto GP, you're constantly learning how to race them. Hindsight's a beautiful thing, but what's important is how you react and go forward. Even today we have a heap of things we'd like to do to the boat." — James Spithill, Oracle helmsan
"I can honestly say this is the most fun and exciting sailing I've been involved with." — Ben Ainslie, Oracle tactician and four-time Olympic gold medalist
"It definitely feels good to know you can round the bottom gate behind Emirates Team New Zealand and still fight for the lead on the upwind leg. Amazing support for Oracle Team USA, great to be able to still hear the crowds while racing on the America's Cup course. Tuesday can't come soon enough!" — Shannon Falcone of Antigua, crew on Oracle
"Okay, kids. I — arguably the greatest public skeptic of AC 34, from a long way back — can now say that I have seen a great sailboat race. It's a different flavor of match racing, but it was a match race. The speed is really something, and now the boats have learned from each other and are going about the same speed. Congrats to both crews for a very good show." — Dick Enersen, Sausalito resident, old school America's Cup enthusiast, speaking for tens of thousands of AC72 skeptics
America's Cup Quiz: It's no secret that yacht racing is predominantly a middle class-and-above sport favored by white males with at least some technical inclinations. That doesn't mean that all yacht racers are born with a silver spoon in their mouth. Can you name the prominent figure in the 34th America's Cup who: 1) Was adopted, 2) didn't graduate from college, 3) started sailing on a Lido 14 at the Cal Sailing Club, and 4) had to sell his liveaboard boat in Berkeley in order to buy food?
Why that would be Larry Ellison, who no longer has to worry about where his next meal comes from.
Receive emails when 'Lectronic Latitude is updated.
SUBSCRIBE