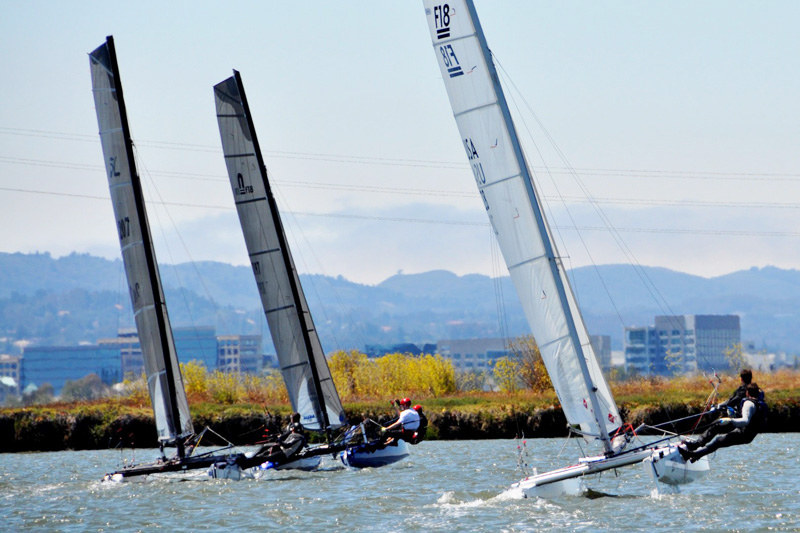 This Sunday over a dozen Formula 18 catamarans will be racing a short course right in front on the Marina Green in San Francisco starting at 11:15 a.m., and the price is right — the AC Open F18 Showcase Regatta is free!
Sunday's spectacle will feature both ends of the fast cat spectrum: the big cats (AC72s) and the small cats (F18s). Formula 18s travel one boat length per second, which is the same distance traveled by the foiling AC72s. And after the F18 show, the AC72s are scheduled to compete in two races in the Louis Vuitton Cup Finals.
Formula 18 racing catamarans weigh 396 lbs and can reach speeds over 25 miles per hour. "This is sailing for the 99%" said Cherie Sogsti who is driving her boat this weekend. "We bought our used catamaran and all the gear a few months ago for $10,000. New boats cost $25K. I've sailed more than 20 types of boats over the last decade and I've never had more fun than when I'm gliding over the water on my 18-ft cat."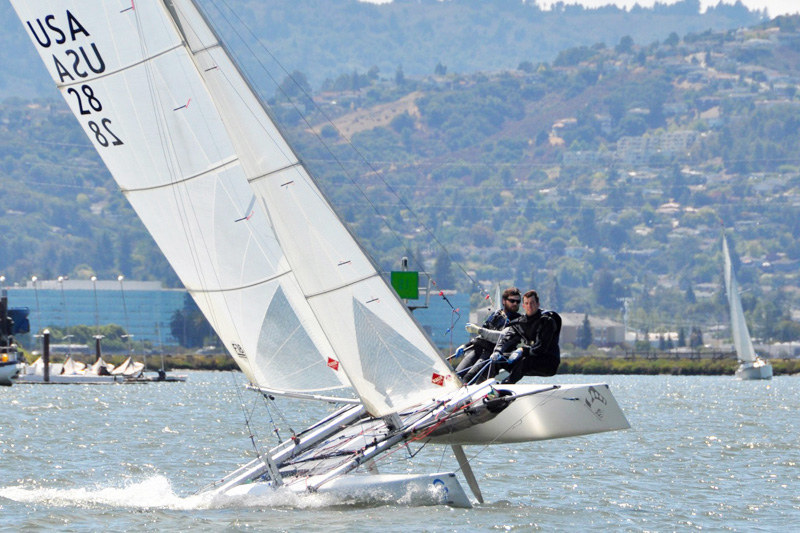 Want to find out if a catamaran is the right boat for you? Come by the Marina Green Sunday afternoon and meet more than a dozen F18 catamaran sailors from all over California. The F18 fleet includes men and women off all ages, from sailors who aren't old enough to vote to racers who qualify for a senior discount. The catamarans will be on display Sunday on the Marina Green grass for the public and the F18 sailors will be available to answer questions.
Seventeen-year-old champion multihull sailor Ben Brown is addicted to the thrills that the F18 delivers. "It's not just the speed of a spinnaker catamaran," says Brown who will race on Sunday. "It's the close communication between the helm and crew. Formula 18s are truly a two-person boat and balancing that relationship is an art."
"With these high-performance catamarans, you get Ferrari speed on a used-car budget," said Greg Retkowski, who will be racing Sunday. "You feel like you're flying over the ocean."
For more information about sailing F18s on San Francisco Bay click here.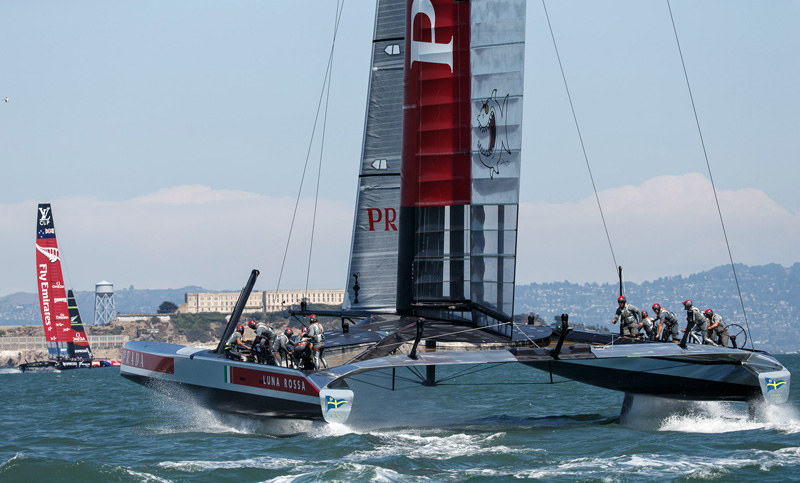 Although Emirates Team New Zealand has been dominating the Italian-backed Luna Rossa Challenge during the Louis Vuitton Cup (now 4 to 1), they aren't yet popping celebratory Champagne, as they still need three more wins to cinch the LVC and advance to the big show — the America's Cup 34 Finals, beginning September 7. And every racer on the course is acutely aware that given the tremendous loads these still-experimental speed machines must endure, the threat of gear breakage is ever-present.
We'd be tempted to say, "It ain't over till the fat lady sings." But then there are no ladies in this contest, and scarcely an ounce of body fat among all team members. As is frequently noted, there has never been a class of AC boats that's more physically demanding, edgier or faster.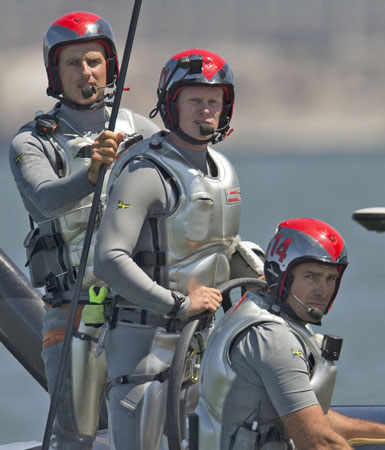 Race 6 takes place today on the Cityfront at 1:10 p.m. and can be viewed live (in the U.S.) on ESPN3, beginning at 1. YouTube will carry it Internationally, and will make the complete race video available to all shortly after completion of the race. Races 7 and 8 are scheduled tomorrow. For complete info see the official AC 34 site.
Receive emails when 'Lectronic Latitude is updated.
SUBSCRIBE