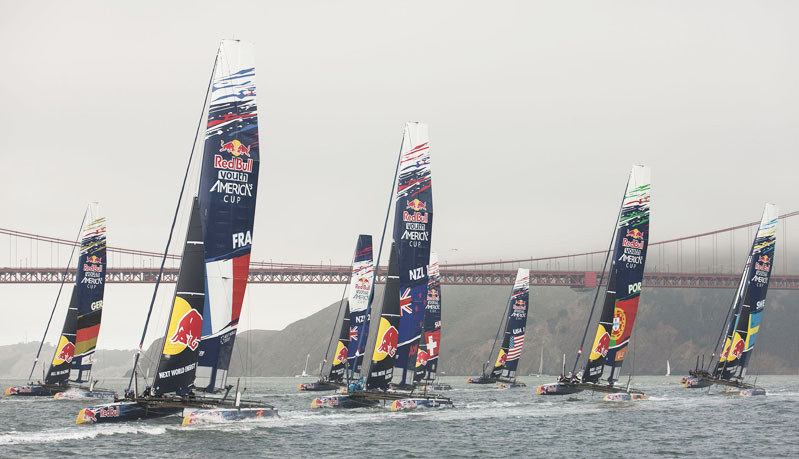 There's no denying that AC72s are fast, edgy, and technically sensational. But races between them thus far have left many Bay Area sailing enthusiasts wishing America's Cup 34 organizers had simply stuck with the AC45s that were so thrilling to watch here last spring and summer during the AC World Series.
Within those highly successful contests, the most thrilling moments — especially for non-sailing sports fans — came during the fleet races. That's one of the reasons we're extremely bullish on the upcoming Red Bull Youth America's Cup, September 1-4, which will feature fleet races exclusively.
With 10 teams of 19- to 24-year-olds from around the world on the starting line in each of eight races, this event — originally a mere footnote to the big show among the AC72s — could produce some of the most spectacular moments of the so-called Summer of Sailing. So mark your calendar. You won't want to miss it.
In addition to eight foreign teams — from Australia, New Zealand, France, Germany, Portugal, Sweden and Switzerland — the U.S. will be represented by the USA45 Racing syndicate (hosted by San Diego YC), plus the SF Bay 'home team' dubbed The Force (American Youth Sailing Force). Never before has an AC event provided such an effective 'gateway' event to prepare the next generation of professional, world-class sailors. And, as this just-released Force video shows, the experience is also a whole lot of fun.
Both U.S. teams are worthy of your support, emotionally and financially. Check out their websites for details on the crews, their ongoing training and support opportunities. We'll see you on the sidelines.
As predicted, imposing wind limits on America's Cup racing has forced organizers to cancel several scheduled Louis Vuitton Cup Finals races. An augmented schedule was released today (below).
Meanwhile the breakdowns that have plagued the event so far are clearly frustrating not only the teams, their sponsors and fans, but also even eternally upbeat professional commentators such as Gary Jobson. Nevertheless, the longtime AC expert is optimistic that the AC 34 Finals (September 7-21) will have some very exciting boat-on-boat competition. We agree. Based on what we've seen lately, we have to believe Oracle Team USA will be very fast and well-prepared to face their assumed rival, Emirates Team New Zealand.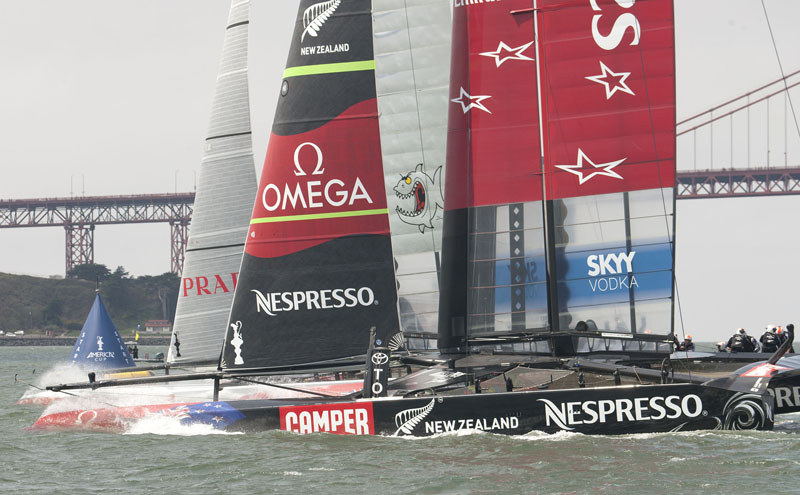 As Jobson noted in a recent commentary: "The most interesting moment of the past month took place when Oracle Team USA and Emirates Team New Zealand lined-up for a speed test. . . The defenders (OTUSA) were on the fourth leg of their in-house practice race. Jimmy Spithill and his crew were leading the Ben Ainslie team by about seven lengths. The time limit for the defender access to the course had expired, so the challengers were tuning-up for their race. Suddenly, New Zealand's skipper Dean Barker, maneuvered his AC72 in between the two American boats. The race was on!
"To my eye, from about a quarter mile away aboard the race committee boat, the speeds seemed to be about even. Oracle Team USA might have been sailing a little faster, while Emirates Team New Zealand was sailing a lower course. . . Ben Ainslie, who was in a perfect position to see the relative speeds, (later) told a colleague of mine that he did not see any difference in speed. After two minutes, all three boats jibed. The Kiwi boat appeared to gain over a boat length through the maneuver. Except for the jibe, the VMG on both boats was nearly identical."
Let's hope the September races are equally competitive. If they are, all the frustration, criticism and cynicism of the past months may be washed away.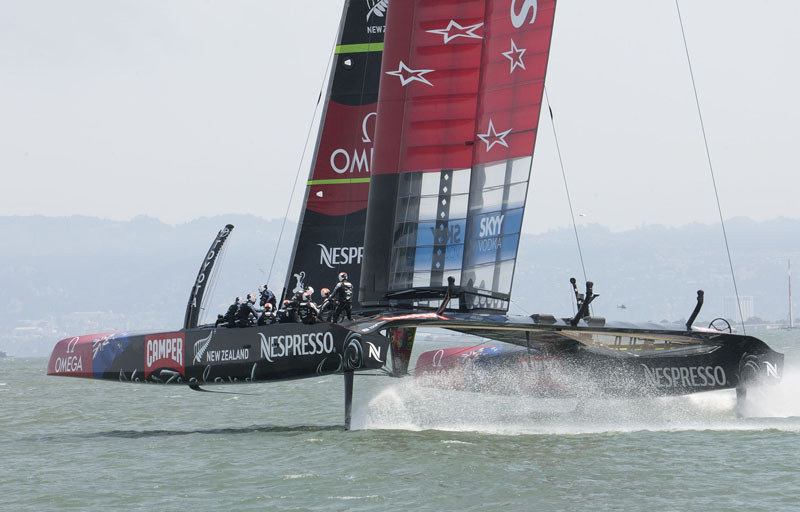 Today's racing is scheduled to begin at 1:10 p.m. (Race 4) and 2:10 p.m. (Race 5), and can be viewed live in the U.S. on ESPN3, beginning at 1 p.m. The full race replay will be available on YouTube shortly after the conclusion of live racing.
Updated Louis Vuitton Cup Final schedule (best-of-13 series)
Wednesday, Aug. 21: Final Race 4 (1:10 pm PT), Final Race 5 (2:10 pm PT)
Friday, Aug. 23: Final Race 6 (TBD)
Saturday, Aug. 24: Final Race 7 (1:10 pm PT), Final Race 8 (2:10 pm PT)
Sunday, Aug. 25: Final Race 9 (1:10 pm PT), Final Race 10 (2:10 pm PT)
Wednesday, Aug. 28: Final Race 11 (1:10 pm PT), Final Race 12 (2:10 pm PT)
Friday, Aug. 30: Final Race 13 (1:10 pm PT)
Receive emails when 'Lectronic Latitude is updated.
SUBSCRIBE