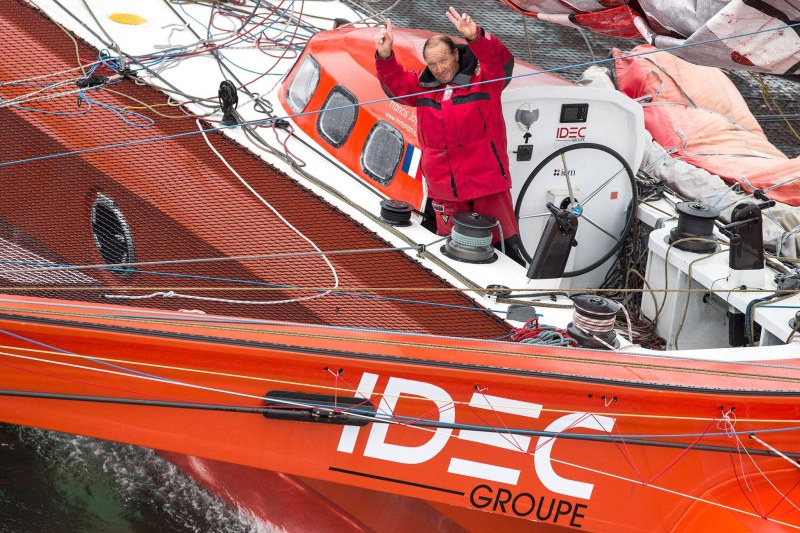 Last week we reported on Francis Joyon's west-to-east solo Transatlantic record attempt onboard his maxi-trimaran IDEC. The singlehander from Brittany departed New York last Wednesday bound for Lizard Point, the southernmost point in England, some 2,880 nautical miles distant. With his sights set firmly on toppling Thomas Coville's 2008 crossing of 5d, 19h, Joyon hooked into a depression that catapulted him toward Europe at a speed well ahead of the reference time.
Sailing well south of the Great Circle route — to which Coville stayed north of — Joyon kept IDEC lit up all the way across, averaging more than 23 knots of boat speed and threatening his own 24-hour solo distance record of 666.2 nm on multiple occasions. While Joyon came up just short of the mark on setting a new 24-hour record — his best daily run was 655.5 nautical miles — he absolutely shattered the North Atlantic record, knocking more than 16.5 hours off of Coville's time. The new singlehanded TransAtlantic record stands at a brief 5d, 2h, 56m!
Joyon now holds the 'big four' singlehanded records: 1) The Solo Round the World record of 57d, 13h set in 2008; 2) The Columbus Route from Cadiz to San Salvador of 8d, 16h; 3) the 24-Hour Solo Record of 666 miles (or 27.75 knots); and 4) The TransAtlantic Record he just set. It would be nice to see him go for the TransPac record, wouldn't it?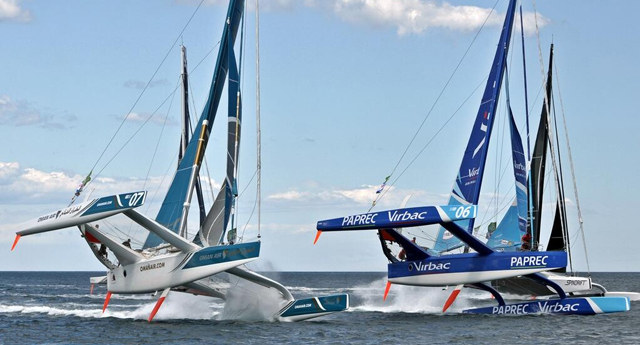 Elsewhere in the world of big trimarans going really, really fast, the inaugural La Route des Princes continues to amaze crowds and offer up fantastic racing. With the second offshore leg underway, the fleet of four MOD 70s, four Multi 50s and a Maxi 80 tri are currently speeding around Cape Finisterre en route from Lisbon, Portugal to Dublin, Ireland via Fastnet Rock. After finishing at the tail end of a small but immensely competitive MOD 70 fleet during the inshore racing in Lisbon, Jean-Pierre Dick's new Virbac-Paprec 70 is leading the fleet during the 990-mile offshore leg from Lisbon to Dublin. The MOD 70 racing has been absolutely thrilling with all four teams having tasted inshore victory, last place defeat and everything in between.
While not nearly as big, flashy or fast as the maxi-tris, we would be remiss in not giving the Solitaire du Figaro some love. The single most competitive offshore race in the world is going on right now with 40 identical Beneteau Figaro IIs racing solo all over western Europe. After winning Leg Two, Vendée Globe runner-up Armel Le Cléac'h finds himself deeper in the fleet, while up-and-comer Morgan Lagraviére has taken advantage of a second in Leg Two and his first leg win in Leg Three to move into the overall lead.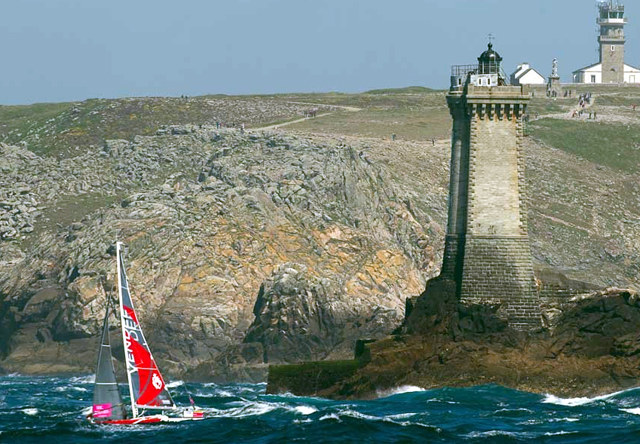 After leading for two legs, perennial contender Yann Eliés has slipped to third overall, just 32 minutes behind the leaders, despite breaking his forestay (!) while sailing upwind during Leg Three. Sailing with a full main and genoa in 20 knots of westerly breeze, the past Figaro winner — who achieved international fame after breaking his femur in the Southern Ocean during the 2008-09 Vendée — has managed to turn his boat downwind, lash on a temporary headstay and finish the leg.
Receive emails when 'Lectronic Latitude is updated.
SUBSCRIBE