As most readers know, we at Latitude have long believed that the America's Cup folks made a huge mistake when they decided to race this summer's 34th America's Cup with AC72s rather than something like the MOD70 trimarans. The latter boats are: 1) nearly as fast, 2) cost a fraction as much to build and campaign, and 3) have proven themselves safe while racing across oceans at very high speeds.
Having sailed the MOD70 Orion on Banderas Bay last week, we no longer speculate the MOD70s would have been a great choice for the America's Cup. We know they would have.
The MOD70s are about as strict a one-design class as there could be. For instance, all the gear on the boats is exactly the same, right down to the colors of the lines. This, along with a soft rather than wing main, keeps the price of the whole shebang reasonable. You could buy a couple of completely fitted out MOD70s for the price of just a wing mast for an AC72, and you don't need an army to sail them. Based on viewing Orion inside and out, the MODs, which have crossbeams with sexy curves, have been beautifully crafted.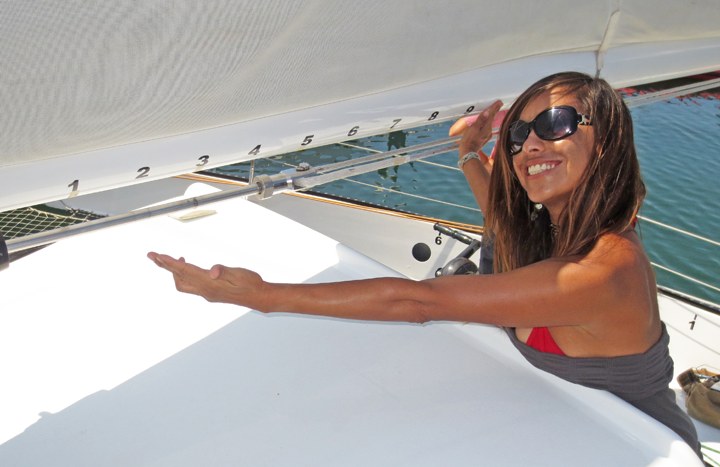 According to Swiss Steve Ravussin, who is a big part in the MOD70 organization, these new trimarans are a huge improvement on the ORMA 60 trimarans. "Thanks to less sail area but longer hulls, the MODs are faster in most conditions, but safer." Ravussin is keen on big multihull safety, having fipped ORMA 60s mid-ocean twice. He also told us that the MODs are stronger, more reliable, and less complicated than the fragile ORMA designs.
On the first night of the first MOD70 ocean race, from New York to France, Ravussin's MOD70 hit a submerged container, putting a hole in the bottom of the boat. Despite the fact that he and his crew had to dewater all the way across the Atlantic, they finished only a few hours after the first boat. The first boat, mind you, averaged 29.6 knots for the first 24 hours! And crossed the Atlantic in four days plus change!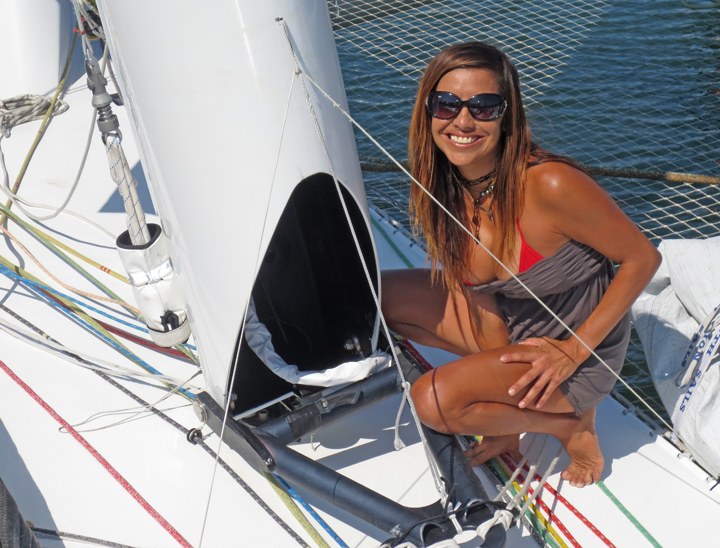 The only place an ORMA 60 might beat a MOD70, Ravussin told us, is in the light winds of Southern California. But one has to remember, in the last big ORMA 60 race across the Atlantic, an astonishing 15 of 18 boats failed to cross the finish line. True, it blew 60 knots, but still, the ORMA trimarans are delicate.
After leaving Orion's base at the Riviera Nayarit Marina at La Cruz — MOD70s have engines — we soon found ourselves in about 7 knots of wind and flat water. Almost instantly, the black and white tri was zooming along in the high teens, accompanied by a hum that made a sound reminiscent of BART trains. Mind you, the sails on this boat — built by North in Minden, Nevada, like all MOD70 sails — already had 10,000 miles on them. Even so, 2.5 times the true wind speed is normal.
The MOD70 Orion ripping across Banderas Bay at 30+ knots in 18 knots of true wind. The amazing thing to us is that she wasn't bursting to 30+, but sailing steadily at that speed. We apologize for the somewhat repetitiveness of the video, but 1) we were on the net while shooting it, and thus hanging on for dear life, and 2) aren't up to speed on video editing and compressing
After a lunch break, the wind began to build to what we suppose was the high teens, and Orion really began to show her stuff. With the owner — a self-made man who prefers to remain anonymous, but is known for being one of the biggest and most effective philantropists in the world — at the helm, Orion just took off. She just flew at the mid- to high-20s and dabbled with 30. It was fabulous! With a little more breeze on, Ravussin took the helm and we were soon into the 30s. Not just hitting 30 plus, mind you, but staying in the low 30s for minutes at a time. Before it was all over, Orion's top speed for the day was 35 knots, just one knot short of the record set by the owner the day before. The top speed recorded by any MOD70 to date is 41 knots.
While the MOD70 is a tech miracle of modern materials and design, she's also a simple boat. Depending on whether 'city racing' — three or so half-hour races with crowds watching from shore — or racing across an ocean, the boat has a crew of four or six. For 'city racing', there is room for three VIPs in the cockpit.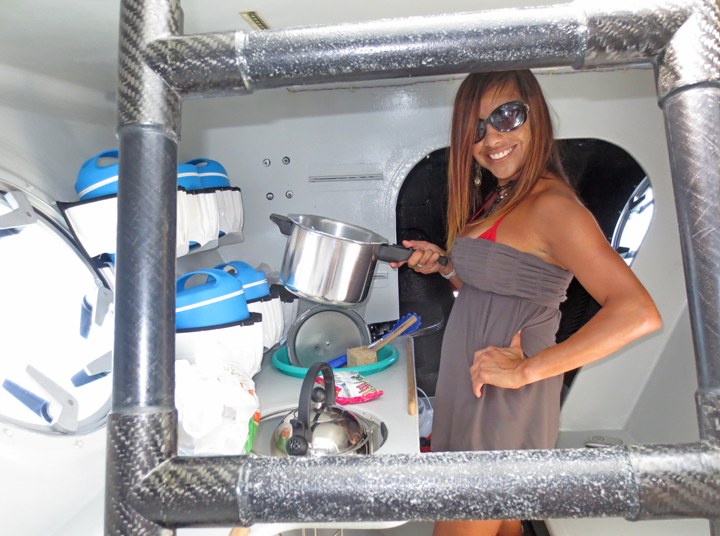 Orion's helm is light, and get's even lighter as she gets on her leeward foil. This caused the boat's owner to drive with an infectious childlike enthusiasm. "This is a life changer," he told us. Twice. While the owner has no interest in sailing fame or glory, he hopes Orion will be allowed to compete in the St. Francis Big Boat Series this fall, and that other West Coast sailors might be interested in joining him for one-design fun in the Bay, along the coast of California, and in next year's Puerto Vallarta Race. "It would be great if we could have five or six of these racing on the West Coast." If everything falls into place, a second MOD70, currently in Lorient, France, would join Orion on San Francisco Bay for what's going to be a very active multihull summer.
Orion is slated to leave Banderas Bay on Monday and be tied up for viewing at the San Diego YC in time for sundowners on Friday. Just a couple of days later she'll move into her slip at Clipper Yacht Harbor in Sausalito. While Orion has the same black and white color scheme as Oracle Team USA'a AC72, she'll be easy to distinguish when she screams across San Francisco Bay. She has a soft main that is much shorter than Oracle's, and she has three hulls rather than two. You can't miss her.
Receive emails when 'Lectronic Latitude is updated.
SUBSCRIBE