This is a photo in desperate need of a caption. The best one (chosen by Latitude 38 editors) will win a Latitude hat in honor of the photo!
UPDATE: We have a winner! We'll share the winning caption in Wednesday's 'Lectronic. Thanks to everyone who played!
In a press conference in Alameda Friday, Patrizio Bertelli, president of the Luna Rossa Challenge America's Cup syndicate, made it abundantly clear that he has serious concerns about the safety of AC72 racing in this summer's America's Cup and Louis Vuitton challenger series. However, his team is not pulling out.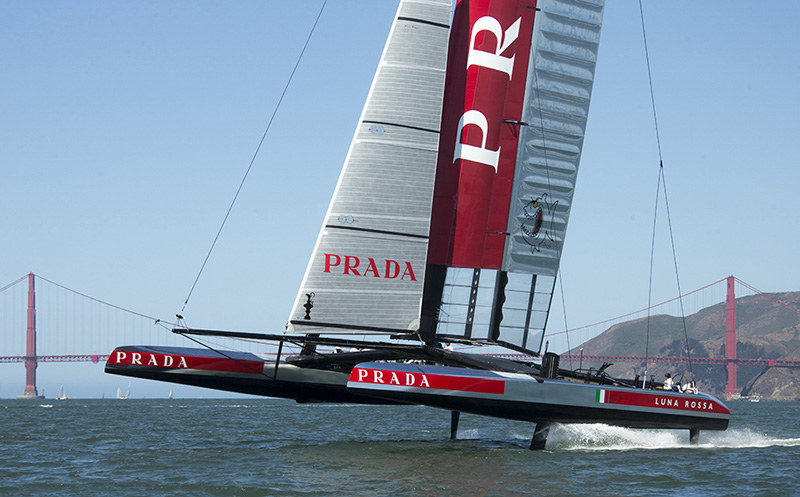 Referring to the May 9 breakup of the Artemis cat dubbed 'Big Red', which took the life of crewman Bart Simpson, Bertelli said, "The America's Cup has always had ups and downs, but this is much more serious." Although the AC72 class was supposedly designed to sail in as much as 30 knots of true wind, Bertelli insists, "We want to have wind limits." He seeks an agreement by all teams that they would not race if wind strength was higher than a specified velocity — probably around 25 knots.
But limits would seem to compromise a fundamental goal of Larry Ellison's AC34 vision. The America's Cup Event Authority CEO Stephan Barclay was forthright in an article last week in Bloomberg Businessweek about how the current format evolved: "In recent years, we've wanted to put the Cup on a sounder financial footing and make it accessible to people other than the very, very wealthy." One step in fulfilling that goal was placing the race venue right next to the San Francisco Cityfront where any and all could observe the races. Another step — and perhaps the most important one — was negotiating extensive television coverage, and facilitating the development of the LiveLine computer graphics that will help both sailors and non-sailors understand who is ahead, where the wind's coming from, where the course boundaries are, and much more.
"For the sake of television," continued Barclay, "the races had to start on time. You can't have this huge buildup to a race and then have the television saying, 'delayed due to lack of wind,' which is a huge problem in sailing.
"The answer to these issues was to use a catamaran instead of the monohull boats we've traditionally used in the Cup. Catamarans are very fast, can sail in very light or strong winds, and get so close to the shore that fans can hear the sailors talking."
But Luna Rossa's Bertelli made his priorities clear: "We are not here to produce a (TV) show," he said flatly. When asked how wind limits might affect TV scheduling, he said, "You should direct your questions to Mr. Ellison."
Also notable is that Luna Rossa chose to ignore the suggestion by the America's Cup Review Committee (empaneled to scrutinize Big Red's breakup), that all teams should observe a moratorium on sailing until late next week. The Italian team's one and only AC72 was seen foiling across the Bay Saturday in moderate winds — and she was certainly lookin' good.
Been wondering about Jeanne Socrates, 70, who's on her third attempt at a nonstop solo circumnavigation? The intrepid British grandmother left Victoria, BC, on October 22 aboard her Najad 380 Nereida and is now on the final leg of her voyage, having crossed the equator on Friday. "I can't believe how slow these last few weeks have been, and how far west of my planned route I am now," she reports.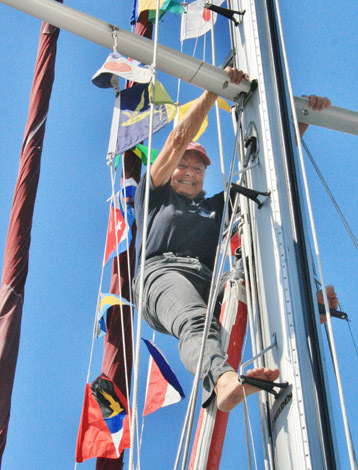 Socrates spent three months transiting the Southern Ocean, before frequent calms slowed her progress. "I found myself drifting southwest (the opposite direction she was trying to go) in no wind several times…backwards!" she says. On top of all that, gear failures and equipment damage have keep her busy — from a mainsail that is now only half-usable to both of her computers croaking, her trip around has been anything but a pleasure cruise.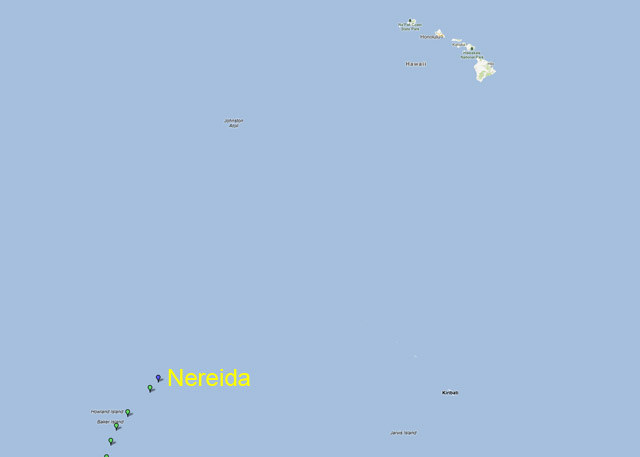 Jeanne's next hurdle is to navigate Nereida past the reefs, atolls and islands scattered between Hawaii and Midway, then on to Victoria. She hopes to finish in June, making her the oldest woman to solo nonstop around the world, and the first woman to do so having started from North America. Keep track of her progress at www.svnereida.com.
Receive emails when 'Lectronic Latitude is updated.
SUBSCRIBE