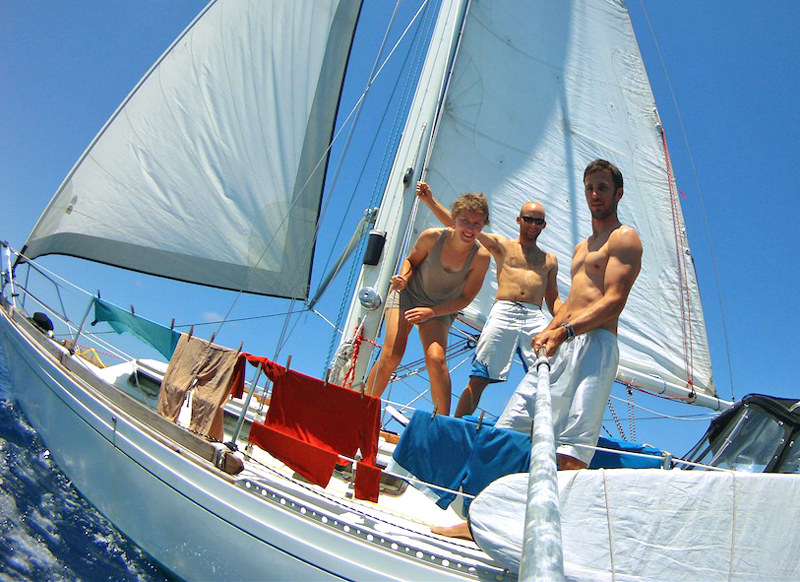 We love getting reports from folks who have just completed the Puddle Jump from the West Coast to the Marquesas. Particularly when the correspondents have done something cool. In the case of Chris and Anne-Marie Fox — with crewmember Jonathan Busby — of the Victoria, B.C.-based Islander 36 Starship, the cool thing was that they covered the nearly 2,900 miles in 24 days having burned only 4.5 gallons of fuel. And that included what they burned to make electricity.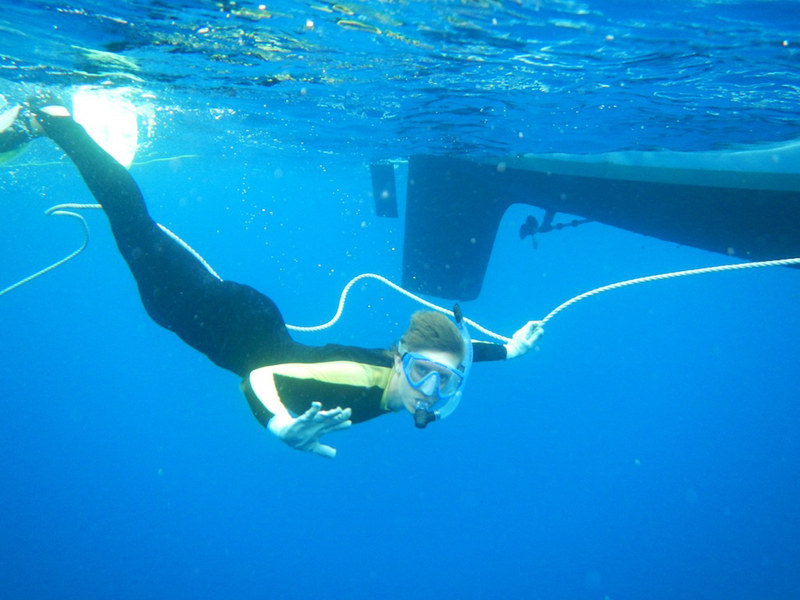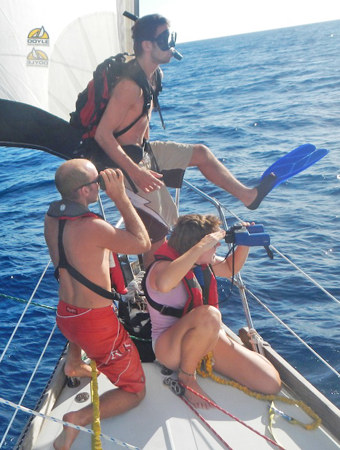 Have any other Puddle Jumpers burned less fuel going across? Email us if you have.
But that's not the trio's most impressive statistic. In 24 days, the three of them used a grand total of just 45 gallons of fresh water. That's just over half a gallon per day for each one of them!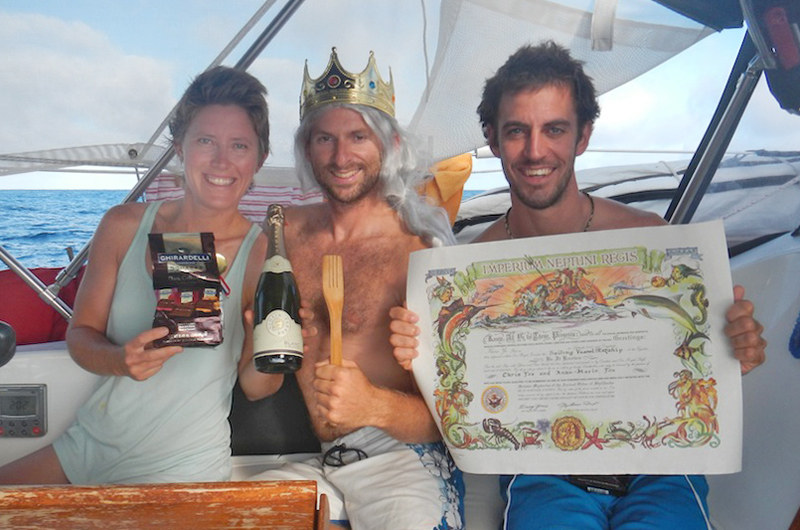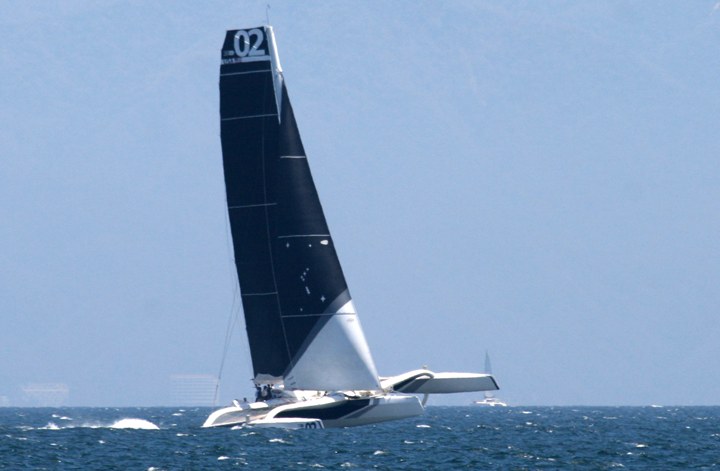 "On May 10 I looked up from the cockpit of our Aleutian 51 Mermaid which was anchored at La Cruz, and saw this trimaran screaming across Banderas Bay," writes Robin Richardson Stout. "The wind was blowing 20 knots and there was pretty good-sized wind chop, but it was amazing to see how fast the tri scooted back and forth across the bay. What fun to watch! We later spoke with the tri's crew, and they told us that they hit 36 knots of boat speed in 20 knots of wind."
The trimaran in question is the MOD70 trimaran Orion, hull #2, owned by Thomas Siebel. The tri was shipped from Europe to Banderas Bay for training a little more than a month ago. She's expected to head north to San Francisco in the next few weeks.
The MOD70 is a one-design class that was created to replace the fast but fragile ORMA 60 trimarans. Last year seven of them raced across the Atlantic, and during the first 24 hours they all covered over 650 miles. It's our understanding that the top speed has been just under 40 knots. There was also a MOD70 inshore circuit in Europe.
We've always thought — and continue to believe — that the MOD70s, or something similar, are what should be used for the America's Cup. Unlike the AC72s, they are one-design and therefore much less expensive to build and maintain. Unlike the AC72s, they use soft sails instead of wings, and their masts are 100 feet rather than 131 feet. While nobody is going to claim that you can't flip a MOD70, unlike the AC72s, they are ocean-proven and much less edgy. Indeed, even though they are 10 feet longer than the ORMA 60s, the sail area was reduced by 5% for greater safety. Thanks to the soft sails, we think it's much easier for average sailors to identify with MOD70s.
True, MOD70s might be a couple of knots slower at max speed than the AC72s on the Bay, and they don't foil. But at around 40 knots of maximum boat speed, is anyone going to notice?
The MOD70s were designed by Marc Van Peteghem and Vincent Lauriot-Prévost, who have designed countless racing and cruising multihulls. Indeed, the America's Cup has called Prévost to be part of the team investigating the destruction of the Artemis AC72 and the death of Bart Simpson.
The tragic death of British Olympian Bart Simpson last Thursday has sharply focused the Bay Area boating community on issues related to safety on the water. The specially formed America's Cup Review Committee charged with scrutinizing the Artemis 72 incident met for the first time yesterday, and its first recommendation was to suspend AC72 and AC45 training for a week.
You may find it eerily ironic that the moratorium will take place during national Safe Boating Week (May 18-24).
"A sunny day on the water can turn deadly in seconds," Yvonne Pentz wrote recently on behalf of the National Safe Boating Council. "California ranks number two in the nation for boating fatalities and boating accidents, with boating mishaps causing 52 deaths in the state in 2011 alone.
"I'm helping the National Safe Boating Council increase life jacket safety awareness, as approximately 84% of drowning victims in recreational boating accidents were not wearing a life jacket (US Coast Guard 2011 Recreational Boating Safety Statistics)."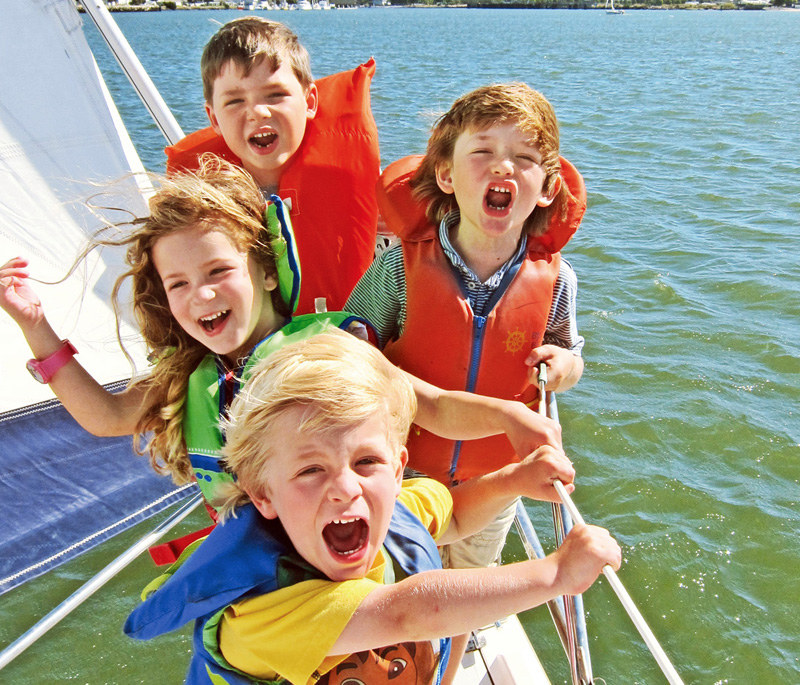 Simpson, of course, was wearing a life jacket, as doing so is a basic requirement for all America's Cup team members. It remains to be seen, however, whether the practice (by all competing teams) of wearing crew shirts outside of their PFDs contributed to the challenge of freeing the two-time Olympian from the wreckage of the cat nicknamed Big Red.
In any case, the much-loved British sailor's untimely death should remind all boaters that, even though sailing is a relatively safe sport — only 28 of 2011's 758 boating deaths nationwide were among sailors — bad things can happen quickly out on the water, no matter what sort of vessel you're in.
For more on watersports safety, click here.
Receive emails when 'Lectronic Latitude is updated.
SUBSCRIBE