"Hey, do you guys know what happened to www.pinkboat.org?" We've found this question by readers in our inbox over the last few days so we checked it out and, sure enough, the site is down. For those who don't know, Tom Watson has been planning a nonstop solo circumnavigation aboard his Pepto-pink Pearson Triton Darwind as a fundraiser for the Breast Cancer Research Foundation. For the last two years, Tom has organized very popular Pink Boat Regattas in San Francisco and Seattle, and was working to set one up in San Diego. After last summer's Singlehanded TransPac, Tom sailed Darwind to Seattle, his new homebase.
When we saw the site was down, we reached out to Tom, who responded immediately. "I'm taking a break from the Pink Boat. I didn't find a grant, and can't continue to do it all on my dime, so I'm going to focus on my personal finances for a few years and get back to it."
Tom also pointed us to a post he'd made on the site before it came down. "Last year was an amazing year. I often dive into things with reckless abandon. I don't know how things are going to work, but I don't let that stop me from seizing the day and making the most of it. When I realized I could make a difference for people with the Pink Boat, I just jumped in and tried to make it work. We were able to donate nearly $60,000 [in 2012] and it's been an amazing adventure but personally, it's been a financial disaster and is not sustainable.
"We are going to continue to bring regattas raising money for breast cancer research to the country, but my around-the-world record attempt is going to be postponed for a few years while I work out the finances of that adventure. We actually think it will be more effective for the cause to stop in ports and bring our message to the world stage instead of going nonstop. Thank you to everyone who has supported us in 2012, and we look forward to a great 2013, although it will be a bit different than planned."
Tom says he loved working with the team at the Breast Cancer Research Foundation, and apparently the feeling was mutual. "We really can't thank you enough for all the hard work and dedication you and all your friends and family have shown for the Pink Boat events and fundraising efforts," Associate Director of Marketing Pat Altman wrote to Tom. "It has been a unique and exciting partnership for us. We wish you all the best in whatever you decide to do going forward."
We at Latitude wish the same for Tom!
The racing never stops in the many islands of the Eastern Caribbean, but the major events — most of which are from Antigua north for English speakers — run from late January to early May. In addition to the really big races and regattas listed below, there are countless great smaller ones such as at Bequia, Trinidad, Grenada, and just about every significant island. Here's an overview written for the average enthusiastic sailor:
The RORC Caribbean 600 is one of many great Caribbean regattas.

© RORC / Tim Wright

Elena was our January cover girl. Sadly, she won't be at the Bucket this year.

latitude/Richard
© Latitude 38 Media, LLC
This certainly isn't a definitive list of great regattas in the Caribbean. There's the great Bequia Heineken Easter Regatta in the charming little island of Bequia, big regattas in Trinidad and Grenada, to say nothing of the massive sailing crazy French regattas on Martinique and Guadeloupe.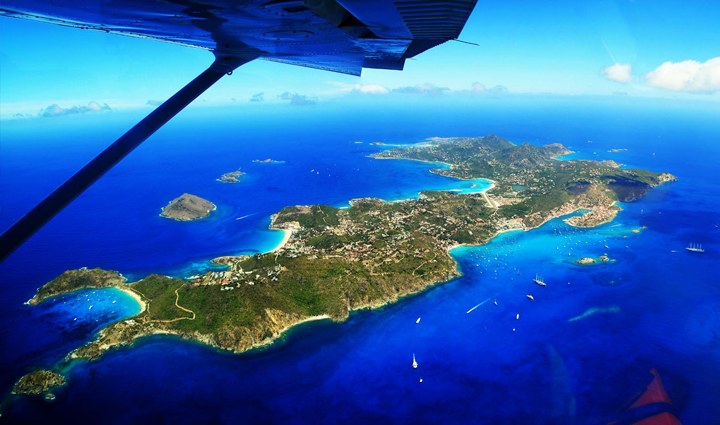 Want to watch the St. Barth Bucket, "the greatest sailing spectacle in the world," with the Wanderer and Doña de Mallorca from their Leopard 45 sailing cat 'ti Profligate? We're making three cabins — heads and showers ensuite — available for the week of the great event: Tuesday, March 26 to Tuesday, April 2.
The Bucket is three days of ultra-luxury megayacht racing in ideal tradewind conditions. Only 40 entries are allowed each year, and owners and world-class crew battle for the coveted slots. Each yacht must be over 100 feet in length, and the average length is generally about 140 feet. This year's big boy will be the 289-ft Maltese Falcon, with a couple of 200-ft schooners similar to the one on the cover of this month's Latitude. We get close to the action. Real close.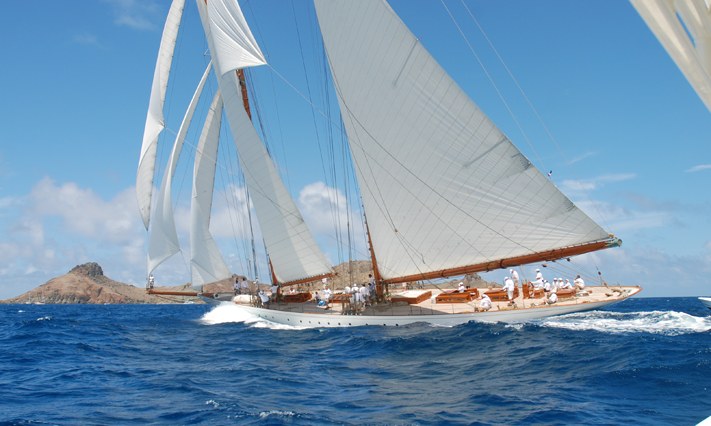 The participating yachts are astonishing works of multi-multi-million dollar sailing art, each one in pristine condition. And all but the very biggest will be stern-tied in the middle of tiny Gustavia Harbor. Scores more mega sailing yachts will be anchored out just to be where the sailing action is. The social scene on the quay — with everyone from sailing super stars, to rock 'n rollers, to models, to six-year-olds with skateboards, to grandmothers — is over the top, in a semi-sophisticated French-Caribbean way. In other words, champagne rather than tequila shots. While we can't guarantee it, Jimmy Buffett, who has a home — and often a big motoryacht and seaplane — at the island, often shows up to play at a tiny venue such as the Baz Bar.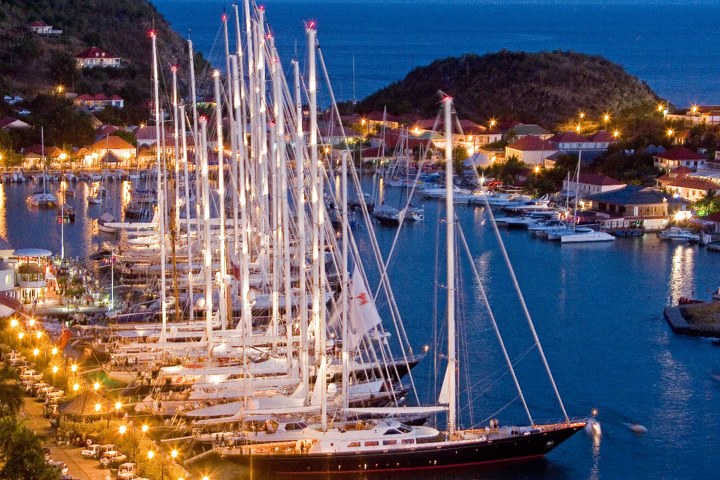 On non-race days, we'll poke around the tiny gem of a island to anchor at places such as Grand Saline, Baie St. Jean, and Isle Forschue for snorkeling, body surfing and SUP-ing. We might even circumnavigate the island with La Gamelle. We've been going to St. Barth regularly for 25 years, so we know the island, the characters and the lore. Heck, we're even part of it. We also know how to enjoy the island on something resembling a budget.
The charter dates are March 26-April 2, which means you need to fly to St. Martin the day before and either take a puddle jumper or ferry to St. Barth. Simple breakfasts and some simple dinners will be included, although if you're not into helping with the prep and clean-up, or don't play well with others, this is not the gig for you. At $2,500 per double cabin, it's not dirt cheap, but then again, it's the Bucket, the likes of which you've never experienced before. A less-expensive alternative would be for you and a bunch of friends to charter a 36-footer from 15-mile distant St. Martin. You'd have a blast doing that, too. For details, email Doña de Mallorca, but do it right away, as there are only two cabins left.
Receive emails when 'Lectronic Latitude is updated.
SUBSCRIBE