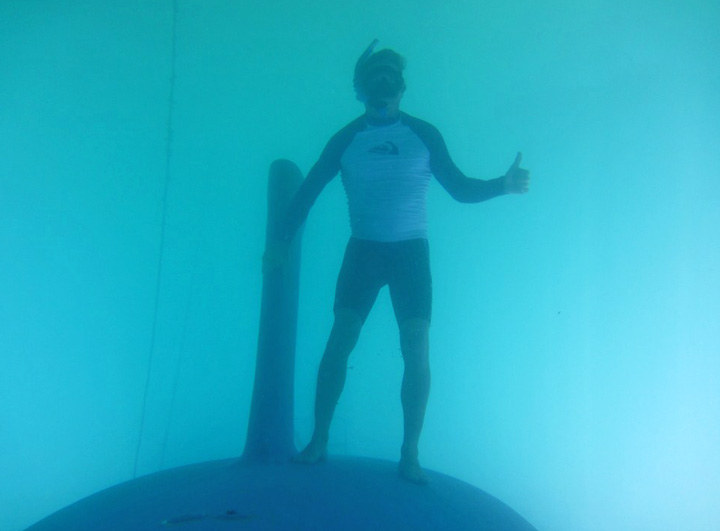 Kurt Roll of San Diego loves a warm ocean. His favorite waters are the clear, warm waters of Fiji. He's spent a lot of time there crewing aboard Dietmar Petutschnig and Suzanne DeBose's Las Vegas-based Lagoon 440 cat Carinthia. During his free time, he did a lot of surfing and diving.
With the South Pacific cruising season over, Kurt's substitute for Fiji is Catalina. True, the water may rarely get over 70 degrees, which is a long way from 80+ degree water temps of Fiji, and the water may not be as clear as vodka. But you make the best of what's available to you.
Kurt recently sent us this photo of himself 'standing' on the bottom of his Catalina 32, Pura Vida. We're running it upside down because it looks kinda cool that way, and because we know you'd want to turn it over anyway.
Kurt also tells us that while diving near the fish reserve just off the casino, he swam past a couple of big grouper. "One had to be six feet long, the other four to five feet long." Long may they live.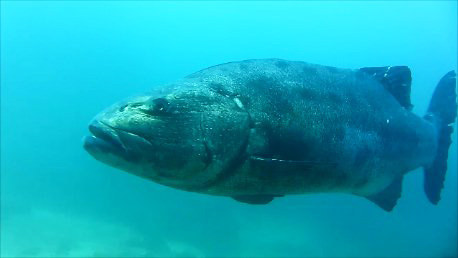 Speaking of Southern California, after three consecutive summers of cold and dreadful weather, this summer has been a much welcomed return to the norm. That's meant a lot less marine layer and a lot more blue skies. Delightful!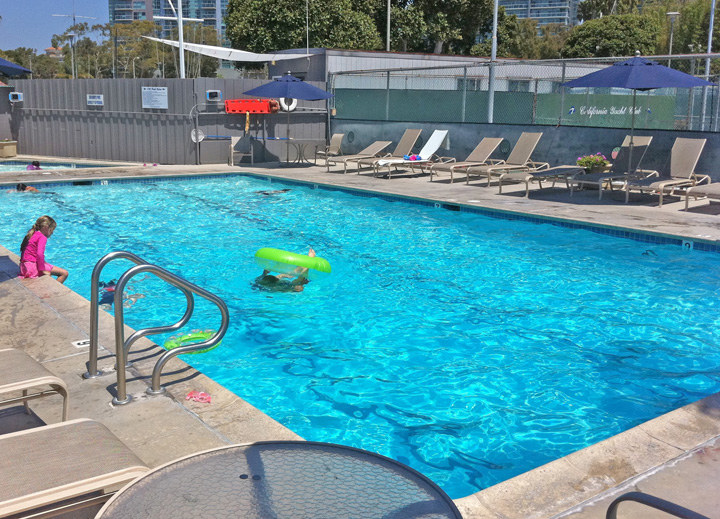 Two weeks ago we did the 81-mile Santa Barbara to King Harbor (Redondo Beach) Race, which covers most of the upcoming SoCal Ta-Ta course, but in one day, and the conditions were fantastic. Even in the relatively light winds between Santa Barbara and Anacapa/Santa Cruz Island, most everyone was able to cover the distance of that first leg in three hours. As always, it was extremely light off Anacapa thanks to the huge lee of Santa Cruz, but once free of the lee, the breeze was nice and the sailing was terrific. We had hours of sailing Profligate in effortless low to mid-teens, and completed the course having averaged nine knots. It was sweet, and it was our fastest time ever. (By the way, there's still time to sign up for the Ta-Ta, which starts September 10 at Santa Barbara.)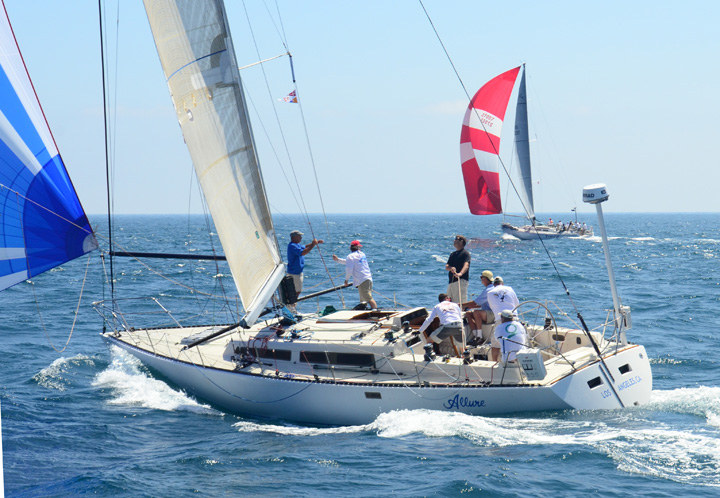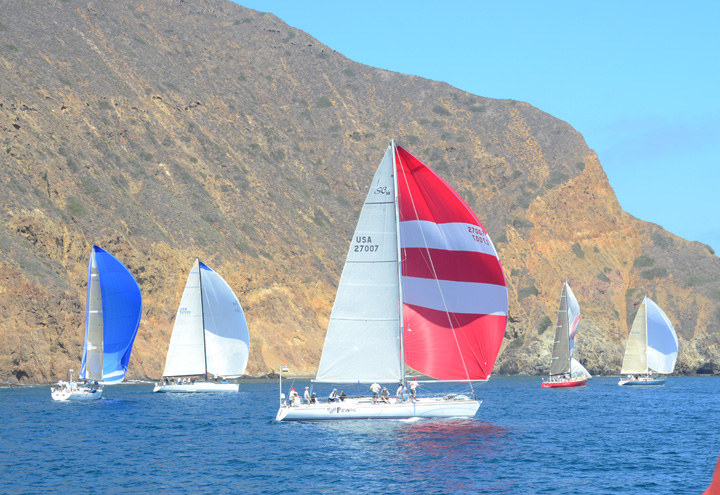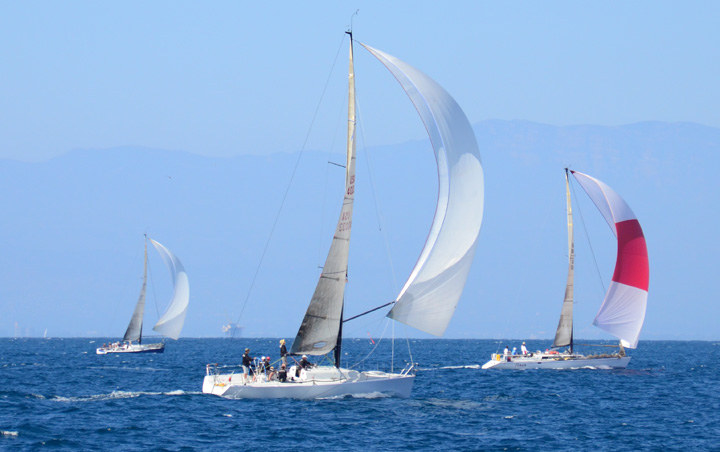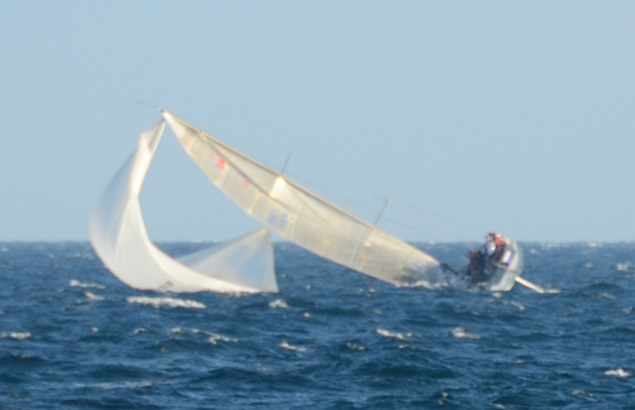 Even the water temperatures have been pretty nice down south. Stephen and Bente Millard of the Santa Barbara-based Catalina 42 Moonshyne, who did the Baja Ha-Ha last year, and with whom we shared sundowners at Two Harbors last night, report they enjoyed 75-degree water temps while swimming near their anchored boat at Catalina's Goat's Anchorage.
How much is that end-tie in Santa Barbara? Stephen told us it was common knowledge around the harbor that the guy behind the CSI television series paid right about $1 million for the berth where David Crosby kept his 67-ft schooner Mayan for so many years. Mayan, which Millard can get you a good deal on, is now berthed in Ventura, but still returns to Santa Barbara from time to time.
White's is considered to be one of the most fog free, calm and warm spots at Catalina. But not last Sunday. A big swell rolled in, and several sources tell us that as many as eight boats went up on the beach. Fortunately, most of them were very small boats on the front row 'string moorings', and none were badly damaged. But it was wild times.
"Breaking" news: Just as we were sending the last photo of this 'Lectronic, mini disaster struck! Without any warning, a 60-ft or so powerboat descended, bow first, into Profligate's bow, while we were anchored, all by our lonesome, on harbor reef. Apparently they lost power in both engines. There was some fiberglass crunching, and our forward traveller — which is just a Spectra line — got ripped off as a result of being snagged on their anchor. Of most concern is Profligate's forward beam, which took the full force of the impact. Fortunately we're headed to Driscoll's yard in San Diego next week, so we expect to be good as new before long.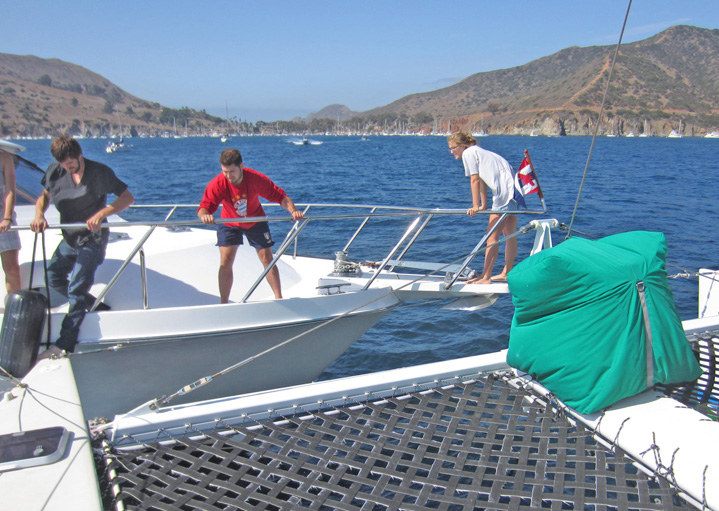 The main thing is that nobody was hurt and the harbor patrol responded very quickly to pull the two boats apart. Without their help, getting the two big boats untangled, with powerboat wakes all around, could have been very dangerous and very destructive.
After the Harbor Patrol came by and helped the wayward powerboat get secured, her skipper came by and apologized sincerely, and — as required by law — promised to file an incident report with his insurance company.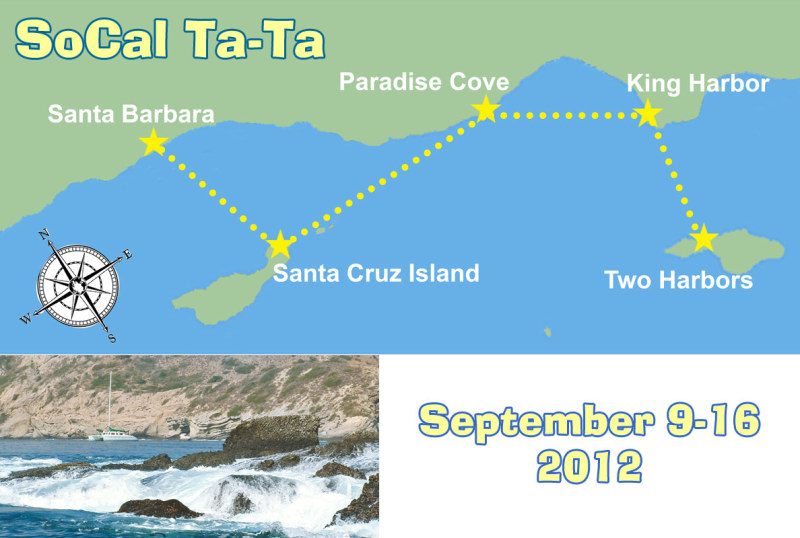 Did you know that you can still sign up for next month's first-ever SoCal Ta-Ta Sailing Rally? The deadline for entries has been extended until September 1. See www.socaltata.com. We hope you can join us!
Word has trickled down to us via the 'coconut telegraph' that an unidentified trimaran has been beached on a remote stretch of the west coast of Baja, roughly 22 miles north of Santa Rosalillita.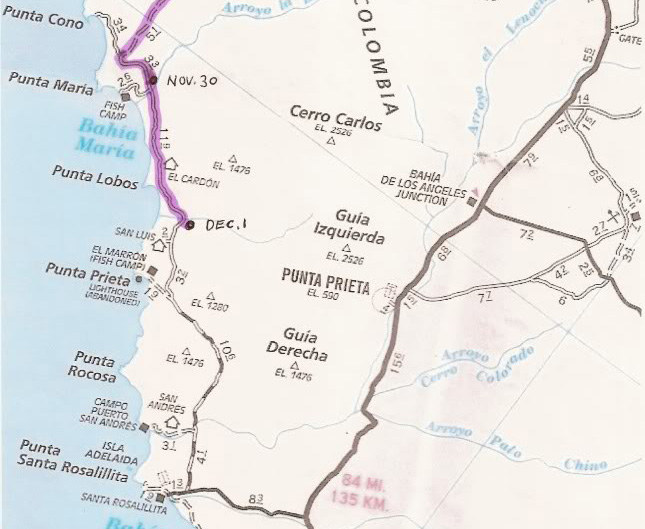 On the travelers' forum BajaNomad.com, a first-hand witness to the scene named Larry reported Wednesday: "I rode my quad up to Punta Cono to do a little fishing and I came across a 30-ft trimaran sailboat on the beach with a family of five, with all their stuff out of the boat and on the rocks and beach around the boat. They have been there for two weeks. . . They need some dry goods like flour, rice, beans, fresh water, vegetables, carrots, apples, oranges, etc. They have no refrigeration so only items that will hold up without refrigeration." If anyone is traveling that way, he suggests they render assistance. "They are on the beach right at Punta Cono where the beach ends and the rocks start."
Larry later posted: "Their names are William and Layla; they didn't give me last names. They are from the Los Angeles area and were sailing at night and tried to pull into the lee of Cono to anchor and spend the night, but grounded and put a crack in the main hull. They beached the boat and unloaded all their stuff on the beach. They were there a week before some one saw them. They don't want to leave the boat for fear that it will be stripped. They don't have a house in the U.S., so the boat is all they have. It appears to be a fairly low budget operation.
"William has hopes of repairing the boat and sailing somewhere for repairs. The boat needs to be jacked up a couple of feet to gain access to the bottom of the hull so that some plywood and caulking can be screwed on and seal the hole. I am not confident that this is possible where they are now. When we found them they were in need of water and food, and determined to stay with the boat so that is why I asked if anyone else coming this way might be able to bring something.
"They don't need rescuing right now; they just might need some supplies from someone coming to this area. They have set up camp on the beach, there were no injuries so they are fine for now. . . They are U.S. citizens. When the vessel flooded they lost their electrical so radios are useless."
Larry didn't observe a name on the boat, but the registration numbers are: CF 7048 FH. We admire the owners' determination, and wish them the best of luck.
Receive emails when 'Lectronic Latitude is updated.
SUBSCRIBE