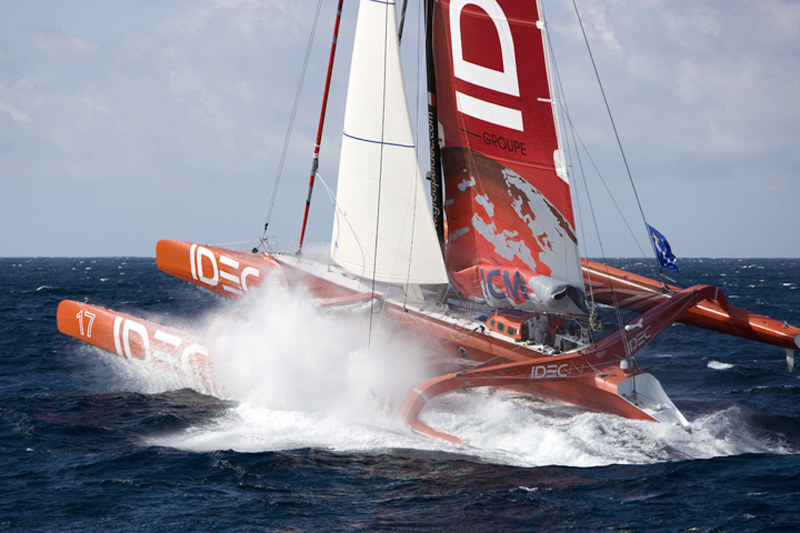 Is there a greater offshore sailor than Francis Joyon of Locmariaquer, France? Not to our thinking. That's because the quiet and self-effacing 56-year old has done so much with so little — and continues to do so.
For example, last weekend he set a new 24-hour distance record of 668 miles while sailing his 97-ft trimaran IDEC from France toward the Azores. That's an average of 27.83 knots!
In typical Joyon fashion, he set the record using a trimaran that had flipped, a mast that had previously broken in half, and sails that had 90,000 miles on them. Doing it all alone, with used or castoff gear, has been the Joyon signature throughout the years, no matter if single handing across the Atlantic or around setting incredible new singlehanded around-the-world records. He currently holds the latter record, having gone around in just 57 days.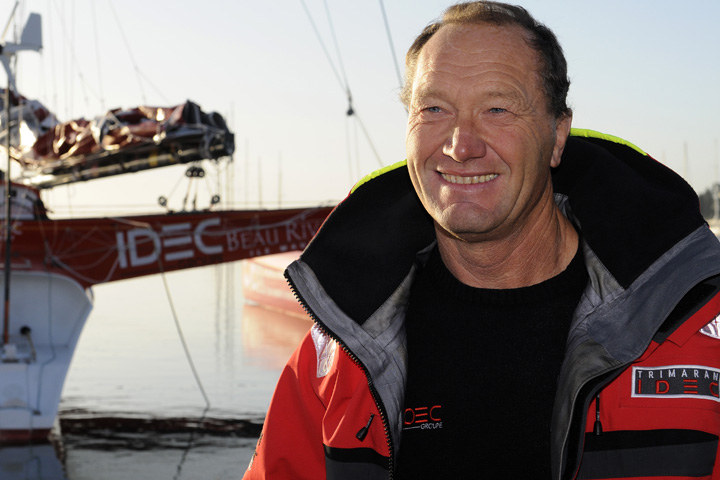 As for his most current record, Joyon told Mer et Media, "I had to look for the ideal conditions, which I only managed to find before in the Indian Ocean with steady, strong winds, preferably ahead of a front, in order to benefit from relatively calm seas. So I headed off around 800 miles west of Cape Finisterre, on the edge of the Azores high. I set off with a southwesterly wind, but from the start I had to deal with a swell coming in the other direction from the north.
"I gave it my all," he continued, "and after a certain length of time, the swell eased off and the wind strengthened to 32 knots. It was extremely risky. The boat was constantly on the edge. I wasn't at the helm. I stayed there for 24 hours standing in the cockpit with the mainsail sheet in one hand and the Solent sheet in the other. When the boat dug into a wave, I eased off one or the other. But I often had to ease them both off at the same time. There was no rest. I just swallowed down a few cereal bars to feed myself.
"I would have been happy to beat this record by just a few miles", added Francis. "But almost 40 miles! I'm over the moon. I'm particularly pleased as I haven't sailed that much since capsizing last year during my transatlantic record attempt. Going beyond the numbers, I was able to enjoy a truly magical moment. Being able to sail such a machine and get the full potential out of her is extraordinary. That's what I kept telling myself, as I zoomed by cargo ships sending the spray flying."
With yet another incredible record set, Joyon can return to the quiet of his vegetable garden in Locmariaquer. Three tips of Latitude cap to this extraordinary sailor!
Receive emails when 'Lectronic Latitude is updated.
SUBSCRIBE