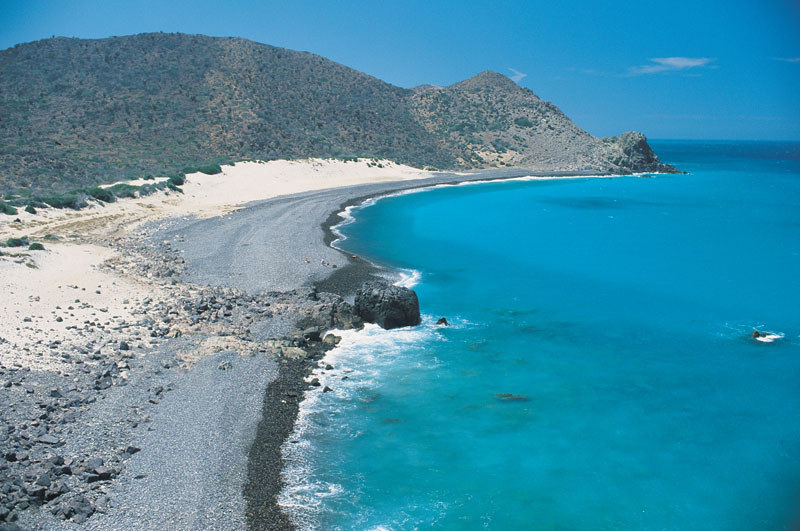 Cabo Cortes, a condo/hotel project in the East Cape area of Baja that was to rival Cancun in size, has been cancelled by outgoing Mexican President Felipe Calderón, reported Tim Johnson, Mexico City bureau chief for the McClatchy newspaper group. The project was to be adjacent to Cabo Pulmo, which is described as the largest and northernmost coral reef system in Mexico.
Latitude readers may remember that about 15 years ago the Mexican families who lived around Cabo Pulmo were so shocked by the devastation caused by overfishing that they took it upon themselves to institute and enforce a no-fishing policy at Cabo Pulmo. The result has been described by scientists from Scripps Institute as one of the great sea life comebacks anywhere in the world. The Cabo Pulmo marine environment is now thriving. As you might expect, these families fought hard against the proposed development.
However, Johnson writes, the biggest reason the projected was suspended is the European financial crisis. He reports that Hansa Baja Developments, a Spanish developer, is deep in debt to Spanish banks, one of which has been taken over by the Spanish government. As you might expect, Spain currently has higher financial priorities than developing resorts in the new world.
While Greenpeace Mexico is happy that the project is going nowhere, they believe that the project may have only gotten as far as it did because of payoffs. Greenpeace has demanded that the functionaries who twice approved the project be punished.
"According to documents on the South Beach Harbor website, now hosted on SFPort.com, the new custodians of South Beach Harbor, the marina's operating expenses increased 15% and their deficit spending increased 400% (from $205,000 to $809,000). Occupancy is near 100%, and they have a 1,700-boat waiting list." This according to reader Cliff Delorean.
"Their solution to close the budget gap? Increase slip fees by 50%. South Beach Harbor currently charges between $8.58-$13.20/ft.They commissioned a market survey (see the Tattersall report on the website), and the report concluded 'market rates for the slips are between $12.09 and $18.09 per lineal foot per month.' This is mostly based on the facts that: (1) Schoonmaker in Sausalito has rates this high (median of all marinas surveyed is around $10.50/ft); (2) San Francisco Marina rates will go up to $10.81-$13.68/ft once construction is complete; and (3) With low vacancy rates throughout the region, tenants will have little choice but to absorb the rate increase."
The price hike recommendations will be presented to the Port Commission on July 12 at the Ferry Building. Apparently there will be a phase in of the price increases over a three-year period.
In other San Francisco berthing news, the Tenants Association of the San Francisco Marina says they will be filing suit against the City of San Francisco because the City's Recreation and Parks Department is making tenants sign an agreement for temporary slip space while the marina is being rebuilt, an agreement the Tenants Association say will require them to give up the rights they have in their current agreement. The tenants object to the fact the new agreement means: 1) They will no longer have a permanent right to a slip; 2) They won't be able to transfer their slip with their boat without an "unreasonable" transfer fee; And 3) they won't be able to sublet their slips for up to six months each year as they currently do.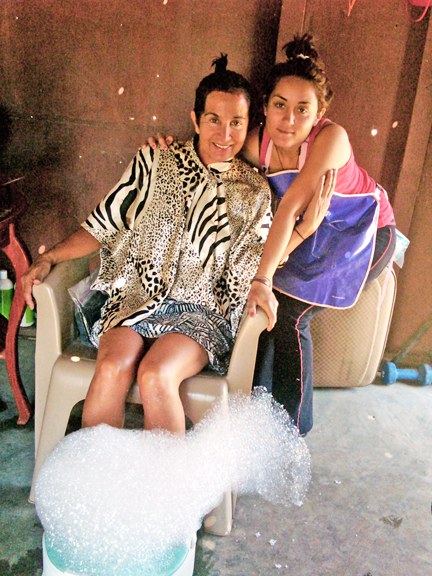 Doña de Mallorca and crew — Craig Powell of the Seattle-based Tartan 41 Dulcinea, which is currently in La Cruz; John Grippo of the San Diego-based Gemini 31 Po Poki, also currently in La Cruz; and Patrick Ralph of Mountain View, who was doing his fourth Bash on Profligate — finally arrived in San Diego after an 8.5-day delivery from Puerto Vallarta. It was non-stop except for two nights at Punta Pequeña to wait out bad weather. The worst area was actually the 150 miles or so north of Turtle Bay, where it had been blowing in the same spot for about 10 days — and looks like it might be blowing for another 10 days. Although it wasn't the most horrible Bash in the world, Doña says it was both the longest and roughest of the last 10 she's done. How was your Bash?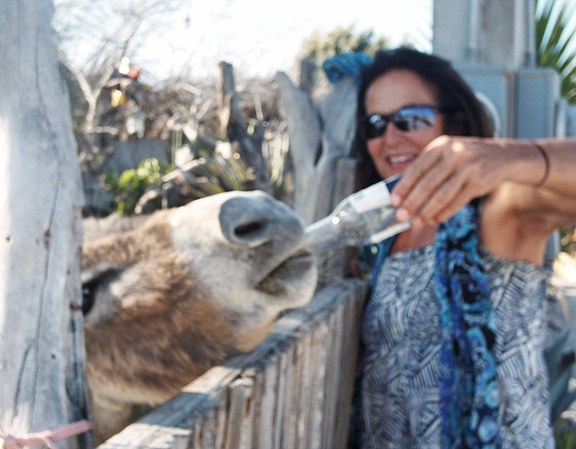 Anyway, there's lots of sun and blue skies here in San Diego, where Profligate is at Driscoll's Boatyard on Shelter Island. Boy, do things change quickly when you're gone. Driscoll's is going great guns on new berthing and other facilities, and is expecting to have some slips available prior to the start of the Ha-Ha. Pt. Loma Seafood's new home, now two stories, has also been completed. And another hangout, Starbucks, moved a few streets down to the old Jack in the Box location. The drive-thru is really convenient — it only took us about 20 minutes to get our beverages. With that kind of wait they ought to put a little brandy in the drinks.
Chuck Driscoll tells us he's hauling out a lot of catamarans. Something like six in the last week. One of the most interesting was the 55-ft or so aluminum research catamaran Alguita. You can tell she's a research cat because she has a big crane on the back.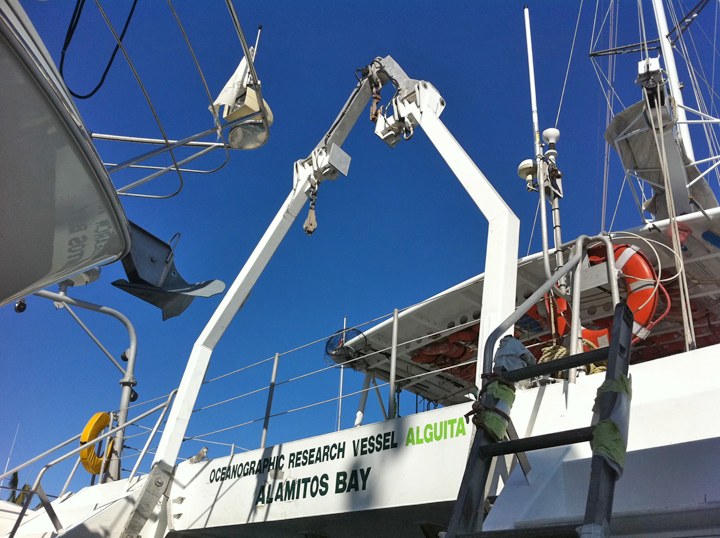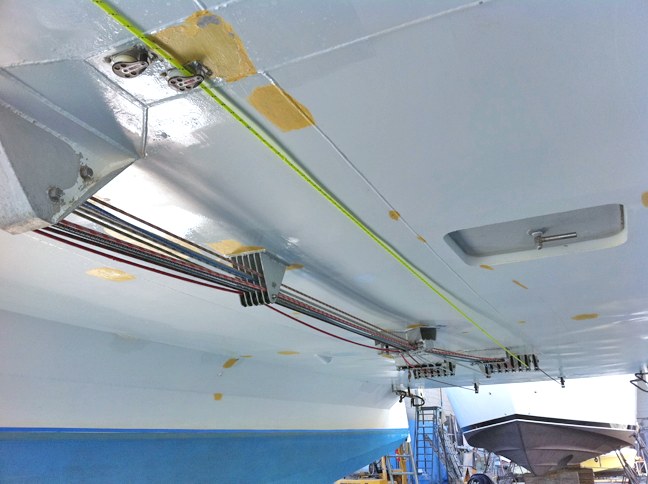 Alguita is a design of innovative Aussie multihull designer Lock Crowther. Consequently, she has a couple of unusual features, at least for the time when she was built. One is having the halyards lead all the way down through the bottom of the bridgedeck, then aft, then back up to the winches. She also has a bulb bow such as are found on big ships.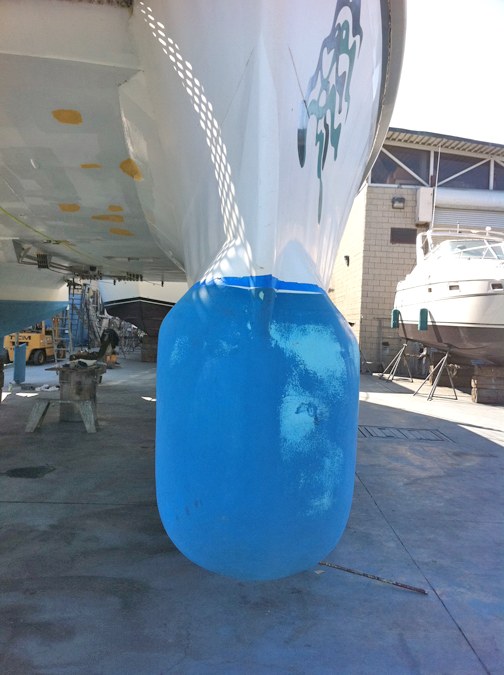 Being berthed in a boatyard dock isn't the cleanest or most quiet option, but we love it because it sure is interesting.
Receive emails when 'Lectronic Latitude is updated.
SUBSCRIBE