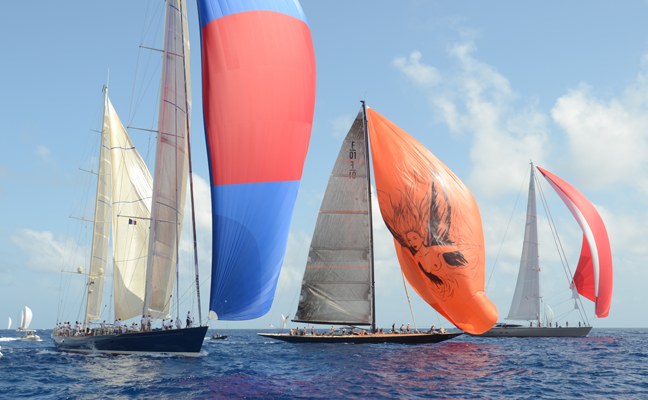 Consider, if you will, the shrinking sailing world of Scott Easom, the well-known rigger from Pt. Richmond, California. He spent the last three days racing in the St. Barth Bucket aboard the 190-ft Dubois-designed, Huisman-built Twizzle. Later this week he races to Cabo aboard a Texas-based Santa Cruz 52. And when he gets home after that, he resumes racing aboard his personal boat, the Farr 30 Eight Ball. You could fit about five Farr 30s in the cockpit of Twizzle.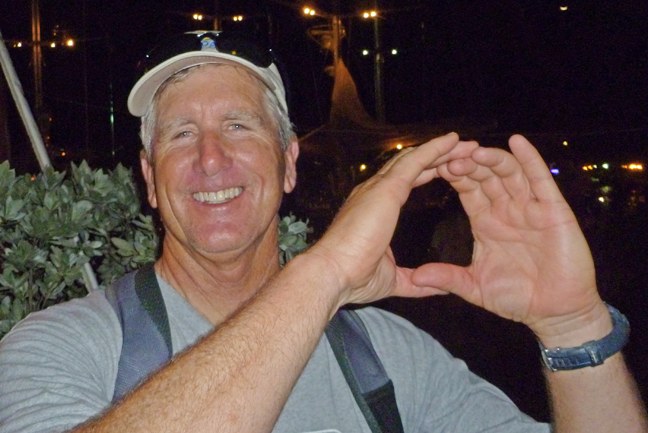 But after the Bucket, it's a come-down for almost every sailor, as the 47-boat fleet ranged in size from 96 feet to 218 feet. Well, make that 96 to 208 feet, after the nearly new Gerry Dykstra / R/P / Baltic yacht 218-ft Hetairos cut the leeward mark of Isle Forschue a little too close, driving her 24-ft-deep drop keel into the bottom. She was able to get off and finish the race, but that accident knocked her out of the series. Lest you think that 24 feet is deep draft, the previously mentioned Twizzle draws 36 feet with her board down.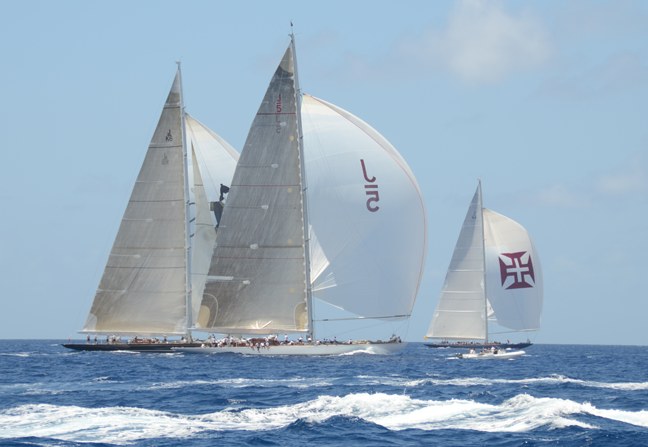 We've called the St. Barth Bucket the 'Greatest Spectacle in Sailing', and have yet to find anyone who even remotely disagrees with that assessment. It is truly a mind-blower of a sailing extravaganza. But a great sailing spectacle is not the same thing as great racing, as both Easom and Jim Gregory of the Pt. Richmond-based Schumacher 50 Morpheus, who crewed aboard the Swan 100 Varsovie, captained by Patrick Adams of Mill Valley, were quick to point out. Not only are the boats just too big, most of them are set up not just as floating homes, but as floating mansions. The exceptions were the four J Class yachts, each about 135 feet in length, which were designed for and are maintained for racing. To give you an idea, when it comes time to duke it out, the J Class yachts remove their lifelines. Tenders trail each one to pick up crew who have been flung overboard and/or to remove the injured.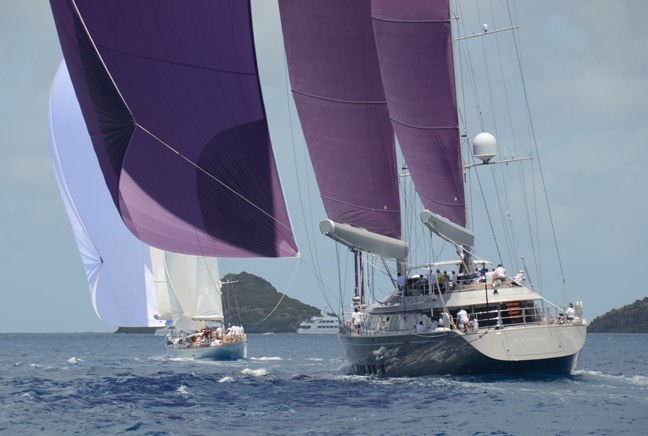 Indeed, several Northern Californians who crewed in the Bucket expressed the opinion that it would actually be more fun to watch the Bucket than to crew in it. We couldn't agree with them more, nor could our 'ti Profligate spectator crew of Daniel and Elaine from Santa Cruz, Glenn and Karen from Bend, Oregon, and Michael and Marianne from Modesto. As a display of mega sailing yachts under sail, it's off the graph. Even Tiburon/Belvedere residents Jaime DuPoint and Traci Goldman, who flew out to watch the sailing from Greg and Debbie Dorland's Lake Tahoe-based Catana 52 Escapade, and who aren't the biggest sailors in the world, were greatly impressed. We're not sure if they were as impressed with the sailing and boats as the after race parties, but they were impressed.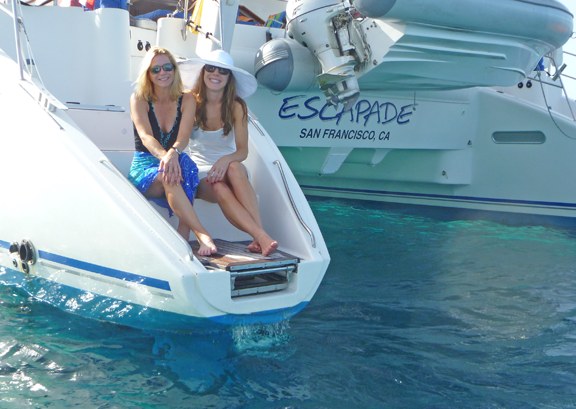 With really big boats comes the possibility of really big problems. This was evidenced at the finish line of the last race, when one of the nearly 200-ft Perini Navis inexplicably — at least to us — stayed on port, violating the rights of three immediately adjacent starboard-tack boats, with several others closing fast. Only a crash jibe — something you don't really want to do with a 180-ft boat — prevented disaster. While the rules encourage all boats to have their engines and thrusters at the ready, and call for a 30-meter separation zone, it was hard to avoid close calls. Boats forced other boats up, and 200-ft boats gybed right in front of other 200-ft boats, forcing them to gybe very quickly to avoid a multimillion dollar T-bone.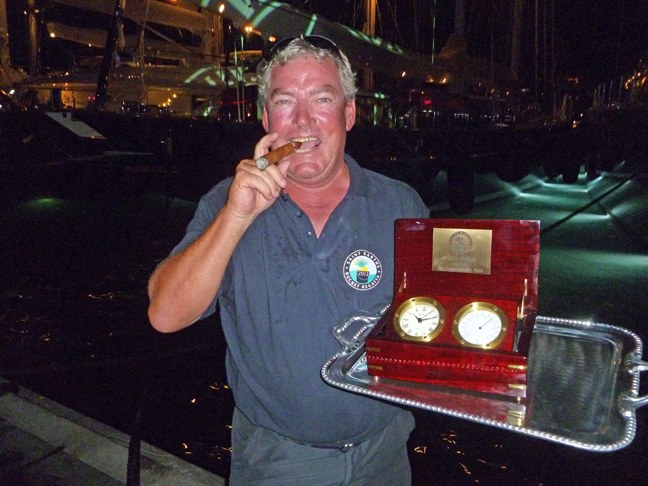 "Are 47 really big boats too many for safety?" we asked world-renowned yacht designer Gerry Dykstra. "Yes," he replied without hesitation. Others thought that the numbers weren't too great, but that boats in the four divisions should sail much different courses to prevent congestion and to reduce danger situations. The one thing for sure is that interest in the Bucket isn't diminishing. After all, six boats — and their $12,000 entry fees — were turned away this year. The other thing for sure is that interest in really large yachts isn't diminishing. As Dykstra — who is as modest as he is nice — told us, he has a couple of more big projects in the works. One is for a larger version of Maltese Falcon with the Dyna Rig. Mind you, Maltese Falcon is 289 feet long. The other is for a 140-meter private sailing yacht. Let's see, a meter is 3.28 feet, so 140 meters is . . . 450 feet! Sacre bleu!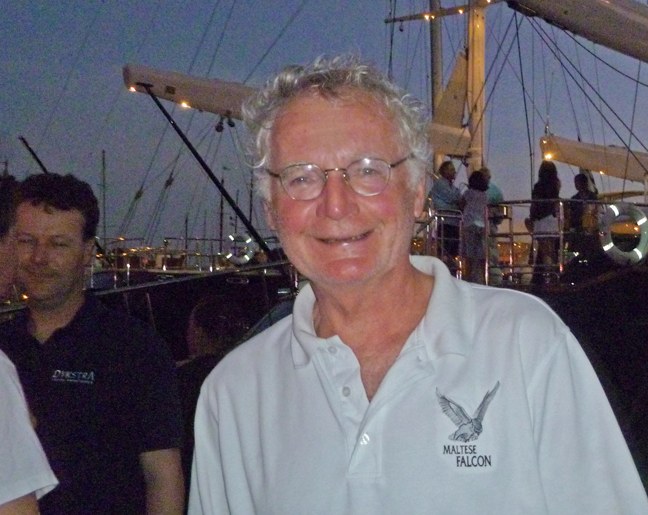 The bottom line is that if you love seeing magnificent sailing yachts under sail, in ideal conditions, there is only one place to do it, and that's St. Barth during the Bucket. We hope to see you here next year. Not that there isn't already a pretty large Northern California contingent. At the start of the first race, there were only four sailing yachts out to watch: Ira Epstein, formerly of Bolinas, aboard his Robert Clark 65 Lone Fox; Greg and Debbie Dorland aboard their Catana 52 Escapade; Mark Denebeim aboard his Island Spirit 36 Sanctuary; and our Leopard 45 'ti Profligate. We're pretty sure most will be back next year.
"My wife Heather and I have recently been sorting through all our sailing memorabilia," writes Ted Taylor of the Canada-based Coast 34 Tether, "and one of the items was a series of articles from Latitude listing the 'Some Like It Hot Rally' participants who had registered at the Broken Surfboard Restaurant in Cabo between November '94 and February '95. If I'm not mistaken, you consider the '94 rally to be the first Ha-Ha. I know that not everybody who headed to Mexico that year registered.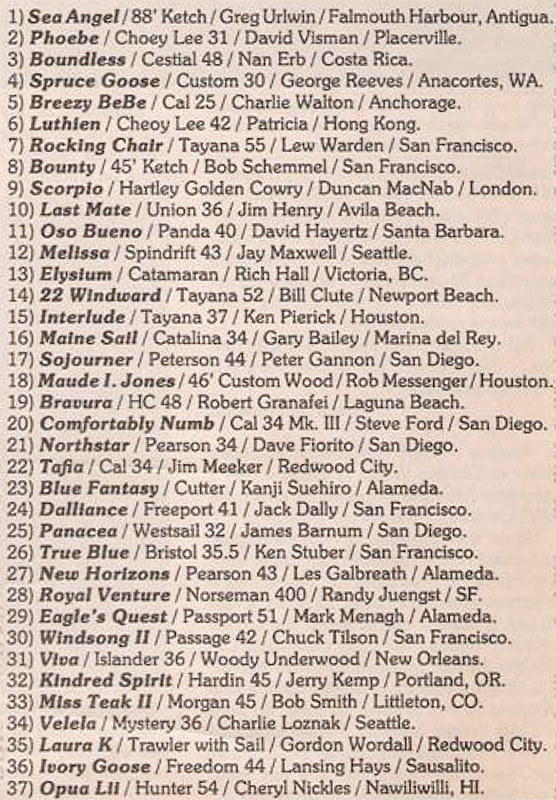 "Anyway, it got me to thinking of where all those people are now. I decided to track down as many of them as I could, so I sent an email to all the addresses I had for the Class of '94-'95. The addresses were many years old and most were no longer valid. But I received a few responses, and asked them to forward my message to any of the other cruisers they were still in contact with. So far I've gotten 33 replies.
"I also asked folks to send me an update of their adventures, and told them that I'd send out a general update from time to time, including a contact list for all the boats and a newsletter with all the messages I receive — removing any personal information, of course. I'd use a 'blind carbon copy' so the addresses wouldn't get spread around. If anyone saw anyone else on the list they wanted to reconnect with, I told them I would forward that message.
"The year 2014 will mark 20 years since we started our journey, so I'm also considering organizing a reunion. Any member of the Class of '94/'95 can email me."
It will only be a few months before many members of the this year's Mexico cruising class leave the mainland to head up to the spectacular cruising grounds of the Sea of Cortez. At first glance, the Sea might look like a place where the desert meets the ocean and not much ever happens. But looks can be deceiving, as you'll quickly discover if you read Edward W. Vernon's A Maritime History of Baja California, a beautifully written and superbly illustrated 300-page hardback.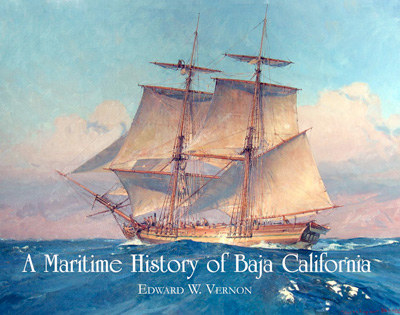 Vernon's maritime history starts as far back as when 'Baja California' was known as Isle de California — early charts showed it to be surrounded by water. It continues right up to the present. Covered are the visits by the Manilla galleons, the French and Spanish pirates, the attempts at settlements, the treks north by the friars to establish the missions in Alta California, the various wars and battles, the sinking and grounding of vessels, and much more.
When it comes to the loss of vessels, few can compare with the loss of the magnificent 162-ft Newport Beach-based schooner Goodwill and her entire crew of 10 — or maybe 11 — on Sacramento Reef. There's even an aerial photo of Goodwill, which twice won the Barn Door Trophy in the TransPac, as she lies in pieces atop the notorious reef.
In reading the book, you'll learn how rapidly some things have changed in a short period of time. Who would think, for instance, that just 150 years ago there was enough water flowing in the Colorado River that Yuma, Arizona was a U.S. port of entry! And that there was regular ship service from San Francisco to Yuma. Even more mind blowing, vessels were able to sail all the way up the Sea of Cortez and offload cargo onto shallow draft vessels that were then able to take the cargo as far north as what is currently Lake Mead/Las Vegas. For the geographically challenged, that's farther north than Morro Bay.
The book will no doubt provide succor for those who might be stuck at Cedros Island attempting a Baja Bash, for there is a chart on page 195 showing the tracks of Francisco de Ulloa's 70-ton flagship Trinidad as Ulloa and crew tried to head north from Cedros in 1540. They were driven back to the island three times by storms, and it took them three months to clear the north end of the island.
There's even a Sausalito angle. At the start of World War I, 11 German sailing cargo ships with 300 German crew found themselves interned at Santa Rosalia. Some of the vessels stayed on the hook in the same place for up to 10 years before being brought north to Sausalito, where they were converted to lumber barges and such.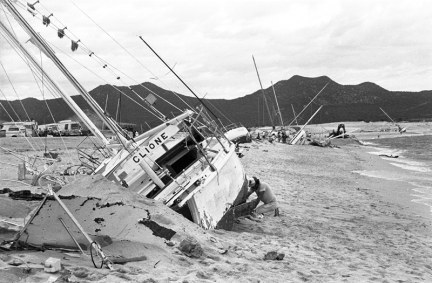 Then there's the section on the Cabo storm of '82, where scores of cruising yachts — including Bernard Moitessier's beloved Joshua, now in a museum in France — were driven onto the beach and either badly damaged for destroyed. We're jazzed that Vernon used a number of our photos to illustrate the destruction.
Published by Viejo Press of Santa Barbara, with the cooperation of the Maritime Museum of San Diego, and distributed by the University of New Mexico Press, A Maritime History of Baja California sells for $38 from Amazon. That might be a little steep for some cruisers' budgets, but if shared by the crews of four or five boats, it would be a bargain. Enjoy!
Receive emails when 'Lectronic Latitude is updated.
SUBSCRIBE