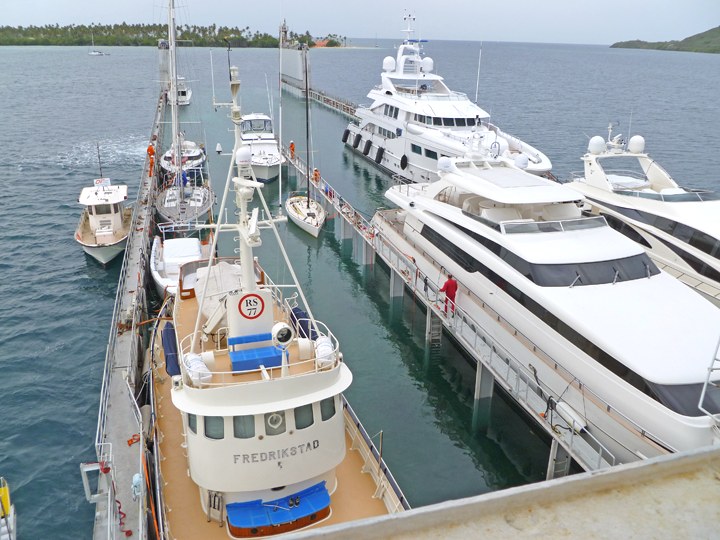 The La Gamelle Syndicate's Olson 30 has made it, thanks to a combination of Dudley Yacht Transport and Dockwise Yacht Transport, from Alameda to Martinique via Florida. All that remains for her to reach her final goal of St. Barth in the French West Indies to live out her days as a daysailor is for the Wanderer and Doña de Mallorca to deliver her the 250 miles on a close-to-broad reach to St. Barth. As it stands now, the weather looks good — 12 to 18 knots — for a three or four-day voyage with stops at St. Pierre — the 'Paris of the Caribbean' until it was totally destroyed in massive walls of red hot lava — Isle de Saintes (Guadeloupe), and who knows, maybe Antigua and/or Nevis, too.
There are two words that describe Martinique: Green and expensive. The former is expected in the Caribbean, but not a 20-minute cab ride to La Marine that cost $120. And no, there aren't any buses. Everything else is expensive in Martinique, too. We'd say the same style of cruising in Martinique would cost five times as much as in Mexico. Not that you have to dine out a couple of times a week or eat anything but baguettes.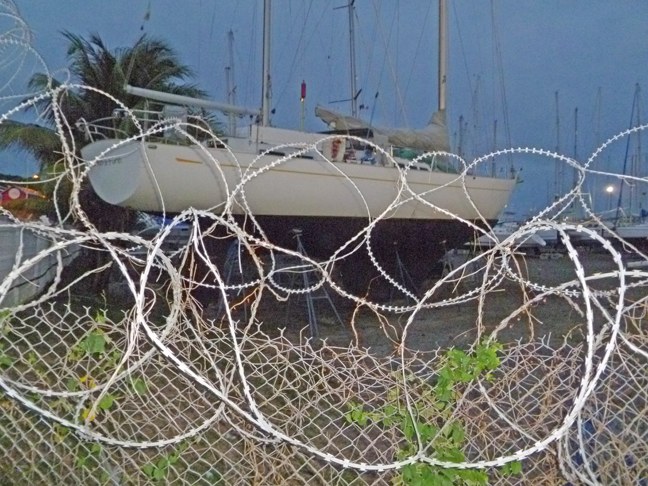 It's always great to see old friends. The first one we saw was about the first boat we saw in La Marine, which has about 8,000 boats. She was Elmo's Fire, a sistership to Latitude's old Ocean 71 Big O, which spent a lot of time in Sausalito under Northern California ownership. We're happy to report that she looks to be in excellent condition, and appears to have new masts. The other old friend is Siam, an exotic-looking — dashing facial hair and pony tail wrapped in a bandana — catamaran skipper we know from St. Barth. It was great to see him, and he's been a big help so far. For example, he went through the dead battery dumpster for us looking for just one battery that had an ounce of life left. Hey, you'd dumpster dive too if the least expensive battery was $140. Siam struck out, but it was great to see him.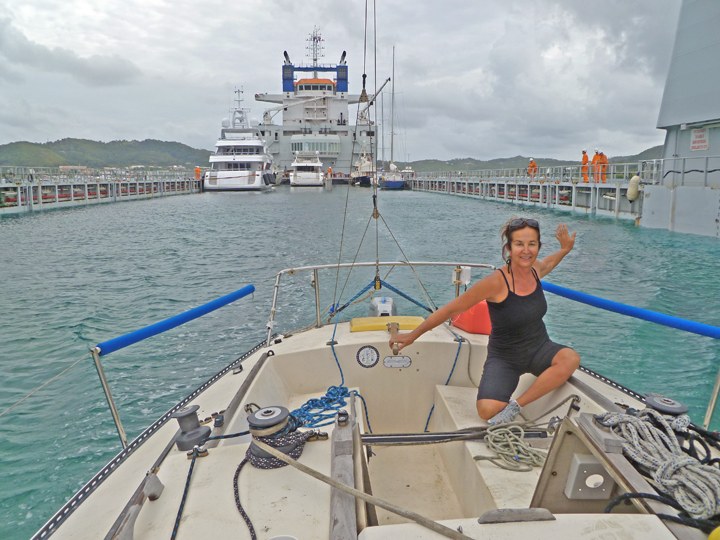 We'll have more about this adventure in the May issue. But you can follow the progress of La Gamelle through the Spot updates we send to our Facebook page.
Ed. note: The Wanderer and de Mallorca left Martinique yesterday morning. Their last position report put them at the northern end of the island.
"As we were headed to South Beach Harbor on Saturday morning, we saw two antique-looking tall ships leaving the City and heading toward Sausalito," writes Jan Wigle of the Brickyard Cove-based Ericson 38 Wiggle Room. "Do you know anything about them?"
Yes, Jan, the tall ships you saw were the 112-ft brig Lady Washington, Washington's official ship, and the 103-ft tops'l ketch Hawaiian Chieftain, which was formerly based out of San Francsico Bay but is now based out of Grays Harbor, Washington. The pair are owned by the Grays Harbor Historical Seaport Authority and spend most of the year touring the West Coast on educational and sail training expeditions.
The tall ships were slated to moor at Pier 40 through March 19 before moving to Sausalito's Bay Model but a damaged ramp meant the dock would be closed to public access. "Without access, sailing guests and visitors cannot reach the ships," said a press release from the Historical Seaport. So the Army Corps of Engineers stepped up and invited the crews to move over to their Sausalito digs early. The ships will be open to the public until April 2, when they'll move on to Bodega Bay, Eureka and Crescent City. All previously purchased tickets for San Francisco sailings will be honored on the same dates and times. See their website for details on their Adventure Sails, Battle Sails and public tours.
Since many long-term cruisers now have their own blogs — which tend to detail every tiny moment of every single day of their travels — sailors new to the cruising life may find themselves smothered under an avalanche of information, in contrast to a couple of decades ago when topical cruising info was relatively hard to find.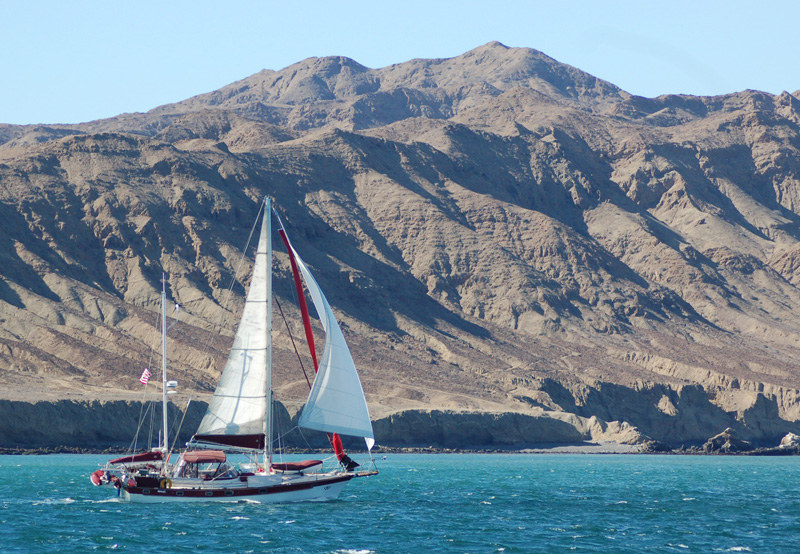 But there's a better way to become informed than reading blogs until your eyes bug out. If you're looking for answers to specific cruising questions, we'd highly recommend you check out the West Coast cruising 'groups' accessed via Yahoo.com. The ones we access often, and occasionally participate in, are called "Southbound Group," "Cruisers_Network_Online," and "PacificPuddleJump" (an information-only forum, not affiliated with Latitude 38's www.pacificpuddlejump.com rally site.) Like all Yahoo groups, these are non-commercial and strictly dedicated to information sharing.
As group moderator Chuck Houlihan of the San Diego-based Allied 39
Jacaranda explains, "The Southbound Group (covering Mexico to Peru)
is used by cruisers on the West Coast of the Americas to share relevant information on areas of interest between San Diego, California and South America, including the Galapagos. There are currently 1,100 members onboard.
"The purpose of the list is to disseminate information that other Southbounders may find useful. If you are 'ahead of the pack' or off the beaten track, sending information specific to where you went, where you anchored, what was ashore, corrections to the information provided in the cruising guides, changes in policy, prices, facility availability, marina closures, hazards to navigation, etc., is very appropriate. Factual information on inland trips, where you stayed, how much, what was good or bad, where the best surf or fishing spots are, etc., is also appropriate."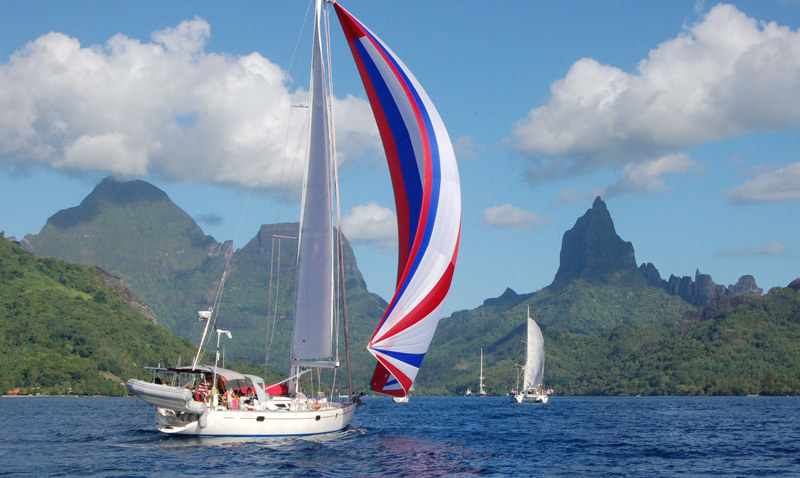 Both the PacificPuddleJump and Cruisers_Network_Online (which includes lots of Caribbean info) groups function similarly, and have vast collections of downloadable cruising info, plus databases of present and past members. But one of the most useful functions of all such forums is that members can pose an open question to the group via email — e.g. who's a recommended yacht agent in the Galapagos, or what are the requirements for bringing a dog into New Zealand — and they'll receive up-to-date answers within hours, which are viewable by the entire membership.
You have to apply for membership to each of these groups, as commercial marketers are prohibited. But the process is quick and easy. So even if you're only an armchair voyager, you may want to check out these highly informative resources.
Receive emails when 'Lectronic Latitude is updated.
SUBSCRIBE