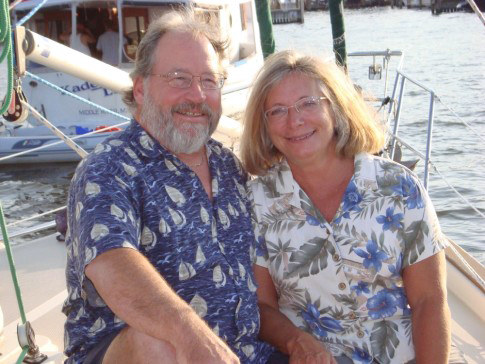 We're sad to report that Baja Ha-Ha vet Jan Anderson, 59, of the formerly Sausalito-based Island Packet 380 Triple Stars was washed overboard on Friday afternoon about 185 miles northwest of Bermuda while participating in the North American Rally to the Caribbean (NARC). Her husband Rob, also 59, activated the boat's EPIRB and called a mayday to report that Jan had been swept away by a 30-ft wave.
The Coast Guard dispatched an HC-130 Hercules SAR plane to the area, and the 600-ft tanker High Jupiter diverted to aid in the search, as well as to take Rob off Triple Stars. Tragically, the search was suspended on Saturday afternoon with no sign of Jan. Rob is aboard High Jupiter, which is bound for France, and Triple Stars is currently adrift.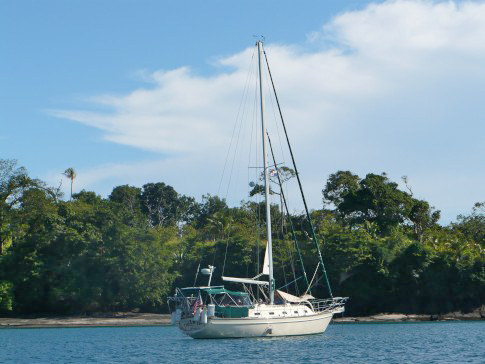 The Andersons, formerly of Rohnert Park, started their cruising career during the '07 Baja Ha-Ha, with the goal of transiting the Panama Canal and working their way through the Caribbean and up the East Coast to their summer home in Maine. They spent the last few years renovating their house, but recently decided to join the NARC.
Not to be confused with the Caribbean 1500, the NARC runs around the same time as the former, but departs from Newport, RI instead of Hampton, VA, and ends in St. Martin instead of Tortola. Triple Stars was one of 21 boats that left Newport on November 1 bound for Bermuda (the fleet would then continue to St. Martin after refueling). The initial forecast was for a relatively easy trip to Bermuda, but Tropical Storm Sean settled in between Bermuda and the Bahamas for four days, resulting in rough conditions for much of the fleet.
In addition to the tragic loss of Jan Anderson, at least two other boats sought assistance during the passage: Elle, a 46-ft Beneteau, and Riot, an Orion 50. On November 6, a crewmember aboard Elle suffered a rib injury after being thrown across the cabin. The crew tried to continue on but eventually requested rescue about 180 miles northwest of Bermuda. During the rescue by the 387-ft container ship Oleander, one crewmember fell between the ship and Elle. He was in the water for about 30 minutes before being safely retrieved. Elle is also adrift.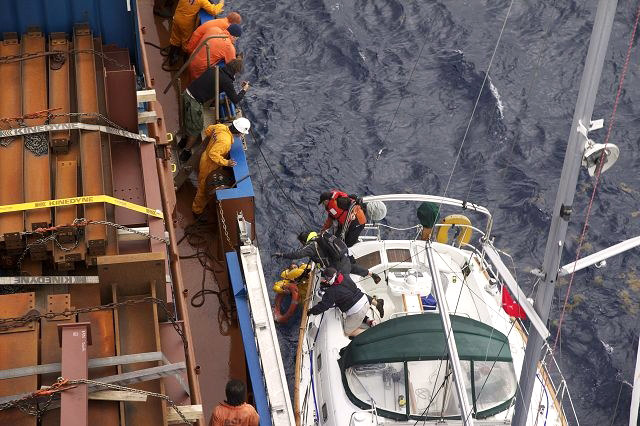 Riot, crewed by several young men, had a number of gear failures before the steering failed on the approach to St. George's Harbor, Bermuda. A pilot boat attempted to tow the stricken boat, but the damage to the steering apparently made it impossible. In the end, Riot made it into port on her own, though her owner estimates the damages to be upward of $10,000.
West Coast sailors definitely have an easier time getting to the tropics than do our bretheren on the East Coast. The latter have to thread the needle between late-season tropical storms and the first winter storms. As a result, the Caribbean 1500 has delayed it's start a number of times — including this year. Even so, it's not uncommon for participants to have to deal with winds in excess of 40 knots and the associated heavy seas. Our thoughts are with those still at sea, as well as the Anderson family.
"Lordy, Lordy, Lordy, is it ever great to be back in Mexico!" That's all we and a lot of Mexico cruising vets have been saying in the last week as we moved on following the end of the Baja Ha-Ha rally. Having left the States, most of us are experiencing an overwhelming sense of relaxation and tranquility, and enjoying the warmth of simple human interactions. When you're up in the States, you can forget how sweet life can be.
We're not trying to kid anyone, Mexico has problems like every other country. But for those of you who haven't been down here, don't make a blind assumption that the quality of life in the United States is necessarily better than in Mexico. Because in many important respects, it simply isn't. The fact that 1,000,000 Americans live in Mexico is pretty good evidence to support that claim.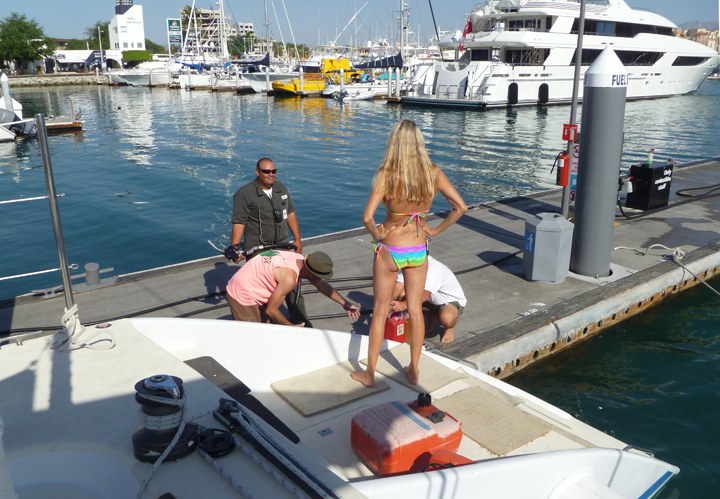 After the Ha-Ha, most of the boats continued up to La Paz, over to Mazatlan, or 285 miles southeast to Banderas Bay/Puerto Vallarta. The weather feature that effects people heading in any of these directions are the 'Northers' or 'El Norte'. These are usually the result of high pressure building in the Four Corners area of the United States, and then pouring down the Sea of Cortez, and sometimes continuing as far south as Puerto Vallarta.
A few of the Ha-Ha boats, such as Richard Dreschler's Long Beach-based Catalina 470 Last Resort, charged up to La Paz the morning after the award's party. Since there wasn't a Norther blowing, it wasn't a bad trip. For those who hung around Cabo for a few days, it wasn't so nice, because a Norther came down the Sea. Patsy 'sail-all-the-way-all-the-time' Verhoeven of the La Paz-based Gulfstar 50 Talion reports:
"Unfortunately my trip home to La Paz was delayed three days in Los Frailes waiting out a Norther. I tried to stick my nose out at 4 a.m. on the first morning, as it was only blowing 5 knots in the anchorage. But by 5 a.m. my anemometer was showing 25 knots, and by 5:30 I had gusts to 40 knots. After going a few miles out to try to get away from any possible 'cape effect', I gave up and managed to get turned around and back to anchor by sunrise. Frailes, which is at the south end of Cabo Pulmo National Park, is a beautiful place to get stuck. It has a long sandy beach and the best snorkeling I have seen. I actually spent almost an hour swimming alongside a sea turtle as he dug under rocks for his dinner.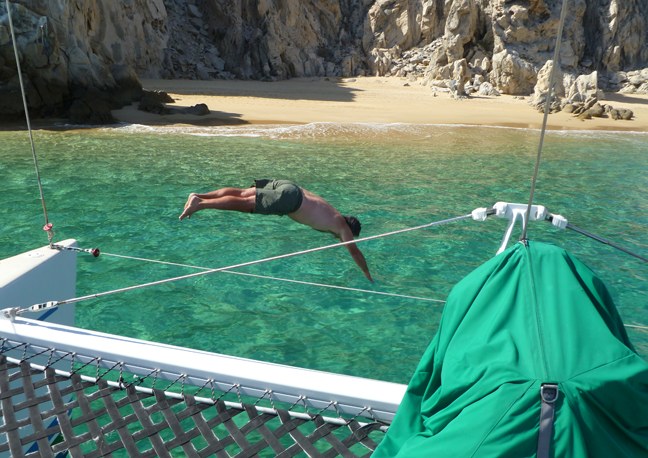 "It was a perfect day yesterday here in La Paz with the air temp at 82 degrees, but you will not believe the rain last night! I've lived here a long time, and can 't remember when it rained like that — outside of summer. But the decks and rigging were washed for free, and now I can see for miles in the dust free air. At 8 a.m. this morning, it was 71 degrees. The water temp in the bay is 76 degrees, but I did see mid-80s on the way up from Cabo. Ha-Ha boats are streaming into La Paz every day in anticipation of the Welcome to La Paz Baja Ha-Ha Beach Party that's being hosted by a group of local marine businesses on Thursday, November 17 (4 to 7 p.m.) at Stella restaurant (formerly Papas & Beer). The good news? We now have a Mega! For those who don't know, it's a variation of Costco, and is actually afflliated with them in some way."
As for the Poobah and four crew on our 63-ft cat Profligate, after a fabulous swim at Lover's Beach in Cabo last Tuesday morning, we took off for 285-mile distant Banderas Bay. For the first 25 or miles so, we couldn't make any easting at all, as the 20-knot Norther was fanning out to the east down by the Cape. By late in the day we could finally set a course only a few degrees below Banderas Bay, and we were ripping along under a full main and a glorified storm jib. And it just kept getting better. We had the 8-to-10 p.m. watch, and remember hitting lots of 12s to 15s, driving right at the full moon, music blaring — and being warm despite wearing nothing more than a swimsuit and T-shirt. Sure, the motion was a bit jerky, we got hit in the shoulder by a flying fish, and a couple of the crew felt a little off, but it was as good as tropical sailing gets.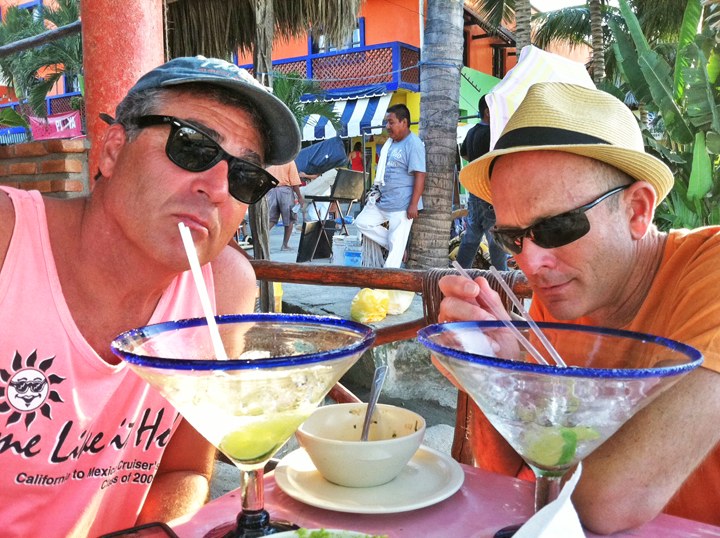 We pulled into Banderas Bay just 30 hours later, the wind having held the entire way. By the time we were a quarter of a mile inside the bay, the wind had greatly moderated and the seas were as flat as a mirror. And despite being dusk, it was still plenty warm. It was as if we'd died and gone to heaven.
Profligate is currently moored at the Nayarit Riviera Marina in La Cruz, where we and others are planning an Occupy Nayarit movement — demanding a big swimming pool. It's all that marina needs. We're going to be armed with baby swimming pools and hold a 'pool in' at the Sky Bar overlooking Banderas Bay. In the last week, we've been to Philo's remodeled Music Studio in La Cruz, which is doing as great as are Philo and Maria. There were lots of old cruising friends around despite it being so early in the season. We also had dinner at the Octopus's Garden, also in La Cruz, a 'don't miss' dining, music and art gallery run by Aroona, Waylan and Wendy, three wonderful folks. They sailed to La Cruz from England on a small homebuilt catamaran something like 20 years ago. La Cruz is really up and coming, so we don't have nearly enough room today to report on all the good stuff going on there.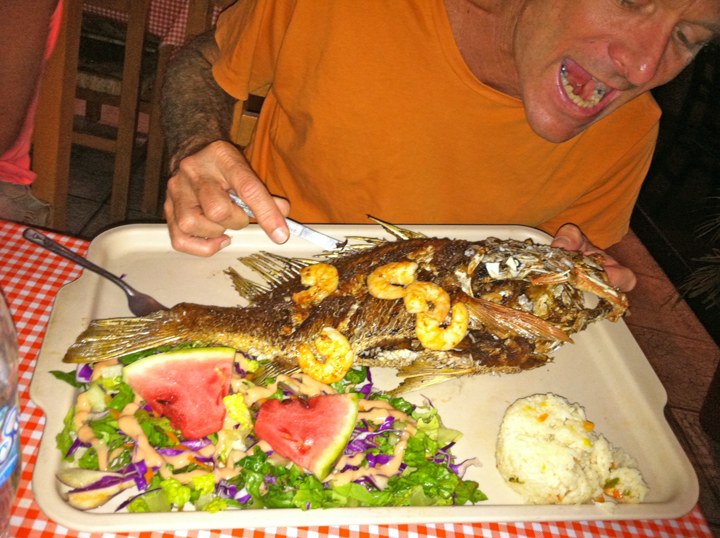 Punta Mita, out by the tip of the bay, is looking great, and Ha-Ha boats are starting to show up and drop their hooks for free. We joined a big group of sailors to help Gilly Foy of the Alameda-based Catalina 42 Destiny celebrate her 39th birthday at Como No? "I looooooove being back!" she said. It was a great dinner, with various cruisers talking about a summer of cruising in the Sea, plans to sail to Panama this winter, and a dozen different variations. Looking for the coolest spot to eat in the Punta Mita area? We nominate Ropi's in the nearby village of Emiliano Zapata. Ropi is an artist and our very good friend. Just don't be in a hurry or get troubled if he inadvertently gives half your order to someone else. He's an artist, man. And a good one.
The big news in Punta Mita is that the Four Seasons is building what appears to be a pier or wharf inside the point. Lots of people are not happy about this, and are praying for a huge south swell to knock it down. Construction has also begun on a four-lane highway to little Punta Mita from La Cruz. It seems like total overkill, and unfortunately they are ripping right through virgin jungle to do it. Speaking of the jungle, it's at the height of it's beauty right now, having overgrown just about everything in its path. With the rain and most of the humidity a thing of the past, it will slowly start to lose color and recede.
The other night we went up to Sayulita, the surfer, dog, hippie paradise that has all but exploded in popularity in recent years. In calm conditions you can anchor right off the bay and swim ashore for fun. The place was happening on Saturday night, as they closed off the main street, set up a big stage, and put on an hours-long music extravaganza for all to enjoy. It was Mexico at it's most soulful, with everyone out. The grandparents sat on benches, the kids ran all over the plaza, the teens and young adults flirted the night away, and everyone had a wonderful time.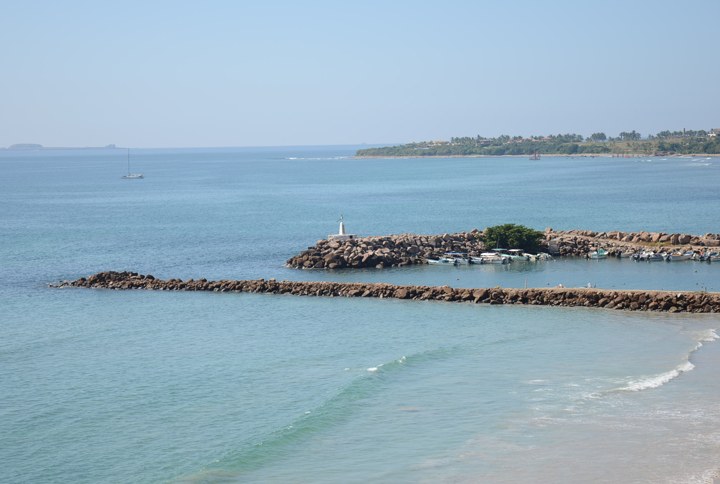 It's been in the mid '80s in the P.V. area, with bright sunshine, and the water about 82 degrees. The waves have been a little small for good surfing, but the SUP people have been loving it. And geez, we haven't even made it as far east in the bay as Bucerias, Paradise Village Marina or Puerto Vallarta itself. So little time, so much to enjoy.
Viva Mexico, baby! Viva Mexico! We hope this is your year to cruise. If it's not, take our word for it, Mexico is a cruising goal worth pursuing.
Receive emails when 'Lectronic Latitude is updated.
SUBSCRIBE