If you follow the currency markets, you may have noticed that in the last month or so, the U.S. dollar has appreciated something like 10% versus the Mexican peso. That means if you're lucky enough to be headed to Mexico this winter, your bucks should go a lot farther. With some exceptions.
In the case of the nine Fonatur-owned marinas in the Sea of Cortez and as far south as San Blas, rates have been going up drastically. The following report by Michael and Karen Bury is typical of the news we've been getting:
"We recently arrived at the Singular/Fonatur marina in San Felipe after having booked a berth a few weeks earlier. We were surprised to learn that the rates had gone up 48% in just the last few weeks! Despite complaining to Fonatur in Mexico City that we had a reservation at a quoted rate, they insisted that we had to pay the new rate. The local staff have been great, but the administration in Mexico City has been completely unresponsive. Electricity and water are also extra. Folks heading down on the Ha-Ha or on their own should compare costs carefully, as Fonatur now is about as expensive as privately-owned marinas, but they don't offer the same services."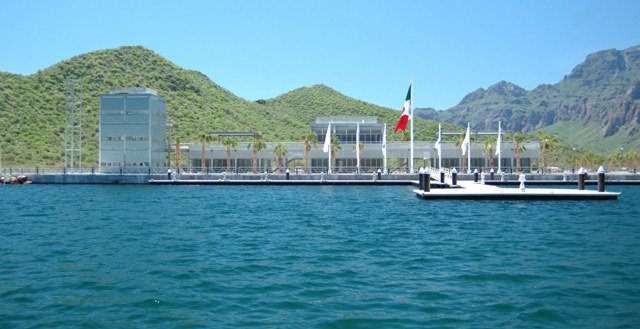 The increase in the purchasing price of the dollar also means that you want to pay for things in Mexico with pesos, not dollars. In some cases businesses and boatworkers will ask to be paid in dollars rather than the local currency. Now you know why.
Where is the best place to get money in Mexico? Our experience is that you get the best exchange rate — and most conveniently — if you get your cash from an ATM. Preferably use one at a bank that has a relationship with your U.S. bank, because then you don't get charged what otherwise would be a very stiff transaction fee. For example, if you have a card with Bank of America, you don't get charged anything for doing a transaction with Santander Bank.
Mind you, you won't find banks everywhere in Mexico. Turtle Bay? Bahia Santa Maria? Forget it.
As we write this today, the exchange rate is 13.66 pesos to the dollar. Understand that you aren't going to get this rate unless you're dealing in millions of dollars. But if someone says the exchange rate is 10 to the dollar, alarms should go off.
A poor place to exchange money is at the Money Exchange/Cambios at U.S. airports and at various places in Mexico. To understand why, check the difference between what they buy and sell pesos for. They are operating at pretty good margins.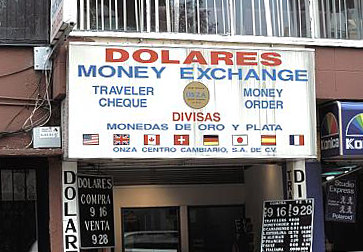 Don't assume that you can exchange a bunch of U.S. hundred dollar bills at Mexican banks for pesos. First of all, most Mexican banks just won't exchange dollars for pesos. You have to find a bank in a tourist area, preferably a big one. Secondly, even at banks that will make such exchanges, you will generally be limited to something like $300. This is to stop money laundering.
Costco and Costco-affiliated stores have sprung up all over Mexico. While most prices are higher than at Costco stores in the States — and higher than the local markets or when buying food from the back of pick-up trucks — they still have great deals on a lot of stuff, so you'll almost certainly be shopping there while cruising. The Costco stores offer one of the better exchange rates in Mexico, but they strictly limit the amount of U.S. dollars they'll accept. For example, while at a Costco in Puerto Vallarta last year, we really loaded up and our bill came to $350. We handed the woman at the register four $100 bills. Like all the Costco employees, she was super nice, but said she was sorry, that they couldn't accept more than $200 from any one individual. So we had to split our purchase into two smaller purchases, one for each of us.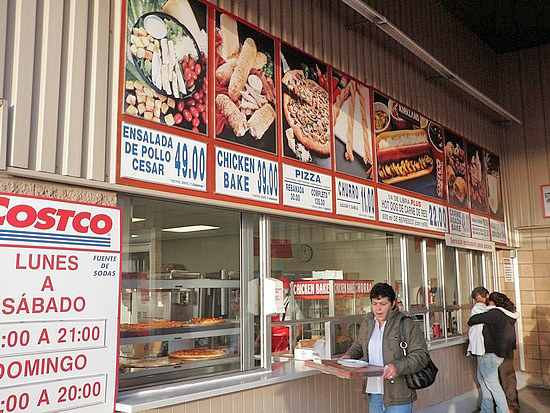 The exchange rate on credit cards is usually decent, but watch out for "foreign transaction fees" that your bank might add on. They can be very steep. A few credit cards advertise that they don't have foreign transaction fees, but it's usually the premium cards. Their lower-level cards usually whack you. So get out the magnifying glass and read the small print carefully.
If you plan to use your credit card or debit card in Mexico, make sure you alert your credit card company in advance or they may decline the charge. In the case of Citibank MasterCard, you may have to alert them in advance about 10 times before they get the message.
Credit card fraud is rampant in Mexico, so if you're going to use your credit card, monitor your account on a regular basis. Fortunately, it's easy to do over the Internet.
Also, when heading down Baja — and while in most of Mexico — make sure you carry plenty of small bills, that is ones, fives and tens. Those are the bills you'll need.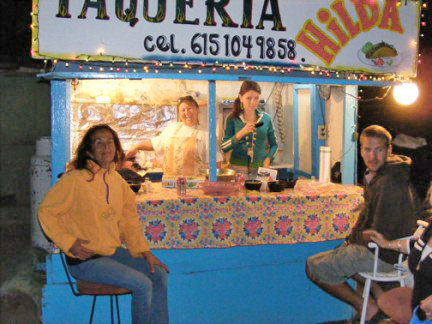 Money matters in Mexico may seem confusing and frustrating at first, but as soon as you start mixing with the Mexico cruising vets, they'll be happy to share all the tips. The passing on of 'The Knowledge' is a common way that cruising friendships are begun.
By the way, if you're headed to your boat in the Med, the euro has been crashing in relation to the dollar, too. Unfortunately, everything is still about 50 times more expensive than it is in Mexico.
Receive emails when 'Lectronic Latitude is updated.
SUBSCRIBE