With the Ha-Ha entry deadline of the 18th annual Baja Ha-Ha rally rapidly approaching, the number of paid entries have recently surged to 150, with a bunch more expected to be processed in the next few days. (The Rally Committee plans to extend the entry deadline beyond the published September 10 date). "We're not going to see an entry total in the mid-190s like we did the last two years," said the event's Grand Poobah, "but that's fine with me because I probably won't lose my voice at the end of each morning's roll call. A fleet size of 150 to 160 boats would be perfect." (See the entry roster here.)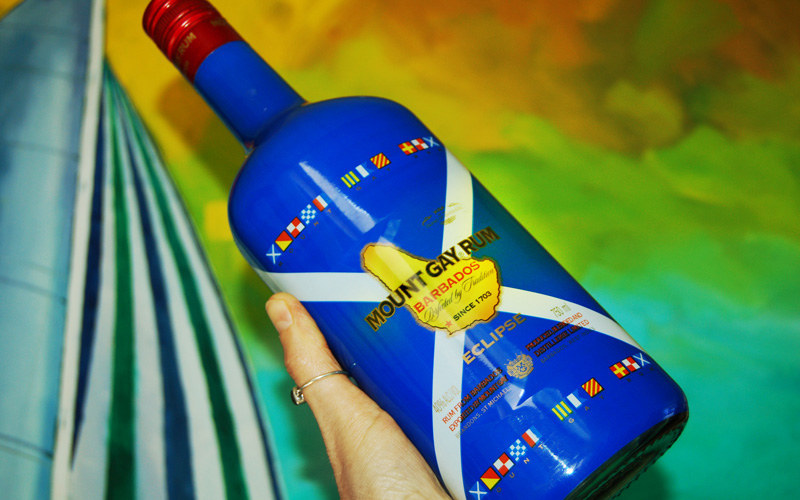 Two of the most recent entries made our hearts go pitter-pat. The first is that of Ken 'The General' Roper, who will be back again this year with his San Pedro, CA-based Finn Flyer 31 Harrier. Roper is now 82, but still going strong. He did the 2009 Ha-Ha with his daughter Lou, and this year his daughter Lee will crew for him. Ken as also done more Singlehanded TransPacs than we can count. The other is that of Rich and Sheri Crowe of the Newport Beach-based Tabu, which is the second Farr 44 that Rich has built for them. Newly retired from the excellent Orange Coast School of Sailing and Seamanship, Rich and Sheri have done it all, including having racked up tens of thousands of ocean miles with students aboard the S&S 65 Alaska Eagle and cruising their previous Farr 44 in the Southern Ocean. The greatest compliment we've ever received about the Ha-Ha was a few years ago Rich and Sheri sailed their boat all the way from Ecuador to Southern California — just to do another Ha-Ha!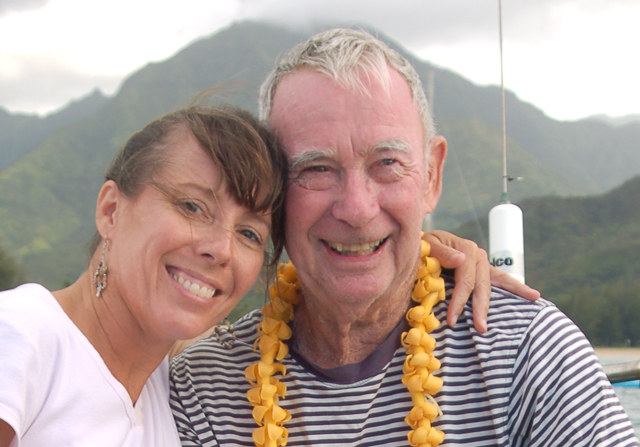 As can only be expected from a large gathering of boats, lots of other folks and businesses like to get in on the action. For example, the Oceanside YC will be hosting a rather extensive three-day program, September 30 – October 2, called the OYC Pre-Ha-Ha Rendezvous. While this is not an official Ha-Ha event, we did stop by last week, and found these folks to be most hospitable and they've planned a great program which includes preferred berthing, dinner, discounts and seminars. Give Port Captain David Albert a call at (760) 822-7403 for details. By the way, one of those who will be giving man overboard demonstrations will be Jonathan Hoover of the Oceanside Harbor Patrol, who took the photo below of Profligate leaving the harbor during last week's once-in-a-generation swell that rocked the entire California coast. Fear not, though, it won't be like that when you arrive or leave.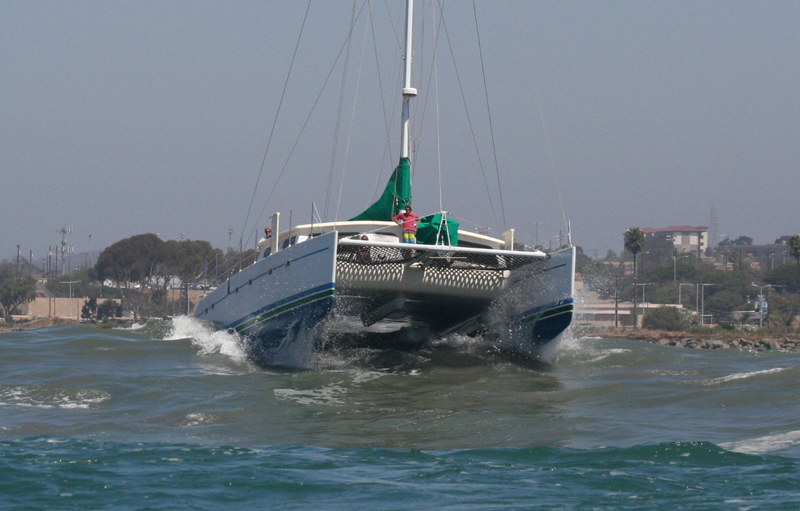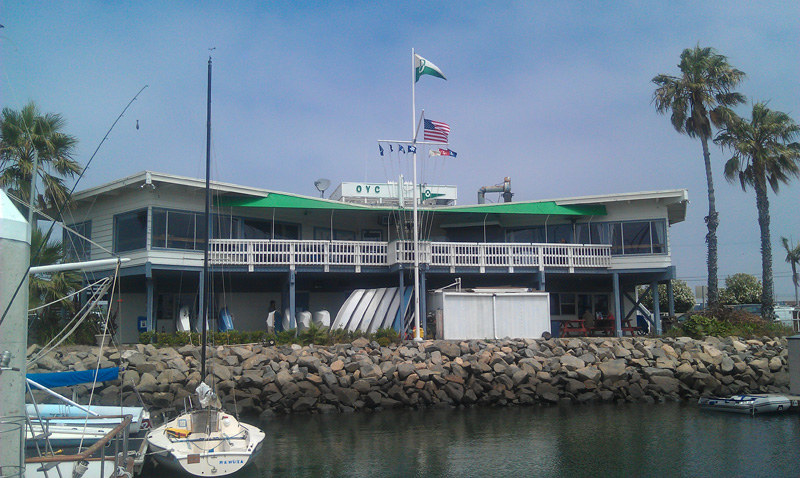 We also note that Jim Corenman and Shea Weston will be giving presentations on intermediate and advanced SSB email next month. (October 12, 8:30 a.m. – 4 p.m.; Pt. Loma Assembly Hall, 3035 Talbot St, San Diego; $50/person or $75/couple. Email to reserve.). When it comes to SSB radios and SailMail, this is like being able to get the word from God. In addition to having circumnavigated with his wife Sue aboard their Schumacher 50 Heart of Gold, Jim not only knows more about SSB radios than most manufacturers, it was he and Stan Honey who set up — and we believe still run — SailMail email communication via SSB radio that literal changed cruising life. As for Shea Weston, we can't say enough good things, as he is 'the man'. And when it comes for practical use of marine radios, you can't do better than hearing from Gordon 'Gordo' West, who has made spreading the gospel of Ham and SSB radio his life's work. Gordo and Shea will give a seminar next month on SSB radio operation and troubleshooting. (Oct 11, 5 – 9:30 p.m; Downwind Marine, 2918 Canon Street, San Diego; $25/person or $30/couple.) Email to reserve.) We know all cruisers are on a budget, but we think that one or more of these is well worth the price.
There are scores of other seminars, some of them free, some of them with fees, that will be held in the weeks prior to the October 23 start of the rally. Find the ones that apply to you and enjoy.
There are also lots of itinerant tradesmen or alleged tradesmen who like to serve/capitalize on the presence of the big Ha-Ha fleet. But we offer a word of caution — just because somebody owns a bunch of tools doesn't mean they know how to use them. It's never a bad idea to get competitive bids and ask for references.
Here's an update on berthing on the way down the coast and in San Diego Harbor itself. If you're on a budget, you can anchor at Catalina for free for as long as you want. We recommend Two Harbors / Cat Harbor over Avalon, although you should visit both. Newport Beach mooring ball rates have gone up, but you can still anchor for free in the Newport anchorage for five days without a permit, and Newport has all the marine goods and services you'll need. Plus, if you're going to make a big purchase, West Marine stores are often very good about coming to pick you up. San Diego also welcomes Ha-Ha folks with their free A-9 anchorage. You do need to get a permit from the folks at the Police Dock / Mooring Office, inside the bay at the northwestern tip of Shelter Island. Police Dock fees have gone up, but they are not outrageous. As for those of you who are yacht club members, this is the time when your initiation and monthly fees can pay off big, as clubs both in San Diego and elsewhere in Southern California offer free reciprocal berthing for short stays.
For registered Ha-Ha entrants, the best berthing news is that several San Diego marinas are offering special discounts to fleet members. Long-time sponsor Almar is offering up to 50% off their normal daily rates and deep discounts off monthly rates at Cabrillo Isle Marina on Harbor Island, as well as at their other marinas up the coast. Pier 32 Marina in National City is offering $1/ft/day, and Chula Vista Marina is offering a monthly rate of $16/ft, while waiving their normal liveaboard rate. Check out the offerings of these and other Baja Ha-Ha rally sponsors, at the website.
Receive emails when 'Lectronic Latitude is updated.
SUBSCRIBE