We're not gentlemen, and we can prove it. For the second time in three years, we just completed a 1,000-mile Baja Bash. And as everybody knows, gentlemen don't go to weather.
It being so late in the season, we reasoned that all we had to do was avoid the hurricanes — two threatened — and we'd be able to finish our 1,000-mile Baja Bash from Puerto Vallarta to San Diego in six days tops. Ha!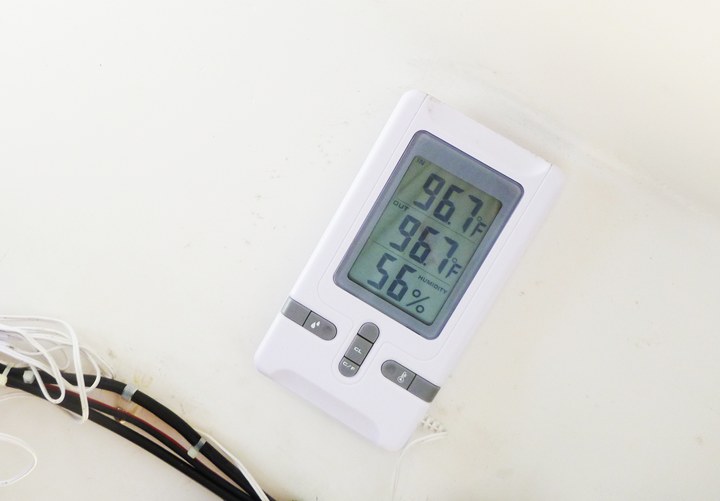 Based on GRIB files, it looked as though we'd start with a easy 275-mile run up to Cabo San Lucas. Unfortunately, GRIB files don't forecast the flu. Less than 12 hours into the crossing, we got the dry heaves. For hours and hours our body tried to puke something out that wasn't there.
We recovered from that about 40 miles southeast of Cabo just in time to get walloped by winds to 35 knots that had not been forecast. All we can say is that if you're going to get 'firehosed' with spray every 15 seconds, it's nice when that spray is over 80 degrees.
When we finally dropped the hook off Mango's, it was 3 a.m., quiet as a mouse, and the wind had died. The quiet was broken shortly after dawn — and until late in the afternoon — by an onslaught of people on jet-skis and the DJs at the various bars on the beach in front of all the huge hotels that line the water. When we first sailed to Cabo in '77, there was a bus stop and a tent on the beach. How Cabo has changed.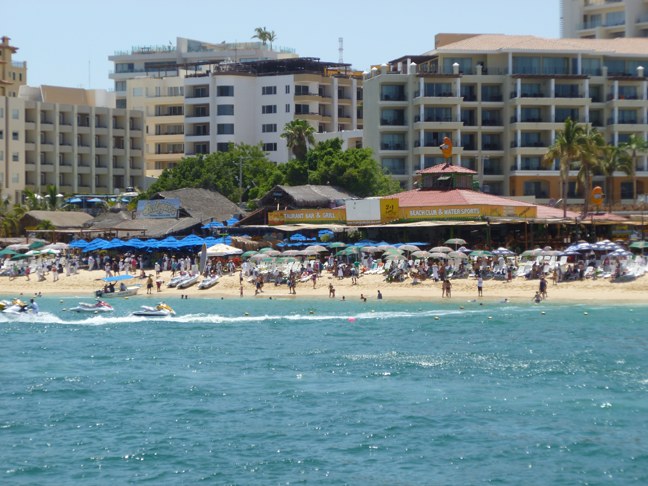 Licking our wounds the next 36 hours, we were surprised to find how much we liked Cabo. The best of all was just sitting on the boat enjoying the beautiful setting after all the jet-ski people had gone home. The wonder of it all was the variety to be found in the 30+ sunset cruise boats that took to the water each night.
Excuse us, the real wonder of it all was a bit of Americana we saw when we swam to shore to enjoy a sundowner. The place — we think it was Mango's — just happened to be having a wet t-shirt contest when we arrived. We tried to imagine how they were going to get any women to prance about on the stage in front of a bunch of horndog male tourists. We need not have worried, because driven by either a need for attention or the $100 first prize, there were plenty of contestants.
The most curious entrants were two vivacious, sophisticated, tat-free sisters who said they were 24 and 21 years of age. Although both the girls were relatively flat-chested, they were both very attractive and in terrific shape. And while they knew it, they weren't arrogant about it. As there was a final call for entries, the two girls jumped up and shouted for their mom to come down and participate with them. We still don't know if the gals were just very well adjusted sexually or a little weird, but we think everyone was pretty happy when mom decided to sit this one out.
When it came time to find a waterboy to douse the gal's boobs in water, the sisters screamed, "It's got to be our brother, it's got to be our brother!" Sure enough, their sheepish 18-year-old brother was dragged up on stage and given the responsibilities. We grew up with two brothers and no sisters, so we're not experts, but wouldn't it feel a little creepy to water down the boobs of your sisters so a bunch of young strangers — their tongues now drooping all the way to the sand — could be titillated? While mom and dad — plus a 10-year-old brother! — looked on?
It was quite a spirited competition, as the younger sister tried to outdo her older sister by prancing all about, flashing the crowd, and repeatedly getting into lesbo kissing bouts with the fellow competitor from Canada sitting in the chair next to her. As cute and competitive as the younger sister was — she started her act by running across the stage and doing and handstand flip right onto the lap of the judge — the judge and the crowd weren't fooled, and the more sophisticated older sis was awarded the $100, much to the delight of the entire family.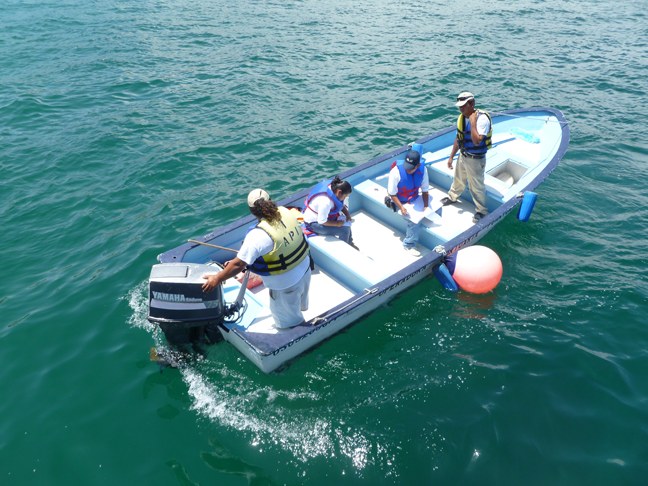 That was about all we could take of Cabo, and we took off at dawn the next morning. We got hammered by winds close to 30 knots rounding Falso, but as often happens, 10 miles up the coast it had really mellowed out. But it got so rough up at Tosca — where the light wasn't working — in the wee hours that we actually hove to. We limped into Bahia Santa Maria about noon the next day.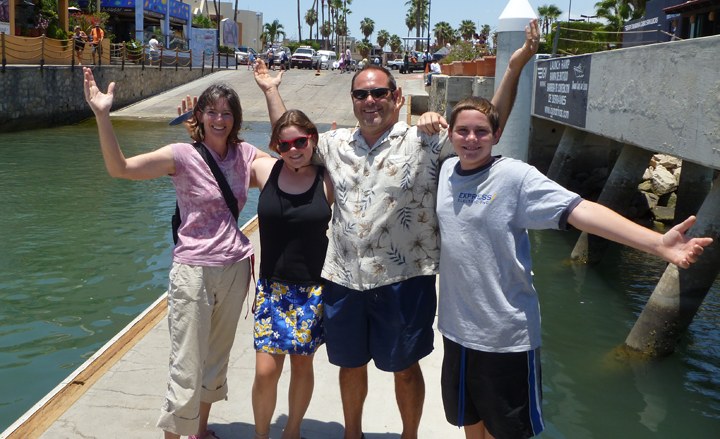 We spent 36 hours at BSM, during which time we Joe and Christie Hague of the Ventura-based Aleutian 51 Nordica, also sitting out weather, came over for an afternoon of great socializing. They told about leaving their boat unattended on the hook in Zihua, then renting cars to drive down to Huatulco and inland to Patzcuaro — and loving it. They had their boat hauled in Puerto Escondido, Baja, and originally intended to leave it there for the summer. After a change in plans, they called Elvin at PEMS, got him to move a few boats and paint the bottom, then launch her on short notice.
It turns out that Christie, a nurse, was disobeying doctor's orders by doing the Bash. She'd just had neck surgergy and wasn't supposed to subject her neck to a lot of banging around. No, there wouldn't be any of that on a Bash, would there . . . . We made plans to meet up with Joe and Christie for dinner in Turtle Bay, but it was so smooth when we got there that we just motored by at nine knots.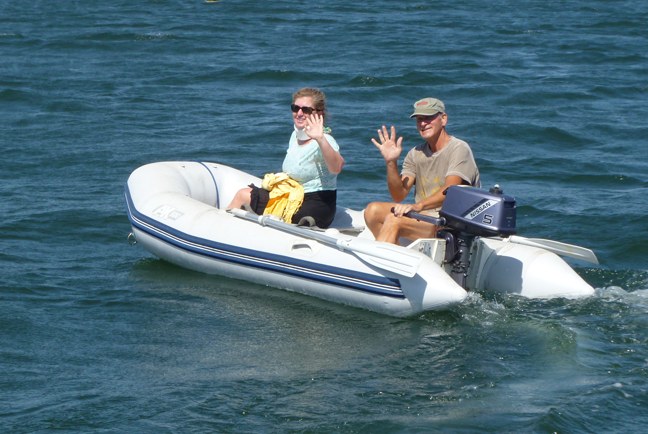 Knowing that Cedros Village on Cedros Island was a port of entry, we figured it could be a 'port of exit', too. So we pulled in and called for the Port Captain on the radio. A short time later, Isaac Lopez, the Port Captain, pulled up in a truck. De Mallorca hopped off the bow of the cat onto the dock, and away they went.
As the clearing out process continued in his office, Lopez told de Mallorca that he was disappointed to learn that some cruisers had been told officials didn't want them to check in and out of Cedros, and that Cedros was dangerous in one way or the other. Lopez said none of those things were true, and he hoped that many more boats would stop there. In fact, he said, if given a week's notice, he could even have plenty of clean diesel available.
Rather than anchoring, we motored in circles as Capt Mallorca took care of the paperwork. Before long, a family of about six appeared on the dock waving their arms. They'd come down because it seemed as though we needed help, and they wanted to do what they could. It turns out they are from the San Fernando Valley, and were down at Cedros on a two-week vacation. "We love it here," says Carlos, "the fishing is great. We fly down from Ensenada."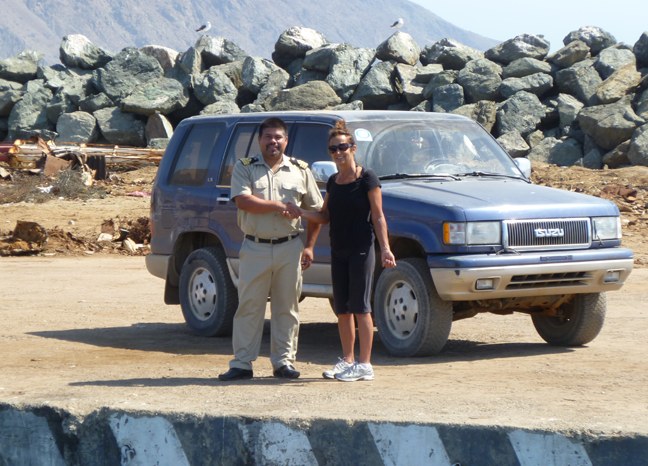 With the weather looking good, we pushed on. And that night got the slam-bams again and had to go out of our way to get around Sacramento Reef in the dark. A little beat up, we and de Mallorca discussed which anchorage we'd stop at. But you know how it goes, "Let's keep going a little further, just a little further." Over and over.
The last anchorage we skipped was Colnett, and six hours later were were getting lambasted in some of the sloppiest seas we've seen this side of the Potato Patch. It was a cauldron. Ironically, Profligate handled the conditions much better then she did the much smaller but more rhymthic stuff. Oddly enough, after the wind increased from about 25 to 30, the seas got calmer. Must of had something to do with the current and then lack of it. And once again the autopilot couldn't keep the boat on course, so we drove from outside once again. Curiously, it wasn't that cold.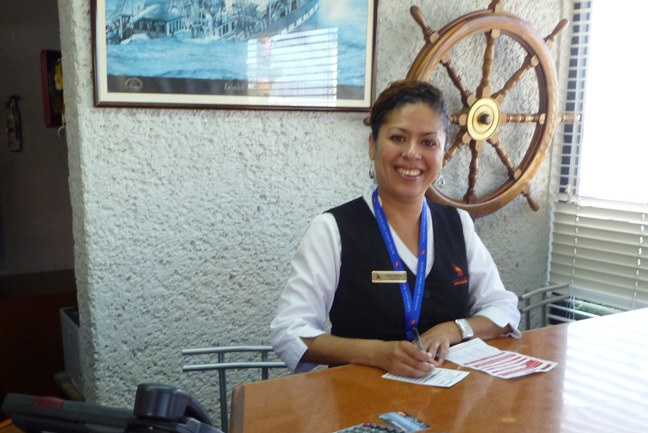 In the middle of the night we pulled into Marina Coral in Ensenada, where Marina Manager Hilda had her night guard ready with a flashing light to guide us in. What a nice operation — and diesel was only $3.40 a gallon.
The following afternoon we checked in at the Police Dock in San Diego, then proceeded to our summer base at Discoll's Boatyard on Shelter Island, where we have many good friends and the action never stops.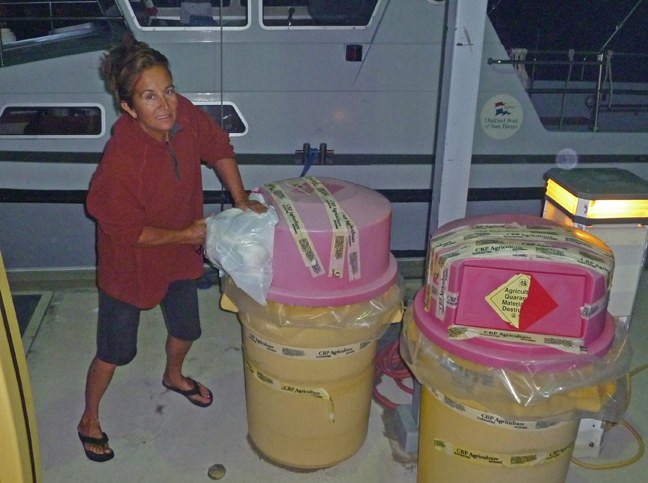 De Mallorca seems embarassed by the fact we took 10 days to complete the Bash from P.V. What's more, she seems to think the Wanderer, of all people, was the problem. "I've done about 12 of these Bashes with Profligate, and this was the slowest. If I'd had my regular guys, we never would have stopped."
Well, good for her. If it had been up to us and didn't have work deadlines, we would have liked to have taken a month. So much too see, so much to enjoy.
The minute we got back in the States, we started missing Mexico. The good news is that it's less than three months to the start of the next Ha-Ha. We hope to see you at the starting line.
Receive emails when 'Lectronic Latitude is updated.
SUBSCRIBE