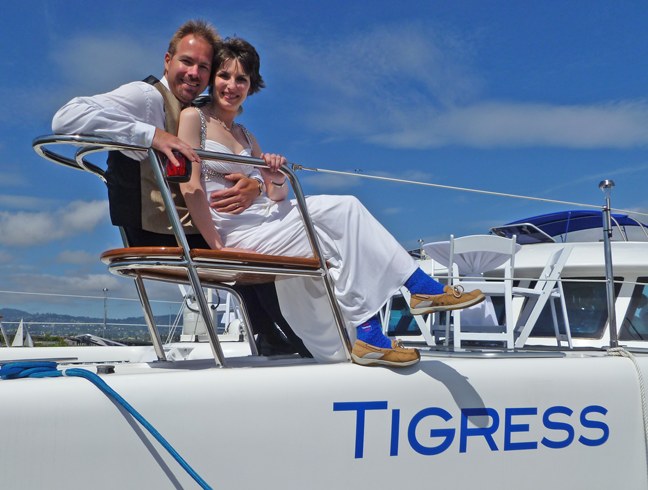 As the steward for the La Gamelle Syndicate's Olson 30 La Gamelle, which is currently berthed at Marina Village in Alameda, we've suddenly gained a whole new group of sailing friends in that part of the world. Among them are David and Elena Esser of the new Prout 50 catamaran Tigress, with which La Gamelle shares an end-tie.
We first met David by saying, "We're glad you have that inflatable hanging down from the back of your cat, because we took the engine off the Olson, so we plan on docking by sailing the bow of our Olson into your inflatable at a 90-degree angle, which will caroom our boat right into her spot on the dock."
"That will be fine," David replied. "By the way," he continued, "Elena and I are getting married next Saturday, and are having the reception aboard. You should come."
As you can tell from the accompanying photo, we did. Everyone was given bright blue boat socks, and Elena proudly wore them with her TopSiders. We think it's a pretty saucy look. Her socks were monogrammed with the date of June of '10, because that's when their boat was scheduled to be launched and they were to be married. Since the boat was a year late in being delivered, they obviously had to postpone the wedding by a year, too.
People say that the 'apple never falls far from the tree', but only people who don't live on hillsides. You see, David is the son of admitted 'hippie vagabonds', who 35 years ago would buy one-way tickets to the far corners of the world and drag him along. Instead of falling in the footstops of the parents, David has thrown himself into the internet world, and apparently has been successful at starting several companies. The big cat is his move away from life being all about work.
David has also been successful in gradually introducing Elena to the water and sailing. He had to start with the ultra basics because in the beginning Elena was so afraid of the water that she wouldn't even walk down a dock. But now she's happily living aboard, and looking forward to the mast being stepped in a few weeks.
Tigress is actually the couple's second sailboat. They also have an exact sistership to the Pardey's 29-ft wood Talesin, right down to the bathtub. If you're looking for a boat like that, you know who to contact.
Anyway, we'd like all of you to join us in congratulating our new good friends David and Elena on their marriage — and on their new catamaran.
Receive emails when 'Lectronic Latitude is updated.
SUBSCRIBE