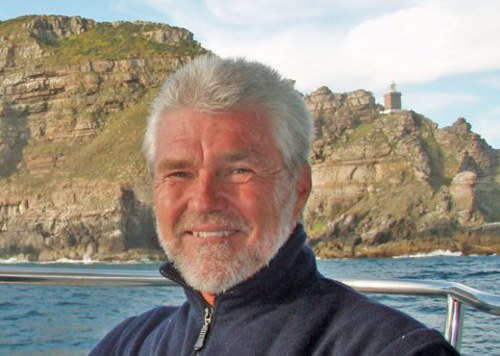 We regret to report that Manhattan Beach-based solo circumnavigator Mike Harker passed away last Friday in St. Martin, French West Indies. In his mid-60s and about to sail to the Med, Harker suffered a massive stroke while aboard his Hunter 49 Wanderlust III.
Harker was a good friend of Latitude 38 and a frequent contributor. One of the pioneers of hang-gliding, he was nearly killed after a 500-ft plunge into the ocean off Grenada many years ago. Told he would never walk again, he spent a decade dedicated to physical rehab, after which he was able to walk, although not stand upright unless touching something.
In late '99, while riding his bike through Marina del Rey, Mike picked up a copy of Latitude 38 at the Hunter dealer, and read about the Baja Ha-Ha. Although he knew nothing about sailing, a short time later he was accompanied by German sailing friends on his Hunter 34 Wanderlust in the '00 Ha-Ha. After singlehanding a nasty Baja Bash, he sold the 34 and bought a new Hunter 466 in Florida. When his transAtlantic crew bailed on him because of delivery delays, Harker singlehanded Wanderlust II across the pond and around the western Med. Accompanied by crew, he later sailed back across the Altantic and across the Pacific to French Polynesia. A snapped rudder shaft merely delayed his passages to Hawaii and back to California.
With considerable support from Hunter, Harker bought a Hunter Mariner 49, christened her Wanderlust III, and did an 11-month singlehanded circumnavigation. Prior to and after that accomplishment, he appeared at boat shows around the world for Hunter. Many Latitude readers attended his seminars at Strictly Sail Pacific in Oakland.
Harker spent most of his post-circumnavigation time in the Caribbean. Three years ago we did the New Year's Eve Around St. Barth Race with him aboard Wanderlust III. Despite the difficultly he had in moving around the deck, and having to constantly check his numb legs for bleeding, he insisted that we drive while he did all the deck work!
Last summer, Harker was the victim of a vicious pre-dawn attack on his boat in the anchorage at St. Martin's Simpson Bay Lagoon. When two intruders demanded more cash than Harker had on hand, they beat him to a bloody pulp, repeatedly kicking him in the head. We're not doctors, so we have no way to know if that terrible beating contributed to the stroke that killed him, but it couldn't have helped.
We'll always remember Mike for being the quiet type who liked to observe crowds from the sidelines. He was self-sufficient, thrifty in the best sense of the word, and was meticulous about taking care of his things, be they boats or motorcycles. Adieu, good friend.
Receive emails when 'Lectronic Latitude is updated.
SUBSCRIBE