'Stunned' is the only word that can describe our reaction to the murders yesterday, at the hands of Somali pirates, of veteran cruisers Scott and Jean Adam of the Marina del Rey-based Davidson 58 Quest and their Seattle crew Robert Riggle and Phyllis Macay. According to the U.S. military, negotiations that were being conducted as Quest was being driven to Somalia turned sour and gunfire erupted on the yacht. At this time it's hard to know exactly what took place on the yacht.
Quest had been hijacked on Friday three days after the crew decided, for reasons unknown, to split from the Blue Water Rally fleet. While being hijacked is never a good thing, victims of Somali pirates have rarely been killed because in so doing the pirates lose all their negotiating power and protection. Indeed, members of the U.S. Navy killed two of the hijackers and 13 others were taken into U.S. military custody. The 13 survivors will no doubt be brought to the United States, provided with two high-paid taxpayer-funded attorneys, and live in conditions better than they were used to at home.
Somali-style hijacking is really a business enterprise, with affluent Somali businessmen sponsoring hijacking efforts and splitting the proceeds with those who actually do the hijacking. As was the case in the Quest hijacking, village elders act as negotiators, no doubt for their own cut of the action. Apparently such negoations were under way when things on Quest went wrong. According to many accounts, hijackers are local heroes and, suddenly wealthy, are said to quickly become popular with the more desirable local women.
Some folks have criticized the Adams for even trying to make the passage from Mumbai, India, to Oman and then the Red Sea, and even more so for leaving what might be perceived as the relative safety of the Blue Water Rally fleet. To give some context to the first contention, we're reprinting the evaluation of risks from Randy Repass who, just days before, made the same passage with two friends on his Wylie 65 Convergence. Repass is, of course, the founder and chairman of West Marine Products. His report was to — and still will — appear in the March 1 issue.
My wife, Sally-Christine, and son, Kent-Harris, and myself have cruised our Wylie 65 across the South Pacific to Australia three or four months a year since leaving Santa Cruz in June of '04. This past summer we sailed from Darwin through Indonesia, then by Singapore up the Malacca Straits to Langkawi, Malaysia, and finally to Phuket, Thailand, where we left Convergence in October.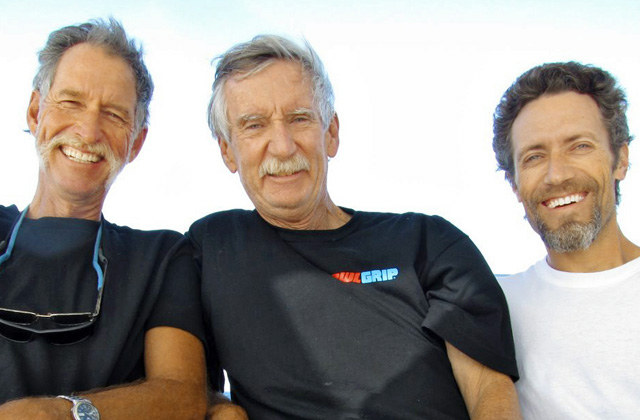 The best time for a passage from Thailand to the Med, our next destination, is January through April. Partly because of the potential for attacks by pirates, and partly because of the amount of time Kent-Harris would miss school, we decided to do the passage with friends and not the family crew.
Brother-in-law and Santa Cruz marine surveyor Joseph Rodgers and friend Kelly Waterhouse, who recently completed his circumnavigation aboard his and wife Kelly's (husband and wife are both named Kelly) Dufour 35, and I arrived at Convergence in Thailand's Boat Lagoon on January 12. We spent nine days working with the service people there to finish the boat projects that we'd hoped would have been completed when we arrived. Work was delayed due to the holidays — but it always seems that works gets done faster when the owner is around. The work was generally very good and reasonably priced, and the workers very helpful.
We left Phuket on the 20th for the 1,552-mile passage to Uligan, Northern Maldives. We arrived on the 27th. Except for 36 hours of squally weather, the sailing conditions were ideal, with 10 knots or so of wind on the beam and smooth seas. The day before we got to Uligan, the anchorage was empty. We arrived the same day as four other boats headed to the Red Sea. When we left three days later, there were 20 boats in the anchorage! Uligan is a small and very clean Muslim island village with friendly and helpful people.
We knew that piracy had spread as far as 1,000 miles from Somalia, and from the previous center of activity the Gulf of Aden that had gotten the name 'Pirate Alley'. The good news was that in recent years no cruisers had been attacked on their way to the Red Sea — presumably because the pirates were after more lucrative prizes in the form of cargo vessels and tankers. In addition, the Arabian Sea is a big one, with 2,000 vessels on it, almost all of them bigger and easier than Convergence for pirates to see. So while we were concerned about piracy, kept a close lookout, and had a plan if an attack did occur, we thought the odds of being attacked were very low.
We left on January 31 on a direct route to the eastern edge of the 500-mile International Recommended Transit Corridor (IRTC) through what used to be the worst of the pirate waters. Our route was several hundred miles south of the very busy main shipping lanes. We had excellent sailing conditions on this 1,200-mile leg to the IRTC, with the true wind just aft of the beam at 8 to 14 knots, and small seas all the way to the IRTC. If all sailing was this good, there would be more sailors!
We made good time, with 200+ mile days and a best 24-hour run of 227 miles. We saw less than 15 ships all the way to the IRTC, but neither saw nor had contact with coalition war ships. The wind lightened and came aft once we were in the IRTC, so we motored the entire 500-mile length of it — and then most of the way to the Bab El Mandab, the narrow southern entrance of the Red Sea. Nicknamed the 'Gates of Hell', the wind picked up to 25 knots, as predicted, in the narrows.
There had been, of course, plenty of ship traffic in the IRTC. As suggested by UKMTO, we went straight down the center of the two-mile wide separation zone, so ships going our direction passed us on our starboard, and ships coming the other way passed on our port. We saw a number of NATO/EU/Coalition war ships on patrol, and were contacted by two. We did get a sense that the IRTC was being watched by the good guys.
Within a few miles of the end of the IRTC, and about 100 miles before entering the Red Sea, we spotted what looked like a skiff about 1.5 miles off our starboard bow that was on course to cross near us. Skiffs are what pirates use to attack, and this was the first non commercial vessel we'd seen since leaving the Maldives, so we were concerned. We didn't know if this was a pirate skiff or not, but I immediately put out a informational, "securite, securite" call on the VHF hoping that a war ship would hear it. A cargo ship answered, wished us luck, and called for a war ship. None responded. We changed course to head in the opposite direction the skiff was traveling, and were relieved to see that it kept on course.
We had notified UKMTO, MSCHOA and MARLO — three groups that monitor shipping in pirate waters, and also coordinate war ship patrol and pirate intervention — of our plans and sent them daily position reports — which we also copied to the cruisers at the Maldives. After we notified them of our intended passage, UKMTO and MSCHOA emailed a list of attacks in the prior 30 days, which we plotted. There had been very few on the route we chose.
We were very relieved to enter the Red Sea and be free of the threat of piracy. As one hears many reports of attacks on commercial ships each month — there were over 30 in January alone — we empathize with those cruisers debating whether to sail through the pirate waters, go around Africa, ship their boat to the Med, or return to Thailand. It's a tough decision that has to be made on an individual basis.
Because strong northerlies were predicted for the next several days for the entire Red Sea, we headed for Port Sudan half way to the Suez Canal. We made the 2,429 mile passage from Uligan to Port Sudan in 12 days and 3 hours, which included about six hours at anchor behind reefs in the Red Sea for minor repairs. That's an average of 200 miles a day. Convergence, our pilothouse/salon up Wylie 65 is fast, comfortable, easy-to-sail. Thank you designer Tom Wylie, and builder Westerly Marine.
After three days in Port Sudan, which I found to be a fascinating very Third World city with friendly people, we took off, having changed from a 'pirates are our primary concern' mode to a 'weather' concern' mode. The grib files downloaded from SailDocs have been pretty accurate the whole trip, and show favorable conditions for the next few days. Our immediate destination is the Suez Canal 460 miles to the north, with our ultimate destination this passage being Marmaris, Turkey, a total of 950 miles away.
— randy 02/15/11
We welcome reader comments on the Quest tragedy, but now that the March 1 issue has gone to press, they will appear in the April 1 issue.
Receive emails when 'Lectronic Latitude is updated.
SUBSCRIBE