What has proven to be a crazy Barcelona World Race so far is only getting crazier. After days of upwind sailing in the Indian Ocean — keep in mind it's a "right-way" race — the Crozet Islands Ice Gate puts the fleet smack in the middle of a depression packing breeze into the mid-50s and 25-ft waves. Leaders Jean-Pierre Dick and Loïck Peyron aboard Virbac-Paprec 3 managed to slip through the Ice Gate before the depression arrived, but the situation for the rest of the pack looks a lot less promising. Iker Martínez and Xabi Fernández in Mapfre — seen above — currently lead the best of the rest, lying some 465 miles to the west. Top American Ryan Breymaier, sailing with German Boris Herrmann aboard Neutrogena Formula Noruega, is in seventh, just 34 miles behind sixth place. Whether Herrmann and Breymaier get the worst of the weather will remain to be seen — they're currently about 900 miles behind Mapfre — but Peyron offered an opinion on the Ice Gate's impact on the racers.
"It is true that we passed through a narrow weather band," Peyron said. "The big thing is when the precautionary principle (the Ice Gate) creates a dangerous situation; it's the debate of the 20th Century. As Mr. Attali wrote on the subject, when Mr. Volt and Mr. Watt invented electricity, if they had known that it would result in a million deaths by eletrocution in the century to come, we would not have allowed it. Yesterday, passing this notorious Ice Gate came close to resulting in a disastrous consequence. We made it just in time."
Thomas Coville left this weekend in an attempt to take Francis Joyon's singlehanded 'round-the-world record. After 4d, 8h, 30m, he already has a 110-mile lead, having already passed the Cape Verde Islands despite the fact he's only managed four hours of sleep since leaving. Not long after the start, Coville nearly bought the farm in a triple rudder-check pitchpole from which he was able to recover, aboard his 105-ft trimaran Sodeb'O.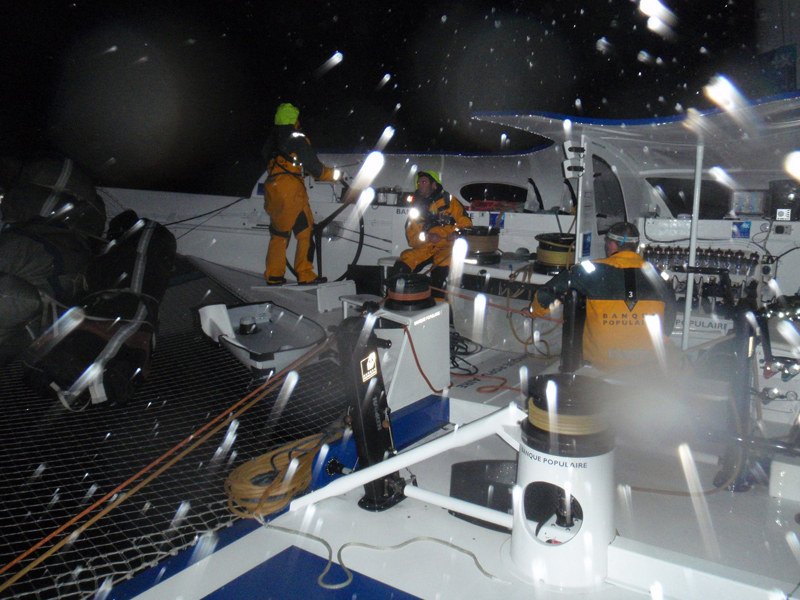 Pascal Bidègorry's 131-ft monster Banque Populaire V has finally started overcoming the big round-about course it was forced to take in the South Atlantic, and have once again established a lead over the reference time of Jules Verne record holder Franck Cammas' Groupama 3. BP V is rolling along at 35 knots now, having turned a 381-mile deficit into their lead.
Receive emails when 'Lectronic Latitude is updated.
SUBSCRIBE