These are pretty feet, but no, we don't have a foot fetish. But we do like a woman who likes to have fun, and painting your toes all different colors is a strong indication of a fun-loving nature. And we particularly like a fun-loving woman who also loves to race and cruise sailboats.
The woman to whom these toes belong fits on all counts. Not only does she paint her toes — and fingernails — different wild colors, but she has a very successful history of racing sailboats. Further, she's completely restored one of the most beautiful yachts in the United States. She didn't spend all the money to have it just sitting at a dock. In the last two years, she's cruised the yacht 10,000 miles. And when she starts the TransPac in July, her yacht will be one of the biggest to ever race to Honolulu. After that, she's intent on cruising all the way across the Pacific. And why not, she's a woman who likes to have fun.
Today's quiz question is, what yacht does she own? Email your answers to Richard.
After two months of waiting for the hurricane season to end, 15-year-old Dutch teen Laura Dekker set off from the Cape Verde Islands a week ago, for the first ocean crossing in her planned circumnavigation. Dekker and her Jeanneau 38 Gin Fizz Guppy are 800 miles into the 2,200-mile leg from the Cape Verdes to St. Martin. Dekker, you might remember, last saw St. Martin when she ran away from home to go boat shopping by using her New Zealand passport — she has both Dutch and Kiwi citizenship — to evade European authorities who had made her a ward of the state. While previous teen circumnavigators set out on east-about routes, Dekker, like Zac Sunderland, is doing a tradewinds-and-canals lap of the globe that she expects will take around two years.
For those who've missed our previous coverage, Dekker's route has been filled with obstacles up until this point. Since announcing her attempt two years ago, Dekker has had an uphill battle to get this far. Born in New Zealand during her parents' circumnavigation, Dekker claims to have been sailing her own 23-ft boat in Friesland waters where she encountered her first problems with resistance to her efforts when lock-operators were not always willing to allow such a young girl in her own boat to transit. Undeterred and supported by her family, she spent the following summer vacation sailing in and around the islands on the Wadden Sea, and shortly after revealed her big dream to become the youngest ever to go around the world.
Intensive lessons on navigation and safety followed, and then Dekker's father instructed his daughter to sail to England and back on her own to show him what she was capable of. That trip was a harbinger of the official resistance she would later experience when, on her arrival in the UK, she was detained by the port authorities who judged it too dangerous for a 13-year-old to be at sea alone. Looking to thwart the trip, the port authorities called Dick Dekker and asked him to accompany his daughter on the trip home.
The elder Dekker refused to comply with the request, so the authorities placed Laura in a children's home. Ultimately Dekker changed his mind and went to the UK to collect Laura. But when he allowed Laura to sail back on her own anyway, the British police contacted their Dutch counterparts, who alerted the country's social services' youth care bureau. With the family then on the radar of social services in the Netherlands, Laura was was made a ward of the state for over a year. With the support of her father, and finally her initially reluctant mother, Dekker got underway two months ago after a Dutch Children's Court gave her permission to leave.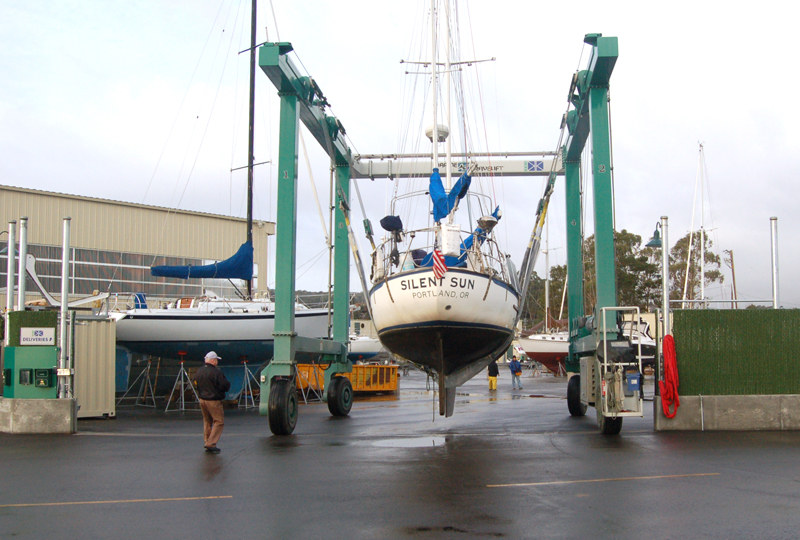 Since the fall of '07, this writer and her husband's boat has been part of a bottom paint study to test the efficacy of the biocide Econea, an eco-friendly product produced by Janssen Pharmaceutica and sold to different paint companies. Three paints were applied to the bottom of our Crealock 37 — one control paint containing 67% copper, one solvent-based test paint and one water-based test paint. After a year, the water-based paint, in our opinion as boat owners, was not only the best among the three, but the best paint we'd ever used. There was zero hard growth on all three — which made them equally 'successful' in the eye of study coordinator Jack Hickey, as that is the study's primary focus — but the water-based paint had very little slime or grass. The other two were mini-ecosystems unto their own.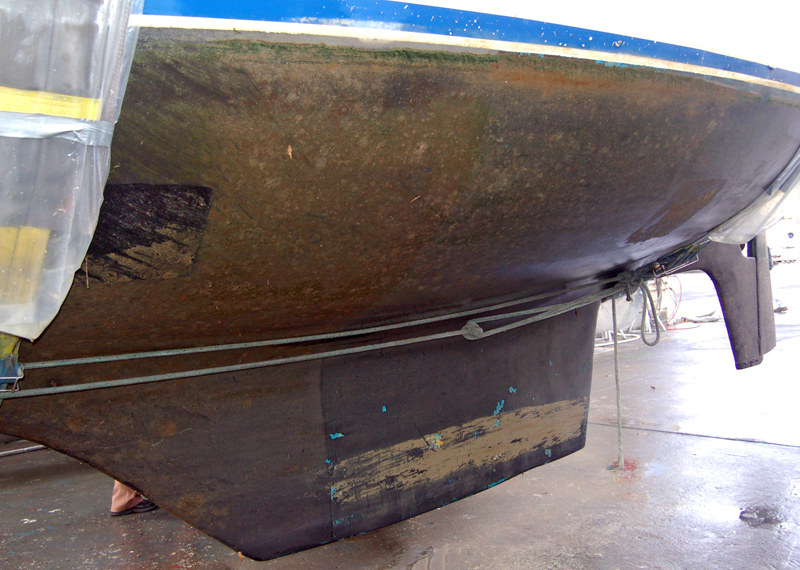 In the spring of '09, we were asked to continue in the program, and we agreed on the condition that one of the test paints continue to be the water-based paint. A different solvent-based test paint — one that had proven more successful than the previous paint — was applied, the control paint was refreshed, and we were back in business. Subsequent checks showed the new solvent paint testing well, but still not quite as well as our beloved water-based paint.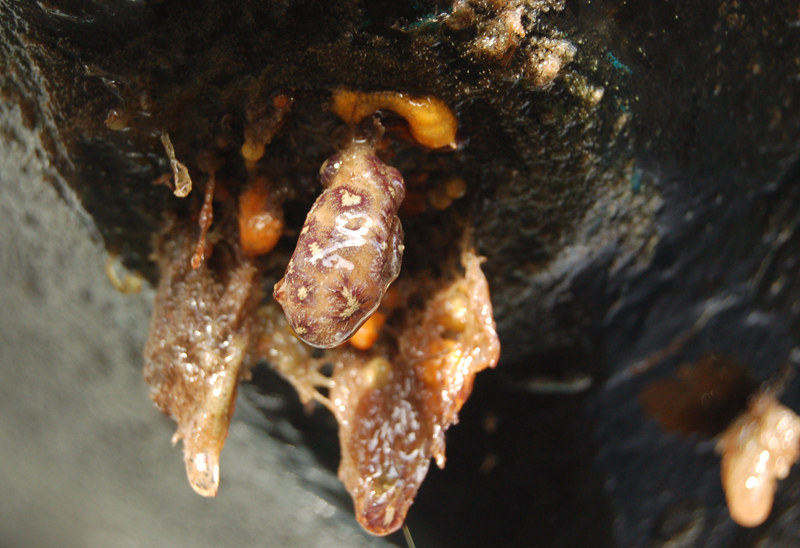 On Monday, we hauled out at KKMI's new Sausalito yard for what could have been our final check. "We'll have to see what the bottom looks like before we know if you can continue in the study," Jack told us. As our boat cleared the water, it was obvious that all three paints were in good enough condition to keep going. A thorough inspection by Jack, and he confirmed. We'll continue in the study until next spring, when the program will officially end.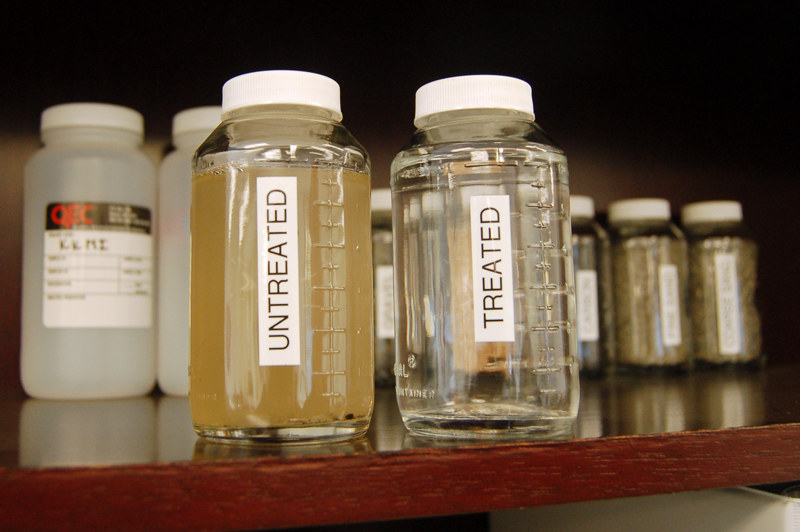 So how did our 'horse' do this time? Once again, the water-based paint led the pack. In talking with Jack, though, it appears the solvent-based test paint is likely to come to market sooner than the water paint. "I'm actually working with the paint company to get that one approved for sale," he said. Still no names for any of the test paints, but Dave Helmer of Janssen has promised to pass my information on to the manufacturer of the water paint — privacy agreements prohibit him from sharing their name — so we may yet find out who makes this miracle paint.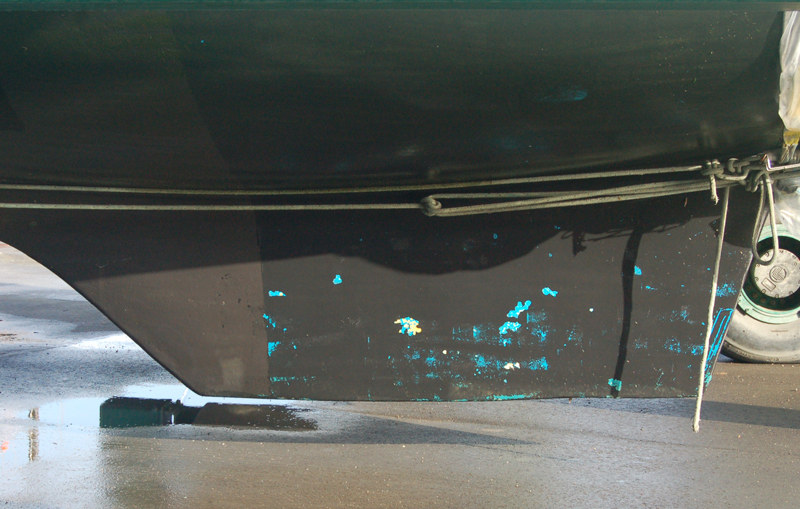 Receive emails when 'Lectronic Latitude is updated.
SUBSCRIBE