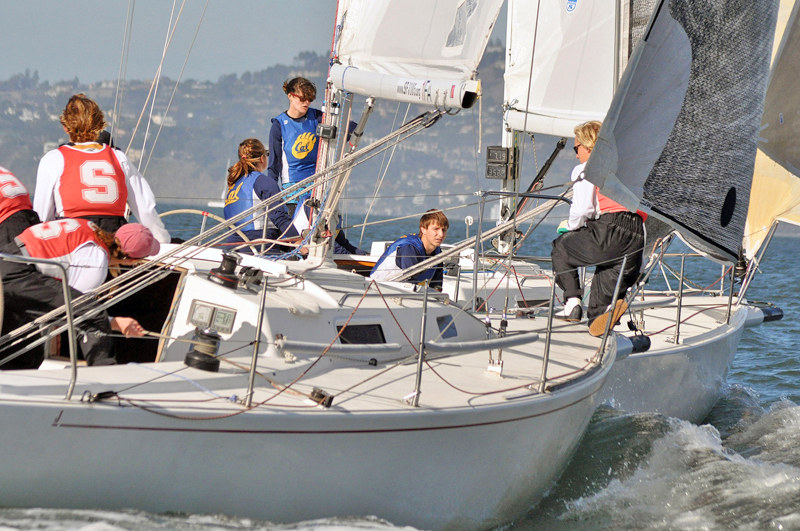 Alumni, students, parents, spectators, and media converged on St. Francis YC Tuesday for the Big Sail — the annual match race between Cal and Stanford which takes place the same week as the storied 'Big Game' between the two schools. As in recent iterations, this year's event set new records for attendance and enthusiasm, helped in no small part by the presence of each school's marching band and cheerleading squads.
Sailing in J/105s with spinnakers bearing the schools' logos, the two pairs of alumni teams — one for the over-40-year-olds, and one for the under-40-year olds — squared-off in single races for bragging rights, with Cal taking both matches. Then the varsity sailing teams from each school rotated into the boats and faced off in an umpired, best-of-three match-race series right in front of the club's dining room, which was filled with spectators. Stanford started with a win in the first race, when they were able to capitalize on a poorly-executed penalty turn by Cal, squeaking across the line ahead by a matter of inches. In race 2, it was Stanford's turn to make the "big mistake" when they sailed on the shoreside of Anita Rock. Sailors who race the Cityfront know very well that this area is a restricted zone. That immediately disqualified Stanford and gave Cal the win automatically . . . or not. The umpires decided not to issue Stanford the dreaded black flag, opting instead to let the match play out. But in the end, Cal got ahead, extended, and demonstrated superior boat speed to take the race easily.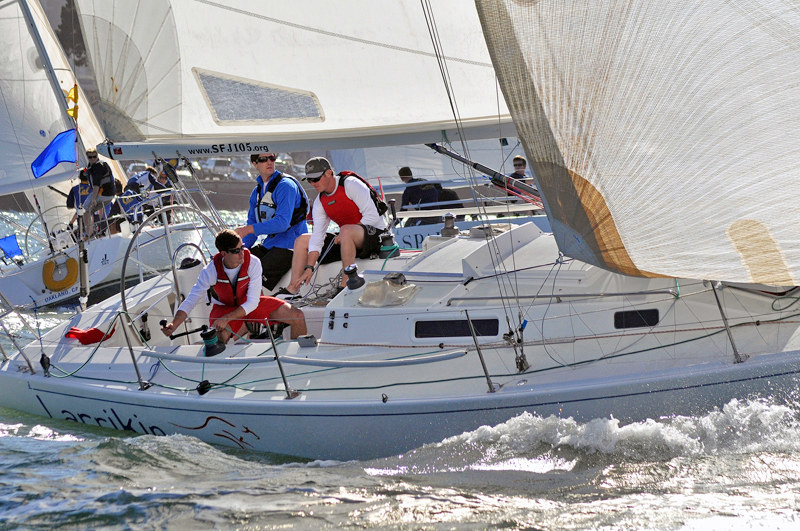 With the score tied at one race apiece, Stanford was able to get a slight lead off the start line that they managed to carry to the first weather mark. At the leeward mark, Stanford rounded and immediately "T'd up" Cal, who was on port with their spinnaker still flying. Holding their course, Stanford made a sharp tack to avoid a collision and flew their Y flag to request an umpires' call. Cal was given a penalty, sealing the regatta for Stanford.
Receive emails when 'Lectronic Latitude is updated.
SUBSCRIBE