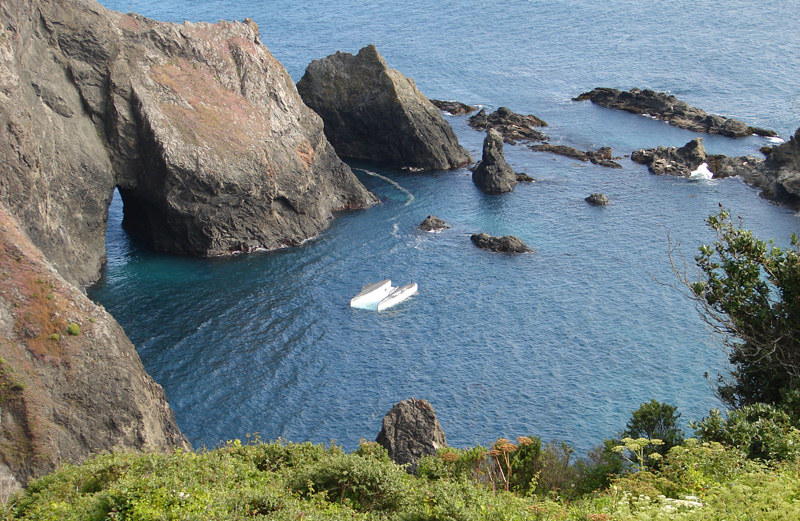 When longtime 'Lectronic Latitude devotee Greg Yarman read about the offshore evacuation of Catalyst Wednesday — a 32-ft cat that flipped while en route from Crescent City to Alameda — he felt certain that the overturned boat would wash up somewhere along the rugged North Coast where he lives.
Sure enough, it drifted into a tiny "doghole" adjacent to Saddle Point, near the town of Albion, where it "refused to wash ashore," according to Yarman. He knows that the area of the cove where Catalyst currently hovers is 28 feet deep, so he assumes that the boat's broken mast is holding her in place, serendipitously preventing her from breaking up on the rocky shore.
Both we and Yarman unsuccessfully attempted to contact owner Kristy Lugert yesterday to give her the good news — Yarman says both hulls appear to be unholed and in excellent shape. But we've learned since that Lugert was informed of the location by the Coast Guard yesterday. Apparently someone else in the area saw the boat and called 911, assuming that the capsize had just occurred. That call launched the Coasties into action again temporarily, until they realized it was the same, unmanned vessel. (The Coast Guard's mandate is to save lives, not property.)
We understand that Lugert is a substantially experienced sailor and instructor, so hopefully she's checked the weather forecast — that's the bad news. A new weather system is due to arrive Saturday morning and, according to Yarman, "it will come from the direction of the opening of that lovely cove."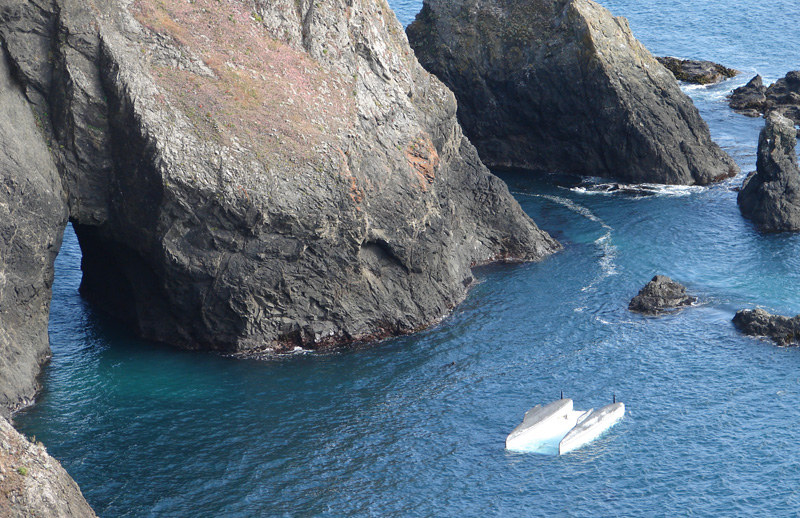 As we write this, Yarman and his neighbors are standing by, ready to help with the tricky salvage operation. (He can be contacted here.) We certainly hope the mission can be accomplished within this short weather window, so this story will have a happy ending.
For all you catamaran afficionados out there, we're curious if anyone can I.D. this 32-ft boat's maker by her underbody: She has short fixed keels, no daggerboards and spade rudders. Email us if you know.
Receive emails when 'Lectronic Latitude is updated.
SUBSCRIBE