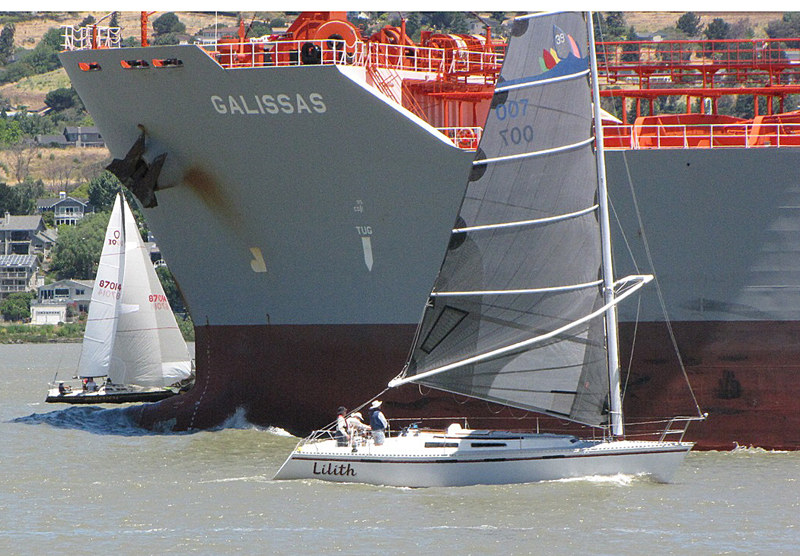 Halfway through the 67.5-mile race, while folded over the lower lifeline of my ride for Saturday's Delta Ditch Run, I thought, "Yucca has to be crushing everyone right now." That recollection should give you a clue about the 20th edition of this, errrr . . . "downwind" classic hosted by Stockton Sailing Club and Richmond YC. With a northerly breeze direction and pressure that ranged from 8 to 25 knots, a double-head rig would have been more useful than spinnakers most of the time. While we couldn't see Hank Easom's 8 Meter, we figured the conditions which kept everyone in headsails all the way through San Pablo Bay and at many points beyond, were working out perfectly for the venerable woodie. And the overall win prediction wasn't a hard one to make, given that Easom probably spends as much, if not more, time on the water as anyone and has won what we're guessing is just about everything at this point in his life. It turned out that Yucca did in fact take the overall monohull title for the race, finishing the nominally-67.5-mile race in 8h, 34m, 34s and correcting out more than 11 minutes ahead of David Holscher's Cal 40 Henry Hannah.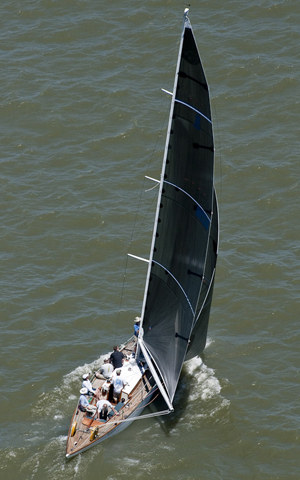 Among the multihulls, Olympic medalists Pease and Jay Glaser's F-18 Breakfast at Bill's took the honors in their eight-boat division while also taking the overall multihull honors on the strength of an elpased time of only 6h, 3m, 5s — second fastest only to Richard Matthews' ProSail 40 Tuki, which finished in 5h, 13m, 28s. Richard Paul's Meritt 22 NS Irrational Behavior won the cruising division. Although today's 'Lectronic Latitude got a little full, thanks to reader submissions we have so many photos that we've decided to do a feature on the race in the July issue of Latitude 38, which comes out on the first of the month. You'll have to wait for the bash-by-bash and blow-by-blow until then, If you have a good story or great photo from the race, send it here!
We'd like to make three clarifications on last Wednesday's 'Lectronic item on Proflgiate clearing into San Diego.
First, Doña de Mallorca is not really a "hard ass" captain. She told us herself.
Second, Profligate made it from La Paz to San Diego in 4.75 days, not 5.75 days. Speed, of course, is largely a function of boat length, and Profligate is 63 feet. So compared to typical cruising boats, it's like cheating.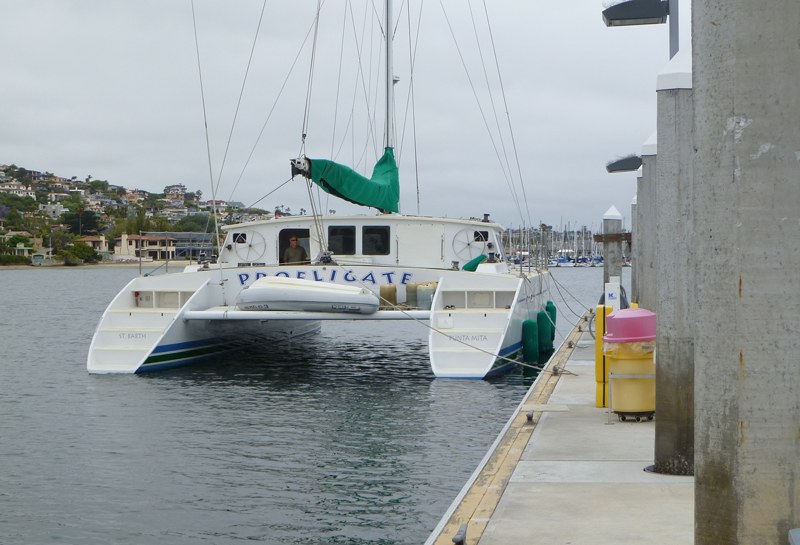 Third, and most importantly, we weren't as clear as we could have been with regard to garbage when clearing into San Diego. As part of their "outreach," the very pleasant and professional folks from Customs told Doña de Mallorca that, 1) Anything "that is of plant or animal origin, including food scraps, packaging materials, and any items that may have come into contact with these materials," needs to be kept in bags separate from all other garbage. That's because the former must be incinerated or sterilized, which costs taxpayers a lot of money. After being inspected, normal garbage can be thrown into regular garbage bins. What drives Customs nuts are big yachts that show up in San Diego with 40 bags of unseparated garbage. They are thinking about instituting a fee. 2) It's recommended that certain foods, including apples, raw chicken, raw beef, and avocados, to name just few, be thrown into the sea where it is legal to do so under MARPOL rules, instead of bringing them into San Diego where they have to be confiscated. However, other fresh foods — such as limes, garlic, chilies, packaged deli meats and other stuff — don't have to be thrown into the sea.
Unfortunately, there was no list on the USDA pamphlet of which foods had to be thrown away and which could be kept. And if you call the California number for the Department of Agriculture's Animal and Plant Health Inspection Service at (310) 725-1949, as we dutifully did at 3:18 p.m. on a Thursday afternoon, you're likely to get a message, as we did, that tells you, sorry, nobody is there to help you at that time, but if you'll leave a number after the beep, they'll surely get back to you sooner or later. Unfortunately, immediately after the beep there was another message that said they couldn't take messages. Way to go, USDA Animal and Plant Health Inspection Service!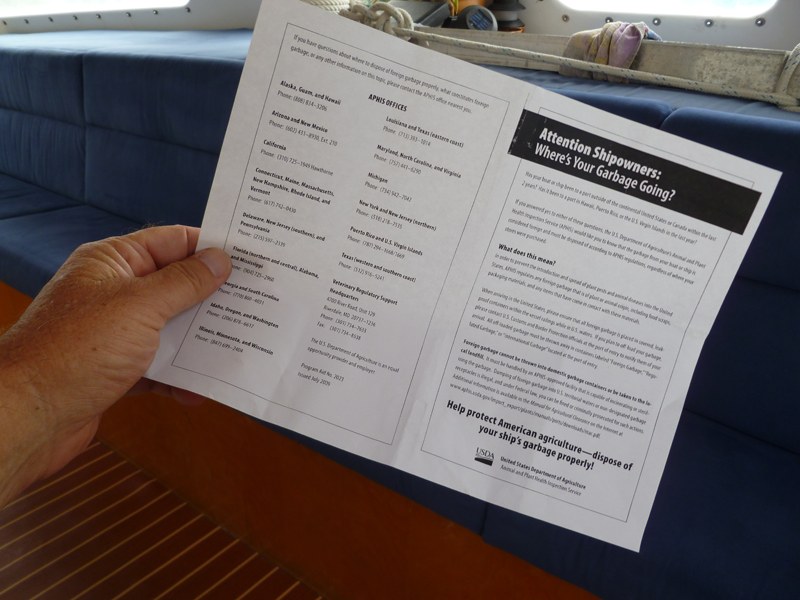 For the record, these are the rules under the MARPOL Treaty: If you're 25 miles offshore, the only thing you can't throw in the ocean is plastic. If you're 18 to 25 miles offshore, it's also illegal to dump dunnage and lining materials that float. If you're 3 to 12 miles offshore, you also can't dump paper, rags, glass, crockery, metal, food and plastic — unless it's been ground up to pieces smaller than one square inch. If you're less than three miles from shore, you can't throw any of the stuff overboard. And don't forget the discharging of oil anywhere at sea is illegal.
The Profligate Treaty states that you shouldn't throw anything overboard but food, and that only in accordance with MARPOL, which means 3 to 12 miles for stuff under one square inch, and 12 to 25 miles for larger pieces.
PHOTO
Having resided in the confines of a sheltered world, we're not sure if Abby Sunderland yet understands that when she returns to the States, she's likely to face a bigger storm than any she saw in the Southern Ocean.
It's true that much of the general public — knowing as much about sailing in the Southern Ocean as they do about the relationship between credit default swaps and the oil contango — have gone absolutely ga-ga over the perceived exploits of the rescued 16-year-old from Thousand Oaks. But based on a rough survey of Latitude readers — and even the comments of celebrity sailors such as Geraldo Riviera and Dr. Laura — the overwhelming majority of sailors, who Abby might assume to be her natural constituency, are giving her adventure a moderate to vehement thumbs down. If Abby is to take any shelter from this storm, it will have to be in the fact that her parents are the objects of even greater scorn.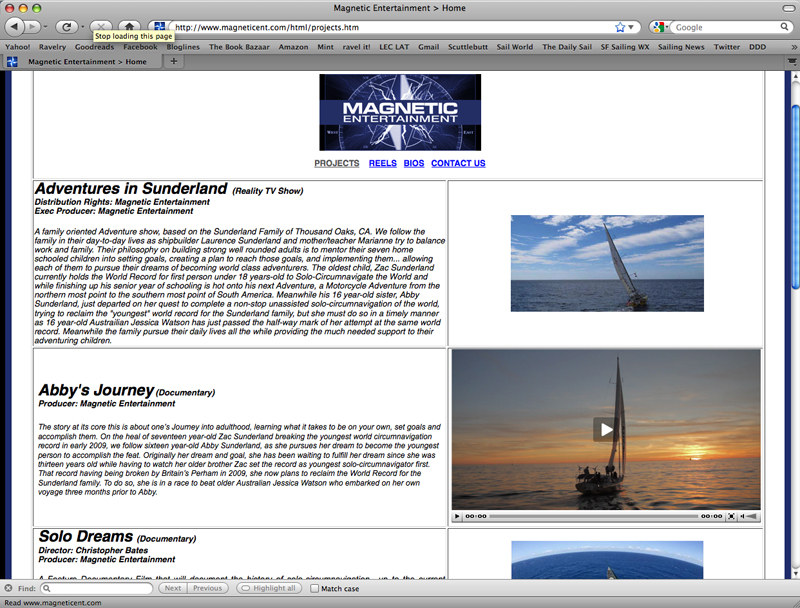 And mind you, this was before anyone learned about the role big bucks and fame seem to have played in the proposed circumnavigation. How many of you knew that, before Abby took off from Marina del Rey, an outfit called Magnetic Entertainment of Santa Monica was developing a reality television series called, and we're not making this up, Adventures in Sunderland. It's described as "A family-oriented adventure show, based on the Sunderland Family of Thousand Oaks, CA. We follow the family in their day-to-day lives as shipbuilder Laurence Sunderland and mother/teacher Marianne try to balance work and family. Their philosophy on building strong well-rounded adults is to mentor their seven home-schooled children into setting goals, creating a plan to reach those goals, and implementing them . . . allowing each of them to pursue their dreams of becoming world class adventurers." This will feature Zac, who has apparently moved on to riding a motorcycle from the northern most point of North America to the southern most point of South America. Then there's the Abby's Journey documentary, describing her now-failed attempt to sail solo around the world.
All along the Sunderland team had been promoting Abby's circumnavigation as soulful. Now there are indications that it was about as soulful from the get-go as Wall Street monetizing subprime mortgages.
And here's a little background you might find interesting. After hearing about Abby's proposed circumnavigation last year, Latitude wrote on August 28 that the whole Sunderland clan should drive to San Diego to discuss the trip with Stephen Mann of the San Diego-based Wylie 39 Tawodi. That's because Mann and Kathleen Torres, also of San Diego, had just completed sailing the same course that Abby was planning to sail. The only difference is that they did the Southern Ocean in the summer while, because of various delays, Sunderland ended up having to try it at the start of treacherous winter.
We bumped into Mann last Friday at the docks of Driscoll's Boatyard in San Diego, where he told us that the Sunderlands did indeed drive down to San Diego to discuss Abby's proposed trip with him. Laurence Sunderland told Mann that it wasn't like they would be going out of their way, because they had to drive to San Diego anyway in order to pick up another $200,000 sponsorship check.
Say what?!
Mann laughed when we expressed shock that there seemed to be a lot of money involved, saying Abby's proposed trip had brought in millions in sponsorship. Skeptical, we demanded to know how he knew this.
"Laurence Sunderland told me." Mann responded. "He also told me that even after buying Wild Eyes, they poured another $400,000 into the boat."
No wonder money never seemed to be a problem for the Sunderland children's circumnavigations. Indeed, it reminded us of the time we wrote about Zac Sunderland's proposed circumnavigation on the Islander 36 Intrepid. When we quoted Marianne Sunderland, Zac's mother, that the budget was going to be an astonishing — at least to us — $275,000, she all but begged that it be left out of the article.
Mann further told us that even before Abby started her trip, a cartoon character of her had been developed for a children's television show. What's even more amazing is he said that a Southern California newspaper had proclaimed Abby 'Sportswoman of the Year' before she'd even cast off. Say what you will, we think the Sunderland clan's greatest achievement to date has been their genius in marketing.
As for Abby, Mann says, "She won my heart immediately. When she stepped aboard my boat, she said, "I wish I was going on this one." He also described her as "level headed — although I had to bite my tongue to keep from laughing when the 16-year-old said it had been her lifelong dream — since age 13 — to sail around the world alone."
In Abby's defense, Mann did say that she seemed to have all the right answers when asked what she would do in certain sailing situations.
Based on his Southern Ocean experience, Mann tried to impress three things on Abby: 1) Do not underestimate the Southern Ocean part of the Indian Ocean — which is where Sunderland's Wild Eyes wound up being dismasted. This was the same advice given to Mann by French sailing legend Isabelle Autissier. 2) Don't leave on a Friday. Which Mann and Torres did, and which Sunderland also did — all to their regret. (At some other time we'll go into this never-leave-on-Friday business, which seems to have more legs than your run-of-the-mill superstition, but with some good reason.) 3) When Abby got in heavy weather, meaning winds over 40 knots, Mann advised her to drag a drogue to prevent the stern from being spun around by waves, something that might cause the main to gybe. This was particularly critical on Abby's Open 40, because in order to carry a huge main, the boat only has running backstays. Based on what happened, Mann speculates that Abby might not have dragged a drogue, the boat might have jibed, which would cause the unsupported mast to collapse. But as he says, that's just speculation.
A boat without a fixed backstay in the Southern Ocean during the winter? Wow, that's more faith than we've ever had in anything!
Apparently, the entire Sunderland clan has a lot of faith, because Mann — without being judgmental about it in any way — described them as "religious fundamentalists." All seven children — there is another due within just weeks — have been home-schooled. Mann said he could tell, although not necessarily in a negative way. "For example, when the term 'pi' came into the conversation, the kids all gave me these blank looks. I said, 'You know, 3.14.' Lawrence tried to correct me by saying it was 3.189 or something, but he was wrong."
(In all fairness, probably 90% of 16-year-olds in urban public schools think 'pi' is a diet version of a food item consisting of fruit buried under a crust and baked in an oven.)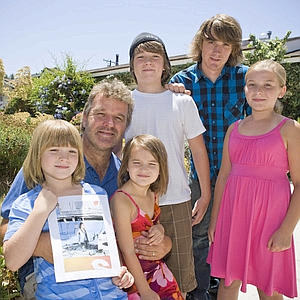 The fundamentalist view of existence might explain a lot of things. Such as faith overcoming reason when it came to deciding whether or not to undertake such a risky voyage. Such as faith making Abby an agent of god rather than just a mere sailor. Such as faith meaning you don't have to worry because you're always in god's hands. And, in the case of Abby's parents, faith that if their daughter was killed, they would at least be reunited with her for eternity in heaven.
So yes, it's going to be very interesting when Abby returns to the States. On the one hand, she can expect a royal welcome from most of the the mainstream media, the MTV crowd, the talk-show circuit, the women's magazines, and, of course, the cult-like followers on her heavily censored 'no-negative-or-questioning-comments-allowed' website. There will even be mashers. On Saturday morning we read the following post on the commentary site of the once-venerable Los Angeles Times: "Abby is hot! I want her!"
Down on the docks and in experienced sailing circles, however, Abby needs to brace herself for a very different reaction. And she's certainly not going to want to read what Latitude readers have to say, as reaction has been running 20 to 1 against her attempted circumnavigation. While no sailor can truthfully doubt Sunderland's cojones, many sailors continue to question whether Abby really has much in the way of sailing skills — even after sailing as far as she has. Given that the Sunderland machine has put out only the most vague and incomplete details of a supposed "lifetime of sailing," more than a few sailors are beginning to suspect that Abby has more or less been an automaton in an unsinkable boat following orders radioed to her by her handlers. Until Abby sails in a more transparent format — a Singlehanded TransPac, for instance — those suspicions are unlikely to be quieted soon.
But the perceived sin most sailors are likely to find most difficult to forgive is that Abby, either by intent or ignorance, put her life at risk, which meant others would likely have to put their lives at risk, all to satisfy what's beginning to look more and more like a lust for fame and money. Starting the circumnavigation was bad enough. Restarting it in Cape Town, which put her in the Southern Ocean in winter, was more than many sailors can bear.
Interestingly enough, in the July issue of Latitude, you'll read about a woman who was attempting to do the same circumnavigation as Abby — but on her own dime and without any publicity. She was also forced to stop in Cape Town because of boat problems. Seeing as winter was fast approaching in the Southern Ocean, this woman, who had already completed a normal solo circumnavigation, decided it was too unsafe and unfair to those who might have to rescue her if she restarted. She'll try again during the next Southern Ocean summer.
It also hasn't helped Abby's standing with sailors that her first communication after being rescued came across as somewhat whiny and self-absorbed, to a large extent because she inexplicably neglected to thank those who had risked their lives — including a captain who had fallen overboard — to save her life. Or recognize the governments and other agencies that have spent hundreds of thousands — if not millions — saving her life. Many sailors also think it's been premature for Abby's team to be thinking about raising money to try to save Wild Eyes — a drive is currently underway via Pay Pal — or think about making another attempt at a circumnavigation, until those who helped save her life are reasonably compensated. Others think that, having been rescued once, she should have to post a rescue bond prior to attempting it again.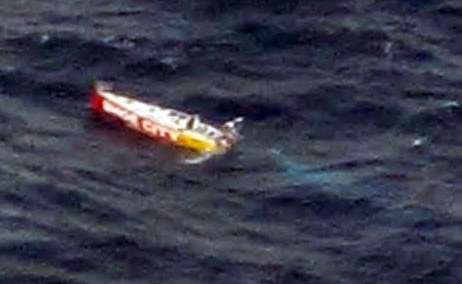 As for Abby's parents, Laurence and Marianne, more people, both sailors and non-sailors, have expressed the belief that they should be forced to spend a month in the Southern Ocean before allowing their daughter to do it again. And that a particularly hot place in hell is being reserved for people like them, who seem to have pimped their children.
We're personally delighted that Abby will be coming home safe. As we wrote in the last issue of Latitude, that's all we wanted to happen. While we've never been a big fan of Abby's or what we believe were her misguided aspirations, we feel she's too young to be held responsible for the fiasco. In our view, parents Laurence and Marianne are the ones who deserve contempt, if not jail time. But if Abby decides to join Zac on some motorcycle trip to fame and fortune, and abandons all future sailing plans, nothing could make us happier. The next time we have to write about Sunderlands and sailing in the same sentence, it will be far too soon for our taste.

Receive emails when 'Lectronic Latitude is updated.
SUBSCRIBE