"I took this cute photo of friends Mike and Sue Proudfoot just after giving them the April and May editions of Latitude 38," writes Jay Gardner of the Bay charter boat Adventure Cat. "Mike and Sue have sailed their 38-ft wooden Ingrid ketch, Farida, from San Francisco through the Canal, up the eastern seaboard and across the Atlantic to Ireland, Scotland, Norway, Sweden and England. Right now they're on their way to the Med. We met up last week at a 900-year-old pub — Pandora Inn — near Falmouth, England."
Gardner went on to explain that the HMS Pandora was the 114-ft three-masted square-rigger that sailed from Portsmouth in 1790 in search of the HMS Bounty and her mutinous crew. Though Fletcher Christian and his followers had already taken refuge on the then-uncharted Pitcairn Island, Captain Edward Edwards managed to capture 14 mutineers happily living and procreating on Tahiti. On August 21, 1791, Pandora was on her way home when she foundered on the Great Barrier Reef. All told, only 78 of the 134 men who'd been aboard at the start of the journey survived. Captain Edwards was exonerated for the loss after a court martial, but his reputation was damaged by his prisoners' claims of cruel treatment and he never received another sea-going command. At some point during his shore-based life, Edwards apparently purchased the pub Gardener and the Proudfoot's visited.
"After surviving two tsunamis, three cyclones, pneumonia, dengue fever, ear infections, a dog bite, a frustrating government job, altercations with a loser neighbor, and nearly constant noise and foul aromas from a nearby tuna cannery over the past eight months, we are ready for a new neighborhood." So wrote cruiser Kirk McGeorge of the St. Thomas, USVI-based Hylas 47 Gallivanter.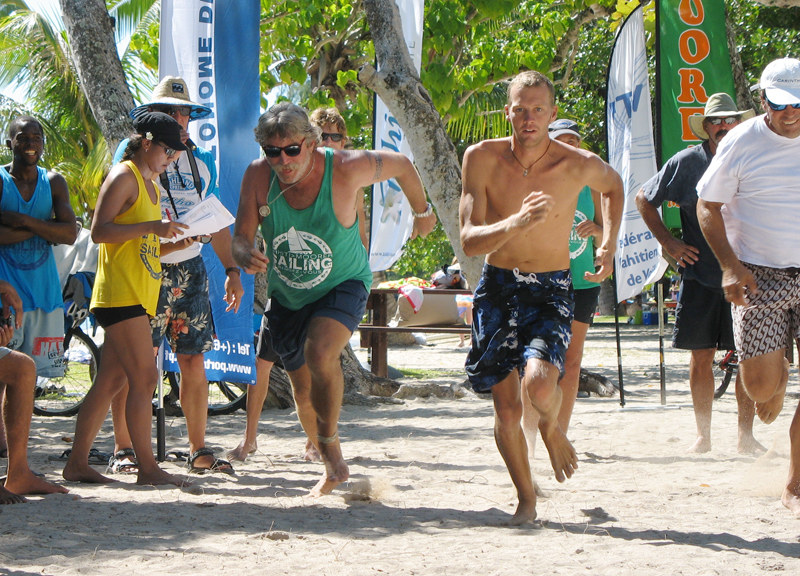 As reported earlier, McGeorge, his wife Cath, and young son Stuart decided last fall to make an unplanned layover in American Samoa in order to fatten up their cruising kitty. When Kirk told us how easy it was to find work in that American territory, it inspired us to solicit info from readers on working in other locations while cruising. We got some very interesting responses, but we'd love to have more. So if you've found work while cruising in foreign waters we'd love to hear from you so we can share your experiences with our readers (anonymously, if you wish) in an upcoming feature article. We're interested in knowing where you found work, doing what, and for approximately what wages. Plus any additional tips you'd like to share on the best and worst places to work, and the most marketable professions or skill sets.
By the way, although the Gallivanter crew definitely endured some challenges during their stay in American Samoa, they also left with some fond memories. As Kirk puts it, "On the bright side, we've enjoyed the generous hospitality of some of the friendliest 'savages' we've ever shared a tropical island with. Cath firmly re-established her star status (as an on-air personality) with global FM radio, Stuart became a television star in his own right, Gallivanter is in better shape than ever, we made some great new friends, made a bit of dough, and learned how best to surf a 31-ft tsunami with a 20-ton yacht! God willing, we'll return here some day."
Receive emails when 'Lectronic Latitude is updated.
SUBSCRIBE