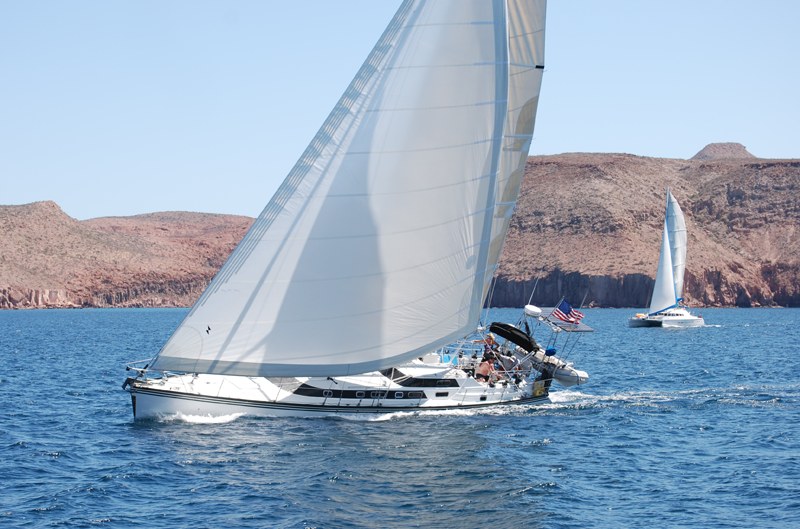 We've got no problem with 'cruisers' who 'sail' to La Paz and then become 'port potatoes.' After all, La Paz is a great town, and living on the hook or in the marina can be very enjoyable. And we've got no problem with sailors who spend most of their time motoring rather than sailing in the Sea. If that's what they like to do, God bless 'em.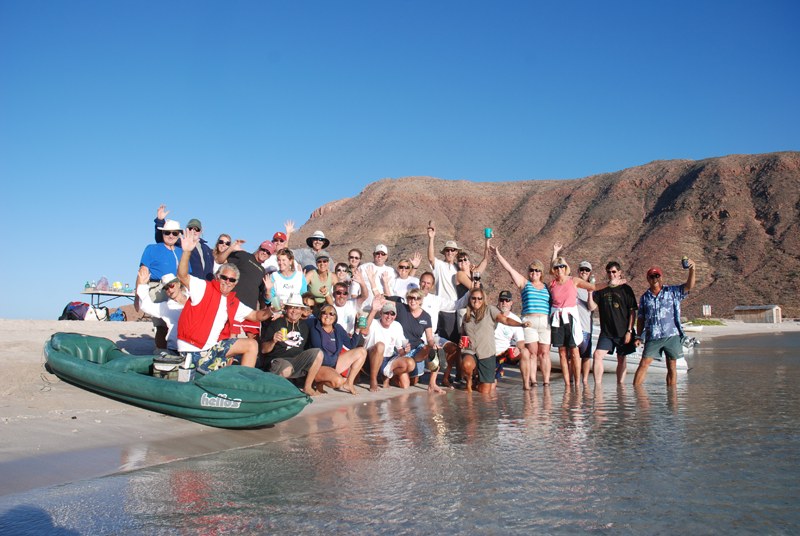 But what does make us grouchy is when people say the Sea of Cortez is a lousy place to sail. We make our objection based on having just completed the third week-long edition of the revived Sea of Cortez Sailing Week, which featured sailing legs from La Paz to Caleta Partida, Caleta Partida to Isla San Francisco, Isla San Francisco back to Caleta Partida, and Caleta Partida back to La Paz. While the two legs between Caleta Partida and Isla San Francisco had to be truncated, the fleet still got in a total of about 65 miles of lovely sailing. We're talking about winds between 8 and 18 knots, flat water, 85° temperatures, and the water and sky as blue as blue can be. The Sea may not have the consistent winds of the Caribbean or Banderas Bay, but if you use your head and know how to sail your boat well, it can be glorious.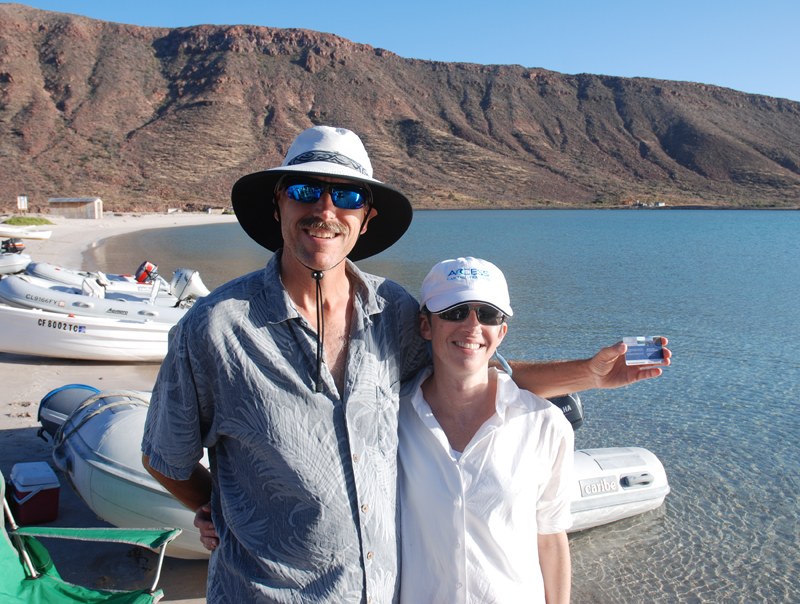 This year's fleet featured about 40 hard core sailors on 23 boats, with other boats and sailors making guest appearances along the way. In addition to all the sailing, there was a potluck on the beach, potluck and sunset cruises on Profligate, hiking around Isla San Francisco, swimming, and 'First in Class' trophies for all participants. Oh yeah, we almost forgot, internet addicts made forays just outside the islands in a desperate search for high-speed internet connections via their Telcel modems. This free Latitude 38-sponsored event, produced by Patsy Verhoeven of the La Paz-based Gulfstar 50 Talion, wasn't the most successful fundraiser in the world, but $500 was donated in the name of last year's Ha-Ha fleet to help poor La Paz kids get an education, and we're hoping to raise another $500. But we'll try to do better next year.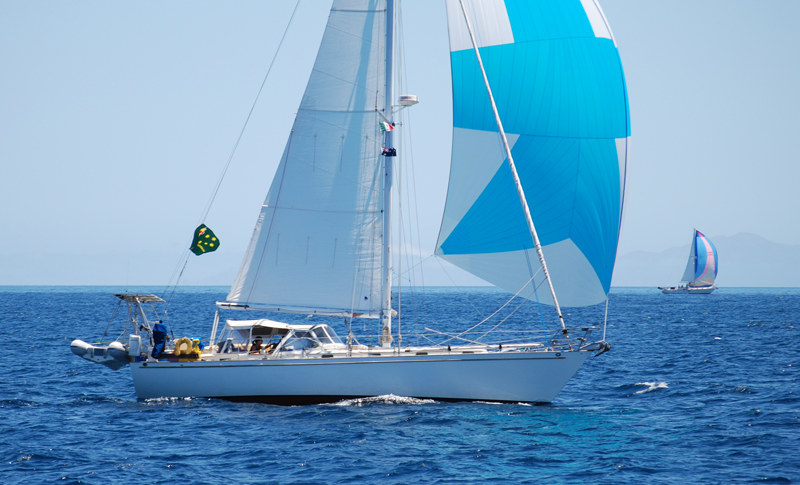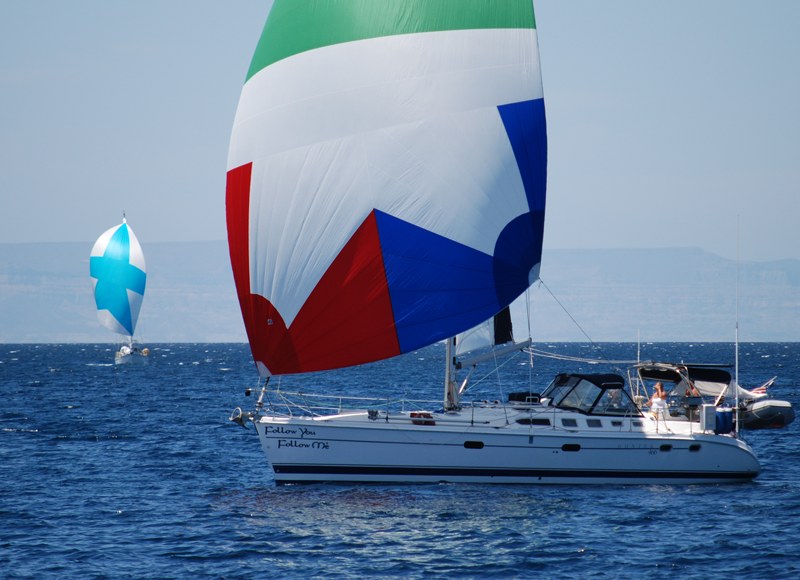 In just over a week, the only all-sail boat show on the West Coast — Strictly Sail Pacific — will open its gates to sailing enthusiasts, and for the first time ever, will feature quality used boats in addition to new. Historically, Strictly Sail has been new-boat nirvana — sailors could crawl all over the newest of the new, and daydream about giving up the rat race and sailing over the horizon. The hostile economy seems to have had other ideas, though, so to keep the dream alive for those on tighter budgets, 'brokerage boats' will also be on display. So after leaving your DNA all over the new Jeanneau 57 — making its debut at the show — head over the Affordability Pavilion for some great deals on 'pre-owned' beauties.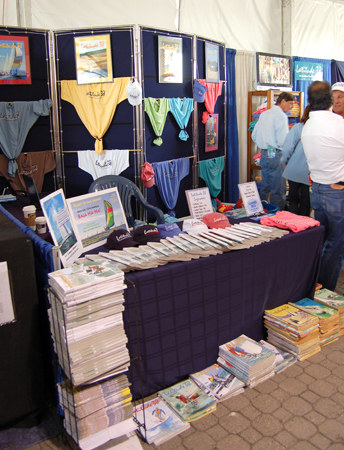 There is, in fact, so much going on at Strictly Sail Pacific — running April 15-18 — that we can't possibly list it all, so do yourself a favor and check out their site, then start planning your assault today. Just don't forget to include the following Latitude 38 events to your itinerary:
The Poobah's Baja Ha-Ha seminar at 3 p.m. on April 16 (repeats on April 17 at 3:30 p.m.)
Assistant Poobah 'Banjo' Andy Turpin's talk on the Pacific Puddle Jump and cruising in Tahiti at 4:45 p.m. on April 17
And, of course, the Baja Ha-Ha, Pacific Puddle Jump and Delta Doo Dah Reunion Party at the Latitude booth on Friday, April 16 at 6 p.m. Free beer and munchies, and lots of stories!
There's a reason this show attracts sailors from all over the country — it really is the place to go to discover the latest gear and get the best deals.
Receive emails when 'Lectronic Latitude is updated.
SUBSCRIBE