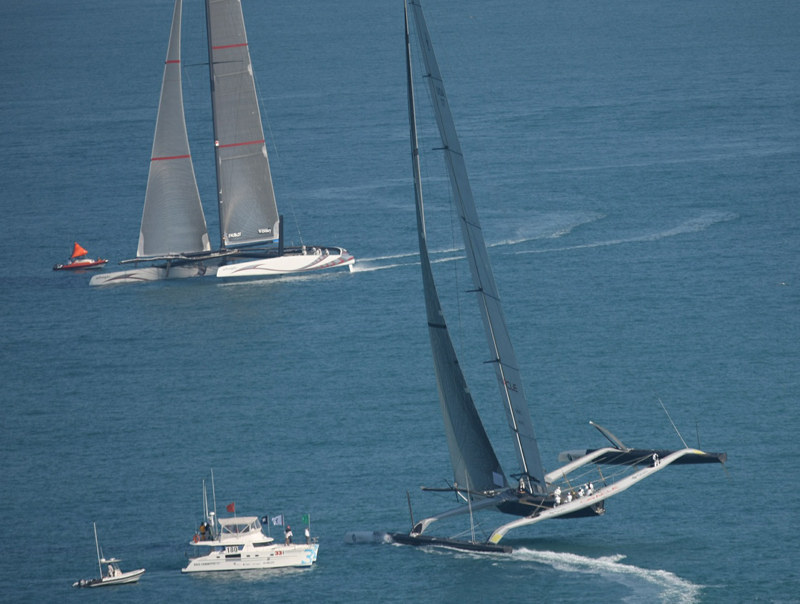 It didn't start until 2:30 p.m. local time, but the first race of the 33rd America's Cup finally got underway today in Valencia. BMW Oracle Racing's USA exposed the reason for the Swiss team's dithering by hammering Alinghi 5 by a 15.5-minute margin in race one — the third largest margin in an America's Cup race. Having won the starboard advantage in a coin toss, USA's skipper James Spithill put to rest the much-asserted notion that there wouldn't be a bare-knuckles pre-start between the two multihulls. I mean come on, did anyone really think they'd be sitting there at the start, waving at each other across, saying, "you first," "no, you go ahead," "no, please, after you?"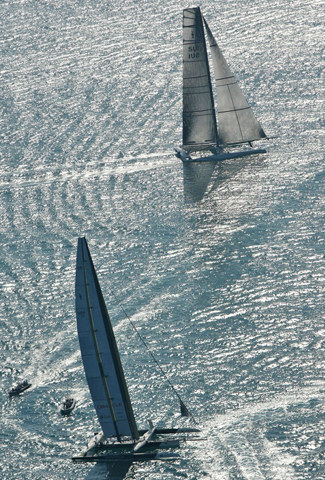 Spithill quickly drew Alinghi 5 and skipper Loïck Peyron into a penalty when the latter couldn't cross the big trimaran while getting into the box in the 6- to 7-knot southerly. Things went pear-shaped for USA after that though, when they got stuck in irons on the starting line and spotted Alinghi a 1.5-minute lead at the beginning of the beat on the 40-mile windward/leeward course.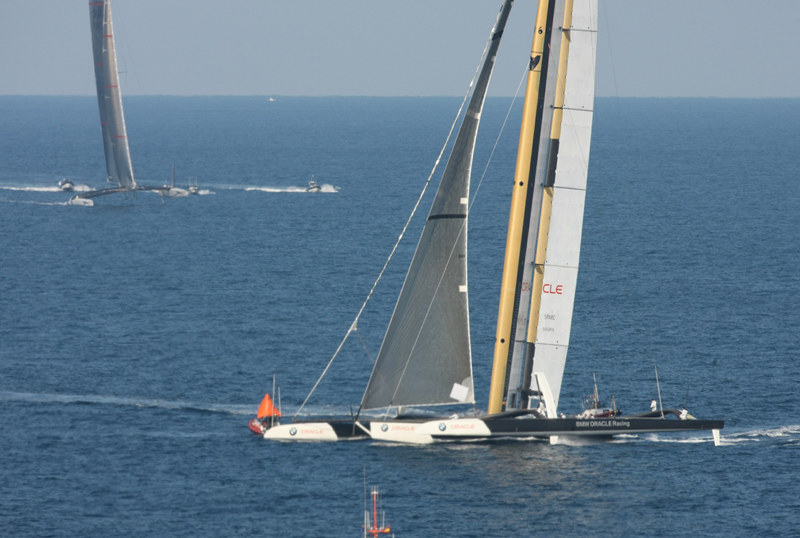 "We did a pretty nice job," Spithill said. "We were able to get the penalty and really had them on the ropes. But we got locked in to windward and tried to tack out but had a bit of a fumble and got stuck in the breeze. It didn't turn out the way I wanted it to! But leading up to that, the guys did a great job of putting us in a very powerful position."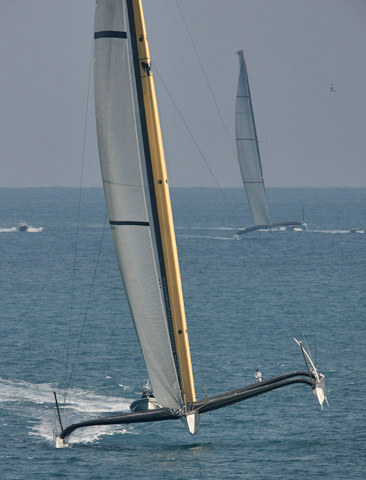 Just 15 minutes into the first beat, USA had passed Alinghi 5, sailing higher and faster — as expected — to amass about a 3.5-minute lead at the weather mark. Downwind, Spithill and company, including tactician and Bay Area-product John Kostecki extended their lead, much to everyone's surprise, including the skipper. "I always thought if we were able to fly a-hull we'd be faster upwind, but I was genuinely surprised downwind," Spithill said.
Flying a Code 0 from its massive wing, USA added some seven minutes to their lead on the run to the finish, with Spithill crediting Kostecki and navigator Matteo Plazzi with calling a great angle to the finish. From there, things got even worse for the Swiss team, as they botched their first attempt at their penalty turn, lengthening what would have been a 10-minute delta, to a 15-minute one.
We're curious what you think of America's Cup 33; is it better or worse than a more traditional cup? Tell us how you feel in one line only.
Receive emails when 'Lectronic Latitude is updated.
SUBSCRIBE