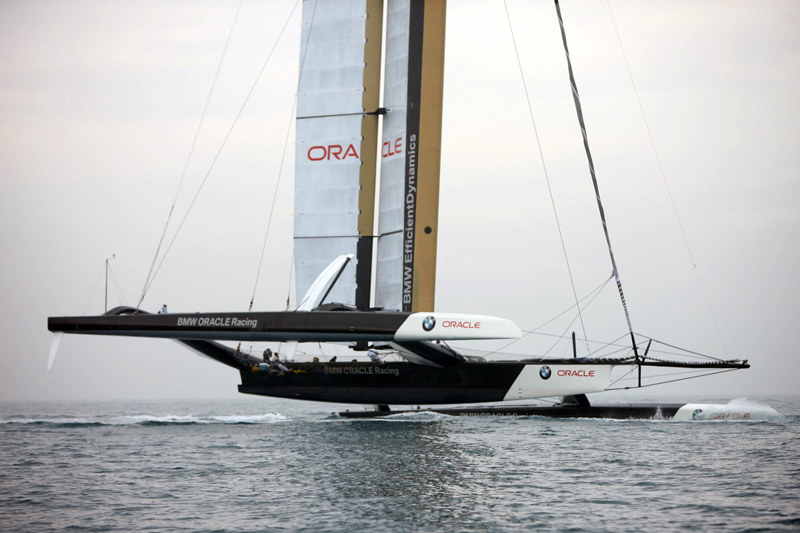 The Société Nautique de Genève released a revised Notice of Race for AC 33 yesterday, with some changes that have rankled BMW Oracle Racing. While Alinghi ruffling BMW Oracle Racing's feathers is nothing new, in the context of the last week, this latest development doesn't bode well for a February 8 match date. Last Wednesday, BMW Oracle Racing filed suit in the New York Supreme Court to establish whether Alinghi's 3DL North Sails — manufactured at the 3DL plant in Minden, Nevada, meet the Deed of Gift's requirement that a yacht be constructed in the country from which she is challenging. That challenge came after talks between the two teams were halted when Alinghi negotiatiors Brad Butterworth and Hamish Ross were not given permission to sign an agreement regarding the conditions and rules for the Cup match.

"This is very disappointing and frustrating," commented Russell Coutts, CEO
of BMW Oracle Racing last week. "On three separate occasions during the two days of talks there was a final draft of an agreement. Golden Gate YC was ready to sign. Société Nautique de Genève's negotiators were prepared to sign, but it seems they were not given permission."
The most recent contretemps has to do with those issues, and while Alinghi ultimately holds the ball at this point, it looks like Golden Gate YC is leveraging Alinghi's non-deed-compliant sails against a fairer match protocol. This was the statement from BMW Oracle Racing's Tom Ehman today regarding the proposed NOR:
"Both documents are riddled with errors, and continue Société Nautique de Genève's practice of interpreting rules — or creating new ones — solely to favor Alinghi and harm the chances of the Challenger. The Notice of Race and Sailing Instructions are heavily biased in favor of the Defender and its yacht despite input from Golden Gate YC and ISAF, the sport's world governing body, during last week's meeting in Singapore and a meeting in late December in Sydney. Therefore, today GGYC has made an application for redress to the International Jury, asking that the Jury be convened as soon as possible to negate or revise the biased provisions before the Match.
"Specifically, Société Nautique de Genève has:
Effectively re-inserted Racing Rule 53 ('Skin Friction') after obtaining a New York Supreme Court ruling to delete it.
Set the starting time for the races despite the Deed of Gift's requirement that this be agreed by mutual consent.
Set wind and wave limits to favor its own yacht.
Changed the latest draft of the Notice of Race to ban certain wind detection equipment now being used by BOR that, previously, was permitted under all earlier drafts of the NOR.
Re-arranged the hierarchy of the applicable rules so that SNG's Notice of Race and Sailing Instructions would, in the case of conflict, overrule the Racing Rules; this is highly irregular and contrary to normal practice in yacht racing."
How this all will pan out remains to be seen, but we'd be surprised if it happens before February 8. In the meantime, BMW Oracle racing is already ripping up the racetrack off Valencia bearing the name USA and Larry Ellison's vanity sail number 17.
Receive emails when 'Lectronic Latitude is updated.
SUBSCRIBE