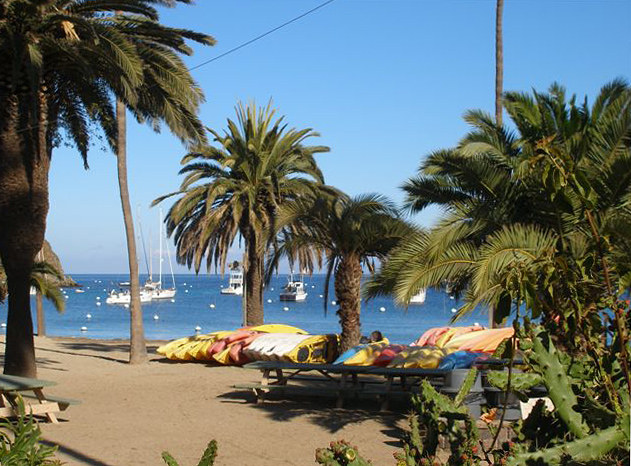 Wayne and Elly Smith stopped in the Bay for a few months this fall on their way south from British Columbia aboard their custom Stan Huntingford 47 Zeppelin. They left a couple days after Thanksgiving and sent in this report on ringing in the New Year by exploring Catalina. "We are enjoying the wilder side — compared to Avalon Harbor — of the island. We took a ride up to the Airport in the Sky as we wanted to see the inland areas and bison. The bison were brought here for a movie and then left and multiplied like rabbits. The herd was over 500 strong so they began a program shipping them out occasionally back to the plains, and today keep the herd on the island to around 150. There is a local bison named Wilson who comes down from the hills to graze. One afternoon after a rain, we were walking back to the boat and there he was, 100 feet away munching on his greens.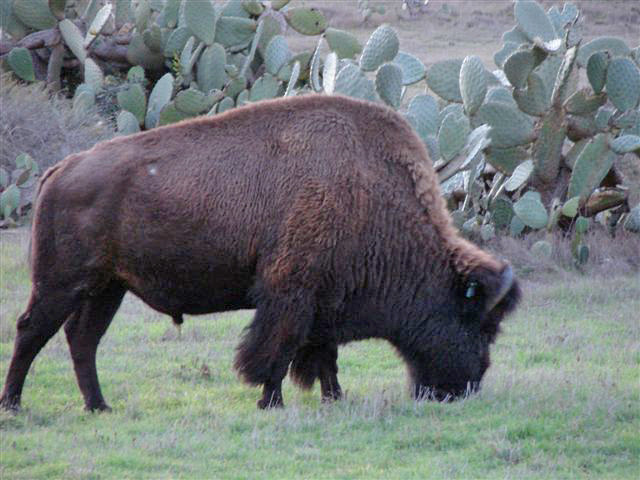 "We unloaded our bikes one day and went for an incredible 12-mile cycle along the cliffs of the island overlooking the various coves and turquoise and emerald green waters. It is so clean and clear you can see the fish and sandy bottoms. Cycling is huge here and, because the Catalina Island Conservancy owns the land, we had to purchase permits for riding. They also require riders to stay on the main roads, none of which are paved. The ride back was exhilarating, soaring down the side of the mountain roads, then peddling like crazy going back up, dodging the odd pot hole which still had a bit of water from the one day of rain, splatters all over me. What a blast!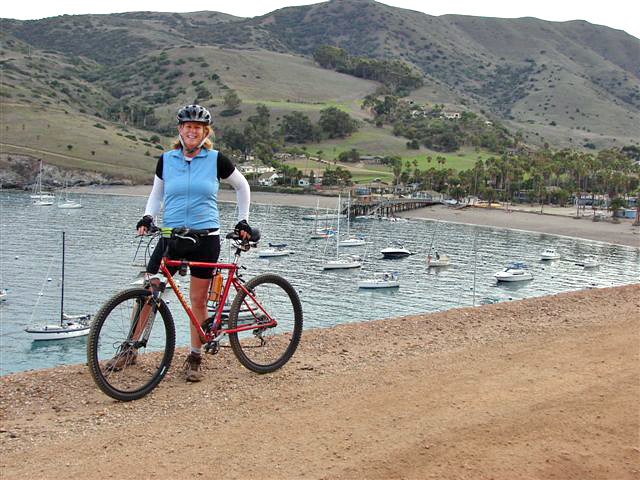 "The next day we brought Zeppelin around the top of the island and partway down the other side to Emerald Cove to dive at Indian Rock. The ruggedness of the tip of the island was breathtaking — the rock formations would excite any geologist. As we cruised around the tip, the sea lions jumped around like at a marine park, birds were everywhere, and our pals the dolphin came over to swim with the boat. I was on deck taking photos when Wayne yelled at me: "Look, whales!" And there were the spouts of mist up into the air. Two grey whales. The majestic beauties were cruising around having breakfast.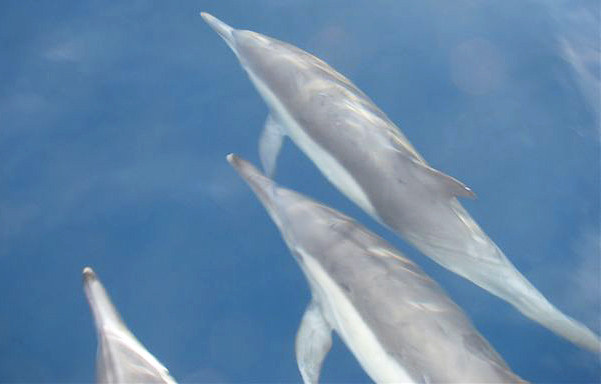 "We picked up a mooring at Indian Rock and went for a dive. Great sunny day, breezy, clear water — where are we? The BVIs? The Caribbean? The reef's vertical dimension is like that of a defective pyramid, dropping sporadically to a sandy bottom in about 80 feet. Our deepest depth was just under 60 feet. There are shelves, overhangs, tall kelp all around, and lots of fish. The bright orange Garibaldi fish swam with us as if they were our tour hosts.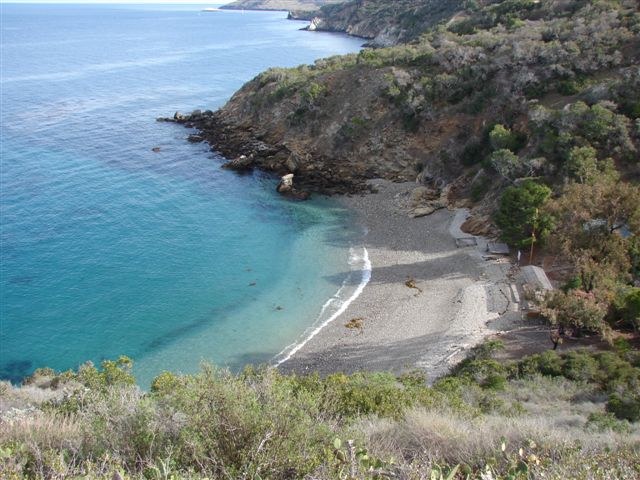 "We moved the boat to Cherry Cove a couple of days ago and have been enjoying this side of the island. From here we can see over to the mainland and at night the lights of L.A. We were able to swim from the boat over Lion's Head, which is also popular for snorkeling. Swimming through the maze of the kelp forests was cool, and once again we had our tour guides showing us the way. We hope to get in another dive and another cycle in before leaving this paradise."
In Friday's 'Lectronic, a reader asked if there was a magazine in Sydney similar to Latitude 38. Several people responded, suggesting some possibilities (and making us blush):
"The closest thing I know of to a 'Latitude 33 South' would be The Coastal Passage magazine. But it is no where near what Latitude 38 is. No, I'm not blowing smoke." —Tim Clausen
"The answer is no. The closest approach would be The Coastal Passage. There isn't even a sailing magazine in New Zealand, only general boating. The market isn't big enough to support one. The trend for those who need a sailing fix is towards the internet. For what it is worth Crew.org.nz is probably the biggest here." —David Howie, Crew.org.nz Publisher
"The Coastal Passage is focused on Queensland cruising. But there is a free, Sydney-focused magazine called Afloat which has some details about Australian waterways." —Geoff Dolphin
"There is a monthly electronic edition of Afloat, which tends to be 'latitude 33S-centric', but of broad interest — even the advertisements can be useful! Yachting Australia (a federation of Australian yacht clubs) also has a newsletter to members. But, in a boost to your ego, I don't think they match the sophistication of 'Lectronic Latitude — though of course they have a vastly smaller potential audience." —Max Nankervis
"There is probably no publication anywhere that is as poignant and to the moment as Latitude, however the closest equivalent e-mag that I read in Australia is Sail World-Powerboat World. It's particularly good for breaking news and keeping marine professionals like myself up to date on maritime developments around Australia. It's more aimed at industry and doesn't quite have that fresh human interest appeal that makes Latitude so attractive to me. I also have a bias being originally from Marin County, even though I have been in Australia for 32 years." —Paul Slivka
Thanks to all the folks who submitted info — and thanks for the kudos! We work hard to bring you the freshest and most interesting sailing content possible, but we couldn't do it without our vast network of contributors, advertisers and, of course, readers.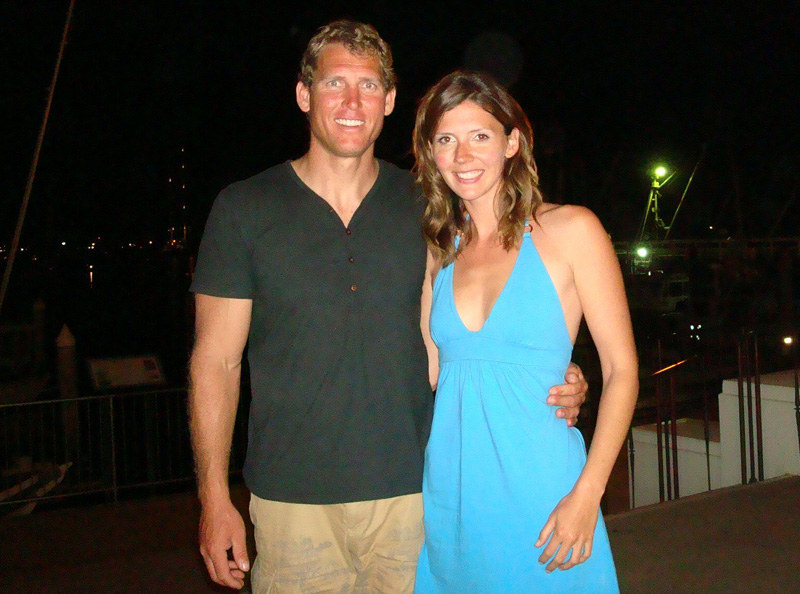 From year to year, the tides of economic recession and political instability rise and fall, but apparently the lure of the South Pacific remains constant. Here at Latitude 38's 'world headquarters' boats are registering daily with the annual Pacific Puddle Jump rally, during which they'll set sail from various points along the west coast of the Americas, all bound for the fabled South Pacific isles of French Polynesia.
In addition to West Coast-based Americans and Canadians, some members of this year's fleet hail from as far away as New England, Europe, South America, Australia and New Zealand. And a few crews — such as Tar Baby's — have a mix of nationalities. If we've got the story straight, Louie van Praag, 36, met his American wife Alicia, 27, a year ago while she was on a "working holiday" in Australia. She'd never been aboard a sailboat before Louie took her on a champagne sail in Sydney Harbor.
Today, however, she and Louis are about to cross 3,000 miles of open water from Mexico to the Marquesas, aboard their stout Westsail 32. While in California visiting Alicia's family, they literally bought the little sloop as an alternative to the high-priced air fares they faced to get them back to the Land of Oz. We're not sure their math would pass muster with a bean counter, but we certainly applaud their gusto in choosing a high-value way to travel.
At this writing, the van Praags and dozens of other crews are prepping their boats for the big crossing in anchorages all along the Mexican coast, as well as Panama, Ecuador and the Galapagos. More than 80 boats are currently registered.
We hope to meet many of these crews at our annual Pacific Puddle Jump Kickoff Party, Saturday, February 6 at the Vallarta YC (2-5 p.m.), located within Nuevo Vallarta's Paradise Village Resort. And we expect to hear crossing tales from at least 50 boats at the annual Tahiti-Moorea Sailing Rendezvous, June 18-20. (Hosted by Tahiti Tourism and several partners, including Latitude 38.)
Stay tuned for further PPJ updates, as the fleet swells to record capacity.
Receive emails when 'Lectronic Latitude is updated.
SUBSCRIBE