Ya gotta love the ingenuity of cruisers! Jim Casey tells of an unwelcome visitor aboard his Tahoe and P.V.-based Jeanneau 43DS Tomatillo and how he fixed the resulting damage:
"Sometimes you just have to make do if there's trouble in paradise. This is the wind instrument on Tomatillo. Apparently, a large bird sat on the masthead unit and 'lubricated' it, then broke the wind vane off completely. A little WD-40 followed by some dry lube freed up the frozen transducer, and a bit of Super Glue on my marina ID got us going in the right direction again."
We'd love to hear about your most 'creative' solution to a piece of broken gear (don't forget photos, if you have them).
Earlier in the year, we reported that Mirian Saez, Director of Operations at Treasure Island Development Authority, was working on a plan to require permits to anchor in Clipper Cove. According to Saez, the permits were not to inconvenience responsible boaters, but to clear out the derelicts that had littered the Cove in the years since the Navy pulled out. Throughout the months-long process, Saez asked for our and our readers' input on the plan, which she says weighed heavily in the creation of the new requirements.
Last week, Peter Summerville, Treasure Island Project Office Staff, let us know that the plan had been finalized and approved by City Supervisors, and signs had been installed with the Cove's new rules. Now that they are posted, anyone planning to spend more than 24 hours in Clipper Cove needs to be aware of the basics:
Boats spending one night (24 hours) in the Cove don't need to do a thing.
If you plan to spend more than one night but less than four — a long weekend, for example — you must contact TIDA by phone at (415) 274-0382 or through their website with your name, contact info, boat name, registration numbers, and the dates you'll be there. You don't need a permit if you're staying less than 96 hours, but you must make contact.
If you need to stay longer — from 97 hours to three weeks — you must fill out an application and present it in person to TIDA during normal business hours. Applications are available from TIDA, the Treasure Island Marina or Treasure Island YC.
It should be noted that TIDA hopes to extend the no-contact time period from 24 to 96 hours, but that may take a while. When the plan was in the gestation phase, TIDA needed the Supervisors' approval for a permit system before proceeding, so they submitted a general plan using the 24-hour time limit. "As we got into the mechanics of the plan," said Peter Summerville, "we realized things would be easier with an extended time period." Unfortunately, it's not a simple thing to change the rules so we're stuck with it for the time being.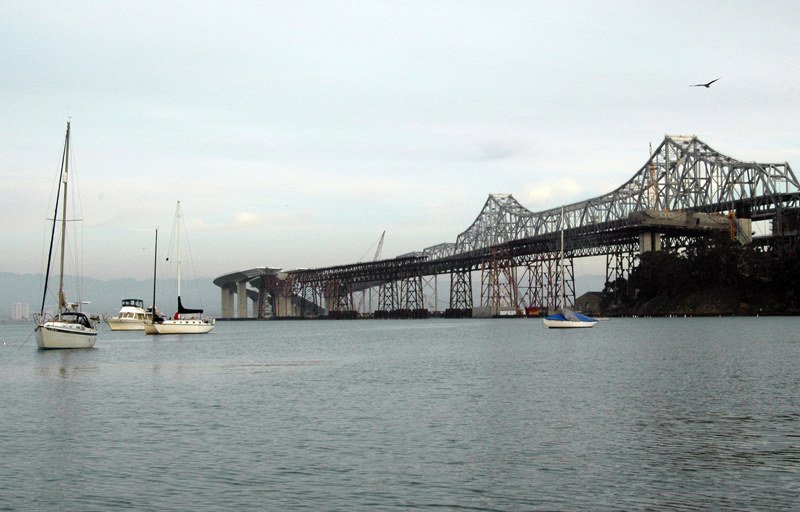 The Cove's rules are pretty common-sense and, for the most part, address the prohibition of dumping waste into the Cove and a boat's seaworthiness. From our perspective, the new rules won't negatively affect 99% of the boaters wanting to visit Treasure Island. In fact, when we visited T.I. in May, there were nearly 30 boats in the anchorage that had been there for more than 30 days, two of which were mostly submerged. During our stay over Thanksgiving, there appeared to be about five long-termers, and no half-sunk hazards. We were able to anchor close to shore with plenty of swinging room.
It's unfortunate that a few bad apples took advantage to the point of forcing the City's hand, but the new rules should make visits to Clipper Cove for the rest of us more pleasant.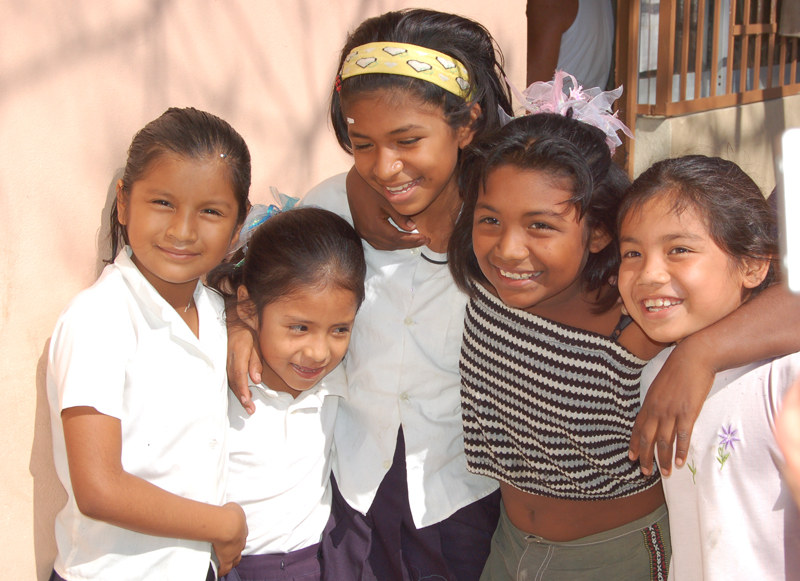 "It's our opportunity to make this world a more joyful place," says Lorenzo Marbut, referring to the financial support that his nonprofit, Por Los Niños, has given to Zihuatanejo schools as a result of Sailfest fund-raising. Since its inception eight years ago, Zihua Sailfest has brought cruising sailors, expats and Mexican townspeople together to enjoy a diverse schedule of fun-filled activities both on and off the water. And each one has a fundraising component.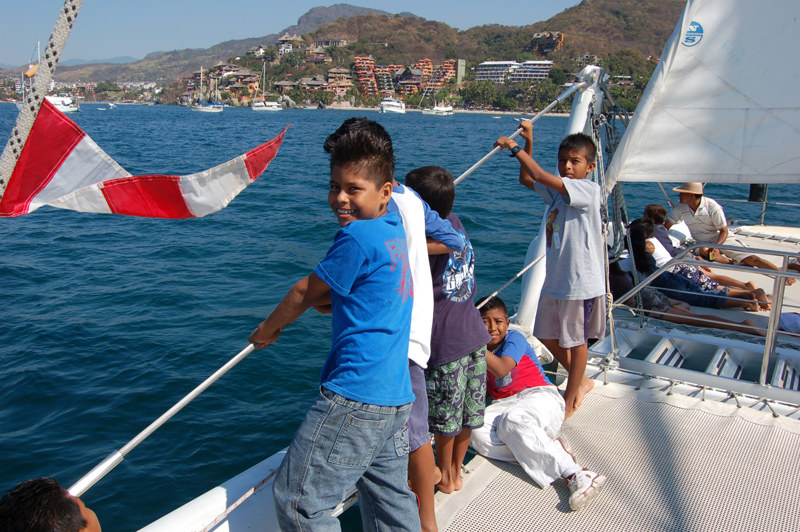 Over the years, Sailfest has raised a total of 3 million pesos, which has been matched by other nonprofits that were impressed by the amazing work done by Por Los Niños with Sailfest funds. "We've built about 25 classrooms and created a safe, secure and rich learning enrivonment for more than 1,000 impoverished, bright-eyed young scholars. According to local statistics, approximately 2,000 more disadvantaged children still need our help to attend school and achieve a basic education." Many of these disadvantaged kids are from indigenous families who speak their native dialects rather than Spanish. And until they learn Spanish they're not allowed to attend existing public schools — a classic 'catch 22'.
Por Los Niños fills the void by building new schools and classrooms in the poor neighborhoods on the outskirts of the city, and supporting them with supplies year after year.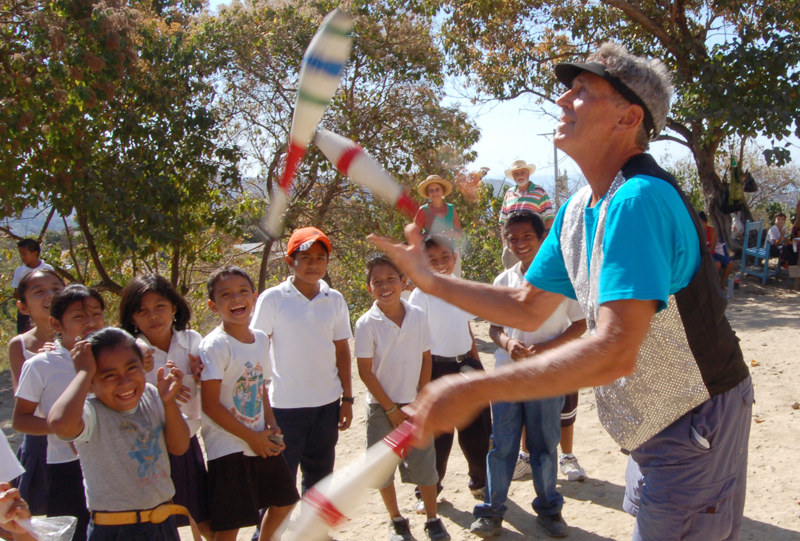 Every year, cruisers who feel fortunate to be living the good life in Mexico find it extremely gratifying to be able to give something back via Sailfest events. So if you're out cruising this season — or are itching to jet down to Mexico's sunny latitudes for some R&R — consider participating in this year's Z-fest, slated for February 2-7. With concerts, boat races, auctions, beach games and parties, a good time is practically guaranteed. And you can rest assured that the money you spend there will go to a very worthy cause.
Receive emails when 'Lectronic Latitude is updated.
SUBSCRIBE