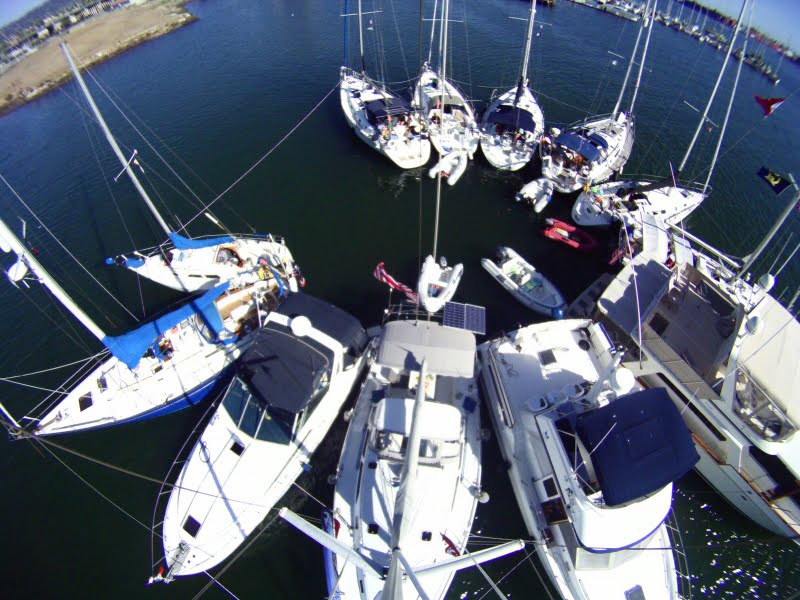 If you think it's easy to align a fleet of boats in a circular raft-up, think again. As Encinal Yacht Club member Bill Blackburn reports: "A lot of discussions took place around the club about how to pull it off, as no one had done it before. Eventually, our La Cruisidora, Adrienne Rogers, searched the internet and finally came up with a plan.
"Choosing a location was a problem. Our first thought was Angel Island, but the new mooring rules and swift currents would be a problem. Next was Clipper Cove, a lot smoother, but significant tides and sometimes "iffy" bottom would also be a challenge. The solution was a large body of water in the Estuary right across from Marina Village and part of the Estuary Park in Oakland. The bottom was good for anchoring, the tidal influence was minimal, and the only wave action would be from boaters. Since the spot was so close to the club and marinas, anyone could either sail, motor or dinghy over to join the party. We even had a 'to-scale' layout superimposed over a satellite photo of the area to prove we had the room."
At about 11:30 a.m. last Saturday the "keystone" boat was in place. Mike Gorman's 64-ft Offshore Wings set a bow and stern anchor facing up the Estuary. They built up the circle from there until all 12 boats were set. On Sunday, "champagne flowed for hours," in celebration of their geometric feat. Will this become an annual tradition? We hope so, but how about 24 boats next year?
Receive emails when 'Lectronic Latitude is updated.
SUBSCRIBE