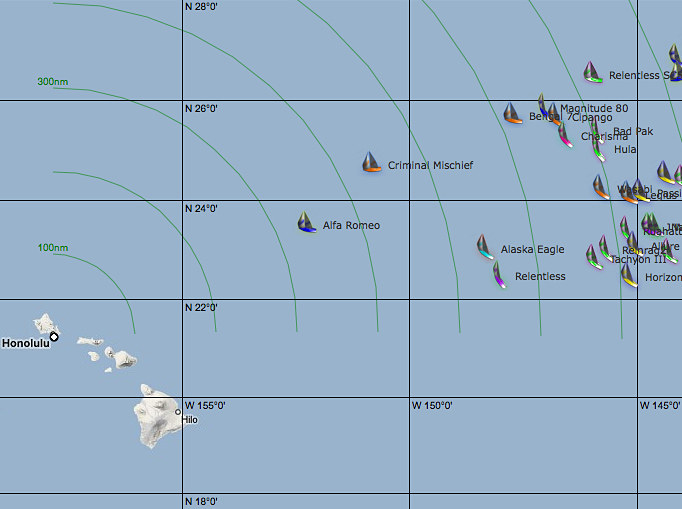 The question of the last 24 hours hasn't been whether Neville Crichton's R/P 100 Alfa Romeo will break the outright monohull record for the TransPac — that's pretty much in the bag. The possibility that has everyone talking here in Honolulu is whether or not she'll surpass the multihull record set by Bruno Peyron's Commodore Explorer in '97: 5d, 9h, 18, 26s. As of 3 a.m. Hawaiian time, Alfa had 367 miles to go, which — at the pace of the previous 24 hours — would put her here sometime around midnight, a few hours outside Peyron's record. But it's already pretty breeze-on here, and with the likelihood of a rippin' ride down the Molokai Channel, Alfa could just make it. However, one thing she's sure not to make is a daytime arrival — much to the chagrin of the photographers and other press assembled here.
One boat that probably will is Chip 'Dr. Megadeath' Megeath's Tiburon-based R/P 45 Criminal Mischief, which is blowing away Division 3, having put up a 330-mile day yesterday. Elsewhere, Tom Akin's Bay Area-based TP 52 Flash is not only holding onto its Division 1 lead, but has pushed past James McDowell's Division 2-leading SC 70 Grand Illusion to take the overall lead. Right there with Flash is John Kilroy Jr.'s TP 52 Samba Pa Tí in second overall with the two boats marching in lock-step for pretty much the entire race.
It turns out that not only the racers get a skippers meeting. Last night we attended the skippers meeting for the escort boats at Waikiki YC; these folks are that organized. Not only were we surprised to see about 30-plus people there, we were amazed to find out that they were just the tip of . . . well, the iceberg metaphor doesn't really work here. The total all-volunteer commitment is in the neighborhood of 600 people on 26 separate committees! The enthusiasm for the race over here in the islands is awesome.
Receive emails when 'Lectronic Latitude is updated.
SUBSCRIBE