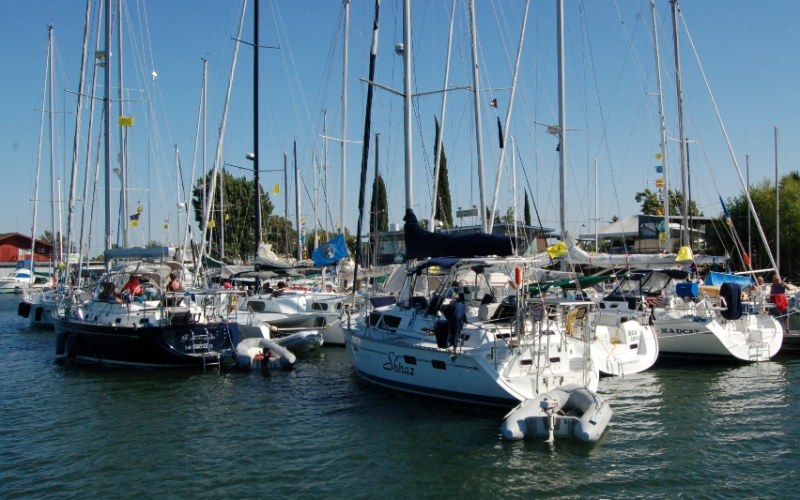 Delta Doo Dah'ers who left Antioch Marina Monday morning were forced to motor most of the way to the rally's next stop at Boyd's Harbor and the Rusty Porthole on Bethel Island. The few stragglers who left later in the day enjoyed a rollicking sail up the San Joaquin, before cutting through False River to Piper Slough. Once they arrived at the Rusty Porthole/Boyd's Harbor, local resident Peter Yates took the lead in shoehorning each boat into the two small basins. "We've had more boats in here," Yates said, "but never this many big boats — and never this many sailboats. The locals have been coming down all day to take pictures."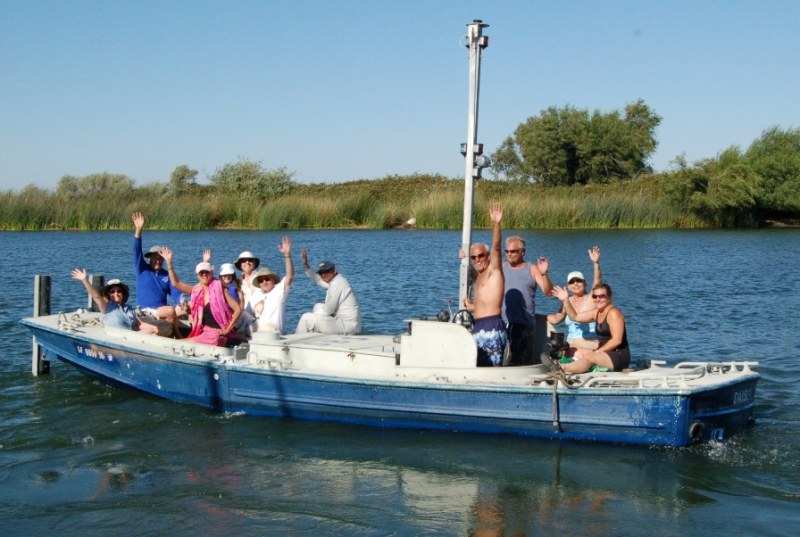 Though they missed a great sail, those who arrived early were swept away on Yates' "bridge erector" to a nearby beach, where he'd set up an assortment of water toys — including three PWCs and a Hobie 16 borrowed from neighbors — and refreshments. "Peter is just amazing," effused Patti Boucher of the Santana 22 Carlos. "Our boys Valencio and Tino had such a great time!"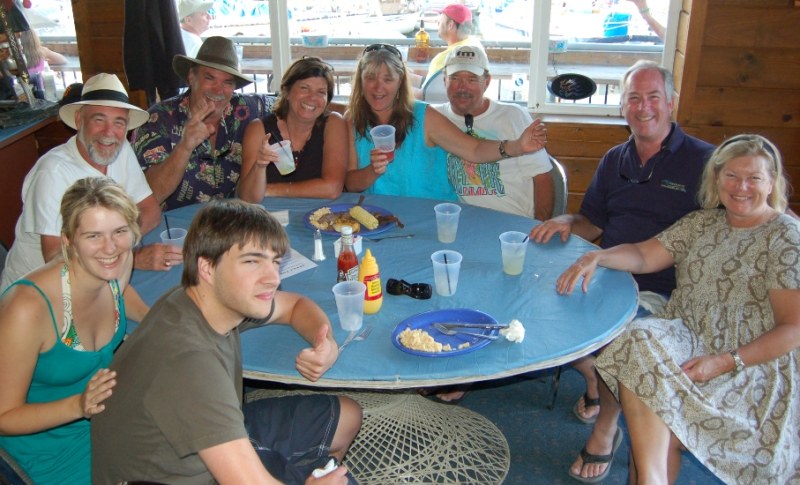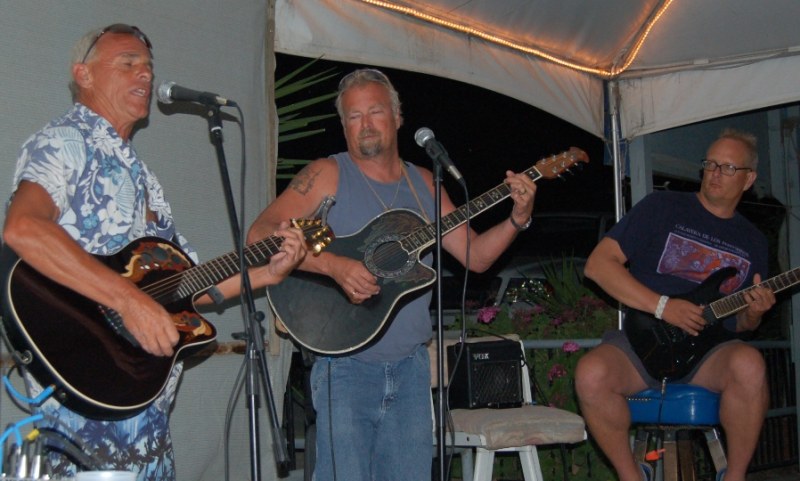 But the good times weren't over yet. After returning to their boats and drying off — those who had stayed behind were caught up in an epic water cannon battle — the party moved to the Rusty Porthole, which opened just for the event. Owner Belinda Bittner's staff expertly handled the 70 or so crazies that descended on the restaurant like locusts. After they were sated, Yates set up some amps and things really got rocking.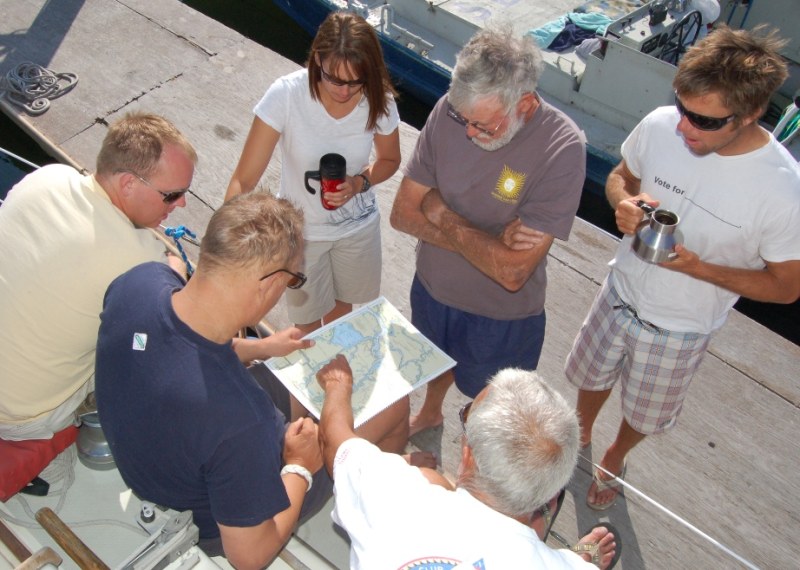 As this was the last official stop before Stockton Sailing Club on Friday, Doo Dah'ers spent the morning consulting charts and grilling Yates on the best routes to take to their chosen destinations. One by one, the fleet peeled off, some heading to the Meadows, some to Venice Island, some to Georgiana Slough. A rather large group made their way to Little Mandeville Island, where they tucked into a shallow horseshoe bend, then quickly got wet.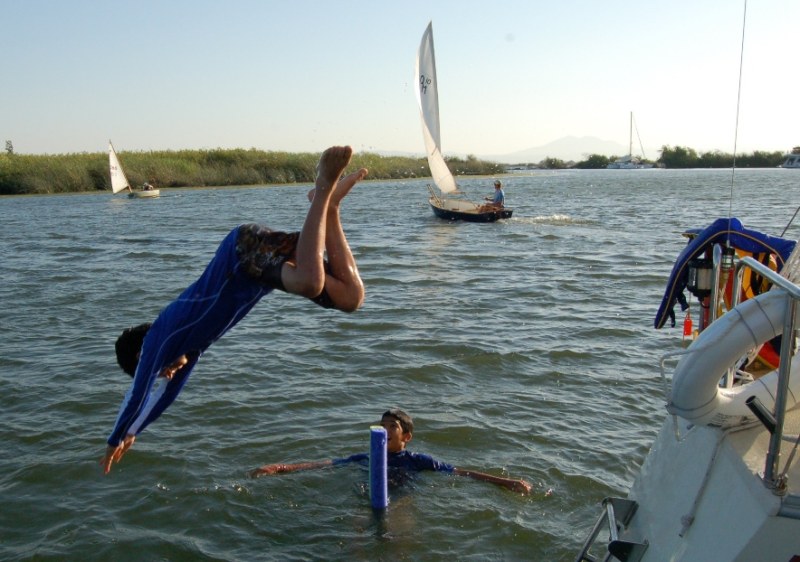 Judge J. Michael Byrne ruled yesterday that the manslaughter trial of Bismarck Dinius will continue, with jury selection beginning on July 7. Dinius' attorney Victor Haltom had argued that the Lake County District Attorney Office should be recused from prosecuting the case because of apparent improprieties in the handling of the case. Judge Byrne said there was sufficient evidence for the case to continue and not enough to bring the Attorney General's Office into the matter. Though Jerry Brown noted on his Facebook page recently that he was "looking into the case," there has been no official word from his camp on the case. Jury selection is slated to begin July 7. Read more on the Lake County Bee's website and check out Dan Noyes' 'tweets' from the courtroom.
Ad: Svendsen's Engine Service Special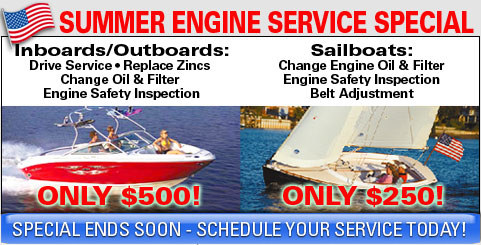 Summer's here and, like us, you're probably itching to get out on the water! Whether you're power-boating or sailing, you can save money AND keep your engine in top shape with the Summer Engine Service Special from Svendsen's Boat Works.
Schedule Your Engine Service Online Today!

Receive emails when 'Lectronic Latitude is updated.
SUBSCRIBE