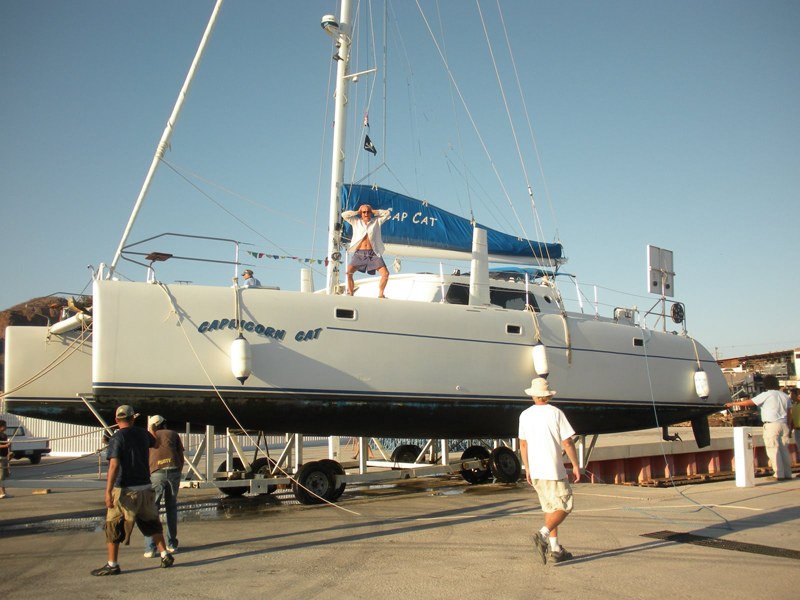 "We got this great deal on getting my 45-ft cat hauled out at Singlar in Guaymas," Wayne Hendryx of the Brisbane-based Capricorn Cat told us at Caleta Partida during Sea of Cortez Sailing Week. "The guys up there built a special trailer, so the in and out is only going to be $500. I think that Guy Bunting's Vista-based M&M 48 Elan has already hauled there, and if all goes well, several other cats will haul after us."
Five hundred sounded like a heck of a good price. Maybe, too good. The ingenious folks of Mexico are great when it comes to cobbling things together out of almost nothing, but there is no engineering involved, and little, if any, margin for error. The trailer used to pull Capricorn Cat out of the water is a perfect example.
The bad news is that the trailer failed some 20 feet short of Cap Cat's intended space on land, leaving the big cat tilted back at a 15º angle for two days. The good news is the cat didn't suffer any damage, and the trailer — such as it is — was repaired.
On Monday evening, five members of Coast Guard Sector San Francisco met with representatives of the YRA and any local yacht club or other organization that runs ocean races. The subject matter: making ocean racing safer. Lots of people seem to have heard different variations on what was discussed. We were there, so here are some clarifications.
All ocean races will now require individual permits. (Bay races, which tend to have a better safety record, will continue to be given 'blanket' permits.) And ocean races lasting more than a day will require separate permit numbers. While this sounds onerous for an event like the Singlehanded TransPac, which might last three weeks, in actuality you would have one permit with 20-21 separate numbers in the upper righthand corner — each number representing a new day. No big deal.
Much was made of better communications between the Coast Guard and race organizers. For example, from now on, all organizations running ocean races will need to call the Coast Guard at the start, at the finish (accounting for all boats that started, whether they finished or dropped out), and every four hours while the race is underway — even if all their boats are out of VHF range or halfway across the Pacific. The Coast Guard also pressed for individual identification sheets to be filled out by each boat in each race. These would include a description and photo of the boat, names and ages of all crew, etc. While this might sound outlandish to some, the Coasties gave a sobering example of what they sometimes deal with — a boat had called for help during an ocean race and the helo was launched. However, the pilot and crew weren't sailors so didn't know one 'white 35-ft sailboat' from another. As a result, they flew down next to several boats that sort of fit the description, including some that would instantly be 'wrong' to a sailor — like a WylieCat if you were looking for a sloop — and asked each one if they were the boat that called. Luckily, the boat in trouble turned out to be okay, but the problem is obvious.
Barring other missions or emergencies, a Coast Guard cutter will now be out in the ocean for every local ocean race. The ship will either shadow the largest clump of boats or hang out near danger areas of the course, such as the bar. This was done for the first time during last weekend's Crewed Farallones Race. Participants might not have seen the cutter, but it was there.
The Coast Guard will be drafting a regulation asking that ocean racers be required to carry EPIRBs starting in calendar year 2010. This regulation has not yet been written, so exactly what kind of an EPIRB would qualify is unclear. However, the Coast Guard Captain at the meeting felt confident it would be a Cat 1 (float free) 406 similar to the ones fishing boats carry. Once the reg is written, it would go through the normal public comment process and evaluation, which takes several months. However, YRA President Pat Broderick announced at the meeting that OYRA would require boats to carry EPIRBs starting with the 2010 season.
Overall, the meeting was much more courteous than contentious, and the main Coast Guard position seemed to be 'help us help you.' In response to questions regarding PLBs (personal locator beacons), DSC (digital selective calling) buttons on VHFs and so on, the answer was almost always "Anything that makes you safer is a good thing."
Would this meeting and new regulations ever have happened if three boats and two sailors had not been lost in ocean races over the past 12 months? Probably not. Ironically, Daisy (lost with her two crew during the 2008 Doublehanded Lightship), Pterodactyl (two crew thrown out during the '08 Doublehanded Farallones; they were rescued but could not get back aboard or recover the boat later; it sails on as a derelict), and Heat Wave (lost a keel and capsized during last month's Doublehanded Farallones, both crew rescued) would not have benefited from a float-free EPIRB, which does not transmit underwater or from inside the boat.
The bottom line: there are no panaceas when it comes to safety. No one system — either one you take with you or one whose Search and Rescue personnel get going as soon as your boat issues a distress call — is going to insure your survival every time. But the more you have, and the more that work at peak efficiency, the better the chances that you will live to tell about any emergency that does occur.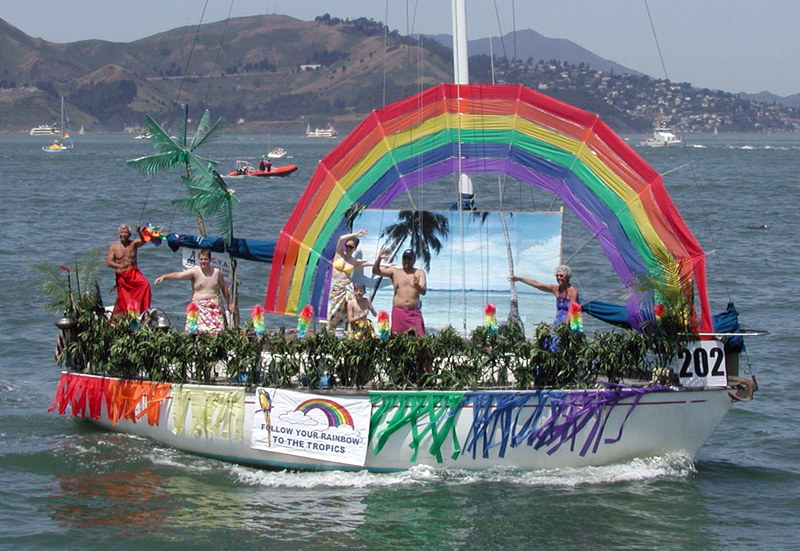 For some ice-bound souls around the world, Opening Day marks the first day they're actually able to take their boats out for a spin. Thankfully, we live in a wonderful climate that allows us to sail year round, so Opening Day is really more symbolic — not to mention a great excuse for a parade. Opening Day on the Bay is this Sunday, April 26, and will feature the customary PICYA yacht parade with the promising theme of 'Legends of the Sea'. We're envisioning scantily clad hordes of studly Neptunes and seductive Nereids decorating dozens of bows — but with cooler temps forecast for the weekend, they'll probably be wearing more modest sailing gear. Regardless, the parade will undoubtedly be as entertaining as ever as it makes its way from Crissy Field to Pier 39 starting around noon.
On Saturday, head on over to the Bay Model in Sausalito, where Paul Cayard will join the Call of the Sea in hosting a benefit to fund their hands-on sailing programs for underserved Bay Area kids. The festivities will run from 3-6 p.m. and include live music, food, dancing, wine and terrific prizes. Tickets start at $50 to help support this great program. For more on Call of the Sea or the event, go to www.callofthesea.org.
Stockton Sailing Club will be hosting their own Opening Day parade on Saturday, starting around 11 a.m., after their annual swap meet wraps up. Stick around for sloppy joes, free sailboat rides and tons of other activities. For more, go to www.stocktonsc.org or call (209) 951-5600.
To celebrate the official opening of the sailing season, yacht clubs all over the Bay are hosting open houses throughout the weekend. This is a great time to check out what various clubs have to offer their members. Check out our list of Yacht Club Links and contact any you're interested in.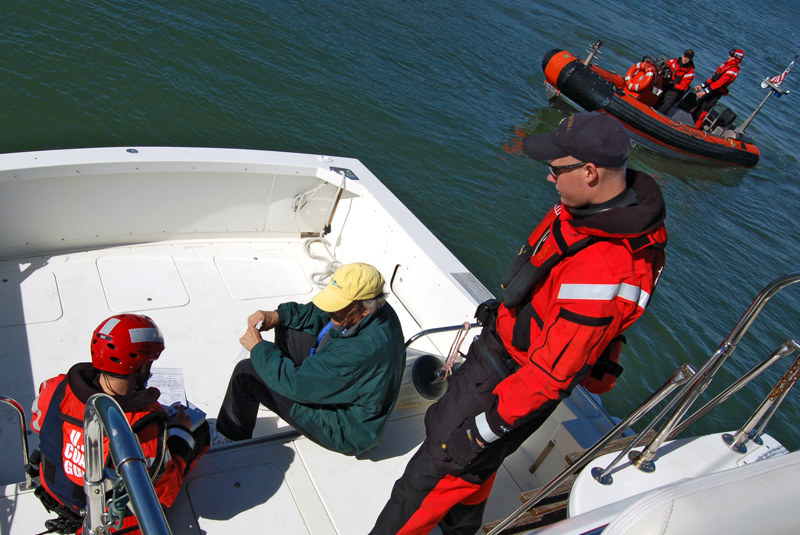 Whether you join the crowds on the Bay on Sunday or just go out for a quick sail on Saturday, do yourself a favor and leave the booze in the cooler till you get back to the dock. With so many boats on the Bay, the Coasties are sure to be out in full force and a BUI will spoil anyone's day.
Receive emails when 'Lectronic Latitude is updated.
SUBSCRIBE